Have you ever made some cupcakes or a cake and found yourself with leftover frosting? I am not talking about the spoonfuls you have already put away leaving you feeling over-sugared. What do you do with the rest? Throwing away all of that unused frosting seems like such a tragic waste of something so delicious! Never fear! Your leftover frosting solution is here! Behold! Easy Freezy Frozen Frosting Sandwich Cookies!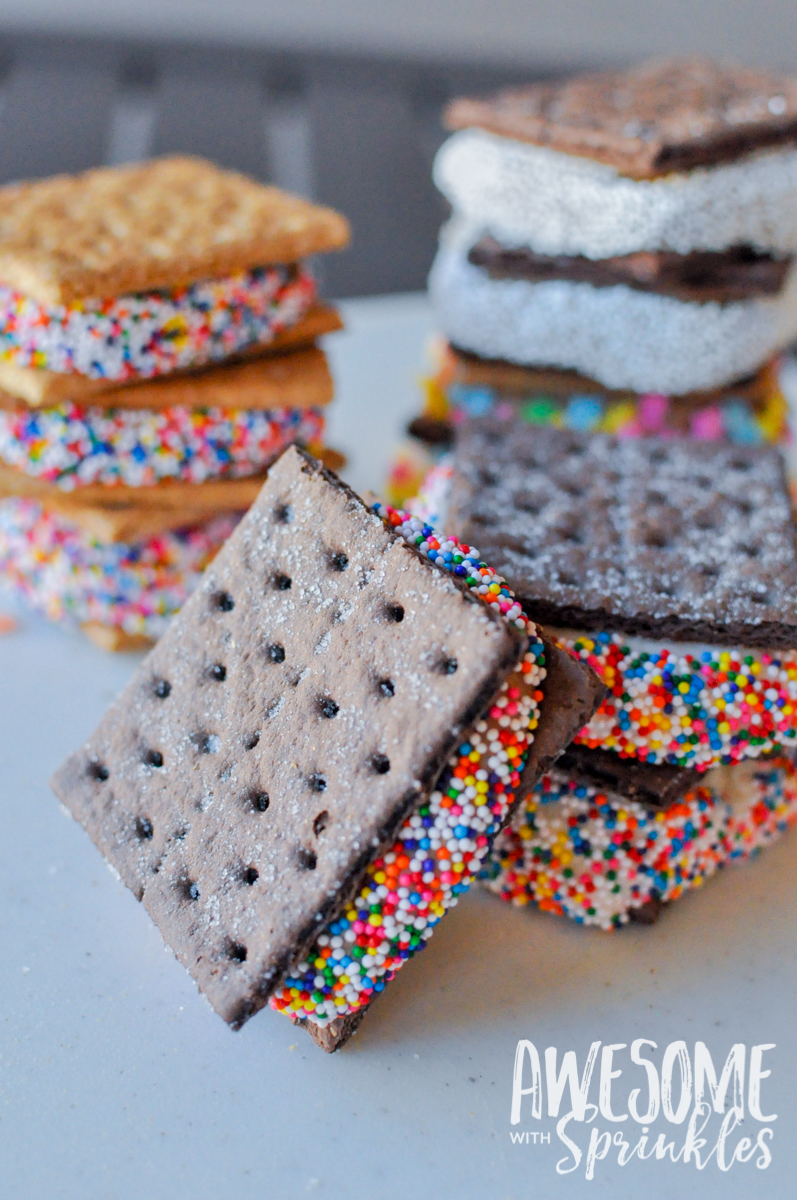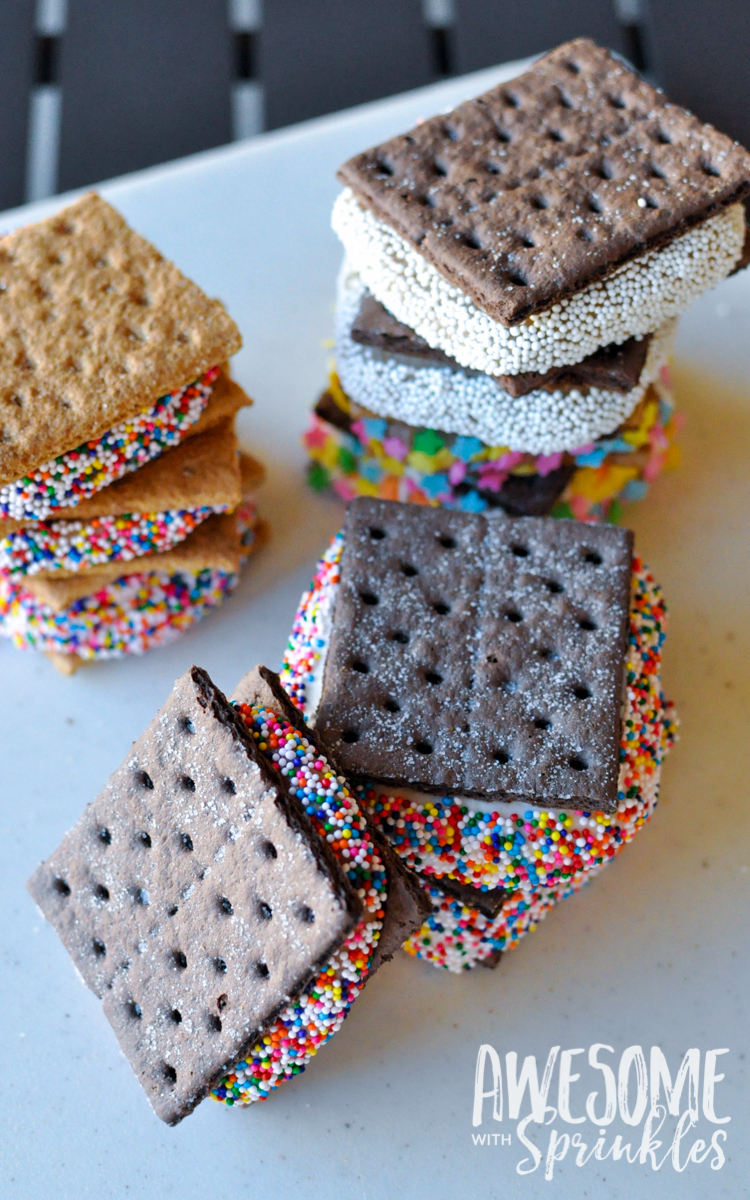 Whenever my mom and I would whip up a big batch of these awesome sugar cookies, there was usually some cream cheese frosting leftover. What we didn't lick off the spatula we would use to make these freezer cookies. That frosting is WAY too good to have it's final destination be the trash can! No frosting left behind!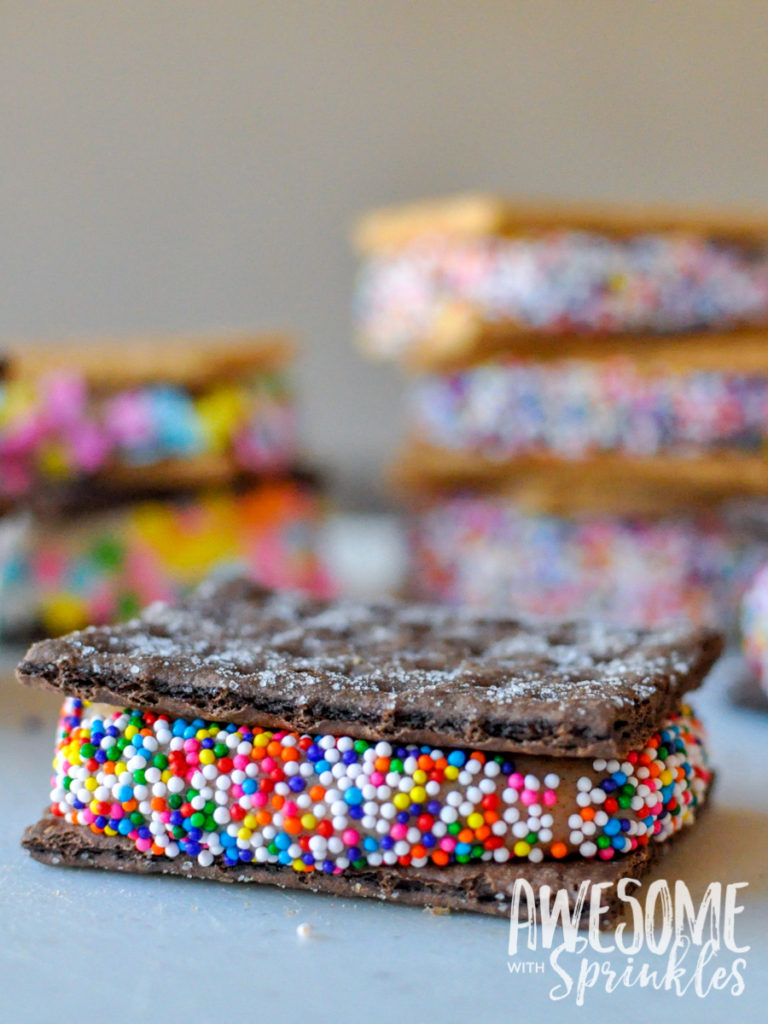 These frozen frosting sandwich cookies are a cool treat! They have a texture similar to an ice cream sandwich without the melty mess. Which makes them perfect for a quick beat the heat snack, even on the go.
Plus they are pretty much the easiest cookies to make, ever! No mixing, no baking, no fuss! Granted, if there is leftover frosting you have probably already done the work. If not, just snag a can of frosting and a pack of graham crackers from the market. Maybe these should be called LAZY freezer cookies, instead.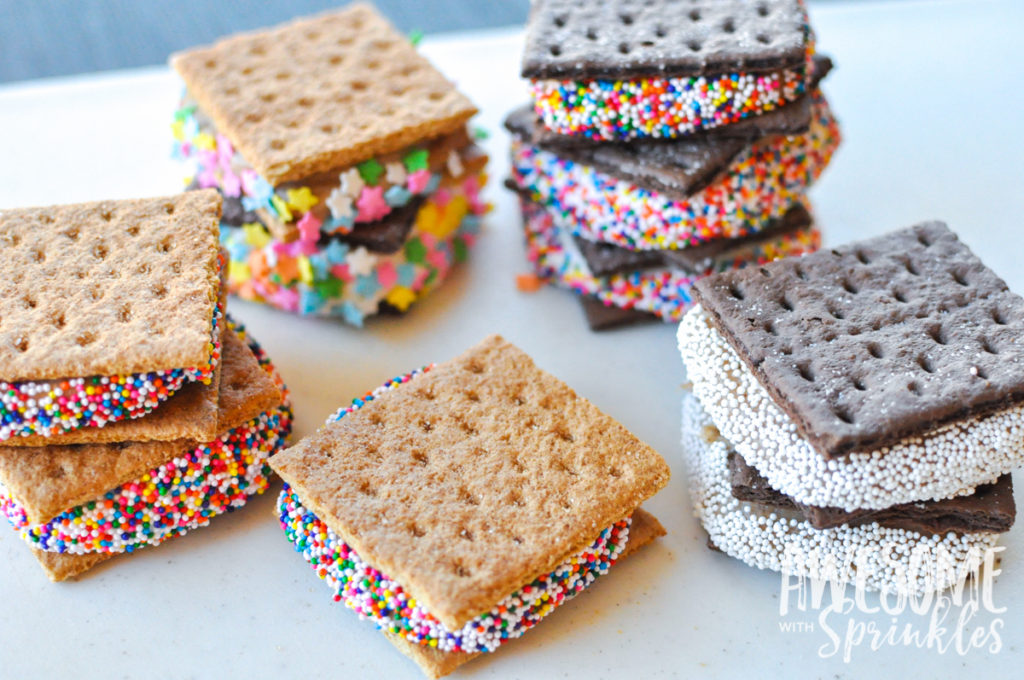 You can make these easy frosting sandwich cookies with basically any graham and frosting combination that you want.
Some of our favorites combos are:
How to make frozen frosting sandwich cookies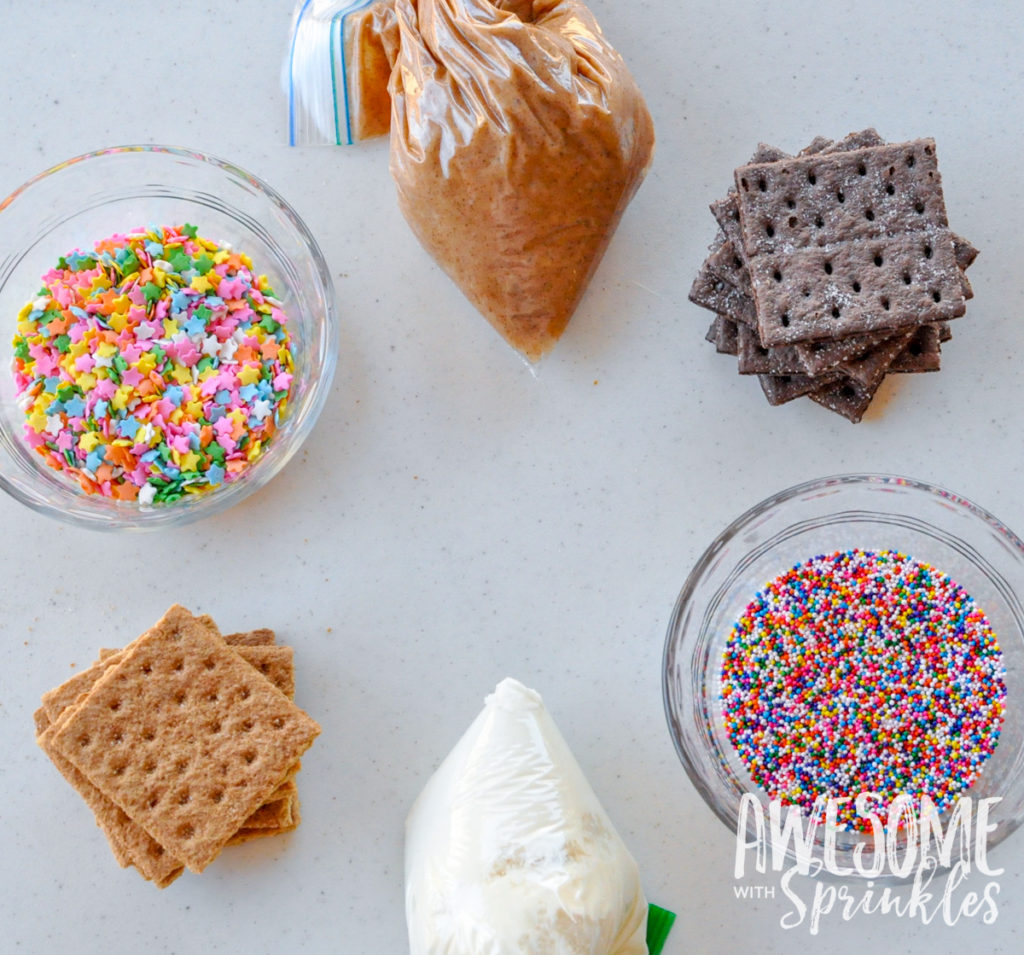 All you need is graham crackers, frosting and some sprinkles – which are actually optional but TOTALLY recommended. Everything is better with sprinkles, right?!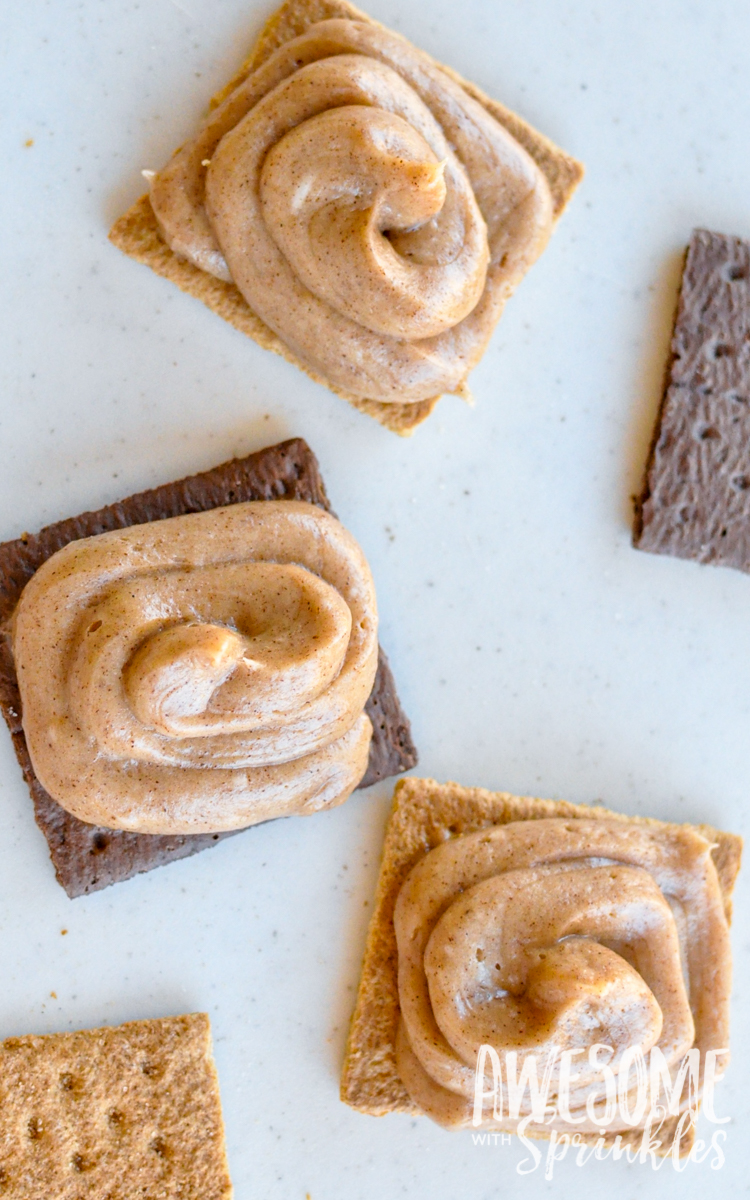 Pipe, spoon, or blob a sizable dollop of frosting onto one half of a graham cracker.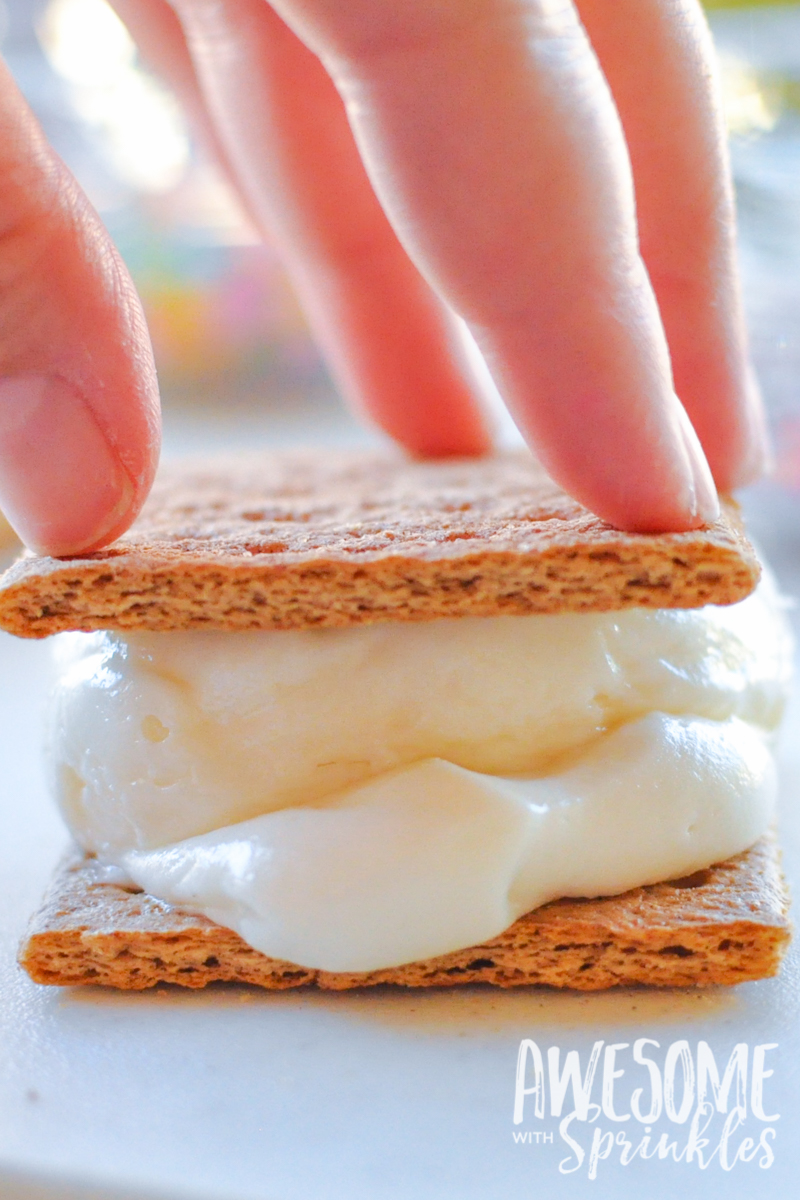 Place the other half of the graham cracker on top and smoosh it together to get that nice frosting squeeze out the sides (just a little, we don't want to make a mess).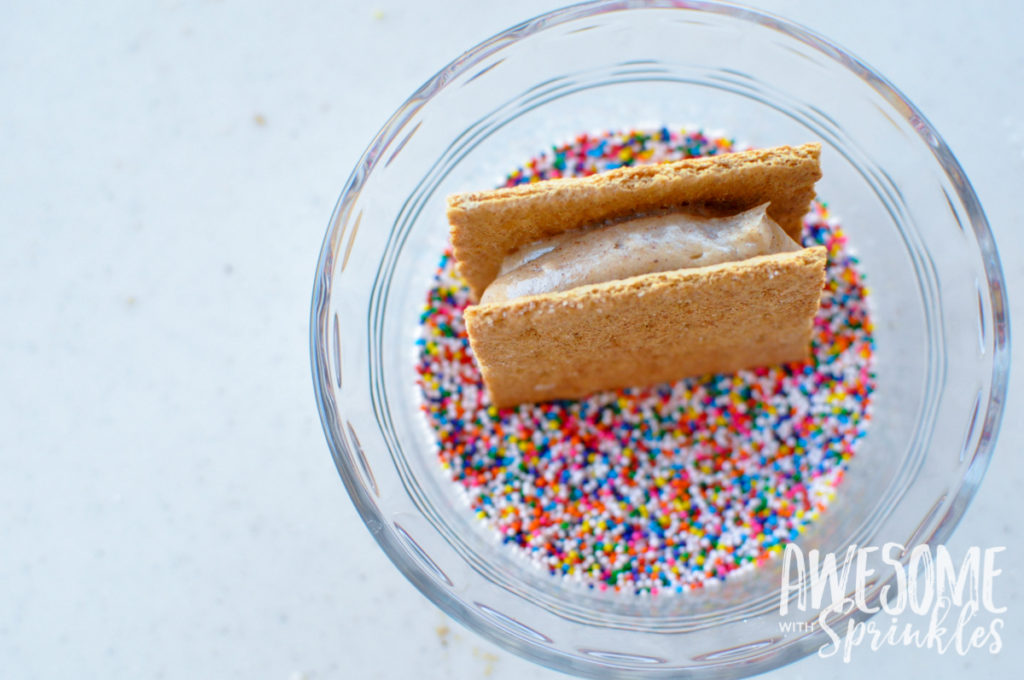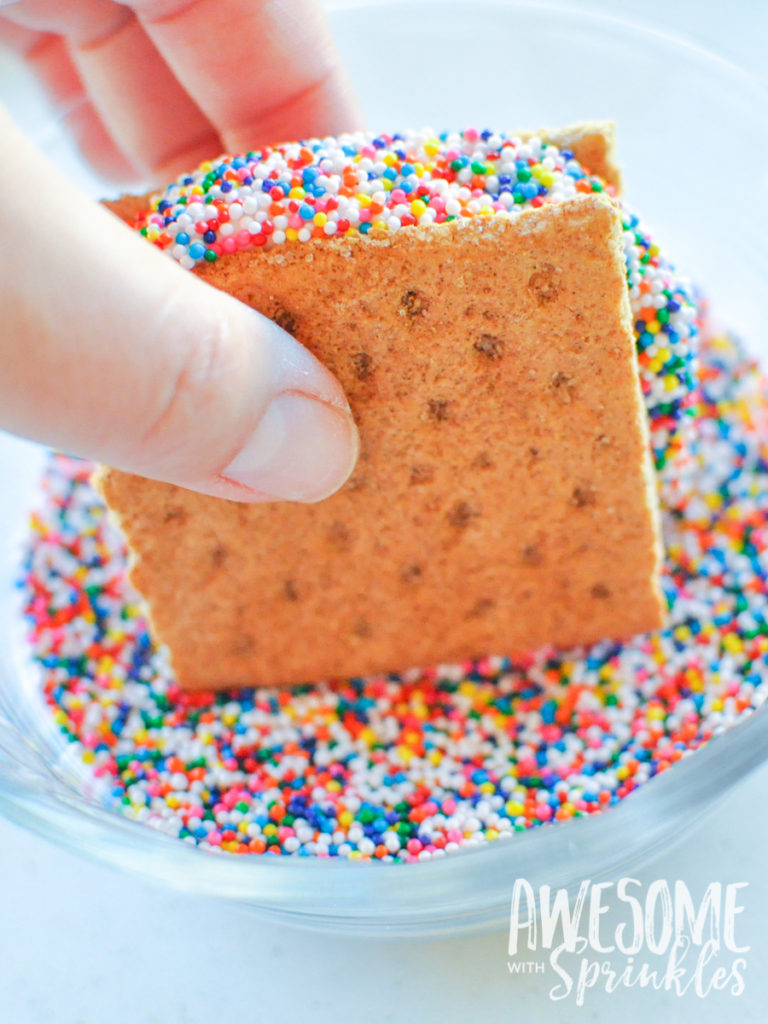 Dip it! Dip it real good! – into the sprinkles.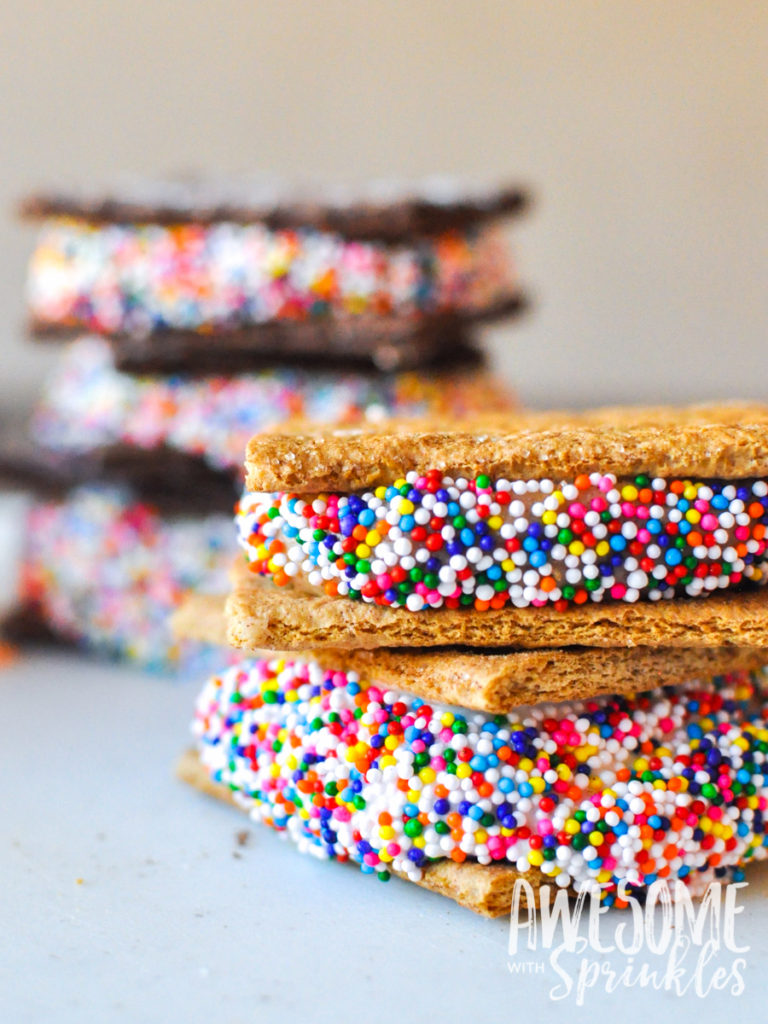 Look how pretty they are!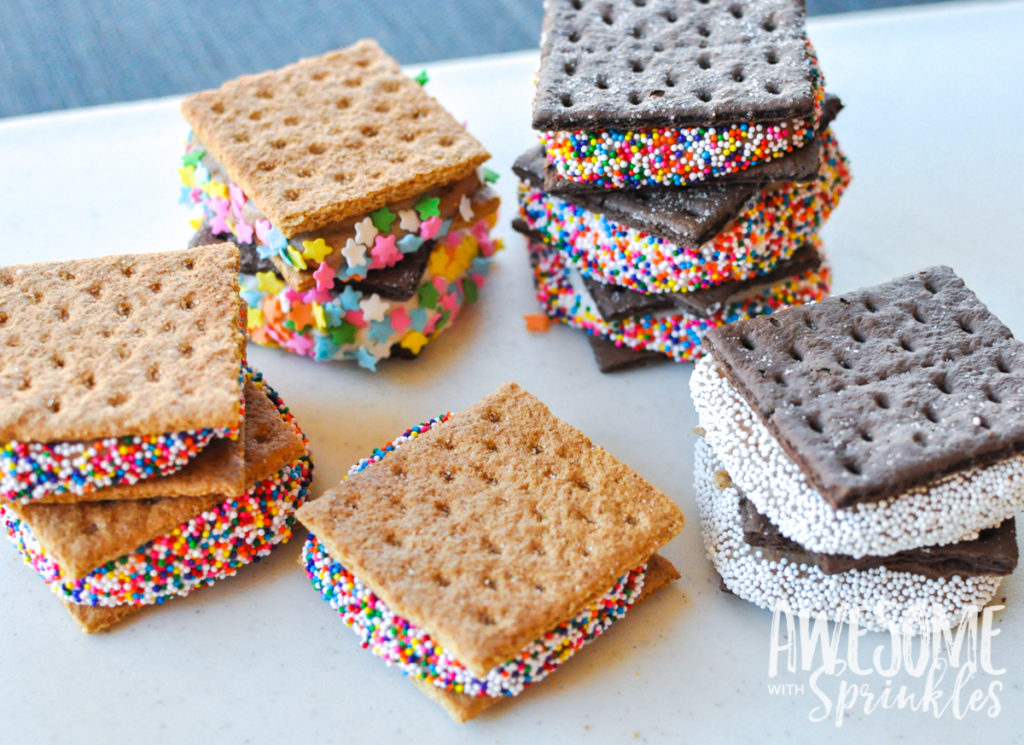 Pop those little cookies into the freezer for a few hours to firm (trust me, it's worth the wait) then enjoy your frozen faux ice cream treat!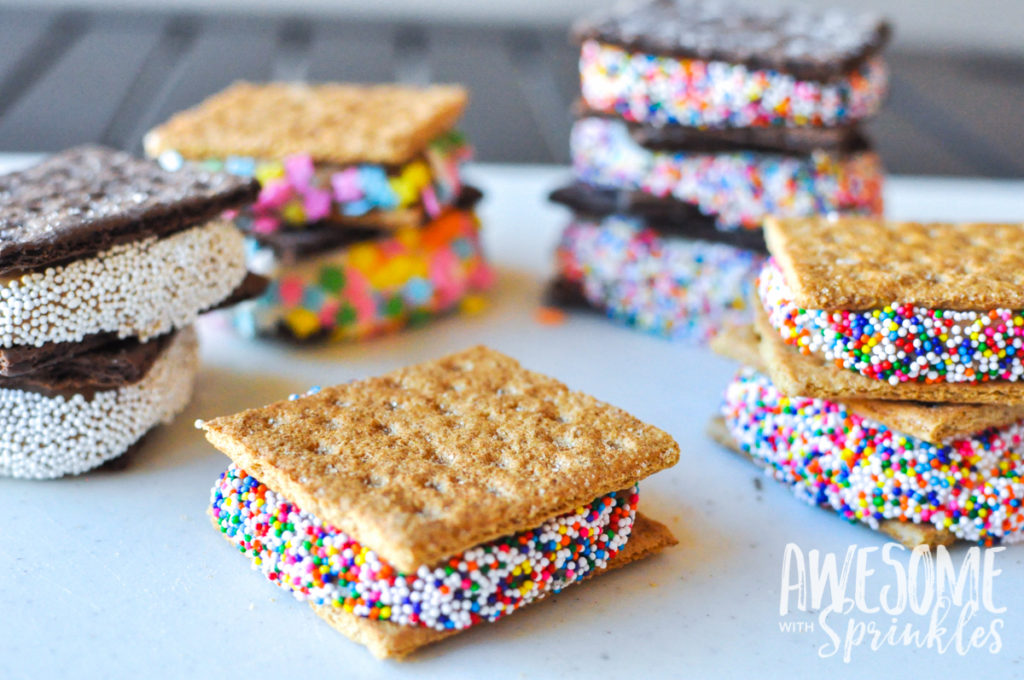 Seriously. SO. FREAKING. EASY.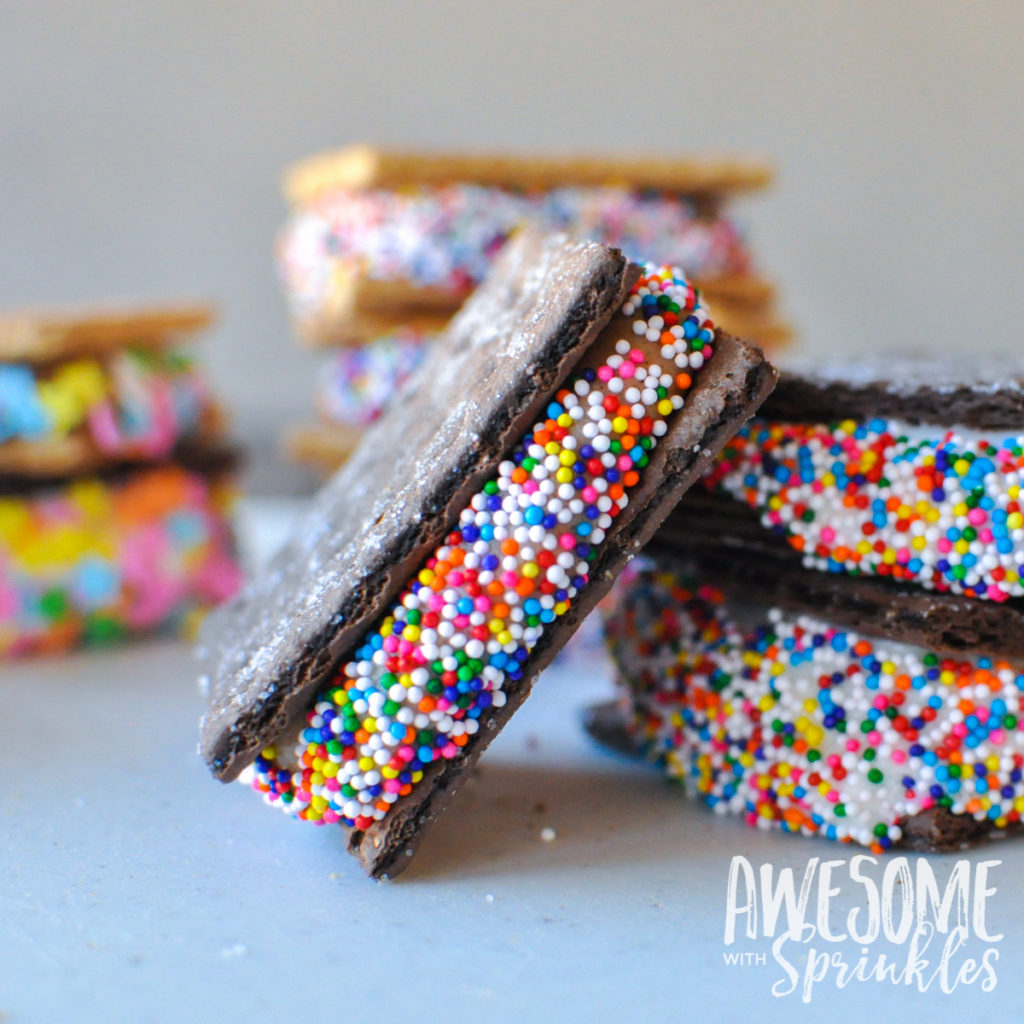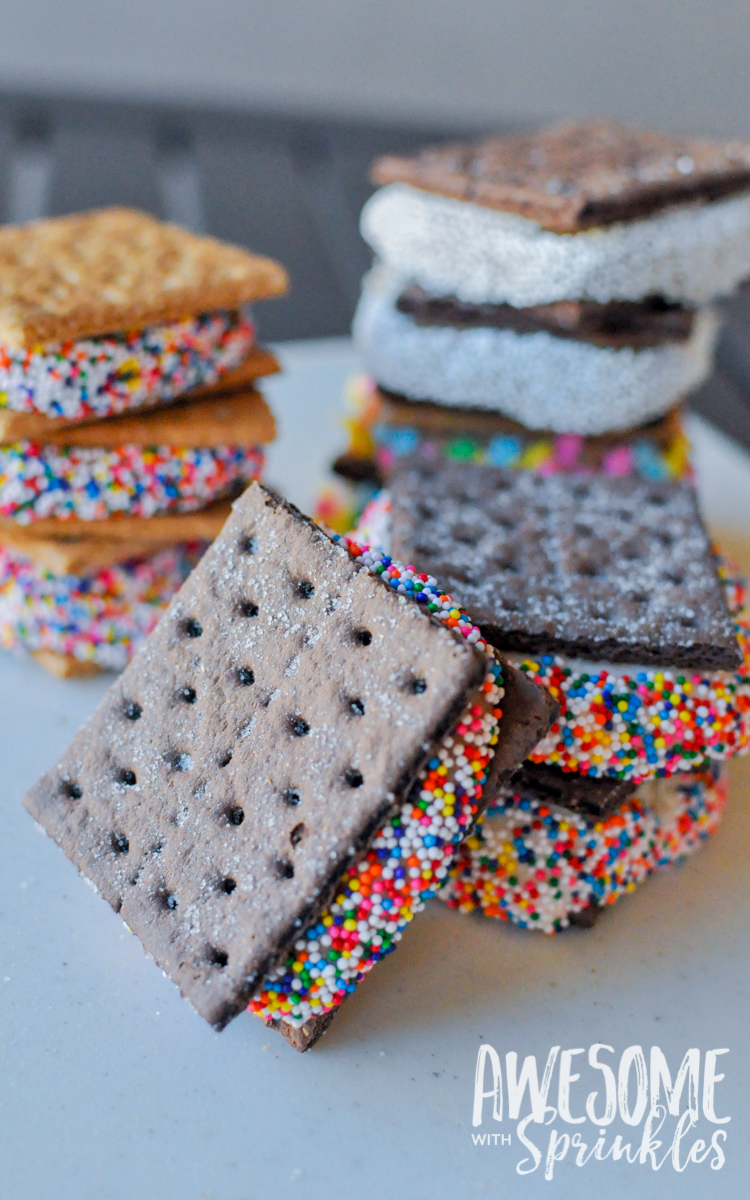 I cannot say exactly how long they keep in the freezer since they usually don't last too long at my house! However I can tell you that I have made a batch with my leftover Christmas cookie frosting and have eaten them once it warmed up in the the late spring/early summertime if that is any indication. 🙂
Pin for Later: