---
I really dig cole slaw. It's one of my favorite side dishes when it is done right with fresh ingredients. The Boy however, loathes anything that is mayo based or that may be closely related to mayo, or resembles mayo in any way. So many slaws are laden with heavy creamy dressings that end up pooling and turning the slaw into a soggy mess. So I set out to find something better that I could make for both The Boy and me to enjoy.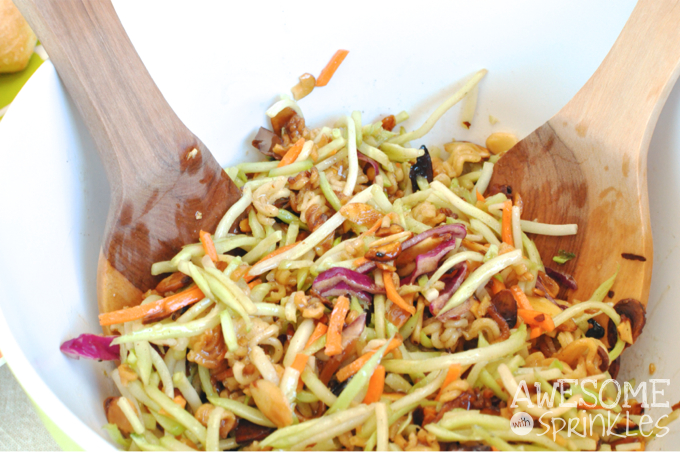 I was sitting in the waiting area of the dentist's office watching an episode of something on the FoodNetwork with Paula Deen. She was putting Ramen noodles into slaw…what a great idea! I loved it! It had all the right makings and looked pretty good, so I jotted down some notes and took it home to try. It was AWFUL. Dripping with enough butter and oil to drown a small village, I literally had to strain it out with a slotted spoon. I guess I should have expected that from Mrs. Deen, but I still had high hopes. I ended up just tossing it out.
I was determined to try again and so I cut the butter and oil and made a few other changes and additional and low and behold…SUCCESS! I loved it, The Boy loved it, the game night crew loved it! We had a winner! And now it can be YOUR favorite slaw recipe too!
The broccoli and carrot slaw stays nice and crunchy which is a pleasant change from soggy cabbage. The dressing is light and flavorful and the Ramen as it turned out, was indeed a great idea! Combined with the almonds it adds such an awesome crunchy texture! It's my favorite part!
I've switched up this recipe by using flavored vinegar instead of regular apple cider vinegar. Try pomegranate vinegar and with fresh blueberries tossed in. You could even add some chopped pineapple or mandarin oranges for a tangy burst of flavor! So much yum!


Broccoli Slaw with Ramen Noodles
Ingredients
1, 12 oz bag of broccoli slaw
3 green onions, chopped
1 pack ramen noodles, crushed into small pieces
½ cup sliced (or slivered) almonds
4 tbsp (1/2 stick) of butter
Dressing:
½ cups canola oil
¼ cup apple cider vinegar (or flavored vinegar)
¼ cup packed brown sugar
1 ramen seasoning packet (I prefer to use the Oriental flavored ones)
Instructions
Toss together broccoli slaw and green onions. Set aside.
Melt butter in a sauce pan. Add noodles and almonds and toast until they start to brown slightly.
Mix up the oil, vinegar, sugar and ramen seasoning for the sauce. Whisk together until completely dissolved. Pour dressing over broccoli slaw and toss together.
Add the browned noodles and almonds to the slaw and toss together lightly (the noodles might sizzle a little!)
Sprinkle with sunflower seeds and enjoy!!