Potato salad is one of my favorite side dishes for BBQs and picnics. It must be that tater-loving Idaho girl in me. 😉 Crispy oven roasted red potatoes combined with fresh rosemary and dill give this roasted red potato salad a savory twist on the classic BBQ staple.
The Boy has a strong dislike (that is putting it kindly) for hard boiled eggs and mayo, which being the base of most traditional potato salad recipes, make him stay far away from them. Unfortunately that means I don't make potato salad often because I would have to eat it all myself. Which is simultaneously a terrific and a terrible idea. Ha!
Since he does enjoy potatoes in most other forms not smothered in mayo or cheese (I know, he's a weirdo) I thought I would try to make something he would like.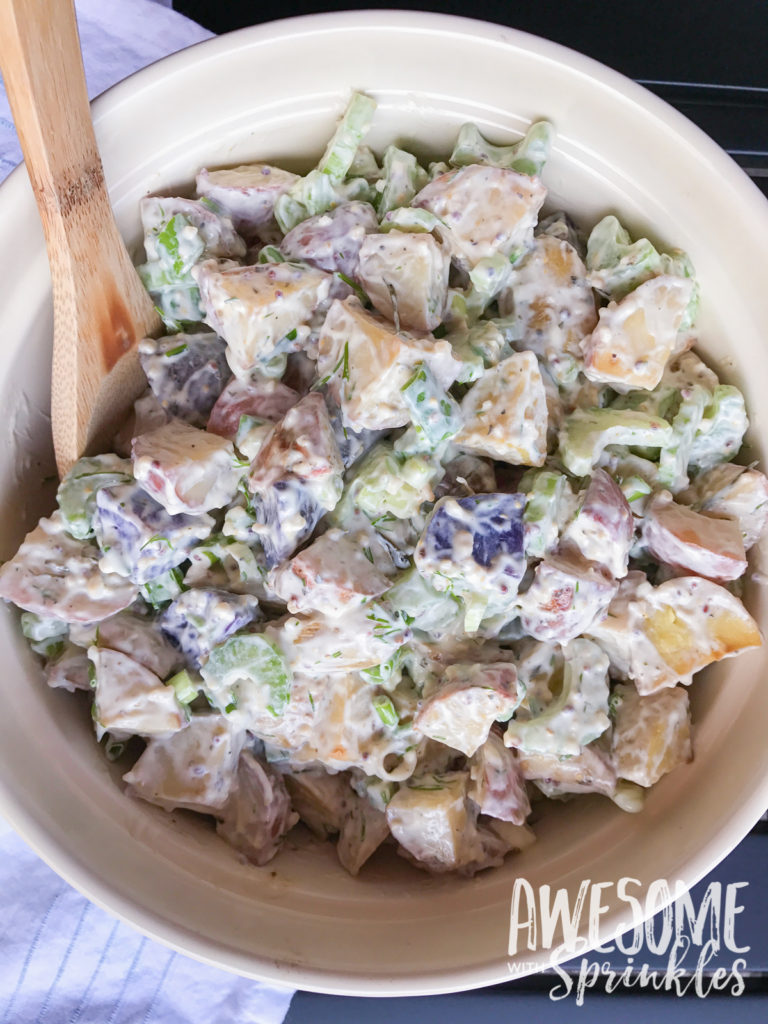 The Boy affectionately refers to rosemary as "that herb I like" and I often make potatoes roasted with rosemary for dinner. We were going to a BBQ at a friend's house and needed to bring a side dish and The Boy suggested roasted potatoes (which is one of our go-to's for grilling).
It sounded like a great idea, but I didn't want to bother with trying to keep them warm as I didn't know if their oven would already be occupied. Enter the idea to turn these yummy potatoes into a cold salad! And let me say, it was a success!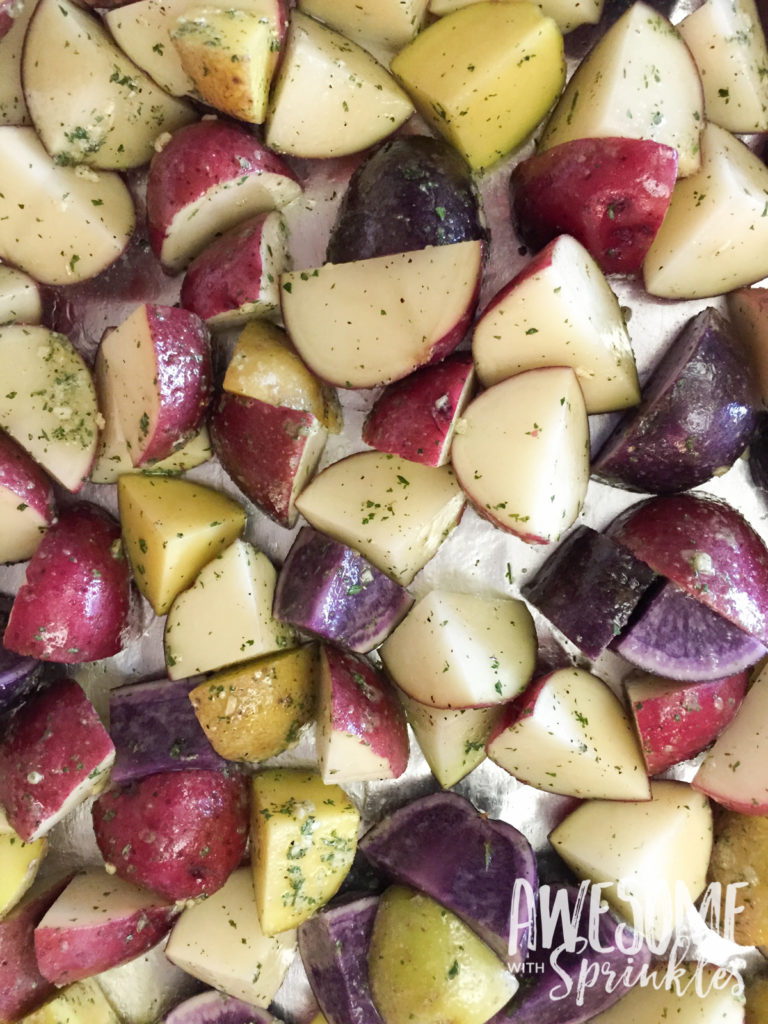 The key to this recipe is the roasted potatoes. Roasting infuses the seasonings into the potatoes and really ups the flavor game. Roasting the potatoes, instead of boiling them, also gives the potatoes a crisper texture so the dish isn't as "mushy".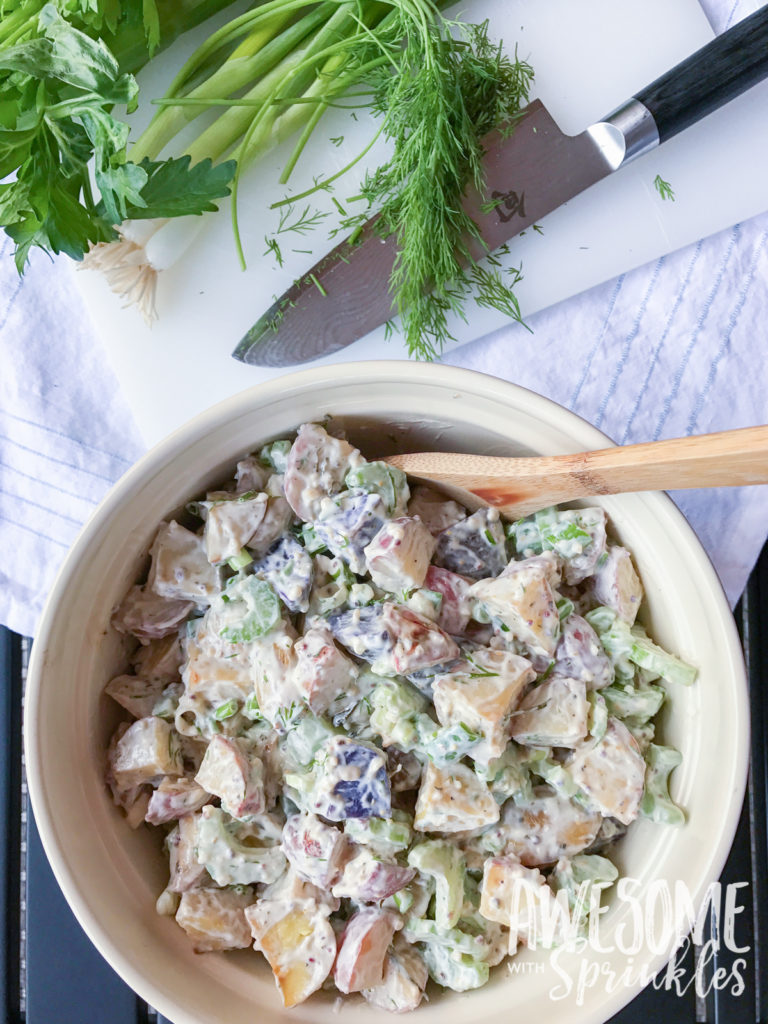 Spice things up with green onion and fresh chopped dill for a zesty kick. Celery adds a sweet crunch.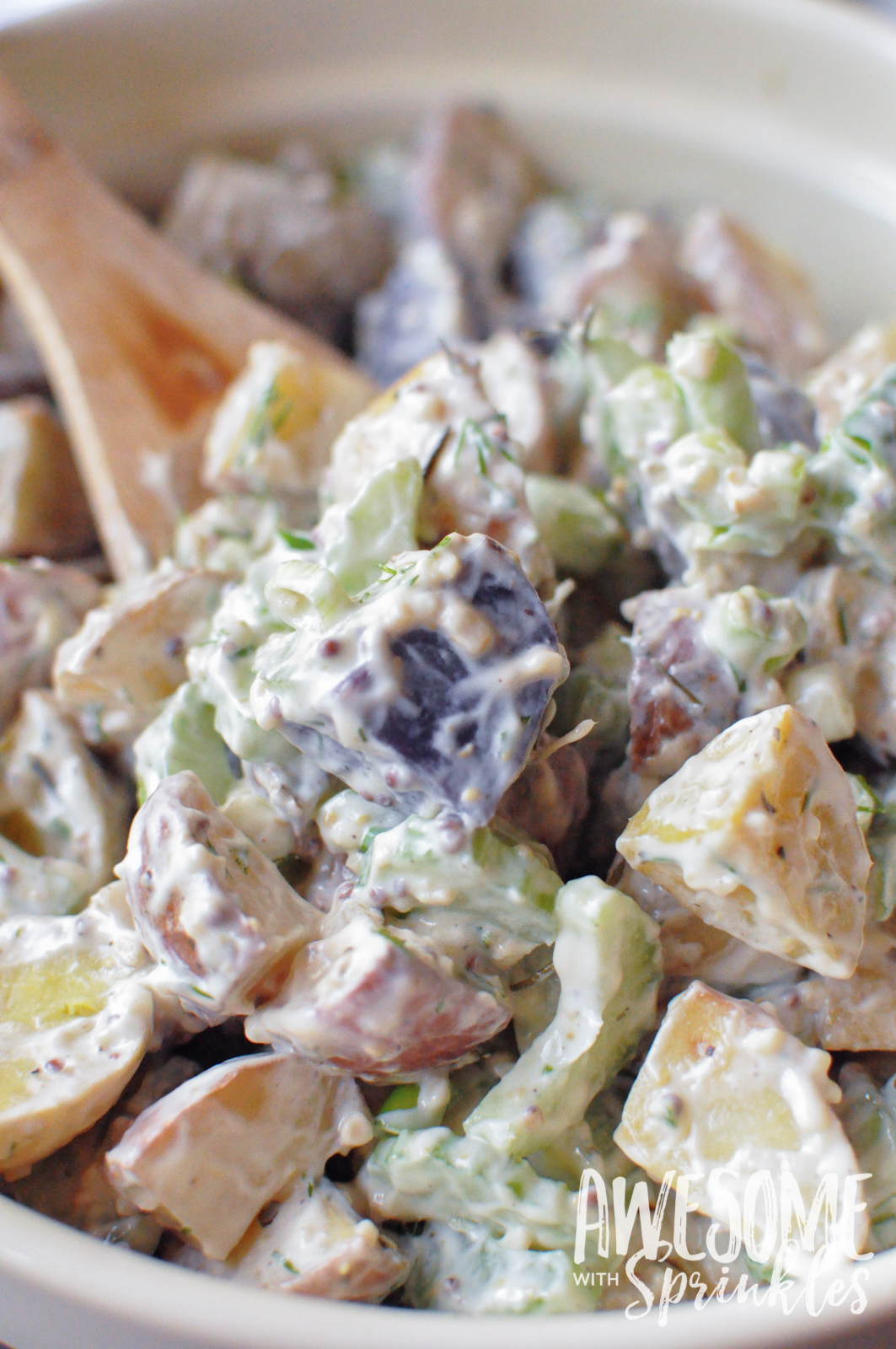 I swap traditional greek yogurt in place of mayo to create that familiar creamy texture that we all know and love about potato salad. The greek yogurt is rich in flavor and light(er) on calories. Win.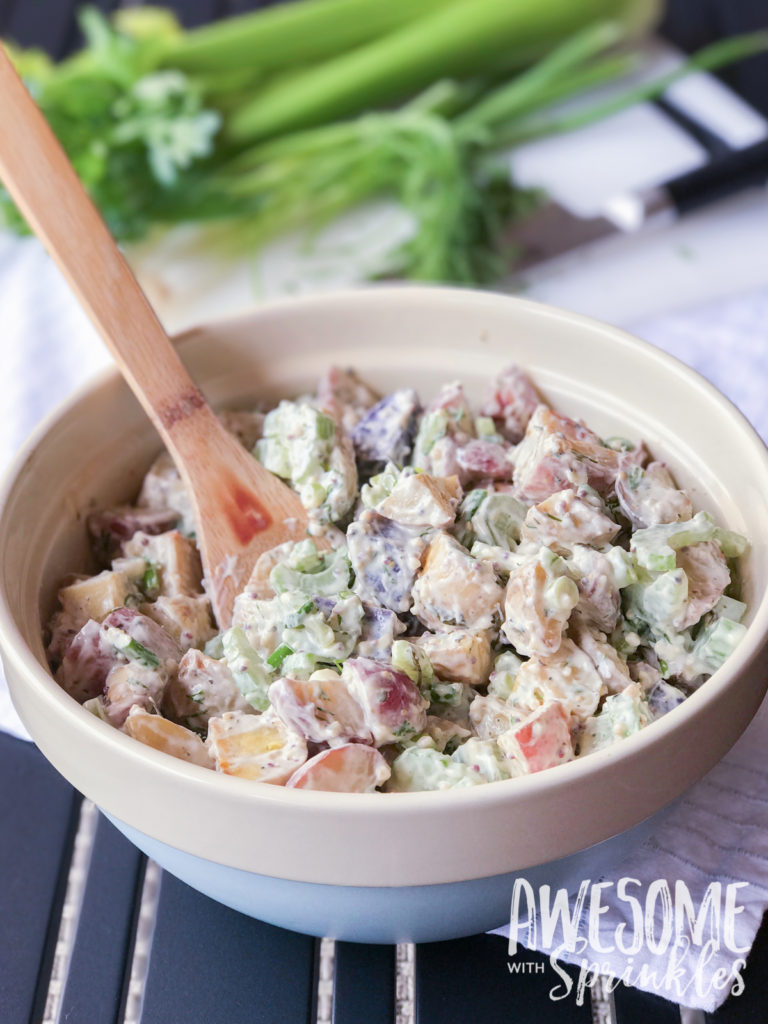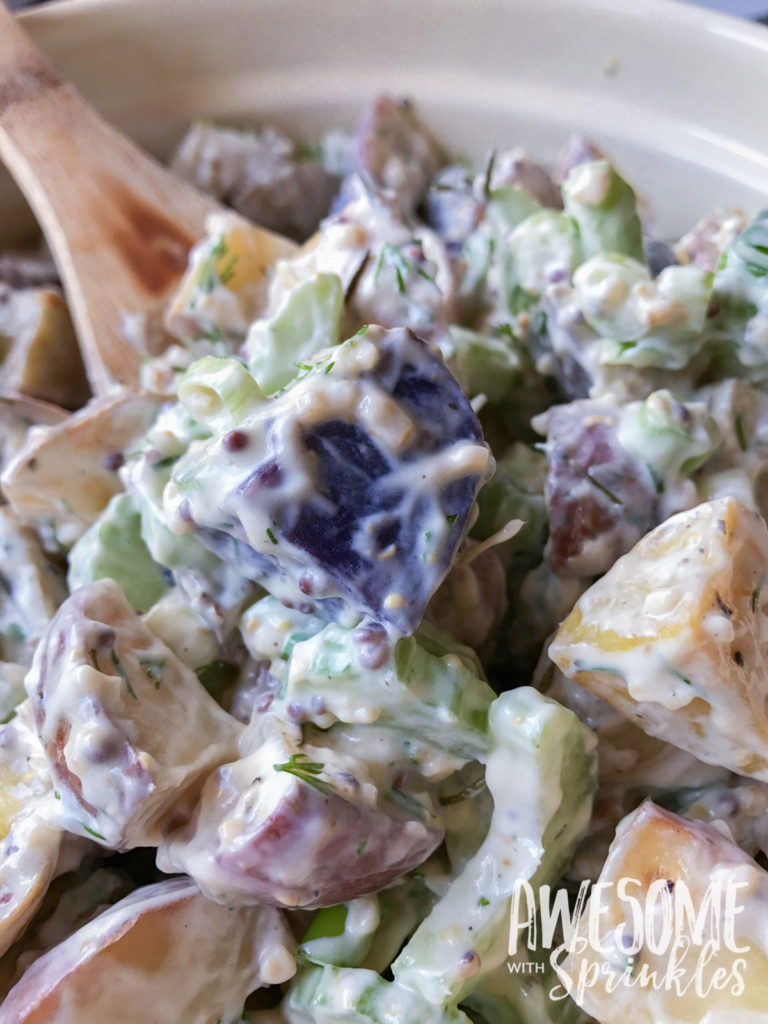 You can use all red potatoes but I love how festive the rainbow potato blend looks! It's red, white and blue! Well, purple, but whatever. Close enough. It makes such a pretty presentation!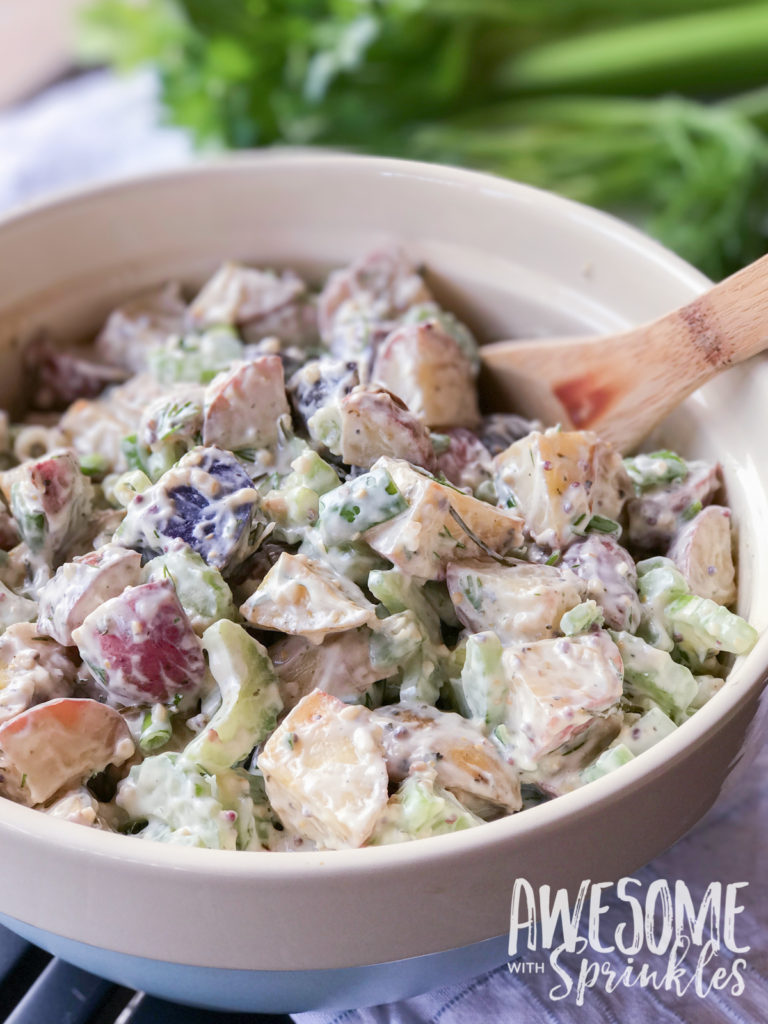 You know your experiment turned out alright when BBQ guests are asking you for the recipe. That's the greatest compliment a home chef can get! <3 I've made it a few more times to get the measurements right (you know that first time is all eye-balling and going by taste!) and now it's ready to share! Enjoy, my friends!
Want to take this red potato salad to the next level of awesome? Add bacon crumbles. Boom. You're welcome.
Pin for Later: