Tuna salad has to be one of my favorite lunchtime comfort foods. Every so often I just crave it and my go to recipe is so much more than the can of tuna and a gob of mayo that make up most tuna salads. But this fresh, crunchy combination is just as easy to make.[jumptorecipe]
Let's talk ingredients. Tuna fish is a power food packed with lots of proteins for a low amount of calories. I prefer the tuna in water because it's lower in fat and I don't like the oily taste and texture of tuna in oil. But to each their own, use what you like. Also my kitties prefer that I use tuna in water so they can have the drained off water. Mmmmmmeow.
Sub the fatty mayo for greek yogurt and add some healthy fats with avocado and you have yourself a lean mean (but still totes counts as comfort food) lunch! Fresher, yummier and less fat.  All wins, my friends.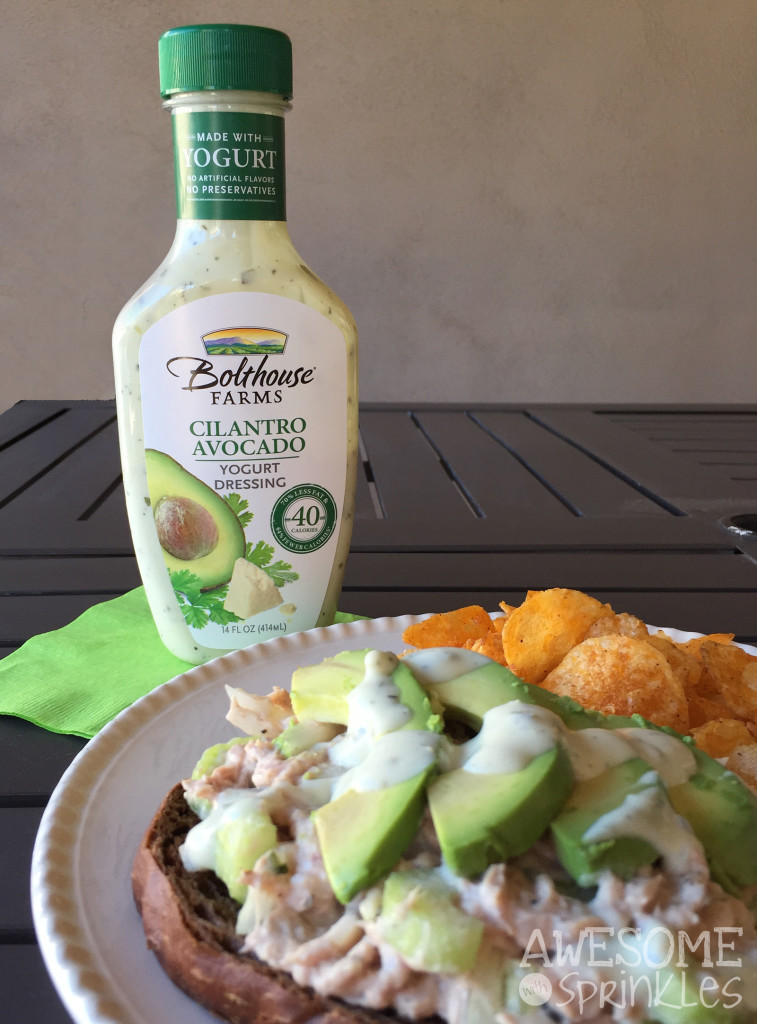 Another tasty ingredient I love to use is this Bolthhouse Farms yogurt dressing. I feel in love with Bolthouse Farms brands back when I first tried their smoothies. Then they started coming out with these yogurt based dressings and I was sold. They are all WAY less calories than regular salad dressings. They are fresh and not full of nasty preservatives and are found in the refrigerated section of your local grocery store. Doesn't it creep you out that your basic ranch dressing isn't kept in the refrigerated section? It should. It creeps me out. P.S. Bolthouse Farms Ranch dressing is amazing. So don't even bother with the other crap anymore.
I love the combination of cilantro and avocado but feel free to mix it up a little bit by adding in carrot shreds, Sriracha, nuts, dried cranberries, cherry tomatoes, chopped peppers or other chopped herbs (dill is great!). Or for a little kick, try it with some of Jenni's awesome pickled jalapeños! Pro tip: pour in a little of the juice too!
Serve open faced or as a proper sandwich, on top of mixed greens, with crackers as a snack or stuffed into an avocado half for a gluten-free option. Or my favorite way… covered in potato chips!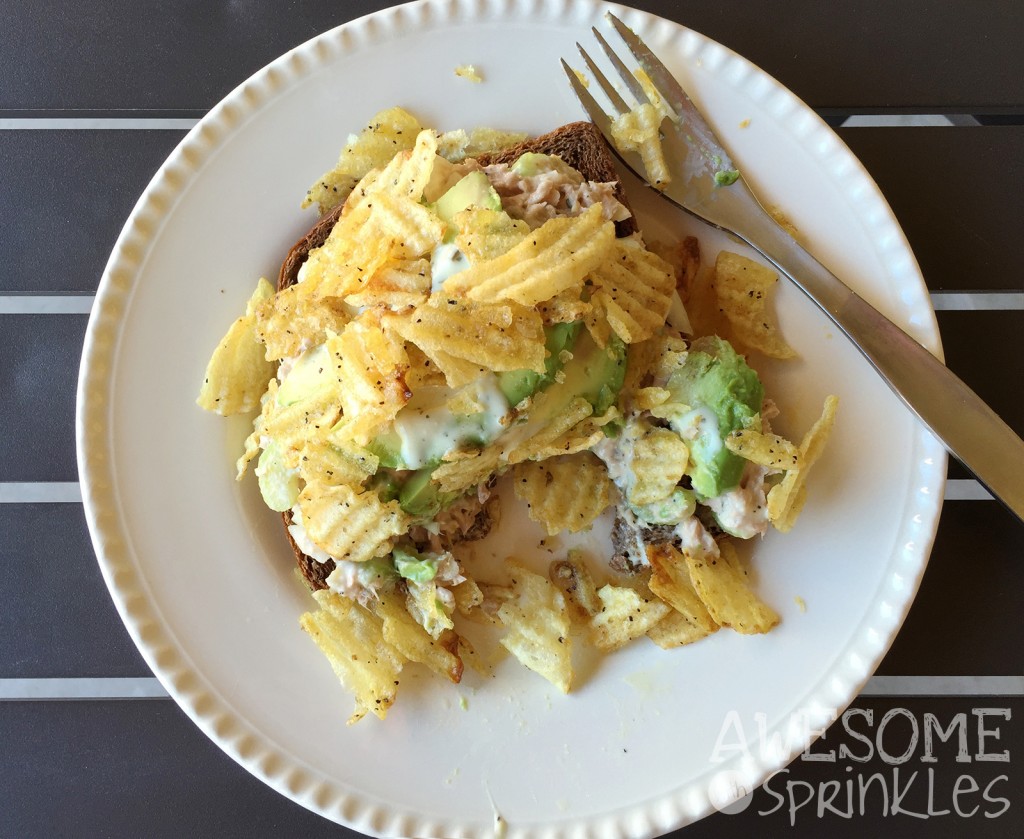 Yeah, yeah I know, I was just talking about making it healthy and then I go and smother it with potato chips. But I was also talking about COMFORT FOOD, duh. And at least I'll only feel half guilty. 😉
Eating potato chips on my sandwiches has been a food oddity of mine going all the way back to grade school. BBQ chips on tuna fish. Sour cream and onion on bologna and cheese. Even regular potato chips on peanut butter and jelly. It adds a bit of salty flavor and a LOT of crunchy texture that is all kinds of awesome. I know I am not the only one that does this, so I am not completely crazy.
[recipeanchor]If you are out there cringing at the thought, but haven't tried it then I urge you to shut your mouth and stuff your face. Give it a try, I double-dog dare ya!

Avocado Tuna Salad with Greek Yogurt
Makes enough for two small sandwiches or one large sandwich, depending on how hungry you are.
Ingredients
1 (5oz) can tuna
1 stalk of celery
2 tbsp chopped onion
1-2 sprigs of fresh cilantro, chopped
1 tbsp Bolthouse Farms Cilantro Avocado Yogurt dressing
1 tbsp greek yogurt (or 2 tbsp of yogurt if not using dressing)
½ avocado
Salt and pepper
Instructions
Drain tuna and toss with celery and onion (or your preferred mix-ins)
Add dressing and yogurt and mix well.
Add salt and pepper to taste.
Spread tuna on toast or bread or on top of salad greens.
Top with avocado slices and drizzle with extra dressing.