Happy GALentine's Day to all the gal pals out there!
Ladies, we all know that Hearts Day is ALL about the chocolate – and this creamy, lightly flavored strawberry white chocolate bark delivers! Plus, it's just soooooo pretty! All the lovely pinks and bright and festive sprinkles are giving us hearts for eyes! ???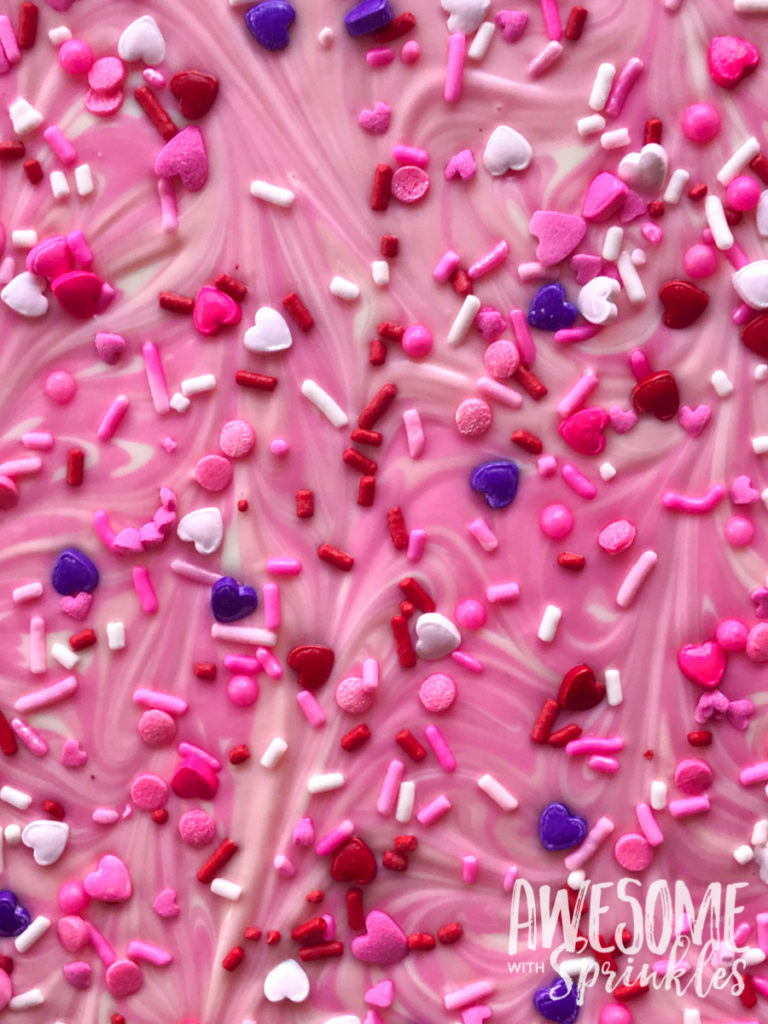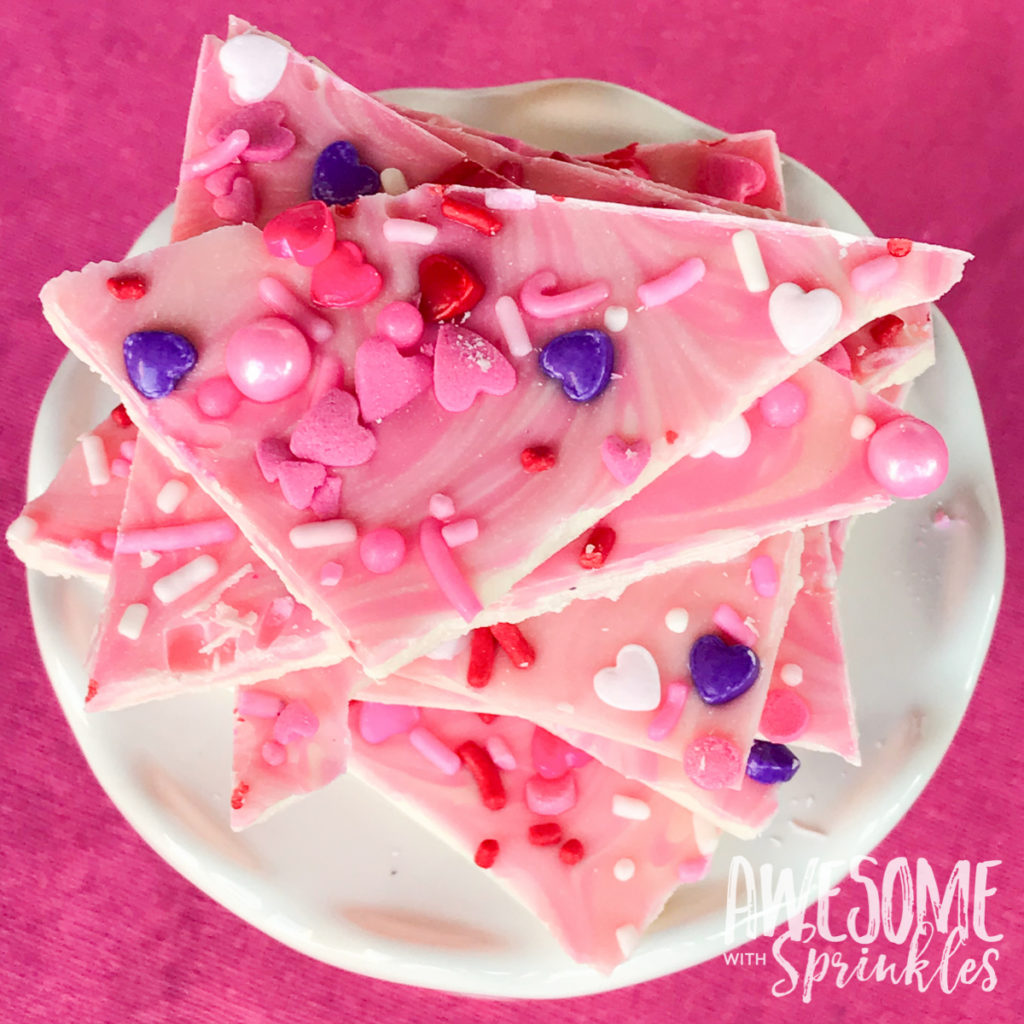 This strawberry white chocolate bark has a subtle hint of ? strawberry candy ? giving it a sweet twist on a regular white chocolate bark. But if strawberry isn't your thing, sub it for another flavor or leave it out entirely.
GOOD TO KNOW: Whatever flavor that you choose, be sure to use an oil based flavoring also called "candy flavoring" or "chocolate flavoring" to avoid your chocolate seizing up. You can easily find these special oils online or at most retailers where candy making supplies are sold such as Micheal's and JoAnn Fabrics & Crafts.

Learn more about flavoring chocolate over at The Spruce.com »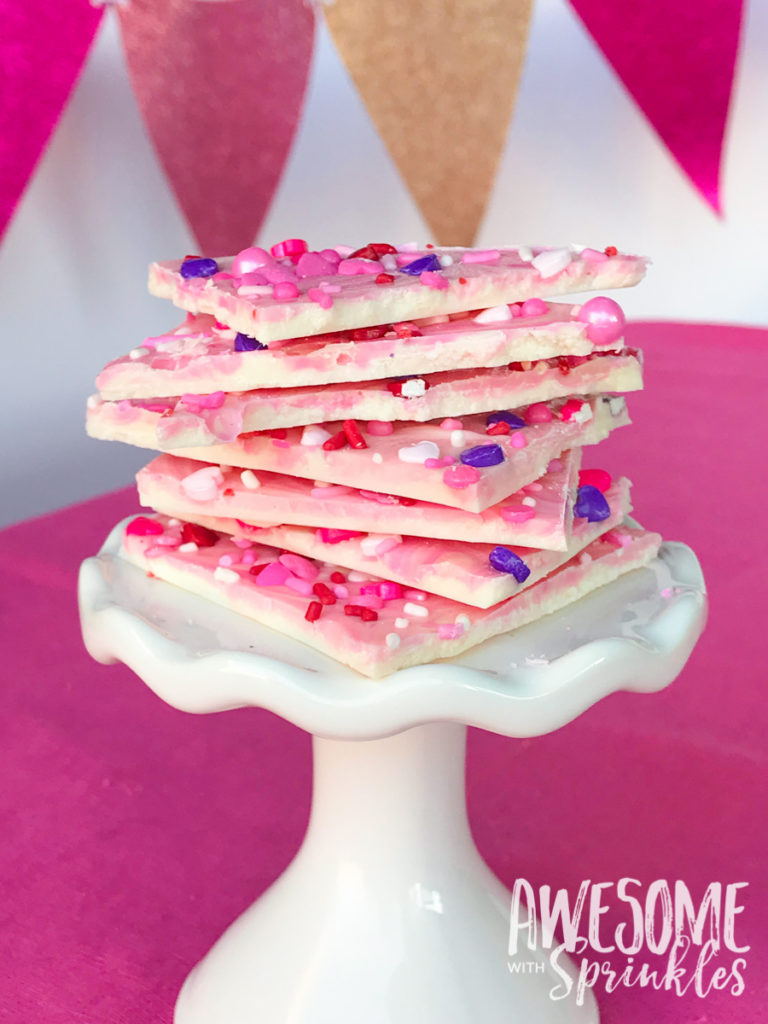 It's quick and easy to make too. Just melt and spread.
Then drizzle…swirl…and sprinkle!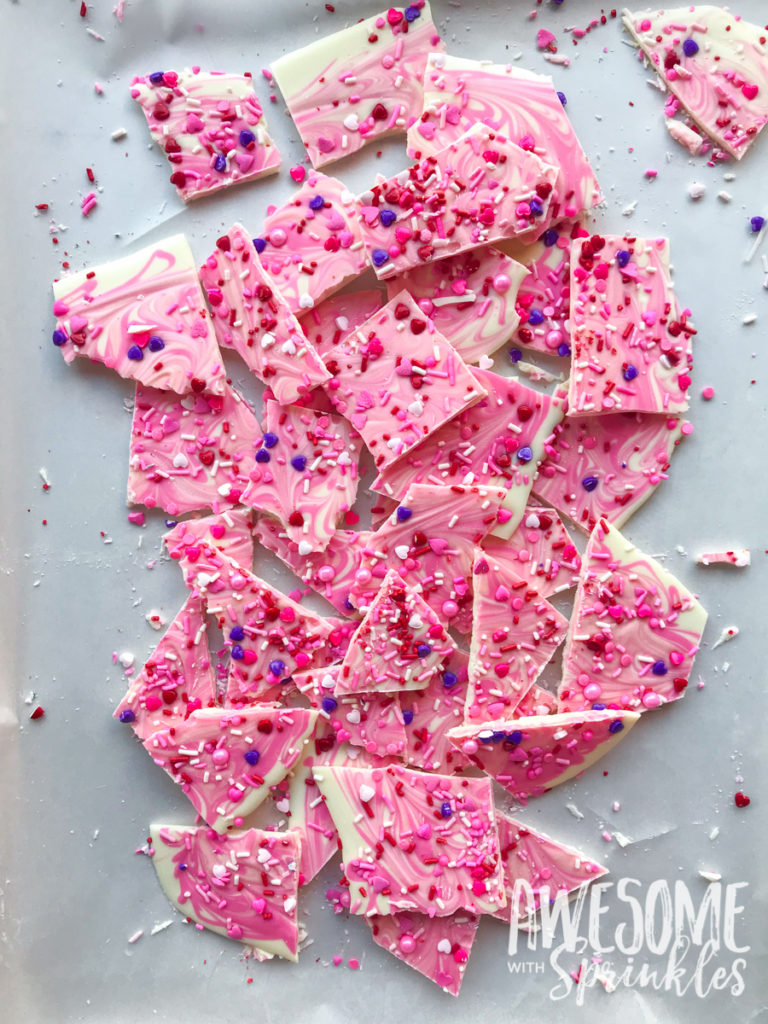 Cool and break apart! Easy peasy!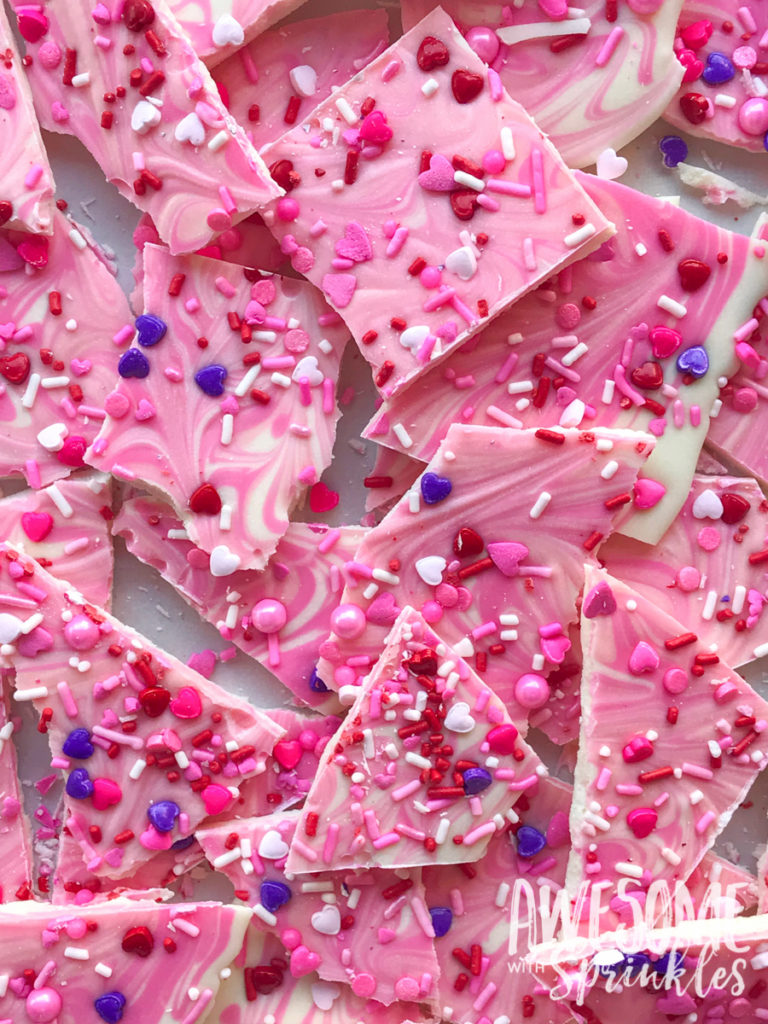 Does pink make you puke? Swap pinks for red and black for a fierce spin or turquoise and violet for something fresh and funky! Get creative with your sprinkle toppings for a totally unique look! Customize to match your school colors, team colors or just your fave colors!
Pair a little bag of white chocolate bark with a few of these DIY No-Crease Hair Ties and you'll have the perfect GALentine's Day treat for all of your sweethearts!!  Get even more GALentine's Day gift ideas here!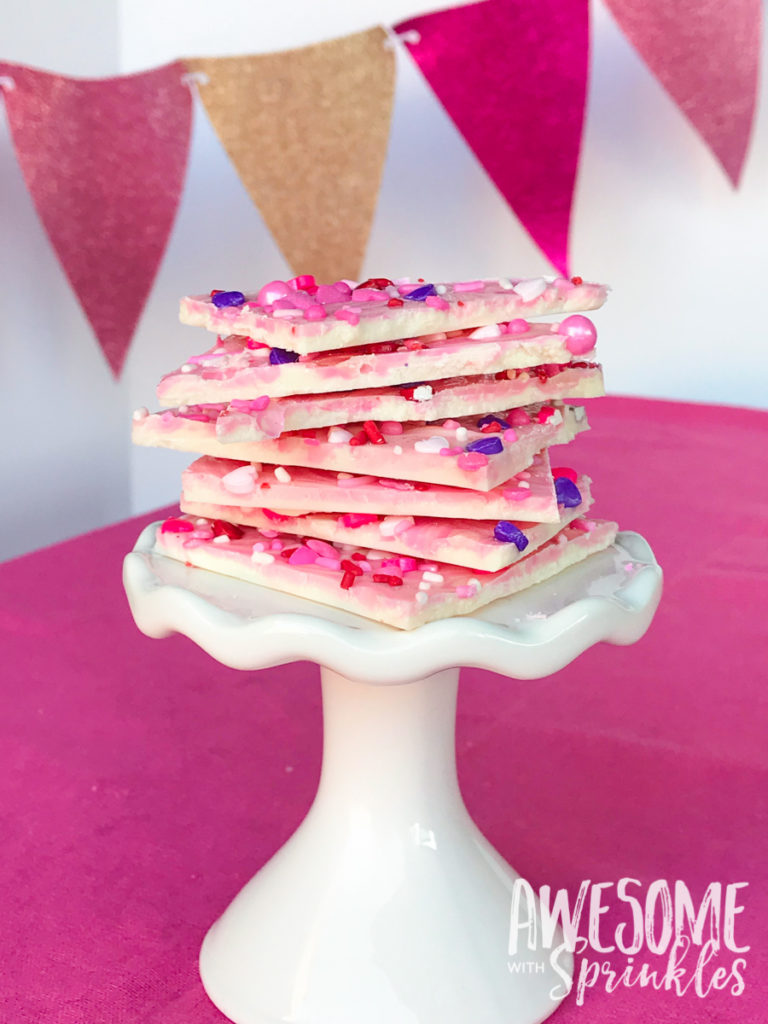 A note on ingredients:
If you know me, you know that I am ALL about flavor. I don't care how pretty something is, if it tastes like over sugared cardboard then it has no place in my mouth or my kitchen. (I'm looking at you fondant and royal icing). The same goes for chocolate.
There are definitely levels of quality when it comes to baking chocolate. It's important to use high quality chocolate, but that is especially true when it is the MAIN ingredient in your dessert.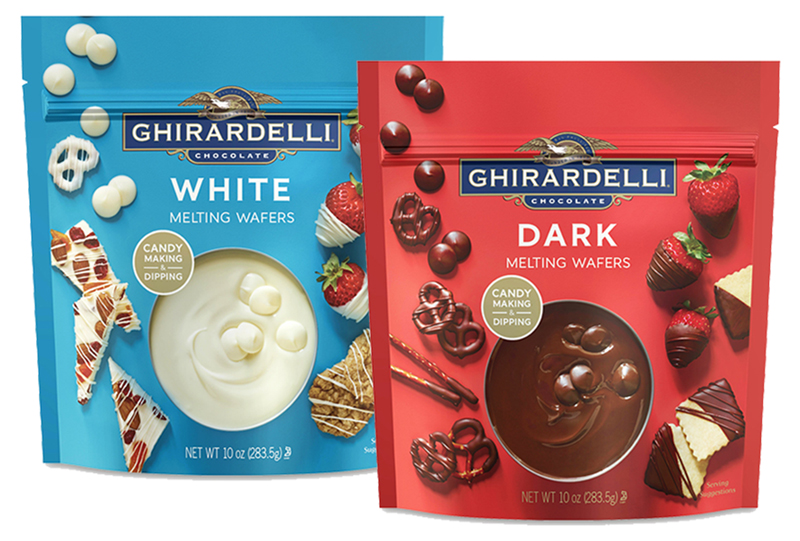 I usually use Ghirardelli or Guittard baking chocolates in most of my recipes. But when I found these Ghirardelli chocolate melts they were a game changer! Before that I had usually steered clear of melting chocolate because it had such a waxy texture and little flavor. Not so with these melts! They taste true to form just like a Ghirardelli chocolate bar. So freaking good! Not gonna lie, I might have eaten a few straight out of the bag. No regrets.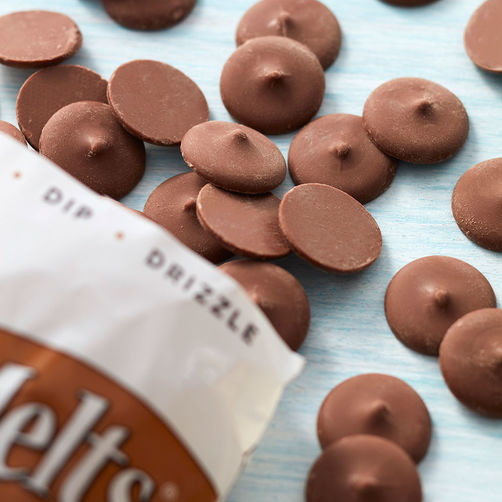 I also tend to only use Wilton candy melts for the same reason. I have tried other candy melts before that have been too waxy, have an "off" flavor, or harden so quickly that they are nearly impossible to use because you have to keep reheating them so often.
You can of course substitute for whatever chocolate or candy melts that you like, but I wanted to mention it because I can't vouch for the flavor of other brands. Whatever you use, I encourage you to pick quality ingredients for best results!
Pin for Later: