On the couch, by the fireside, or bundled up out in the cold, there is nothing quite like a curling up with a warm cup of hot cocoa. Here in Arizona we love our Mexican food and Mexican hot chocolates and mochas are something I look forward too every winter season. What better treat to pair with my chocolaty cup of happiness than cookies inspired by the drink itself!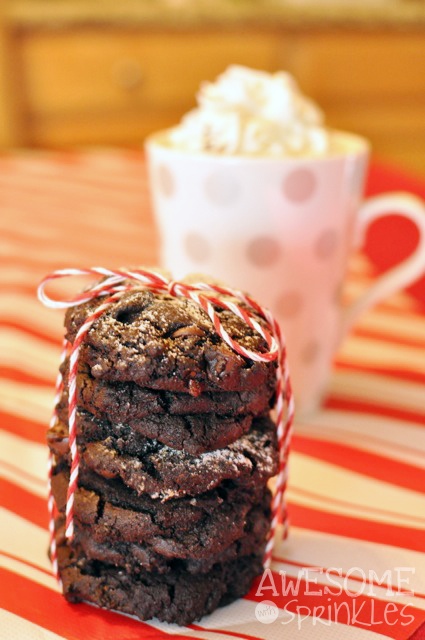 These cookies have just the right amount of crunchiness on the outside with a soft, brownie-like middle. The chili flavor is subtle at first as the dark chocolate melts on your tongue, but then it sneaks up like a ninja and leaves you wondering what the heck is going on in your mouth. Mmmmmm…
Pair these cookies with this traditional Mexican Spiced Hot Chocolate from GimmeSomeOven and you are all set for a cozy evening.
Chocolate Chili Cookies
A chocolaty cookie with a hint of cinnamon and chili spices
Ingredients
½ stick butter
2 oz unsweetened baking chocolate
1 tsp chili oil
1 cup flour
¾ cup unsweetened cocoa powder
1 tsp baking soda
2 tsp sea salt
2 tsp chili powder
1 tsp cinnamon
1 tbsp vanilla extract
1 cup brown sugar
½ cup white sugar
2 eggs
½ cup semi-sweet chocolate chips
¼ cup powdered sugar (for dusting)
Parchment paper
Instructions
Preheat over to 350º
In a microwave safe bowl, heat butter and chocolate together for 30 seconds at a time, stirring in between until melted and smooth. Add chili oil. Set aside to cool.
In a medium bowl, mix together the flour, cocoa powder and baking soda. Set aside.
Whisk together eggs, sugars, vanilla, cinnamon, chili powder and salt until smooth.
Add cooled chocolate/butter mixture and mix until incorporated.
Fold in flour/cocoa mixture until combined. Stir in chocolate chips.
Scoop 1 tbsp balls of dough onto a parchment lined cookie sheet and bake for 10-12 mins.
Remove from oven, dust with powdered sugar and allow to cool.