Sweet peanut curry with a drizzle of Sriracha was the inspiration for this cookie. This is a basic, tried and true peanut butter cookie recipe is kicked up a notch with a dash of Sriracha. Then we take it up another notch with some chocolate chili, another sweet and savory flavor combination. And who doesn't love peanut butter and chocolate. So much win all around.
[jumptorecipe]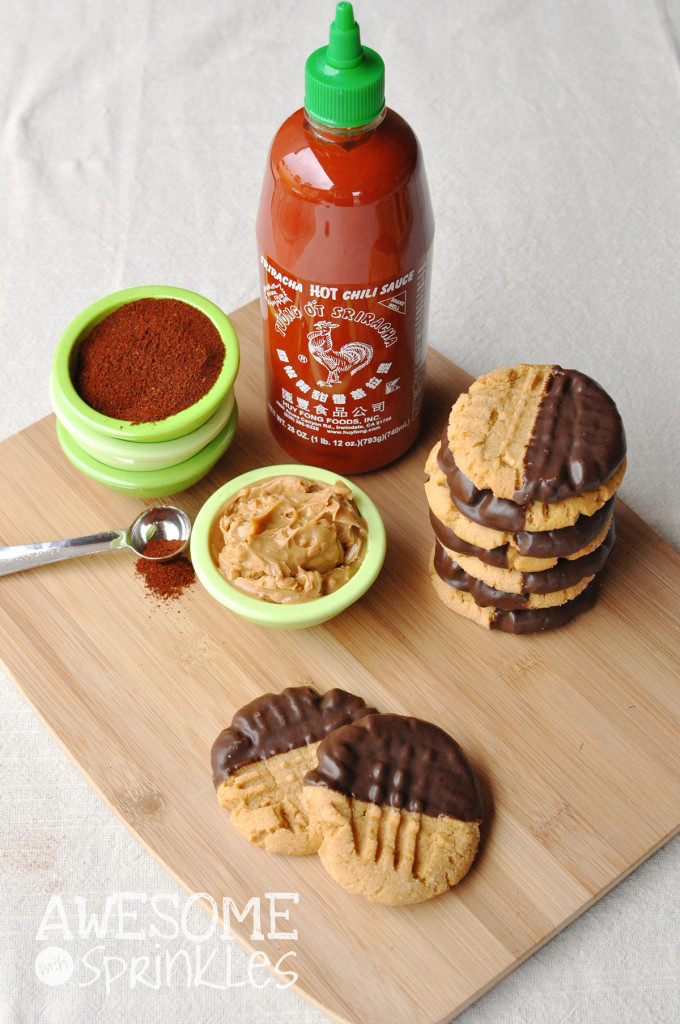 Oh, Sriracha…the condiment of condiments. THE original awesome sauce. This magical Rooster Sauce can be put it on pretty much everything to give it a little kick of awesome; pizza, fried eggs, potatoes, tacos, quiche, cheese dip, bloody marys, mac n cheese, popcorn, thai food, lip balm, candy canes, beer (yes, beer) and Sriracha in a cookie. Boom. Your life is now complete.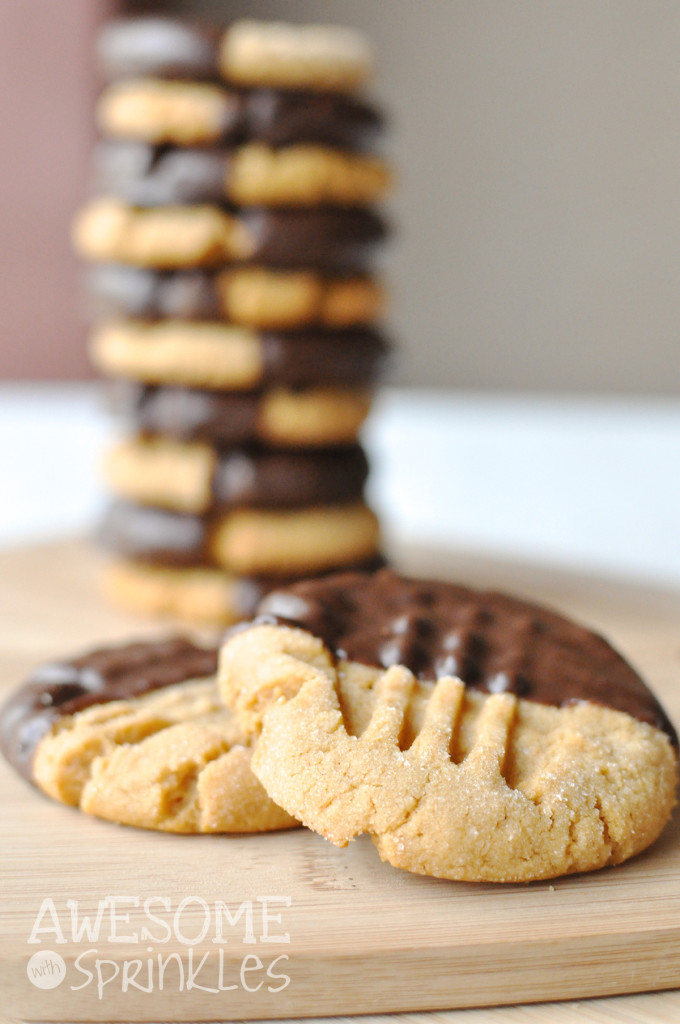 These cookies combine sweet chocolate and peanut buttery goodness with a slow burn of chili that sneaks up on you. If your taste buds had a mind it would be blown.
Fire it up!
For even more kick and a little extra crunchy texture try adding a tablespoon of crushed red peppers to your cookie dough! Pow!
[recipeanchor]

Chocolate Chili Dipped Sriracha Peanut Butter Cookies
Ingredients
• 2 ¾ to 3 cups all-purpose flour
• 1 teaspoon baking powder
• 1½ teaspoons baking soda
• ½ teaspoon salt
• 1 cup unsalted butter (softened)
• 1½ cups peanut butter (I like to use half crunchy and half creamy peanut butter)
• 1 cup sugar
• 1 cup packed brown sugar
• ¼ cup Sriracha chili sauce
• 2 eggs
• 1 teaspoon vanilla extract
• extra granulated sugar for dipping dough balls into
• 3 cups dark melting chocolate (I use Ghirardelli melting wafers)
• 3 teaspoons chili powder
Instructions
In a medium bowl mix together 2¾ flour, baking powder, baking soda and salt. Set aside.
Using an electric or stand mixer, cream together butter, peanut butter and sugars until fluffy.
Slowly add in Sriracha, eggs and vanilla. Beat until combined.
Gently stir in flour mixture into peanut butter mixture and mix until well combined. (finished dough should be soft, but not sticky. Add additional flour if needed.)
Chill batter in refrigerator for about 1 hour (and try not to eat too much while you wait!)
Pre-heat oven to 350 degrees.
Roll dough into about 1" sized balls. Dip the top of dough ball into granulated sugar and place onto
a non-stick cookie sheet (or a baking sheet lined with parchment paper).
Flatten each ball with a fork, making a fun, criss-cross pattern.
Bake for 8-10 minutes or just until the cookies begin to brown. Cool on wire racks.
Once cookies are completely cooled you can dip them, if you'd like. Begin by melting 1 cup of
chocolate wafers in a tall microwave safe bowl or cup as per instructions (melting times may vary
depending on the brand of wafers used).
Stir 1 tsp chili powder into 1 cup melted chocolate.
Dip cookies halfway into the chocolate, lift out and gently tap off any excess.
You may need to pop your melting chocolate back into the microwave periodically to soften it up as you go. As you use your chocolate up, continue to add more melting chocolate, 1 cup at a time (don't forget to add another 1 tsp of chili powder for each cup of chocolate).
Lay dipped cookies on wax paper and allow to cool completely until chocolate has set.
Now it's the time you have been waiting for -- CHOW TIME! Enjoy!