OMG…YUM! Chocolate + coffee…what more could a geeky girl ask for? With it's rich chocolate and strong espresso flavors, this cake is a magical cure for a bad day, a late night craving or anything else that is getting you down. Eat a decadent slice for breakfast and get your caffeine and your sugar rush all in one. =)
[jumptorecipe]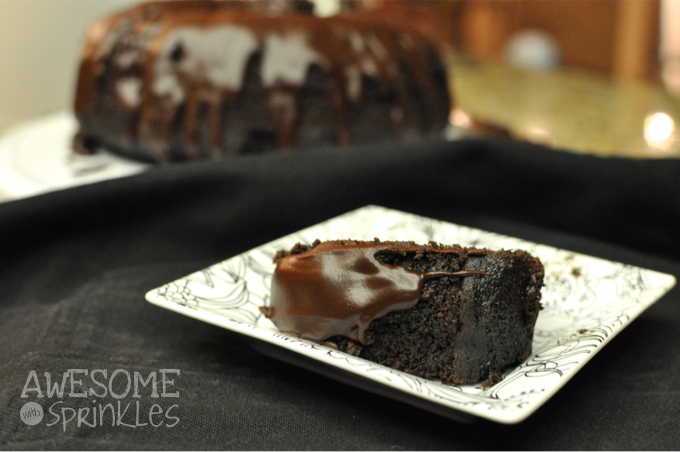 *Just a Note: This recipe made a lot of glaze. I tried pouring it all on but probably should have stopped before I did (or let it cool a bit between layers) because the glaze started to get heavy and slide off the cake. So just be careful or your cake might not turn out as pretty.
The chocolate cinnamon glaze is tasty, but I also think that this cake would pair beautifully with my cream cheese frosting. This cake is very decadent and the cream cheese would balance out the rich chocolate flavor. Almost like a dollop of cream atop your mocha. Yummy.
Unfortunately I didn't get the best photos of this beautiful dessert. I made it for a party and in the hustle and bustle I barely remembered to take a shot of a slice. But please don't let that deter you, I promise, this cake is worth every dark chocolatey bite. I will be making it again for sure, and I will do it justice with the photos next time. 😉
[recipeanchor]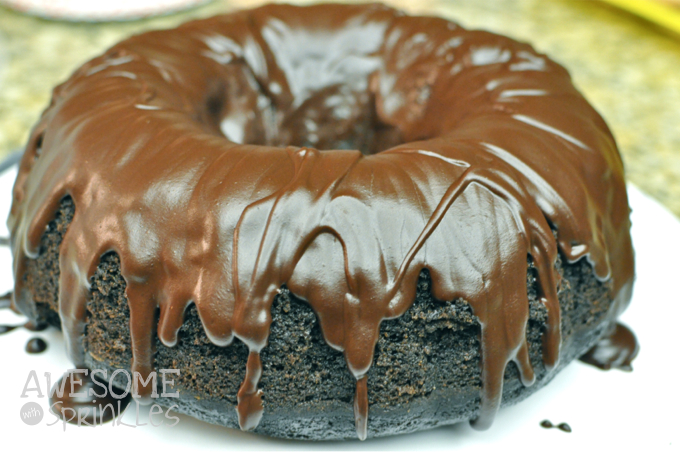 Dark Chocolate Espresso Bundt Cake with Chocolate Cinnamon Glaze
Ingredients
For the Cake
2 sticks butter (1 cup)
½ cup dark Dutch process cocoa powder (extra dark is the best, but it is a bit hard to find. I used Ghirardelli)
¾ cup espresso (or 1 tablespoon instant espresso powder, like Starbucks via, dissolved into ¾ cup water)
2 cups sugar
1 cup sour cream
1 tablespoon vanilla extract
2 large eggs
2 cups all-purpose flour
1 teaspoon baking soda
½ teaspoon salt
For the Glaze
4 oz (1/2 cup) bittersweet chocolate, coarsely chopped
⅓ cup unsalted butter (softened)
1½ teaspooons light corn syrup
½ teaspoon ground cinnamon
Instructions
Preheat oven to 350° F. Butter and flour a 10-12 cup bundt pan.
Melt butter in a large saucepan over medium-low heat; add cocoa powder, stirring until smooth. Whisk in the espresso water and remove from heat. Add the sugar, sour cream, vanilla, and eggs to the warmed cocoa mixture and whisk until smooth.
In a medium bowl combine the flour, baking soda, and salt. Add all at once to the first mixture, whisking until well blended.
Pour batter into prepared pan. Bake for 40-45 minutes, or until it feels firm to the touch and has slightly pulled away from the sides of the pan. Cool in pan on a rack for 20 minutes. Carefully loosen the cake with a knife and invert onto a large plate.
Place the chocolate, butter, corn syrup, and cinnamon in a medium heatproof bowl over a pot of simmering water. Stir the mixture using a rubber spatula until melted and smooth.
Pour warm glaze over bundt cake. Keep covered at room temperature for up to 4 days.
Original recipe from Sweetapolita