Happy Thanksgiving everyone! Today I gift to you my award winning Pumpkin Spice Bundt Cake recipe. Okay, so maybe the award was just winning my office holiday dessert contest 3 years in a row, but still, it is one delicious bundt and one of my favorite desserts ever! Something to be thankful for indeed! 😉
I like to decorate my cake with great, big heaping pipes of frosting coming out from the center. It looks like a flower and makes for a very pretty and professional presentation. You can also sprinkle the top of the bundt cake with cinnamon and sugar or drizzle with glaze.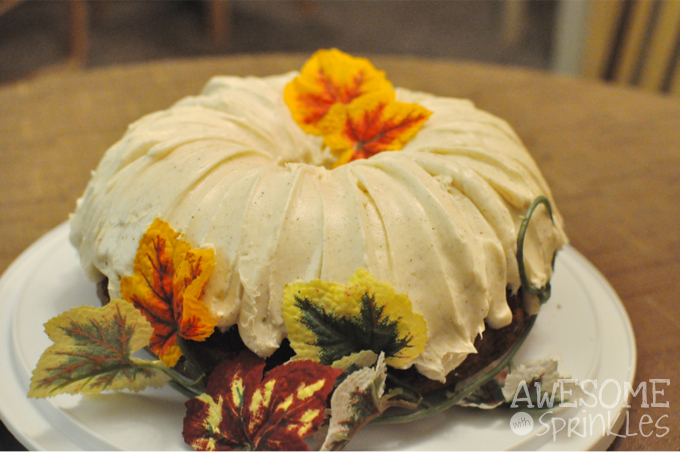 Try this recipe as cupcakes! »

Pumpkin Spice Bundt Cake
Ingredients
Pumpkin Spice Bundt Cake
1 cup vegetable oil
3 eggs
1 small can (15 oz) pumpkin puree
1 tsp vanilla extract
2½ cups white sugar
2½ cups all-purpose flour
1 tsp baking soda
1 tsp ground nutmeg
1 tsp ground allspice
1 tsp ground cinnamon
1 tsp ground cloves
¼ tsp salt
Cinnamon Cream Cheese Frosting
1 package (8oz) cream cheese
1 stick (1/2 cup) unsalted sweet cream butter (softened at room temperature)
16oz (about 4 cups) powdered sugar
2 teaspoons vanilla extract
4 tsp of ground cinnamon
2 tablespoons of milk (optional)
Instructions
For the Cake
Preheat oven to 350 degrees.
Grease one 10 in bundt or tube pan.
Cream oil, beaten eggs, pumpkin and vanilla together.
Sift the flour, sugar, baking soda, nutmeg, allspice, cinnamon, cloves, and salt together (sifting may be tedious but it's very important. This is what makes the cake so amazingly moist.)
Add the flour mixture to the pumpkin mixture and mix until just combined. Pour batter into prepared pan.
Bake at 350 degrees for 1 hour for cake or until a toothpick comes out clean.
Let cool in pan for 5 mins and then turn out.
For the Frosting
Beat the cream cheese and butter together with an electric mixer until light and fluffy (about 2 minutes).
Turn mixer to low and add the vanilla and cinnamon. Gradually add the powdered sugar (about ¼ cup at a time) and beat until smooth. Add more powdered sugar if frosting is too smooth, add more milk if it is too thick until you reach the desired consistency.
Refrigerate any unused frosting.