There are dozens of subscription boxes out there – makeup, geek paraphernalia, toys for pets, clothing, lifestyle, bedroom toys, health & fitness, the list goes on.  There's even one for Single Ladies.  Barf.  The most popular is probably meal boxes.
If you're unfamiliar with how they work, you subscribe to a weekly box of fresh ingredients that's delivered right to your door with pre-portioned meats, veggies, sauces, and spices and a recipe card. Typically all you need to add are oil, salt, pepper, and water. They assume that you have basic cooking tools like a set of mixing bowls, sheet pans, skillet, cooking implements, cutting boards, and knives.
Why Green Chef?
I picked Green Chef because it came recommended by a blogger I follow on Instagram and Facebook, Ms Jessamyn Stanley.  This woman does not sugarcoat or promote things she doesn't love, so I felt confident taking her rec.  Green Chef's ingredients are organic and without GMO's, pesticides, artificial ingredients and hormones. Their packaging is also eco-friendly, which was a concern since some of these boxes come with so much waste. There's even a page on their site on how to dispose of the packaging. There is some trash, but most of it can be reused or recycled.
I'm a single girl, and find it hard to cook for one. Typically, I make enough for 3-4 people and eat lots of leftovers throughout the week. I wanted to make sure I was getting (fairly) healthy, balanced meals. I'd live off of coffee, baked goods, and garlic bread if left to my own devices!  Since they send only the ingredients you need, in the measurements you need, I didn't have to buy jars of 15 different spices just to use 1/4 teaspoon of each per recipe and never use again.
When I first set up my account, I picked the 2-Person Omnivore plan but changed to the Carnivore plan once I saw some of the Omnivore recipes that were going to be sent to me. There was nothing wrong with them, but I'm a pretty picky eater and they weren't to my taste. With a 2-Person plan, I'd have enough for 6 meals durning the week to eat for extra dinners or lunches, or to cook for a friend.

In the Box
I'm lucky enough that I can work from home certain days of the week, so I set my box to deliver on a day when I would be home to receive the box and put the ingredients in the fridge. Living in Phoenix, you can't depend on those little ice packs for long. I opened the box about 15-20 minutes after delivery. The food was still cold, and everything would have been ok outside for another few hours had I been at work (though perhaps not in July).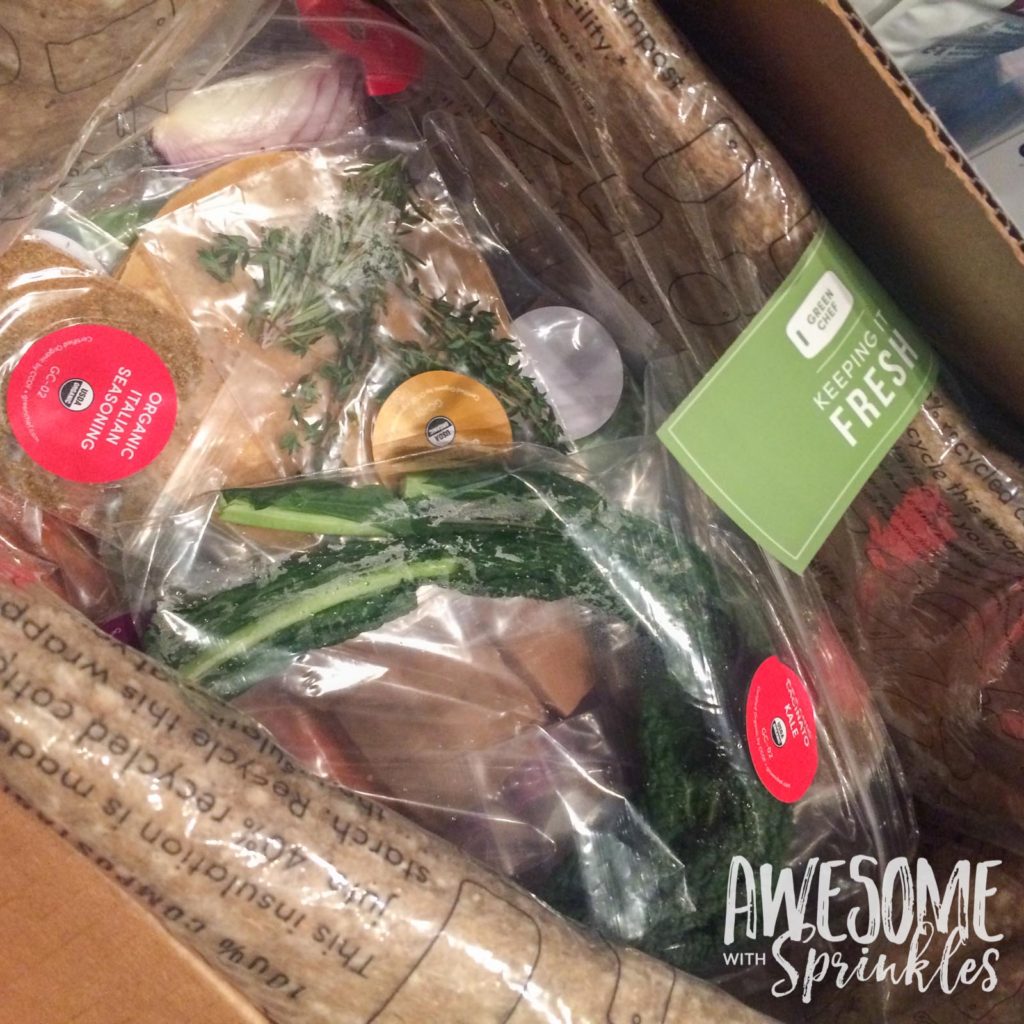 When I opened the box, the first layer was produce and seasoning packets. Underneath that was a layer of ice pack on top of more produce, sauces, and meats. On the bottom was another layer of ice pack.  Note: I left the cardboard shipping box on my kitchen floor to drag out for recycling and the ice packs were still cool to the touch days later.
The recipes in my first box were:
Jerk Chicken Tostadas with Chipotle-maple potatoes & bell peppers, slaw
Orange-Ginger Salmon with Black lentils, braised red cabbage & snap peas
Italian Meatballs & Orzo with Creminis, Lacinato kale, tomatoes, fresh herbs
I put away the ingredients until it was time to start cooking dinner.
Cooking
I want to preface by saying I'm probably the least skilled in the kitchen of the AWS team. I can navigate a recipe pretty well, but I am SLOW and have a hard time "winging it." I felt their time allotments on the recipe cards were probably a gross underestimation for my skills.  Rachael Ray may cook 30-Minute Meals, but it takes me at least an hour.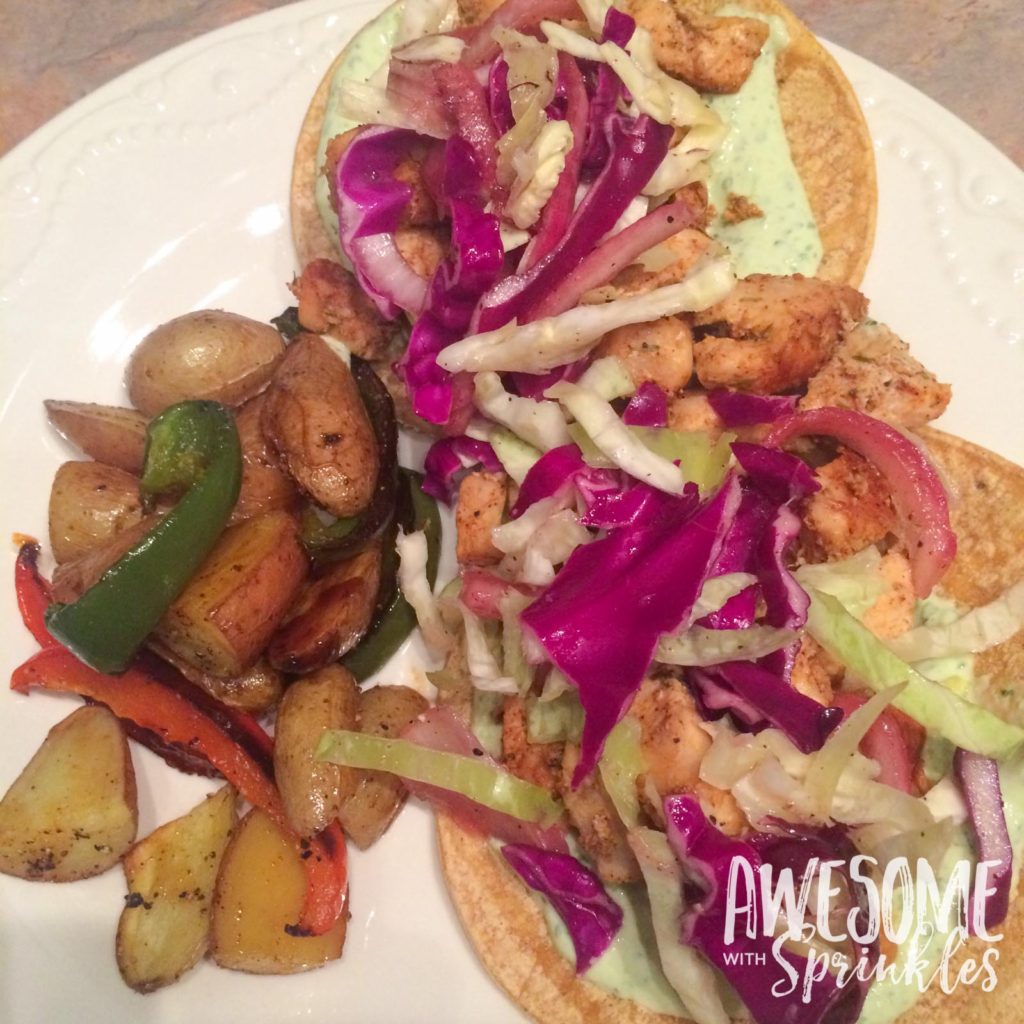 Meal #1: Jerk Chicken Tostadas
The first meal I tried was the Jerk Chicken Tostadas.  All of the ingredients are color coded to go with each recipe, which makes it easy to pull out exactly what you need.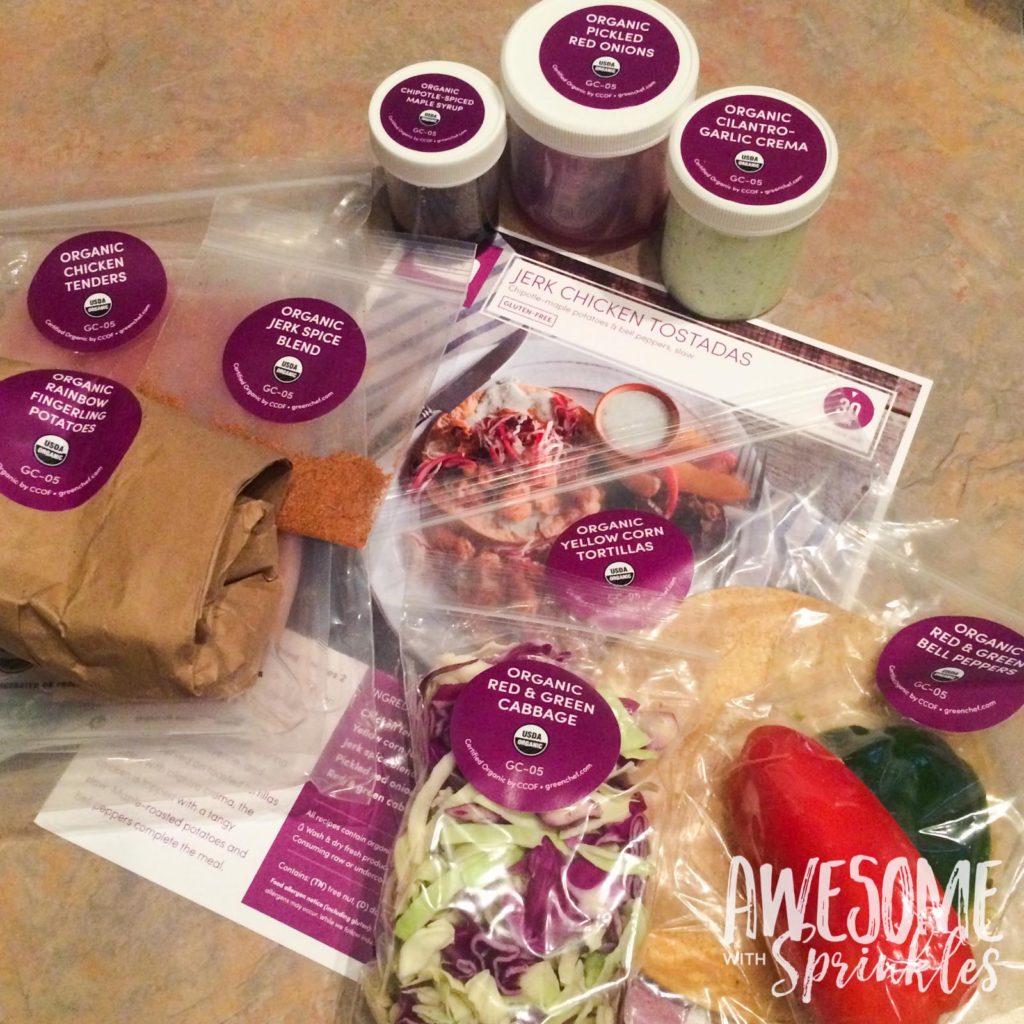 I started cooking 2-3 hours after I received the box, and I probably should have left the chicken out on the counter since the chicken was still a bit icy in the middle.  The meats were semi-hard when I opened the box but didn't think they were THAT frozen.  I cooked the chicken a bit longer than the recipe called for.
The recipe card indicated that this meal should be done in 30 minutes.  It took me a bit longer, but I was still eating about 35 minutes after I started cooking, which isn't bad considering all of the steps – sautéed chicken, heated the tortillas, roasted the potatoes and peppers, and mixed up the slaw.  I didn't like that I had to cut the chicken tenders into pieces (eww raw chicken!) – I think they should have come pre-cut, but that's really my only complaint.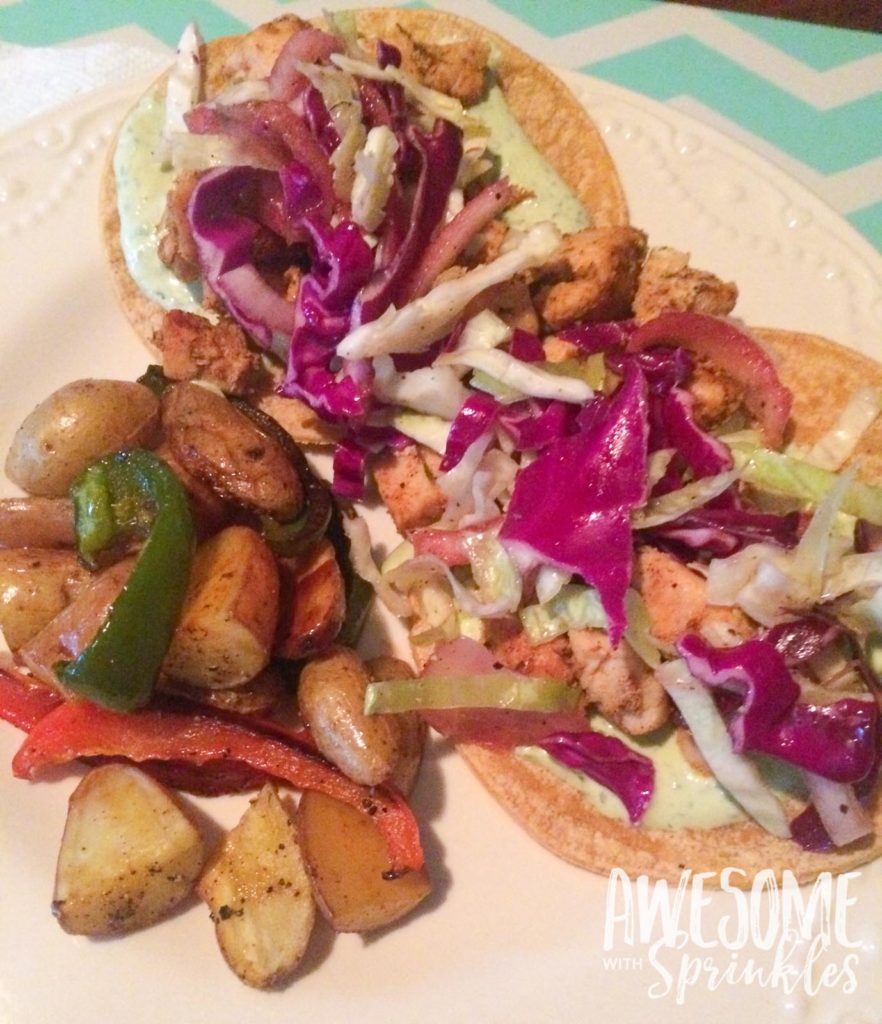 These were more tacos than tostadas, as some other customers noted on the Green Chef site, but from the picture I wasn't expecting a traditional tostada.  Also, the slaw wasn't amazing as leftovers.  It got a bit soggy overnight, but still tasted good.  I would make this again without question.  I'd probably mix the slaw as I ate it.  I could have also eaten more potatoes & peppers, but I was full after the two tostadas and veggie side so I didn't really *need* more.

Meal #2: Orange-Ginger Salmon
Meal two was the Orange-Ginger Salmon.  Again, it was easy to pull all the ingredients for the recipe together.  This one was supposed to take approx. 40 minutes and took me closer to 45-50, and took A LOT of pans.  I needed two sauté pans (one of which also needed to be oven safe) and a small pot.  At one point I had 3 burners on my stove going at once.  I also wasn't thrilled to find that I had to de-stem and chop the herbs, or prep the snap peas by removing the fibrous strings.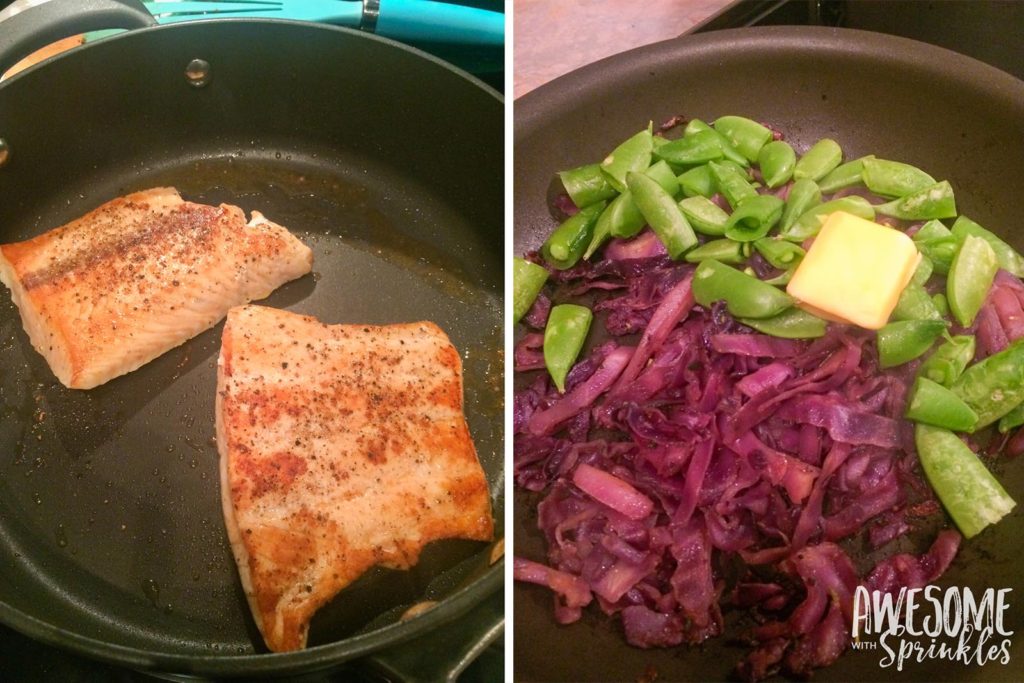 The instructions said to cook the salmon skin side up, but the salmon that came in my box did not have the skin on it – which honestly is how I prefer my fish so I wasn't sad about that.  The peas looked a bit wilted/banged up, but I didn't cook them until Monday (after receiving the box on Friday) .  They were probably fresher on Friday.  Once they were cooked they brightened up and were fine.
My favorite part of this dish was the salmon with glaze.  I would make that again on its own.  The veggies (braised cabbage and snap peas) were good, though I enjoyed the cabbage more than the peas (who would have thought?!).
My least favorite part was the black lentils.  I've never eaten lentils before, let alone cooked them, so yay for getting out of my culinary comfort zone!  They were a fine substitute for rice or a grain, but not sure I would go out of my way to make lentils again for another dish, even though I hear they're good for you.  The portion of this meal was generous as well and I had plenty to take for leftovers for lunch, or for another person.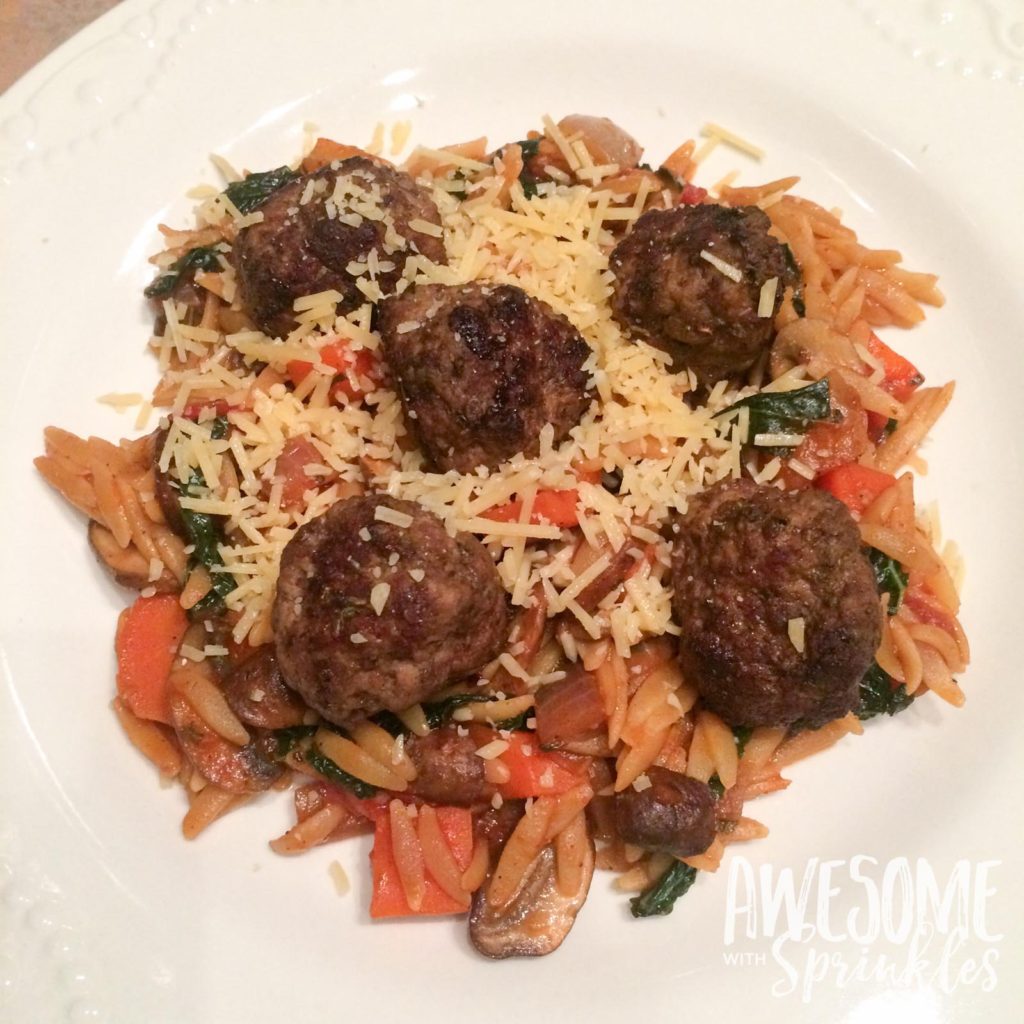 Meal #3: Italian Meatballs with Orzo
The final meal in the box was Italian Meatballs with Orzo.  I was least looking forward to this meal as it contained three things I'm not fond of – kale, tomatoes, and mushrooms.  Did I mention that I'm a picky eater?! I half considered omitting some of the ingredients but I'm glad I didn't.  This dish was surprisingly (to me) yummy.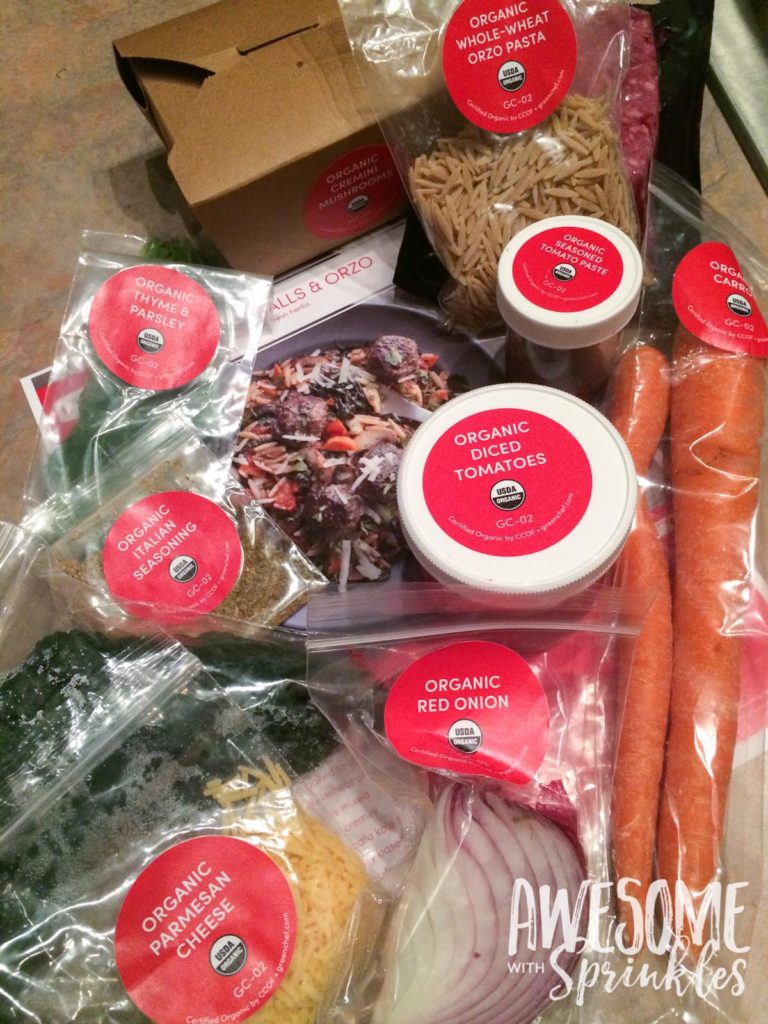 There were a few steps, again, that I wish had come pre-done, like chopping of some of the veggies and herbs, and mixing the meatballs.  The meatballs were a bit dry and bland.  They could have used some egg, and perhaps some onions and garlic mixed in.  I did make some garlic bread on the side, just in case I hated this dish I could eat bread and meatballs.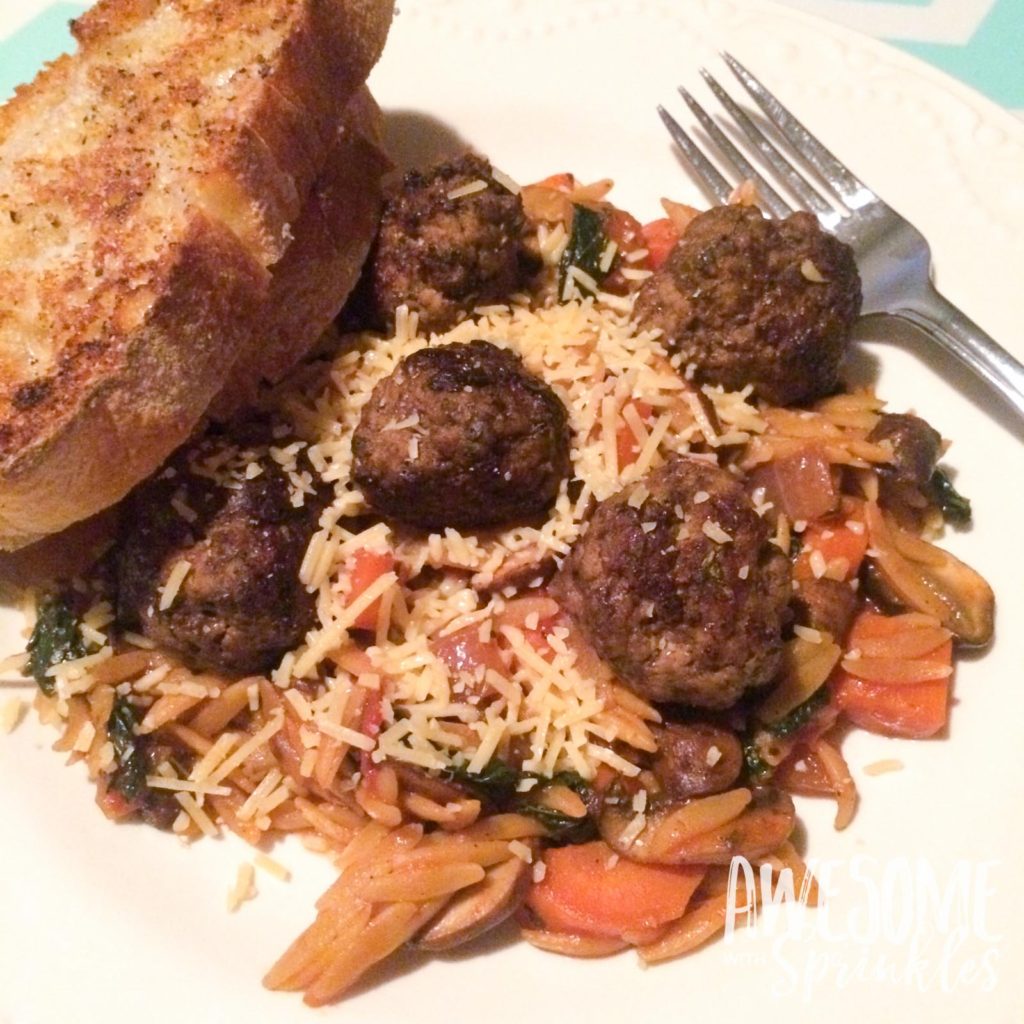 The recipe card said it should be done in 35 minutes, and took me probably closer to 40-45.  I would totally make this again, especially if I was trying to impress someone with my awesome cooking skills!
Overall Impressions
This was a really good experience.  The directions were clear and easy to follow.  All of the ingredients were fresh and well labeled.  Each meal came out looking very close to the picture.  Meals were filling and portions were plenty.  The times on the recipes were pretty accurate.  I clocked about 5-10 minutes more than noted, but nothing unreasonable.
Each step by step tells you what to do while an element is cooking, so no time is wasted.  There were some steps that I expected to be done when the ingredients arrived, but I can only assume that certain steps were left undone to save on freshness.  And holy dishes, Batman!  The tostadas had the least amount of dishes, but with the others, I dirtied a lot of pots and pans.  Hopefully you have someone on dish duty!
I have another box coming at the end of the week, though I've marked "skip" on the next few weeks after that, mostly for my bank account.  The Carnivore package ends up being around $90 per week/box (6 meals), which is a lot for one person when I still have to supplement the rest of the week with other groceries.  I also wish they delivered earlier in the week.  You can select from Wednesday, Thursday, or Friday delivery, but I would have preferred a Monday/Tuesday delivery to balance the week better.  But I have 3 new recipes in my repertoire and I ate far outside of my comfort zone this week and enjoyed every bite!
Disclaimer: This post is not sponsored by, nor am I affiliated with, Green Chef.