Mac-n-Cheese has long been a staple in my household. I grew up on bowls of mac and hotdogs and still crave it now and again. It's hard to deny, that stuff is damn good. Mac-n-cheese has evolved since the days of the blue box and it isn't surprising to find a "grown up" version of this cheesy ambrosia in even the fanciest of restaurants.
Homemade gourmet macs are nothing new to my kitchen, but when I saw this recipe on SheKnows for a pumpkin mac-n-cheese, being the pumpkin lover that I am, I just had to give it a try!
Pumpkin? In mac-n-cheese?! I know it may sound a little weird, but let me tell you, this dish delivers.  It quickly became one of my favorite mac-n-cheese dishes and I have since tailored the original recipe to my tastes. And as an added bonus…BACON. Because what isn't made better by adding some bacon? (the answer is "nothing". Just so we are clear.). You could also try it with ground beef or sausages.
The pumpkin puree and cream cheese make for a smooth and creamy texture instead of the sticky, gluey cheese that sometimes happens with baked macs. The pumpkin pie spices and cayenne pepper are an unusual blend of savory and sweet, adding just a kick of spiciness.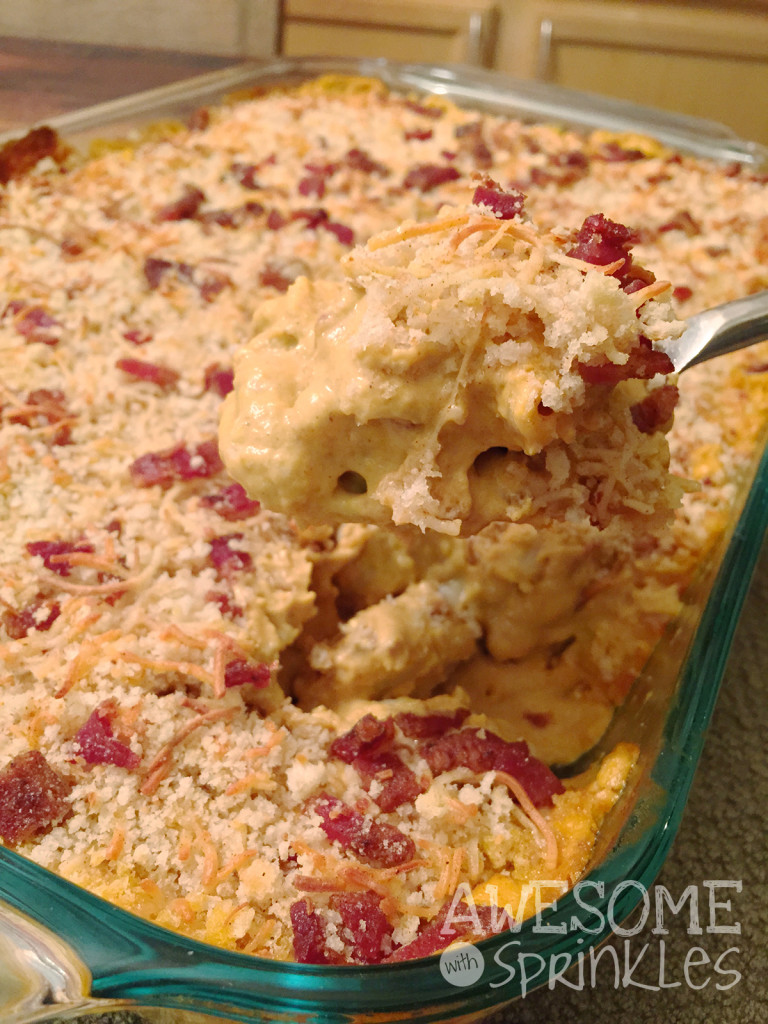 Baked Pumpkin Mac-n-Cheese with Bacon Crumbles
Ingredients
16 oz cooked macaroni noodles
2 15 oz cans of canned pumpkin
3 cups of milk (half & half or cream)
1 8oz package of Neufchatel or cream cheese (cut into cubes)
3 cups shredded cheese (I prefer 2 cups sharp cheddar and 1 cup of parmesan)
3 teaspoons pumpkin pie spice (divided)
2 teaspoons ground cayenne pepper
2 cups bacon crumbles (divided)
Salt & pepper
Cooking spray
1 cup of panko (Japanese bread crumbs)
1 cup of shredded parmesan cheese
Instructions
Preheat oven to 400 degrees F.
Spray a 4 quart casserole dish with cooking spray.
In a large bowl, toss together cooked macaroni noodles, salt & pepper and 1 cup bacon crumbles.
Heat cream and pumpkin in a sauce pan on medium heat, until warm.
Reduce heat to low and add cubed cream cheese. Slowly whisk until completely melted.
Whisk in 2 tsp of pumpkin pie spice, 2 tsp cayenne pepper and shredded cheese until melted.
Pour pasta into casserole dish and pour the pumpkin-cheese sauce on top, gently stir together until thoroughly combined.
Toss panko crumbs, parmesan cheese, 1 tsp pumpkin pie spice and the rest of the bacon crumbles. Sprinkle on top of the macaroni.
Bake for 8-10 minutes, or until bread crumbs have browned.
Adapted from
SheKnows