Happy wearing of the green day! Happy drink like an Irishman day! Happy St. Patrick's Day!
Oh, St. Paddy's Day… so full of fun and shenanigans. Bangers and mash, corned beef and cabbage, leprechaun hats, shamrocks and of course some green colored food and beer.
But why is EVERYTHING green, you ask? The story is told that St. Patrick, the most commonly known patron saint of Ireland, would use a shamrock to explain the Holy Trinity to the pagan Irish people and thus he became associated with the shamrock symbol and the color green. And there you have it.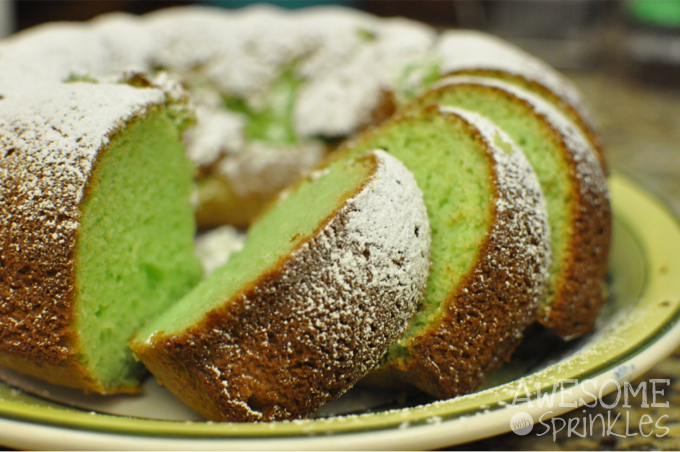 This super easy Pistachio Bundt Cake not only satisfies the green requirement of the day but if you dust it with powdered sugar or top with cream cheese frosting the green color will be a surprise once you cut into it. So grab yourself a slice and a pint and get your Irish on! Who says it isn't easy being green? 🙂

Easy Pistachio Bundt Cake
Author:
Awesome with Sprinkles
Ingredients
1 (18.25 oz) package yellow cake mix
1 pkg (3.4 oz) JELL-O Pistachio Flavor Instant Pudding & Pie Filling
4 eggs
1¼ cups water
¼ cup oil
½ teaspoon almond extract
8-10 drops green food coloring
2 tablespoons powdered sugar (optional)
Whipped cream or Cool Whipped topping (optional)
Instructions
Preheat oven to 350º degrees. Grease and flour a 10-inch fluted bundt cake pan, tube pan, or cake pan.
Place all ingredients (except food coloring and powdered sugar) in large bowl. Beat with electric mixer on low speed 1 minute.
Add in food coloring and beat on medium speed 4 minutes. Start with about 8 drops and add more until you've reached your desired green color.
Pour into pan and bake 50 to 55 minutes or until toothpick inserted near center comes out clean. Cool in pan on wire rack 15 minutes; remove from pan. Cool completely.
Dust with powdered sugar just before serving and serve with a dollop of whip cream or Cool Whipped Topping.
Looking for more Irish inspired desserts? Try these amazing 
Guinness Stout Chocolate Cupcakes
. These have been a fave amongst my circle of friends and St. Paddy's Day has become less about everything
green
and more about Guinness Cupcake season.