Easy Pistachio Bundt Cake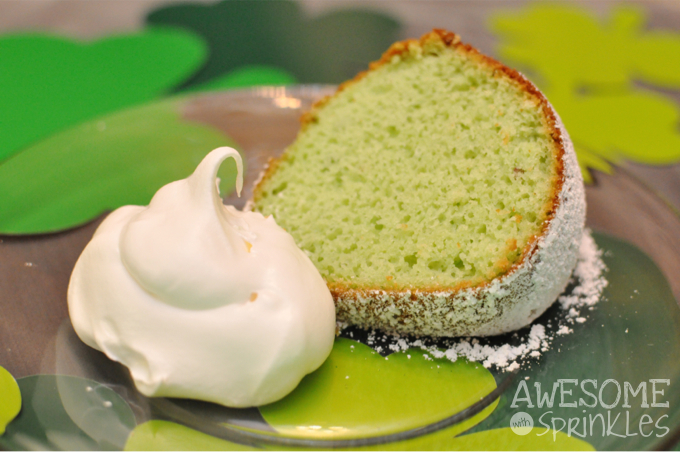 Author:
Awesome with Sprinkles
1 (18.25 oz) package yellow cake mix
1 pkg (3.4 oz) JELL-O Pistachio Flavor Instant Pudding & Pie Filling
4 eggs
1¼ cups water
¼ cup oil
½ teaspoon almond extract
8-10 drops green food coloring
2 tablespoons powdered sugar (optional)
Whipped cream or Cool Whipped topping (optional)
Preheat oven to 350º degrees. Grease and flour a 10-inch fluted bundt cake pan, tube pan, or cake pan.
Place all ingredients (except food coloring and powdered sugar) in large bowl. Beat with electric mixer on low speed 1 minute.
Add in food coloring and beat on medium speed 4 minutes. Start with about 8 drops and add more until you've reached your desired green color.
Pour into pan and bake 50 to 55 minutes or until toothpick inserted near center comes out clean. Cool in pan on wire rack 15 minutes; remove from pan. Cool completely.
Dust with powdered sugar just before serving and serve with a dollop of whip cream or Cool Whipped Topping.
Recipe by
Awesome with Sprinkles
at http://www.awesomewithsprinkles.com/easy-pistachio-bundt-cake/