Today is National Cereal Day! What what!
Cereal is the preferred food group for most kids, and let's be honest, it still holds up pretty well as an adult. I can put away a few bowls from time to time while watching My Little Ponies in my jammies… for dinner. (BFD is the BEST!). Today we are going over the rainbow and playing with some Lucky Charms in this AWESOME no-bake rainbow marshmallow pudding pie!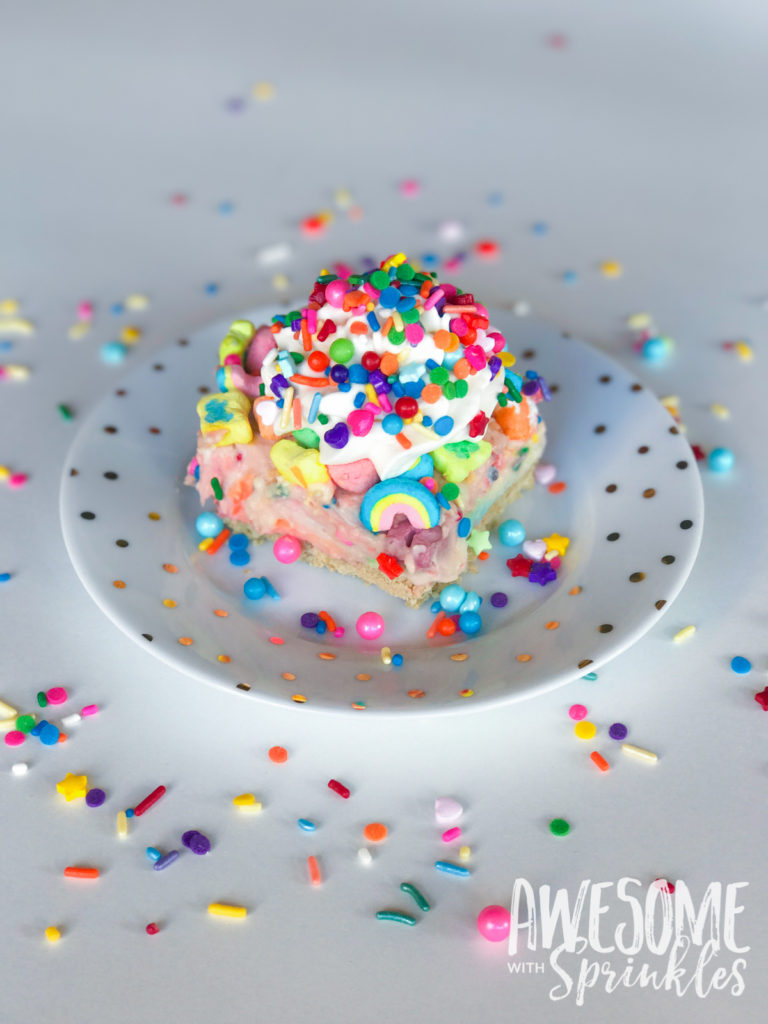 First off let me just give a huge kudos to General Mills, who last year made Lucky Charms gluten free. Not a gluten free version, but ALL Lucky Charms are gluten free, as they come. Pretty cool right? I do not have any sensitivities to gluten, but I have several friends that do so I am pretty conscious of what products are safe for them to eat.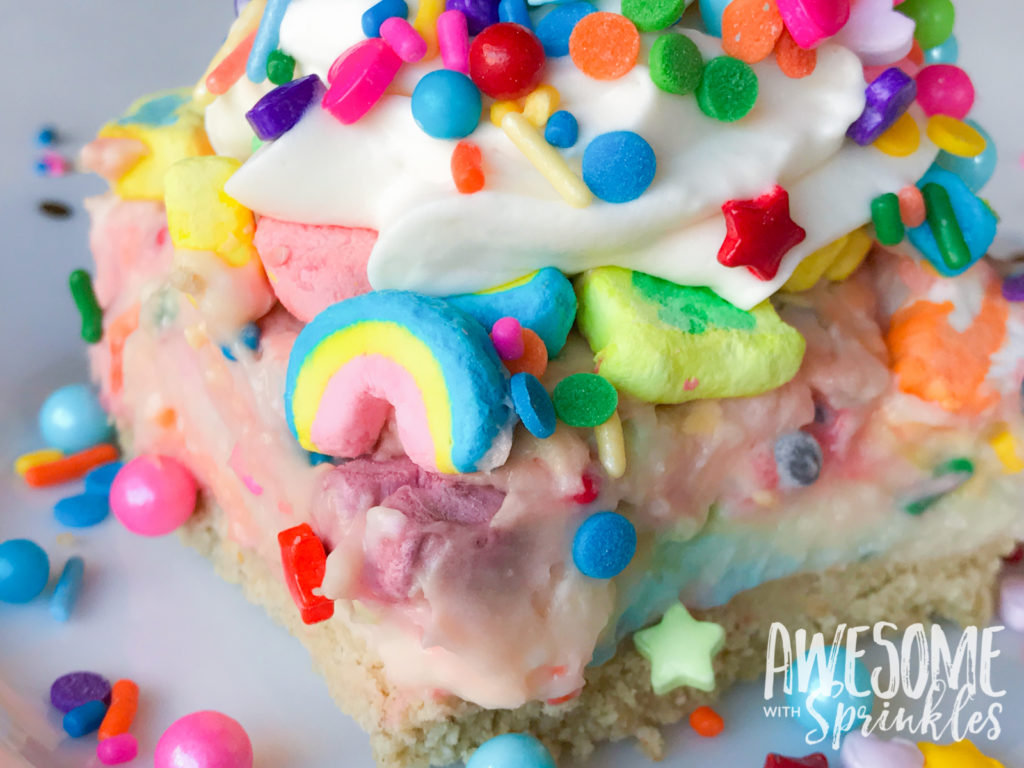 These bars look straight up magical and are sooo yummy without being too sweet (surprising, I know!). It starts with a crushed Lucky Charms crust (say what!?), smooth white chocolate pudding in the middle (with sprinkles mixed in), topped with colorful mini marshmallows and then topped again with this amazing whipped vanilla mousse topping. Finished off with a generous handful of rainbow sprinkles.
Time out for just a minute to marvel over this magical, rainbow, AWESOME sprinkles mix.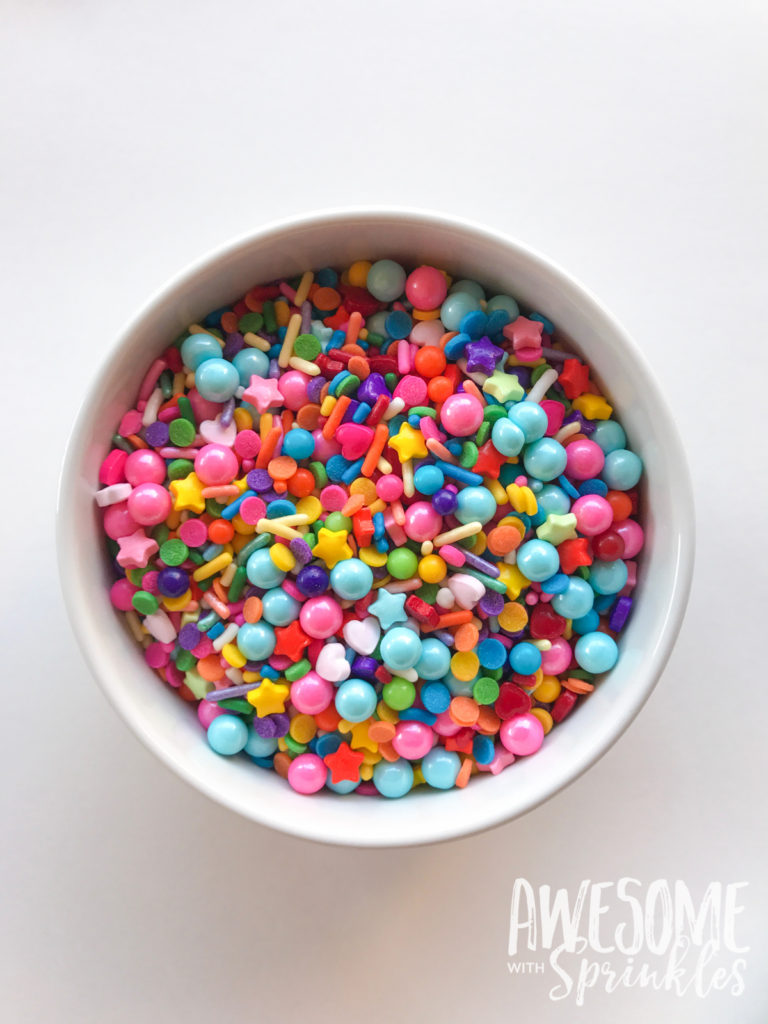 Ooooh. Ahhhh. So pretty! ?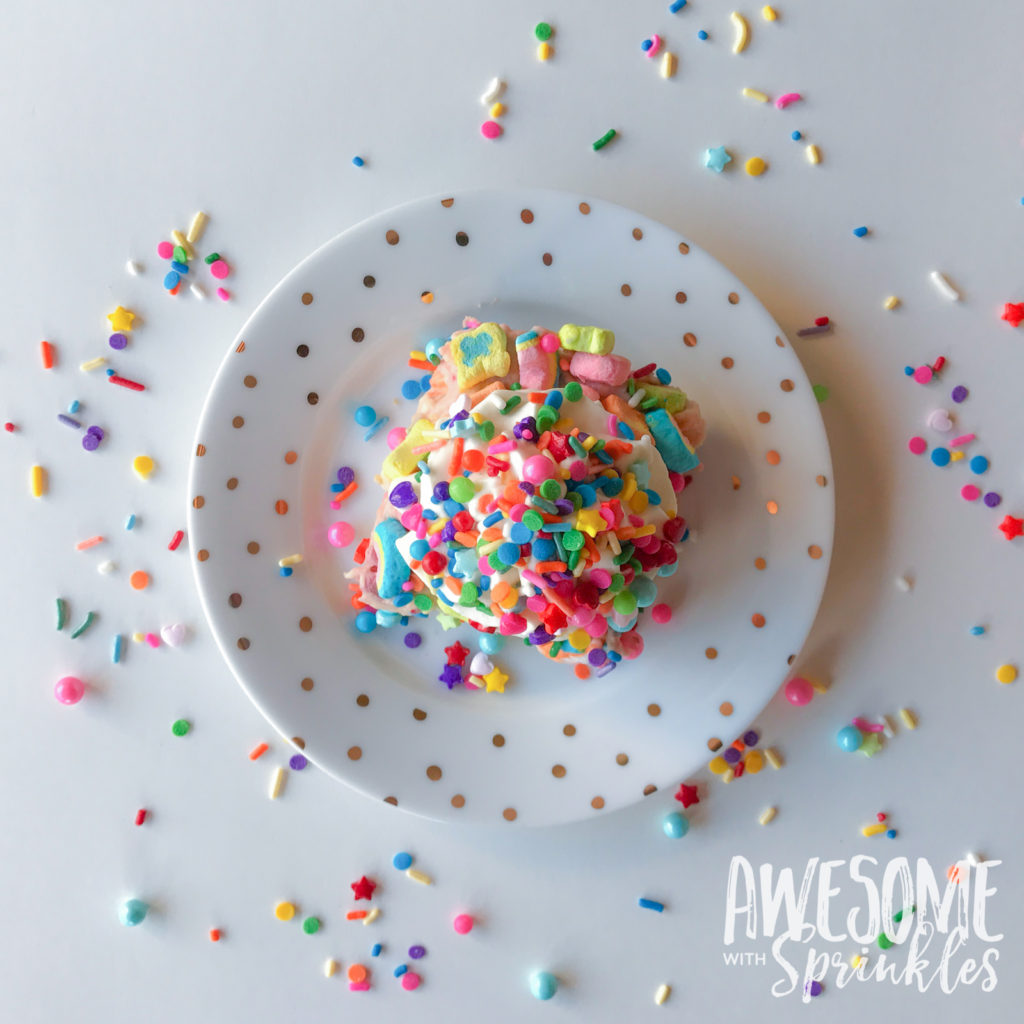 I just LOVE it! It looks ready to party! Confetti! It's a parade! ?
Moving on…this pudding pie is super easy to make. The most tedious part about this recipe is sorting out the cereal from the marshmallows. But if you have children, then this is the perfect task to put them to work for them to help. Well, maybe not. It depends on how much you trust them not to eat all the marshmallows. 😉
I got about 2 cups of marshmallows to about 5 cups of cereal (what sort of crap ratio is that!?) and it took me less than one episode of MLP to sort them out. So let's just say it doesn't take too long, even if you have to do it yourself. It will take longer if YOU are the one eating marshmallows. Better make it 2 episodes, just to be safe.
I used JELL-O White Chocolate Instant Pudding, though you could really use any flavor, but I love the white chocolate because it is smooth and light and doesn't detract from the flavor of the Lucky Charms. I really wanted the flavor of the cereal to shine through in this dessert and I think it does! Plus look how cool it looks with all those marshmallows on top!
Pro Tip: Put the marshmallows on top after you chill it, else they will get soggy and the colors will bleed out. You can arrange them in a pretty pattern or just dump them on top like I did. Marshmallow mountain!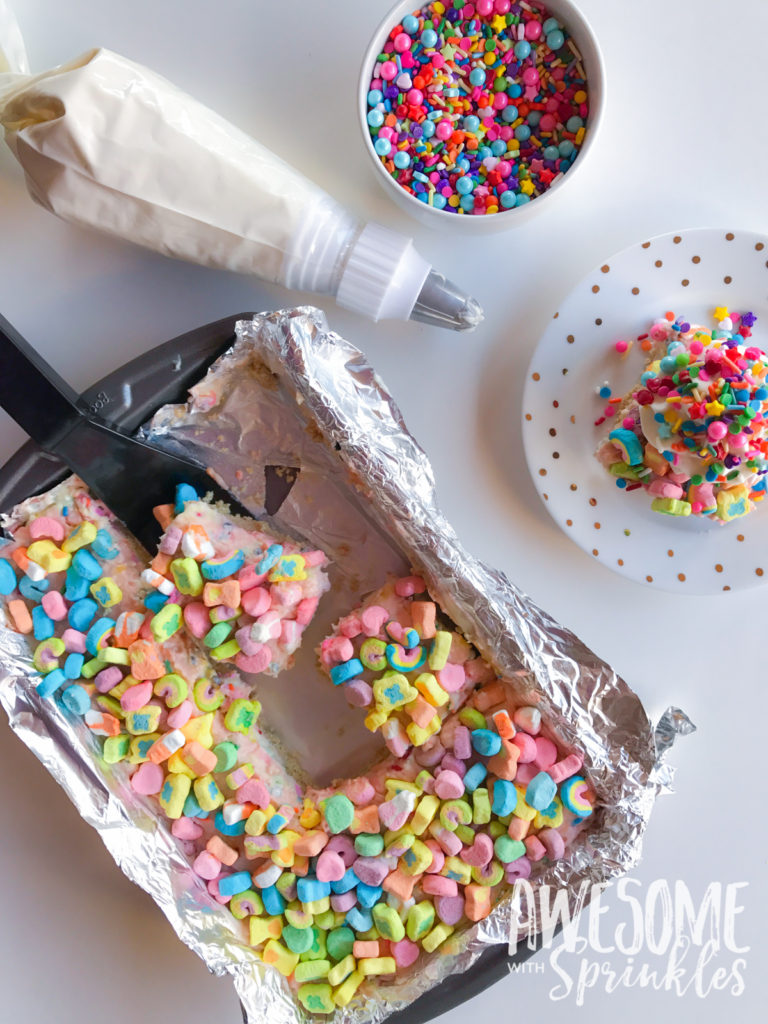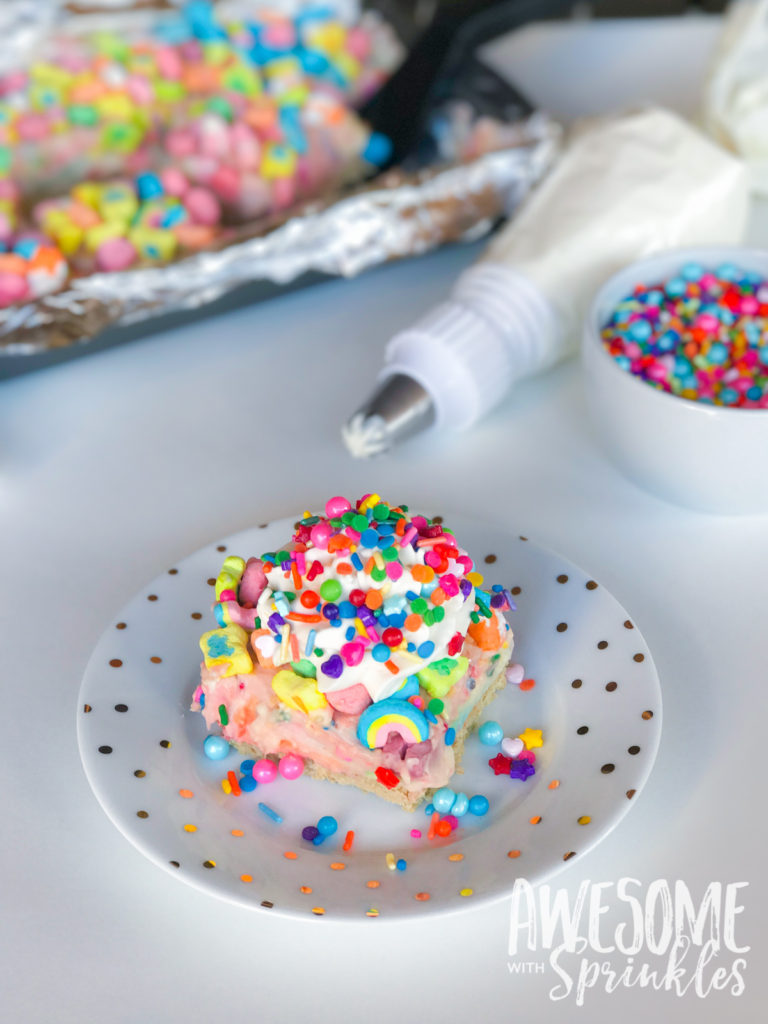 You could honestly leave it like this and it would be tasty, but this whipped vanilla mousse topping takes it over the top!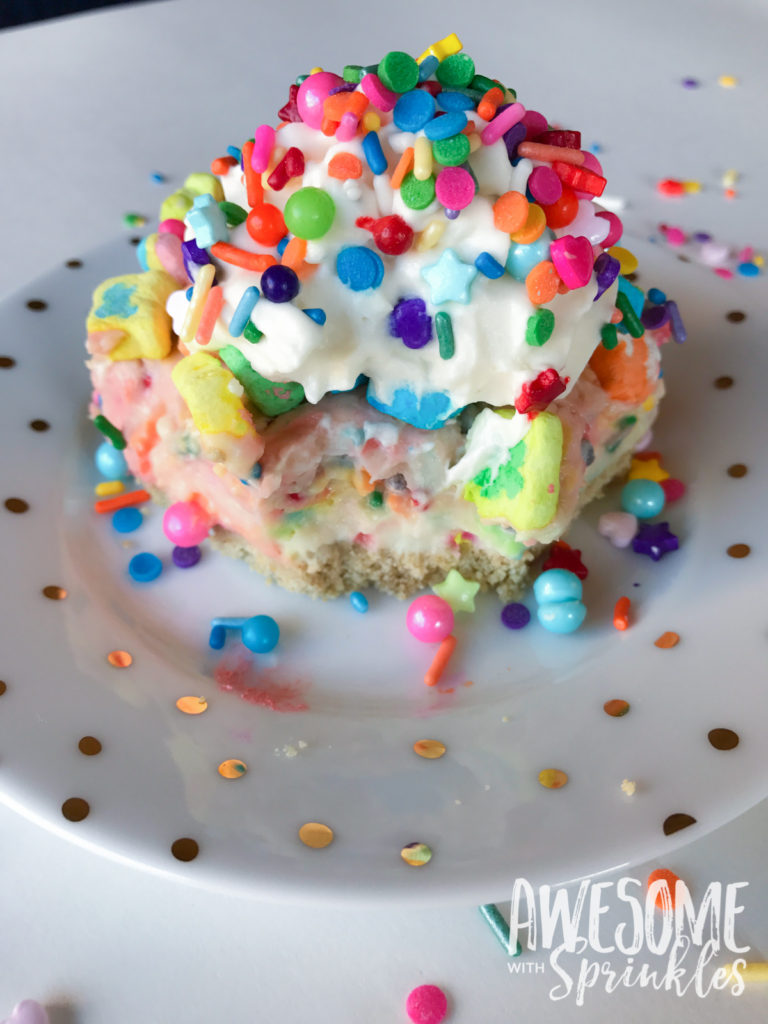 This rainbow marshmallow pudding pie is cerealsly good! (hu-yuck!) Or as Lucky the Leprechaun says… "it's magically delicious!" This colorful treat is perfect for St. Paddy's Day, Easter, or a rainbow themed party! Whip up a plate anytime you are feeling like you need a pot of gold at the end of the rainbow! ?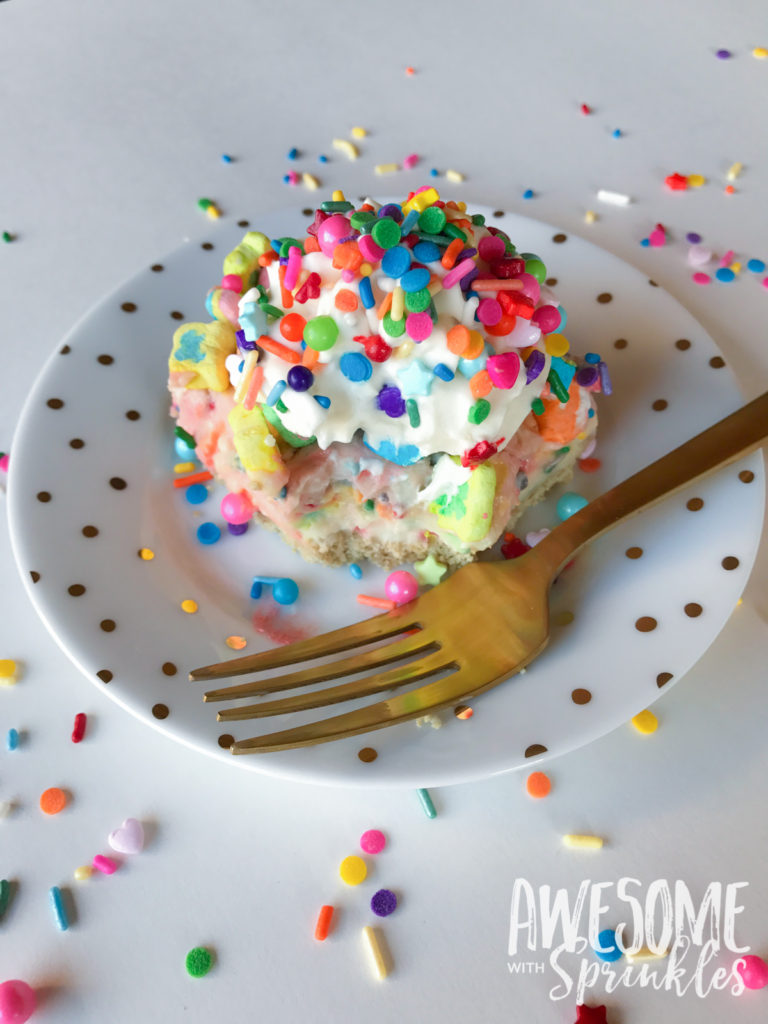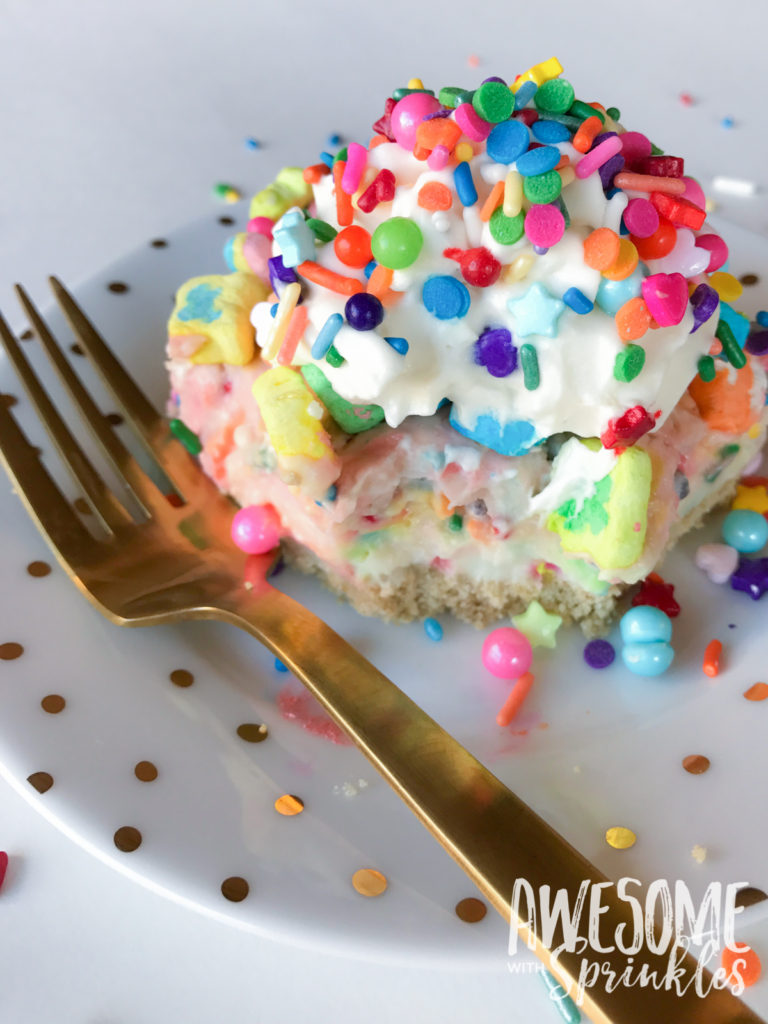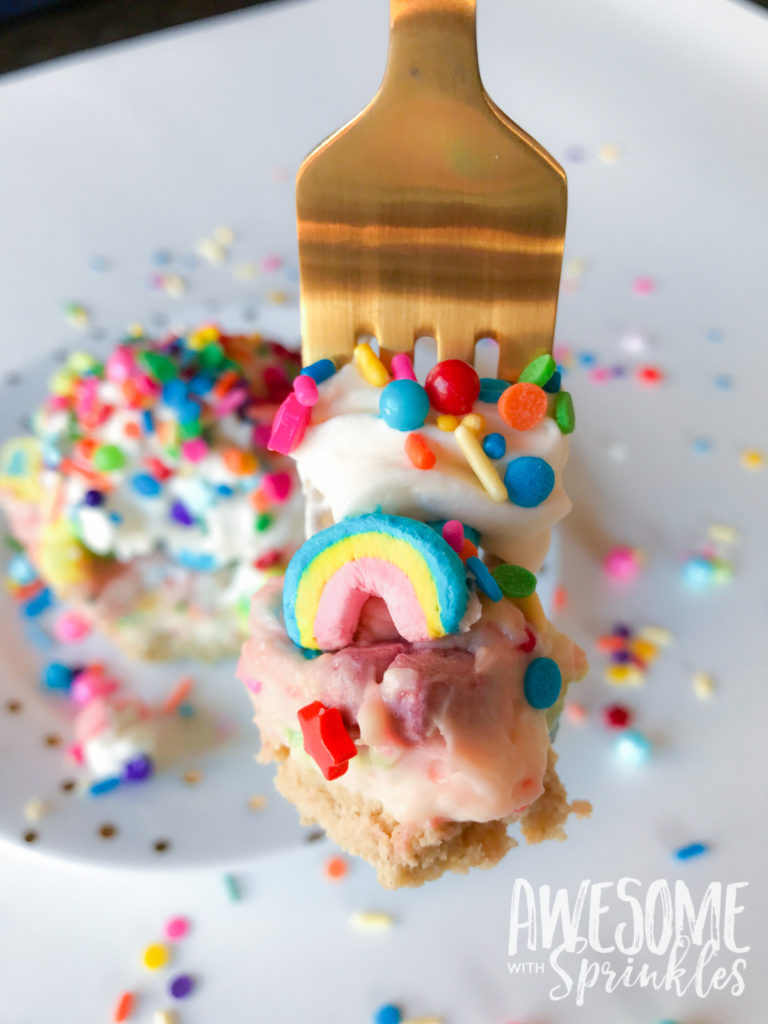 If there were ever a day for a good excuse to have cereal for any meal other than breakfast, then today is your day! What was your favorite cereal as a kid? I have to say for me it was a toss up between Lucky Charms and Captain Crunch (yes, even despite tearing up the roof of your mouth, I still loved that stuff). Oh, and Cinnamon Toast Crunch…OMG.
PIN this treat for later!