12 Cookies of Christmas Countdown #6
This recipe comes from my dear friend and former office "roomie", Jess. We spent many happy hours chatting about recipes and my strategy for Masterchef (someday, Jess, someday). I was really looking forward to sharing the holiday baking season with her this year, but then some fortunate opportunities landed her in San Francisco. So while we may not be baking together in the same kitchen, we are still sharing recipes from afar. Awwwwwwh. The Boy loves the butter cookies "in the blue tin" as she says, so I am super excited to give these a try. If Jess can make these in her "tiny ass kitchen" in San Francisco then you have no excuses. Many thanks to Jess, for sharing her family recipe and for spreading holiday cheer, one cookie at a time.
[jumptorecipe]
German Butter "S" Cookies by Jess R.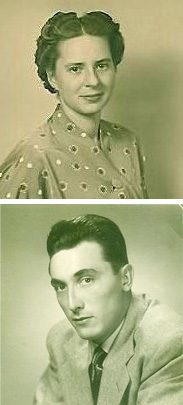 Christmas cookies have always been an epicurean event for my family. My grandparents immigrated from Germany and brought with them wonderful Christmas traditions and recipes! Homemade fudge, tea cakes, lady locks, spitzbüben, chocolate swirl cheesecake, snickerdoodles and so on. Every year is a smorgasbord of Christmas treats. One of my favorites has always been the simple German Butter "S" Cookie. Flakey and not too sweet, this cookie always stand out in a crowd of circles. Their flavor is reminiscent of the buttery cookies in the blue tin that comes out this time of year. My German cousins speculate that since our family is from a region in southern Germany called "Swabia" and this is where the cookies seem to originate from, that this is what the "S" stands for. The dough tends to be more fragile and flakey, so it's a bit of a challenge to roll and mold but could be molded into other letter shapes if you wanted to do a monogram for your family name! You could also use colored decorative sugar on top to make these more festive.
[recipeanchor]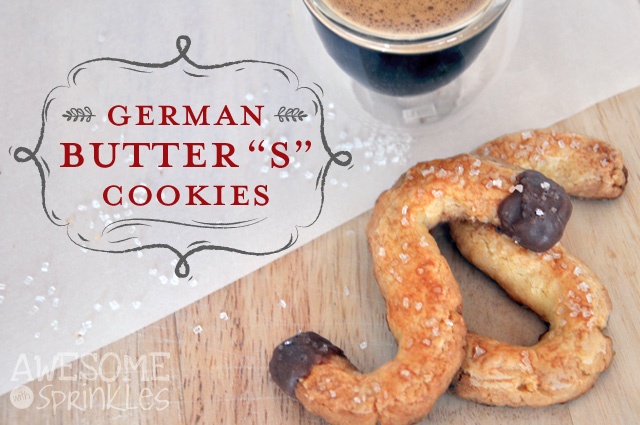 German Butter "S" Cookies
Serves:
Makes about 20 cookies
Ingredients
2 Cups flour
½ cup butter, room temperature
3 egg yolks
⅓ cup sugar
peel of ½ lemon grated
1 egg white, beaten
coarse sugar
dark chocolate (optional)
Instructions
Sprinkle a baking board lightly with flour. With your hands, mix the first five ingredients quickly into a dough. It will be slightly more crumbly than a normal dough.
Roll into a 2" diameter log and cover with wax paper. Refrigerate or store in a cool place for 30 minutes.
Preheat oven to 400 degrees. Line a baking sheet with parchment paper or grease with butter.
Once firm, remove from the refrigerator. Slice into ½" pieces and roll each slice with your hands (and a little flour if needed) into a rope about 4-5" long. On the baking sheet, shape into an "s". Repeat until the baking sheet is full.
Whisk the egg white until frothy, then lightly glaze the tops of the unbaked cookies. Sprinkle with the decorative sugar.
Bake for 15-20 minutes until lightly golden. Remove from oven and let cool on the sheet on a wire rack for 10 minutes.
If you're dipping in chocolate…
Let the cookies completely cool. Melt chocolate in a double boiler. Dip to your heart's content. Place on a parchment lined baking sheet and let cool. While the chocolate is still wet, sprinkle the ends with decorative sugar to make 'em pretty.
Quick Fixes:
Dough too dry? Add more butter. That was my Opa's solution to everything and it still a solve today! Add up to another ¼ cup of butter (to total ¾ cup) if your dough is just too flakey to bind properly. Ends a little too dark? My Oma had a wonderful idea for slightly burnt ends: dip them in chocolate. Dark chocolate is best. I tried milk chocolate since my husband doesn't like dark, but I think it's a bit too sweet. I would also suggest different flavored chocolates like orange dark chocolate or raspberry. As much as you might want to in order to make these more "Christmas-y" I would stay away from white chocolate…just too sweet for this delicate cookie.