That's right folks, you read it right… BACON. Bacon, the holy grail of meats cuddles up in the warm, sugary folds of this amazing cookie.
[jumptorecipe]
This whole idea started because of a "bacon cinnamon rolls" idea floating around the interwebs. You may have seen these circling around your social feeds.
Awesome right? In theory at least. The boy and I loved the idea but as we are both crispy bacon lovers, we were concerned about the level of crispiness that could be achieved by rolling the bacon strips up into the cinnamon rolls. We hashed it out a bit and then decided we should try making them but cook the bacon first so that it is nice and crispy, then roll the crispy bacon pieces up into the cinnamon rolls. Genius. But then we never got around to actually trying it…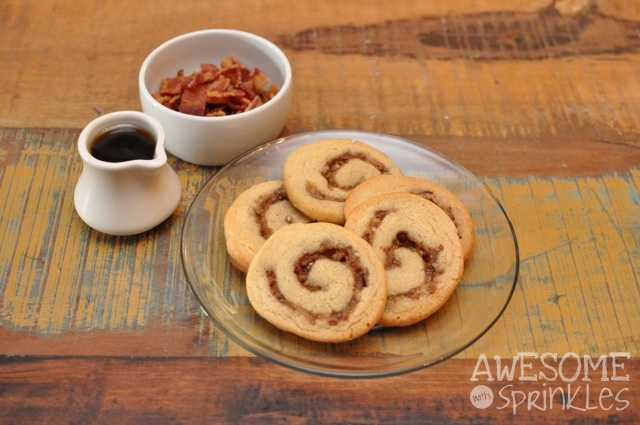 Fast forward a few months later to me sitting at my kitchen table surrounded by recipe books, food magazines and my ipad scrolling through Pinterest. With Christmas only a month away, I was trying to come up with some new ideas for the 12 Cookies of Christmas Countdown. I had always wanted to try making the roll and slice "refrigerator" cookies. They always looked so pretty with their red and green colored pinwheels or their ooey-gooey swirls of cinnamon or jam.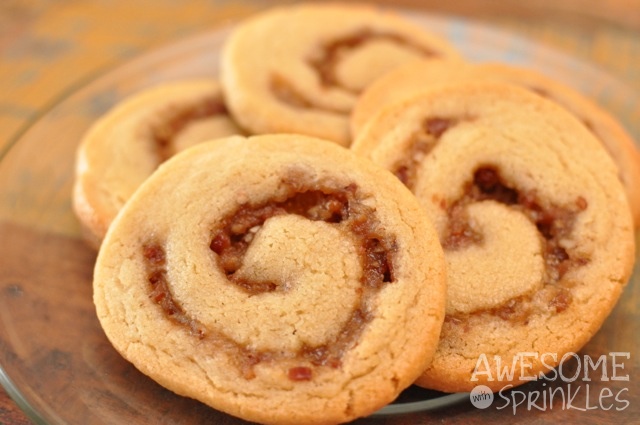 Then I got an idea. An awesome idea. I got a wonderful, awesome idea! I would combine both the bacon cinnamon rolls and the swirl cookies!! So I found a good base recipe in my trusty Taste of Home Baking Book and made a few modifications to suit my needs. Then I mixed up the maple, pecan and bacon filling off the cuff, adding pinches and dashes until I was satisfied with the consistency.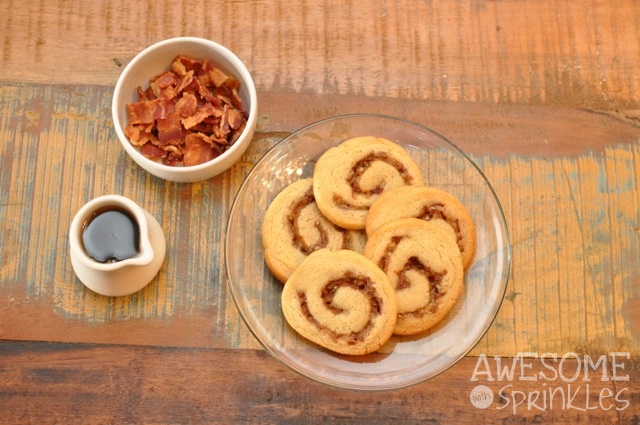 I did remember to measure them this time since I had the intent to post the recipe. I have a really bad habit of just coming up with something on the fly and then when The Boy or friends ask for me to make it again, or even worse ask for the recipe it sounds like this: "well, I, uhm… you put some things in it…". So yay for documentation. 😉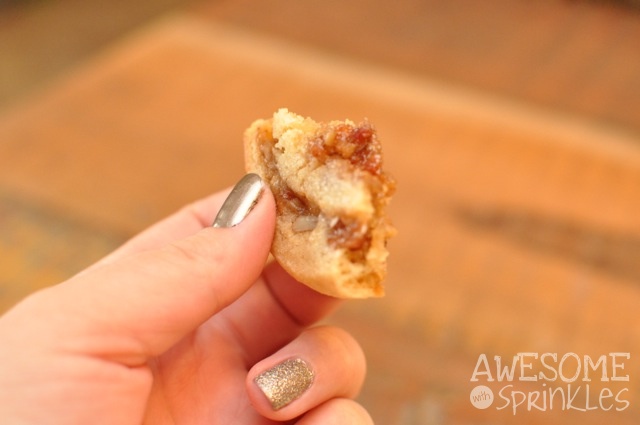 And how did they turn out? Pretty much amaze balls swirls. #nailedit
[recipeanchor]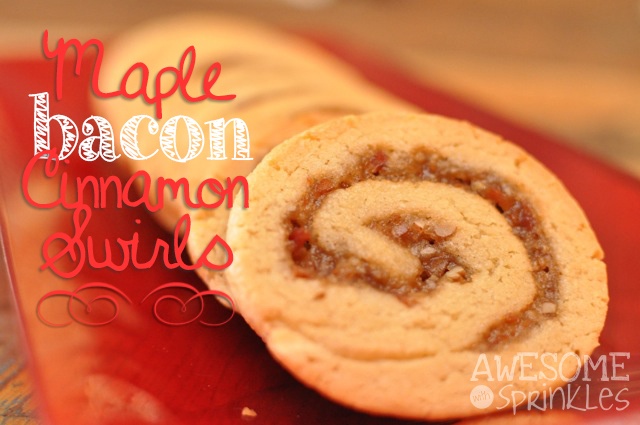 Maple Bacon Cinnamon Swirls
A decadent rolled cookie filled with maple, bacon and pecans.
Serves:
Makes about 2 dozen cookies
Ingredients
Dough
1 cup butter, softened
2 cups sugar
2 eggs
1 tsp vanilla
1 tsp maple extract/flavoring
3¾ cup flour
2 tsp baking powder
1 tsp salt
Filling
2 tbsp dark maple syrup
3 tbsp butter
1 cup brown sugar
½ cup chopped bacon
½ cup chopped pecans
1 tsp cinnamon
Instructions
Prepare the Dough
Cream butter and sugar until fluffy. Beat in the eggs, vanilla and maple extract.
Mix flour, baking powder and salt.
Gradually add the dry mixture to the wet mixture and mix well.
Cover dough and refrigerate for 1-2 hours (I did 2 hours and my dough was hard as a rock and needed to sit out a little bit before I could roll it, so I bet that 1 hour would be just fine).
Prepare the filling
Melt butter in a small sauce pan. Add brown sugar and maple syrup and stir slowly until melted.
Mix chopped bacon, pecans and cinnamon together. Add to the butter/sugar mixture and stir until mixed well. Remove from heat. Let cool slightly.
Roll the cookies
Remove chilled dough and divide in half. Roll each half of the dough out on a lightly floured surface into a rectangle shape (roughly 9 x 12 in).
Spread the bacon sugar mixture over the dough, leaving about ½ in of space around the edges. (if the bacon sugar mixture cools too much it will start to harden. Just heat it back up a little bit and it will soften back up and be easy to spread).
Carefully roll up the dough, jelly-roll style, starting with a long side first. Repeat for second half of dough.
Wrap each dough roll with plastic wrap and refrigerate overnight or freeze for 2-3 hours.
Cut and Bake
Unwrap the dough rolls and cut into ¼ inch slices and place on lightly greased cookie sheets.
Bake at 375º for 10-12 mins or until the edges are lightly browned. Remove and cool on wire racks.