TGI…FALL! Happy first day of Fall y'all!
Let's be honest, it's been fall in our hearts since the middle of August. Especially after the hot mess of the last few months, I am soooooo over summer.
It may still be warm outside but I can officially bust out the autumn leaf decor and eat all the pumpkin things without any judgement. What better way to celebrate the season than with a warm #PSL and a cozy crafternoon! Yay!
Tis the pumpkin season, and today I am doing a faux pumpkin craft! I did some really fab faux pumpkin decor for Fall and these glittery gourds for Halloween last year and I wanted to try something new!
Well, not "new" new. This technique is quite old, in fact. Like 17th century France kind of old. But I bet that there is a good chance you have done it before! I think every art or drama student who grew up in the 90's or earlier will remember paper mâché's fancy cousin: decoupage.
Decoupage is similar to paper mâché in the sense that it involves lots of glue and paper strips, but instead of building something out of paper and glue (think piñata or decorative face mask) you are using the glue and paper to decorate an object. Trinket boxes, trays and furniture are popular items, but today I am going to decoupage a pumpkin. Or as one friend simply put it, "Are you wallpapering a pumpkin?" Yes. Yes, I am.
Let's get to it!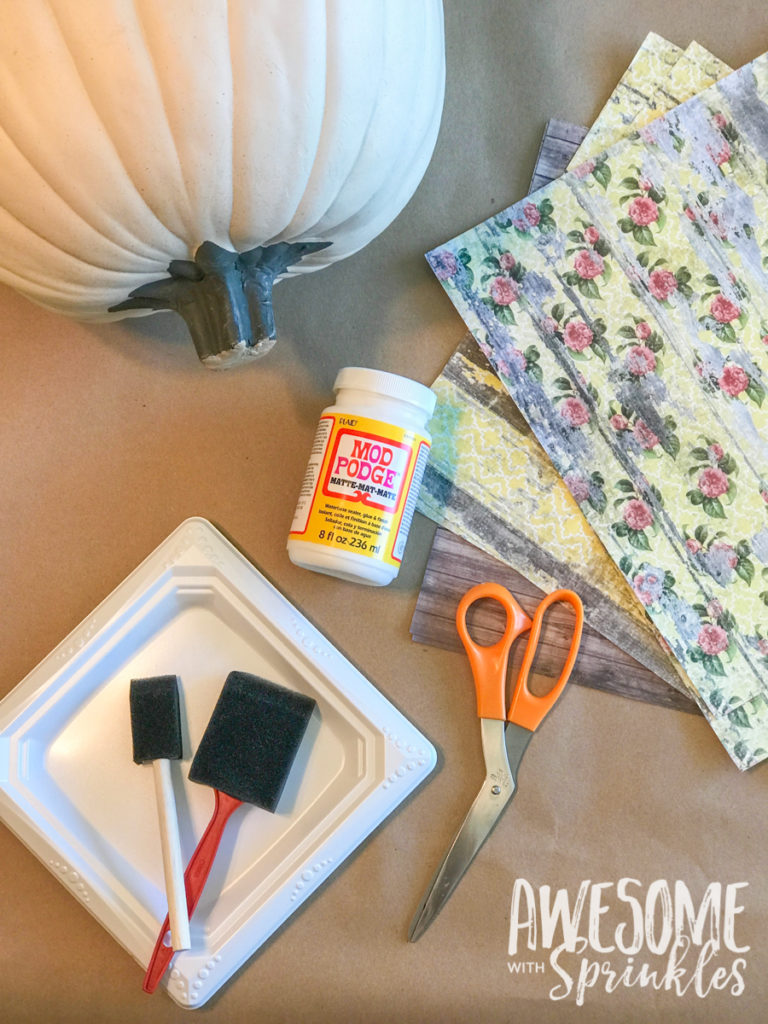 Supplies needed:
faux pumpkin
colored/pattered paper or fabric
scissors
modge podge craft glue (I opted for the matte finish)
paint brushes
shallow plate or dish
brown craft paint, for the stem (optional)
latex/vinyl gloves (optional)
butcher paper or newspaper to cover your work area
1. Cut paper into strips
Cut your paper or fabric into strips/pieces. I cut strips in a variety of sizes and lengths. I didn't have enough of one paper to cover the entire pumpkin, so I blended a few together!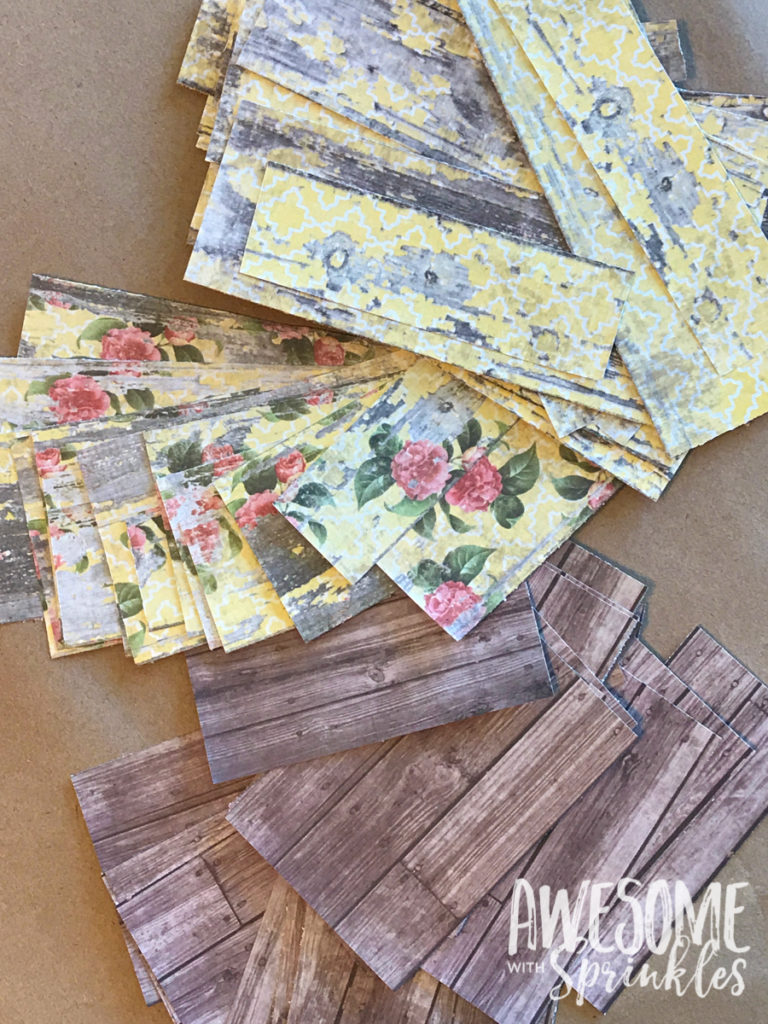 I tried to roughly match my strip sizes to the widths of the ribs of the pumpkin. My pumpkin was taller than my paper so I knew there would be some overlap. You could also cut strips to the height of your pumpkin so that you have one smooth piece or cut smaller pieces and overlap them even more for a more textured look. It's up to you and the look you are going for!
2. Get your glue on
You are going to be doing A LOT of gluing so I recommend wearing gloves to protect your hands from getting sticky. I also kept a damp rag nearby to wipe my fingers on from time to time. Be sure to lay down some butcher paper or newspaper to protect your work space from stick glue. Pour some modge podge out into a shallow plate or dish. I chose a plastic plate and foam brushes. Again, this is very messy so I wanted something that I could just toss out after I was done.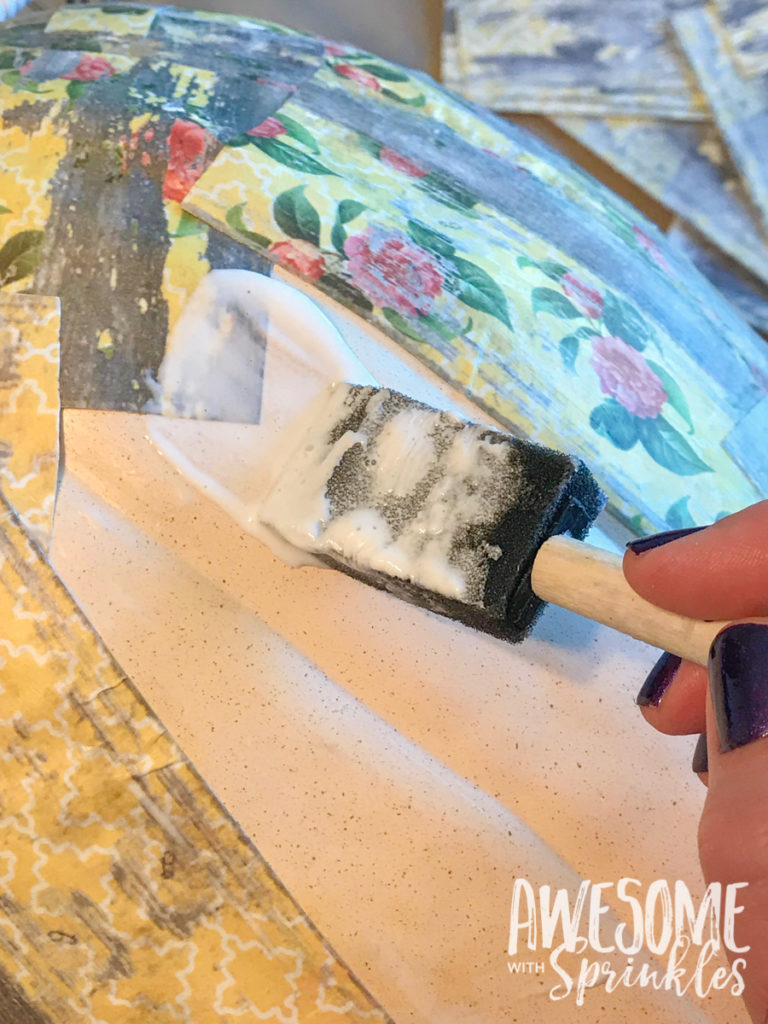 Using your brush, start by laying a thick layer of modge podge onto the surface of your pumpkin.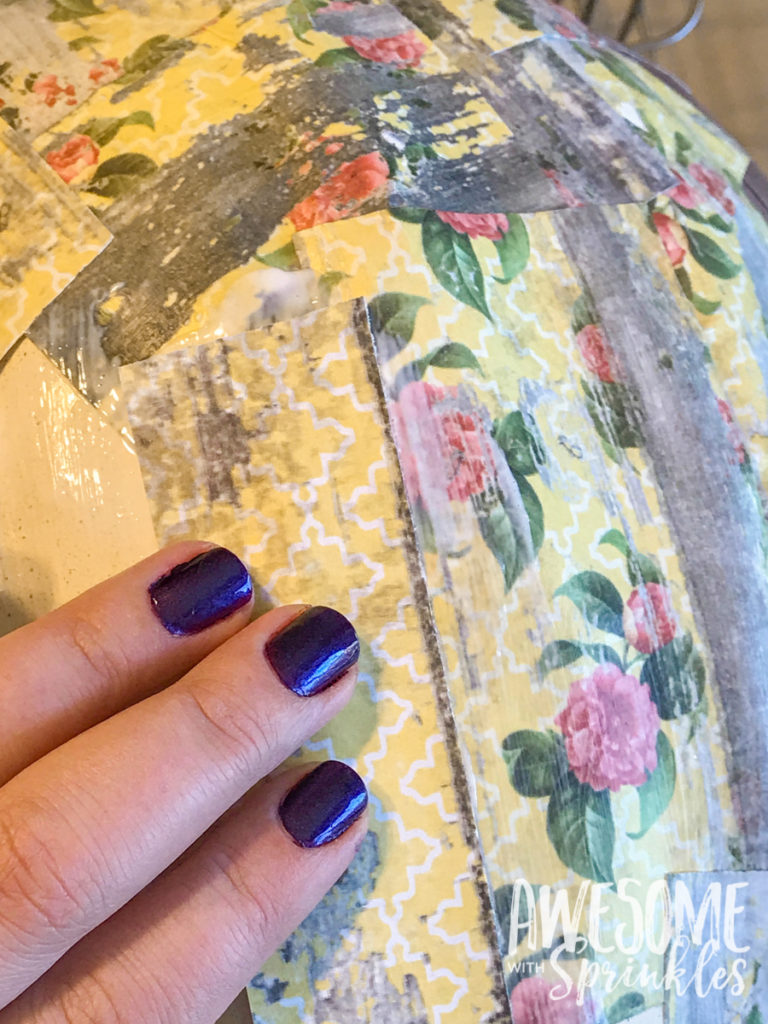 Lay a strip of paper (or fabric) onto the gluey area and press to adhere.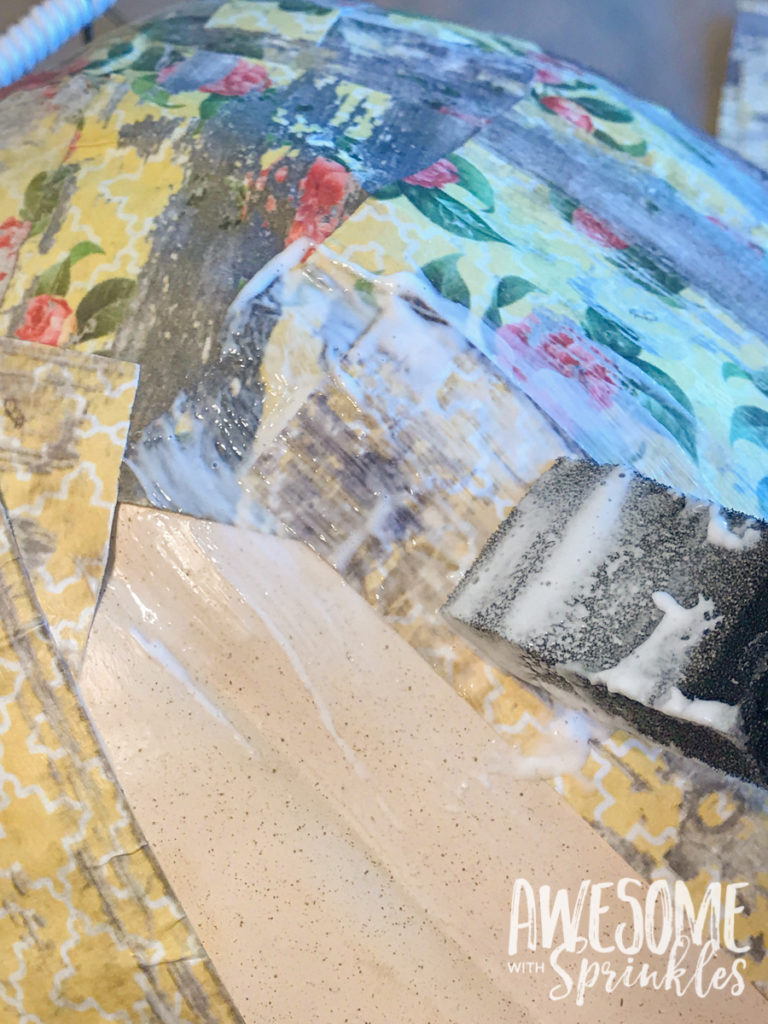 Layer more glue right on top of the paper until it becomes saturated and pliable. It will start to become soft and conform to the surface of the pumpkin.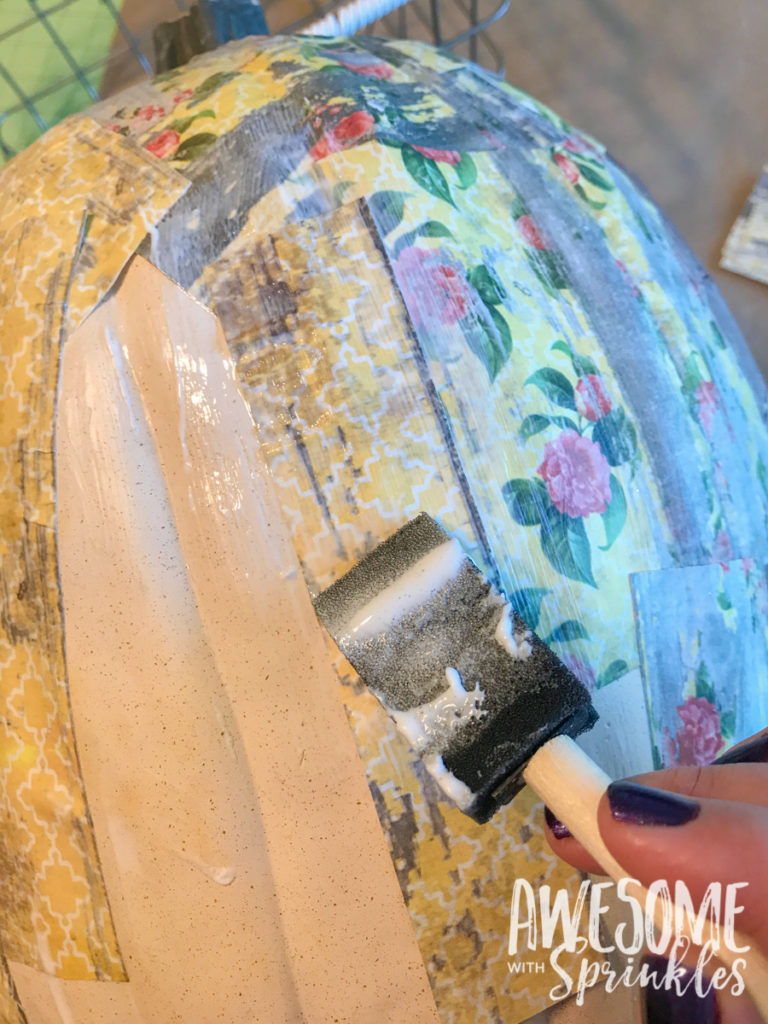 Use your brush or fingers to smooth down the paper to get rid of as many creases as possible. Working on a rounded surface, creases are going to happen, just try to smooth them the best you can. Brush off any excess modge podge.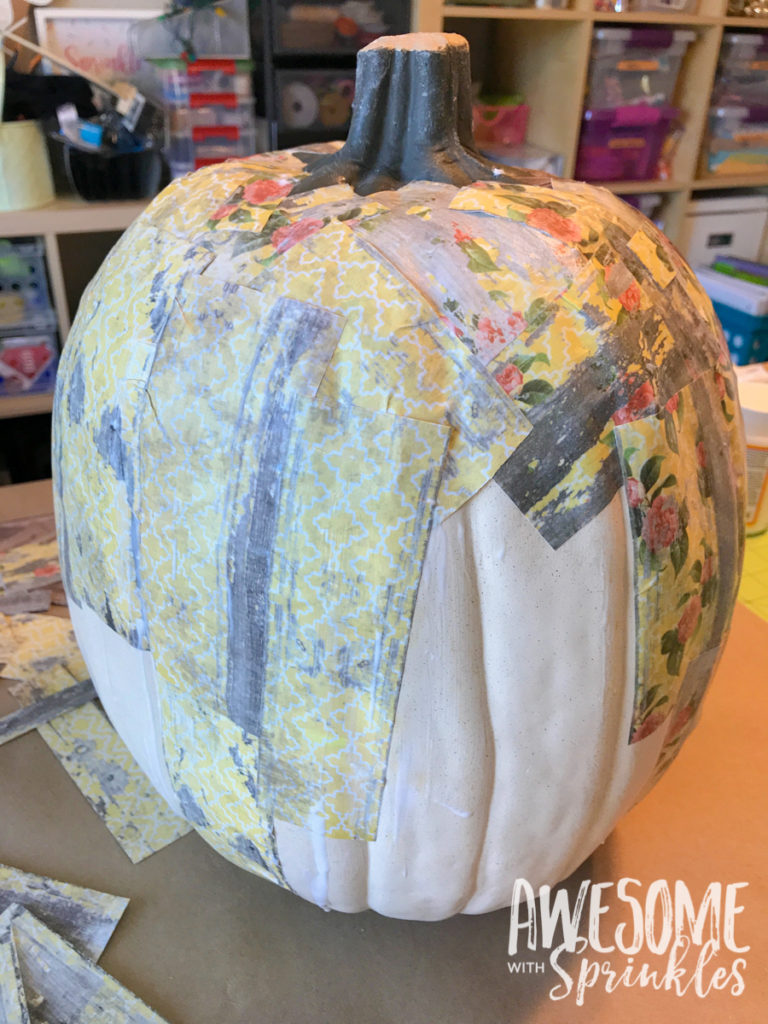 Continue this method with the next strip. Overlap the strips or trim pieces to fill in all of the gaps until you have entirely covered your pumpkin!
Pro Tip: The modge podge dries pretty quickly, but may remain a bit tacky until fully dry. Be careful while you are working not to let any of the wet sides touch your work surface or they might lift off. I had a few instances where I was holding onto the pumpkin with one hand and gluing with the other when when I removed my hand my fingers had adhered to the pumpkin and ripped off little fingertip sized circles of paper! This is easy to fix (just put another piece of paper over it) but can be really annoying if you had a nice pattern going. 😛
3. Embellish, Seal and Admire
If you want to paint or decorate the stem of your pumpkin, it is best to do it before you seal so that the paint can get sealed in too. I used a metallic espresso color to paint my stem. You could also decoupage over it in a different color paper, or in the same pattern for a seamless look (like you can see on the little burlap pumpkins – I bought these at a home store but you could totally do the same technique with fabric).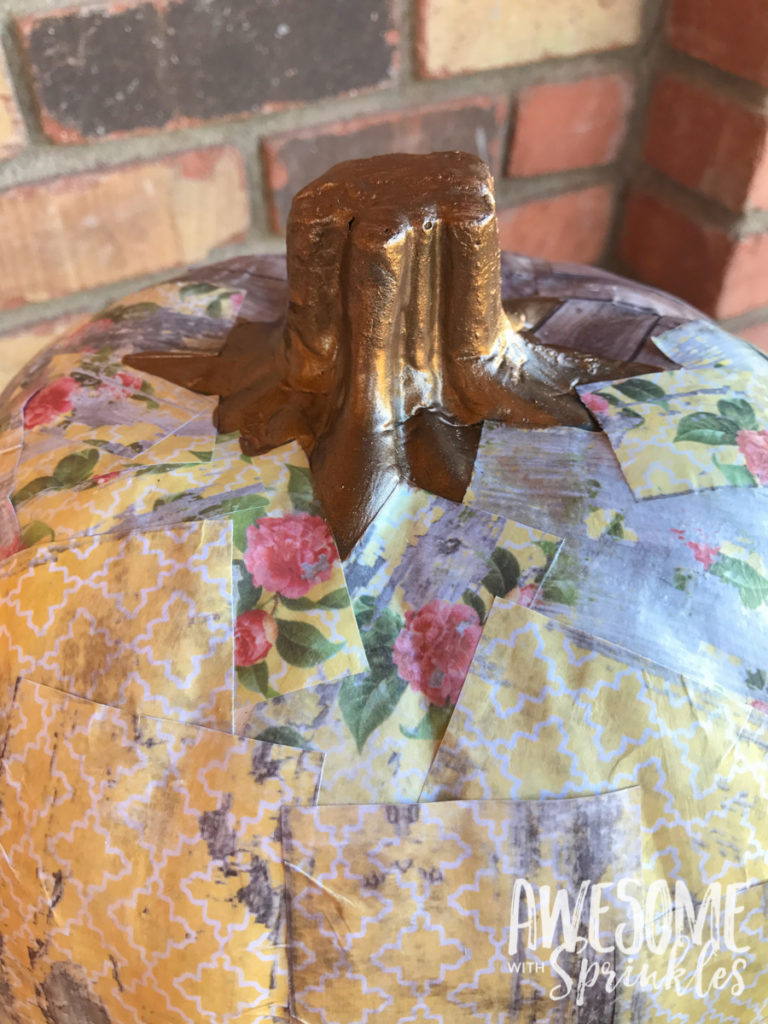 To seal your pumpkin, brush a thin layer of modge podge over the entire pumpkin (or use a spray sealant). Let your decoupage pumpkin dry completely before adding any additional embellishments such as faux leaves or vines to the stem. I used a matte finish modge podge so that my pumpkin didn't have a glossy sheen (like most decoupage projects).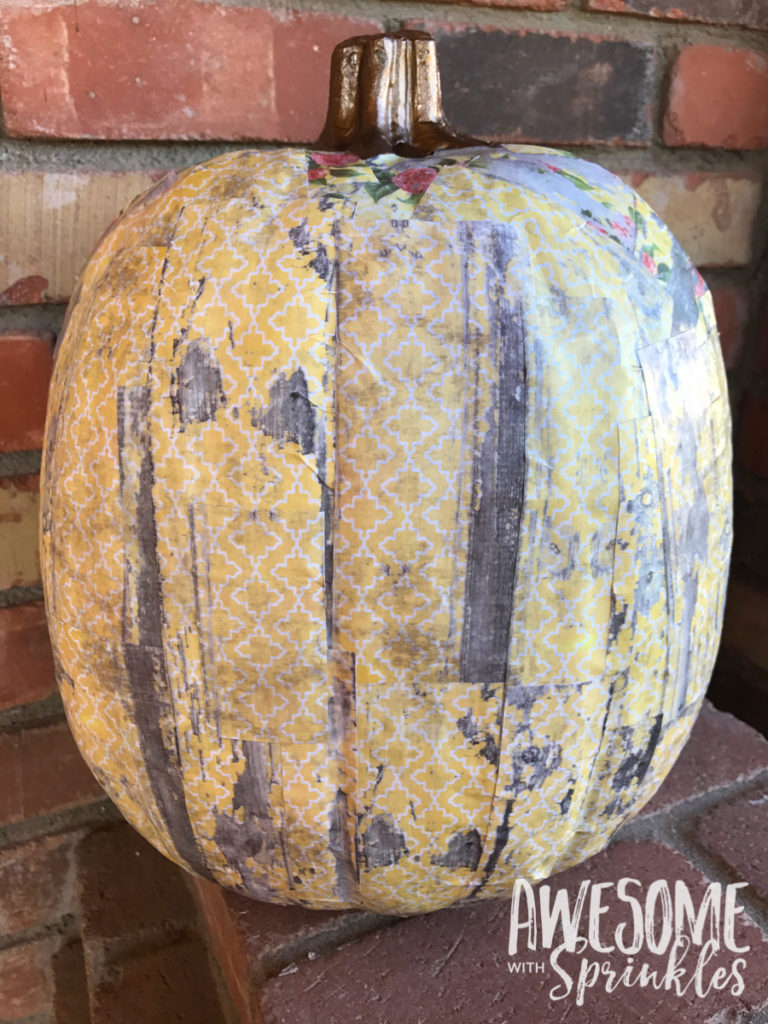 I also wanted to show you another little detail. This is the front…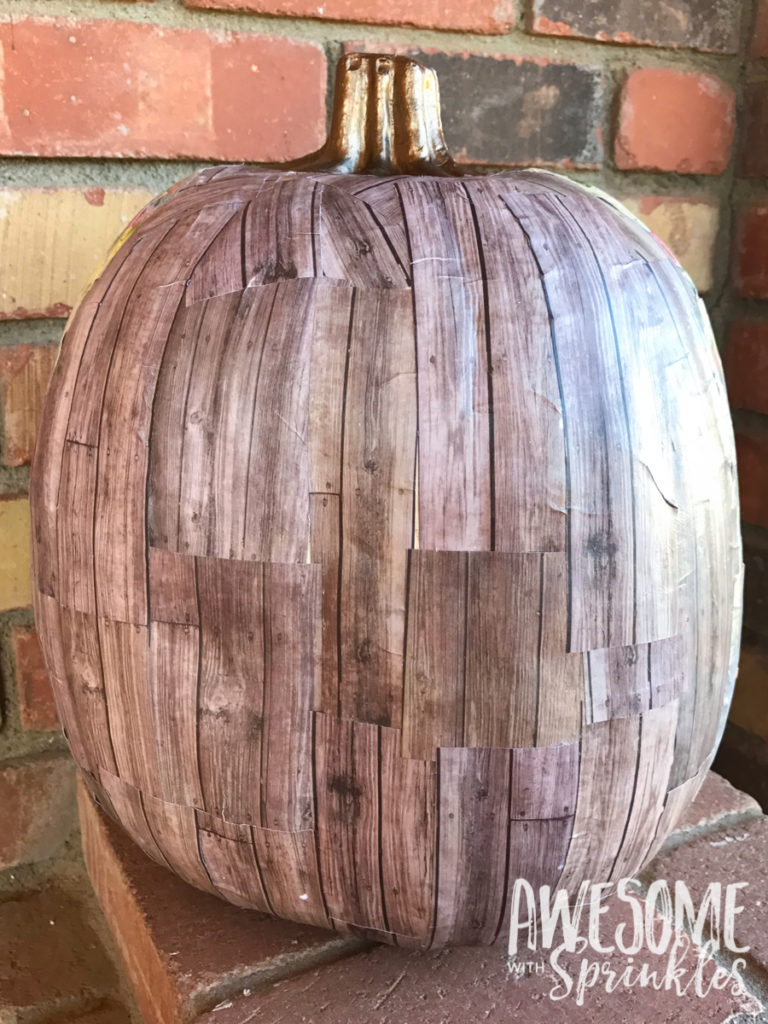 …and this is the back. Totally different! I created this pumpkin in preparation for another crafty project coming up in Oct, so this "wall" look was perfect. Stay tuned to see how it turns out!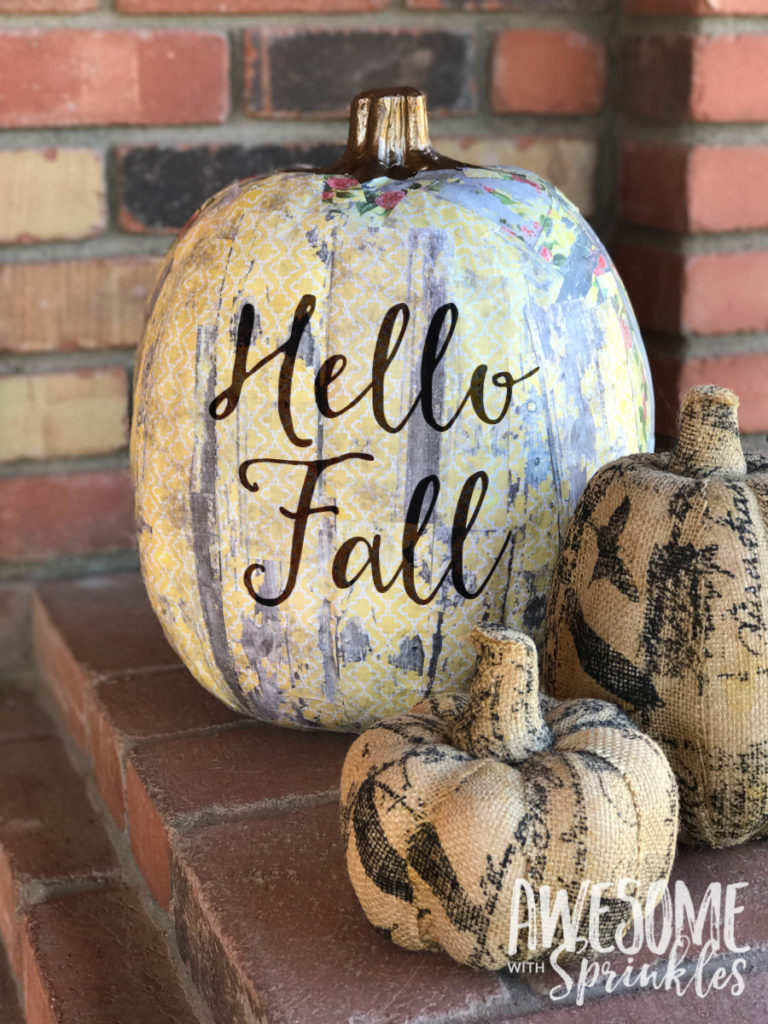 Use paint, markers or vinyl cutouts to put a message on your pumpkin. Or you can leave it as-is and simply admire the pretty paper you picked out. Simply lovely.
You can apply this decoupage technique to pretty much anything. Try a damask print fabric onto a cardboard witches hat, polka dots on the front of dresser drawers, or a superhero print onto a hardshell laptop case. Really, anything goes! Share your decoupage adventures with us! We would love to see what you make!
Stay crafty, my friends!
Pin for Later: