Place cards can add a touch of class to your dinner table or they can just be a simple way to keep track of your drink. Whether you have a formal dinner or a casual gathering, place cards are a fun way to make everyone feel special and included at your feast! Each of these place card ideas use just a few items; take a few moments and create a pretty, chic, and easy addition to your table top.
I love the vibrant colors of fall and the excitement of the upcoming holidays. Thanksgiving brings a lot of different things to mind. Memories of traveling to relatives homes for a feast, fall leaf piles, the smell of baking pies…mmmm pie! We have created some crafty and easy place card ideas to spark your creativity to turn your dinner table into a talking point.
I often got stuffed into a seat next to my brother, who is left handed. It was miserable to be bumped continually while trying to eat my pie. Now, I will always have a seating arrangement where I can admire my handsome little brother from the other side of the table…while I eat my pie in peace.
Washi-tape Foam Placemat Name Cards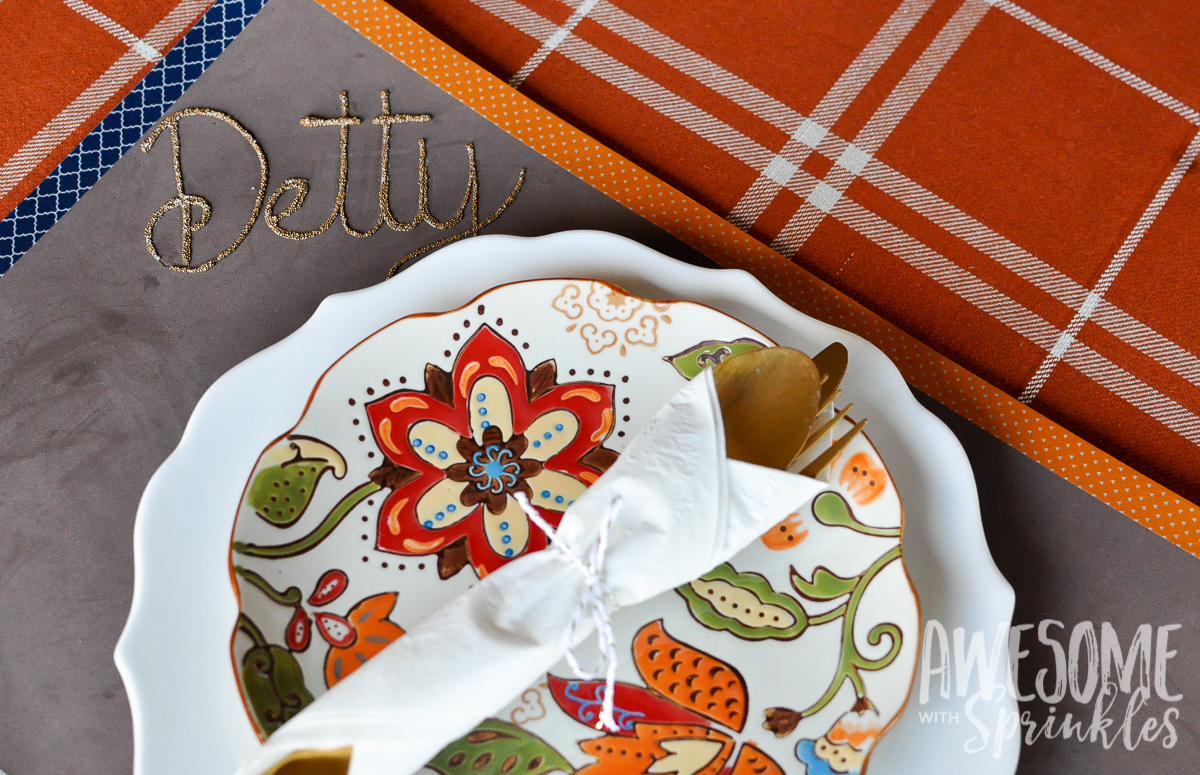 You can do a lot with a little glitter, glue, and some washi-tape. I found this really cool bead glitter at my local craft store. It is so different from anything out there which of course sparked a lot of creative ideas!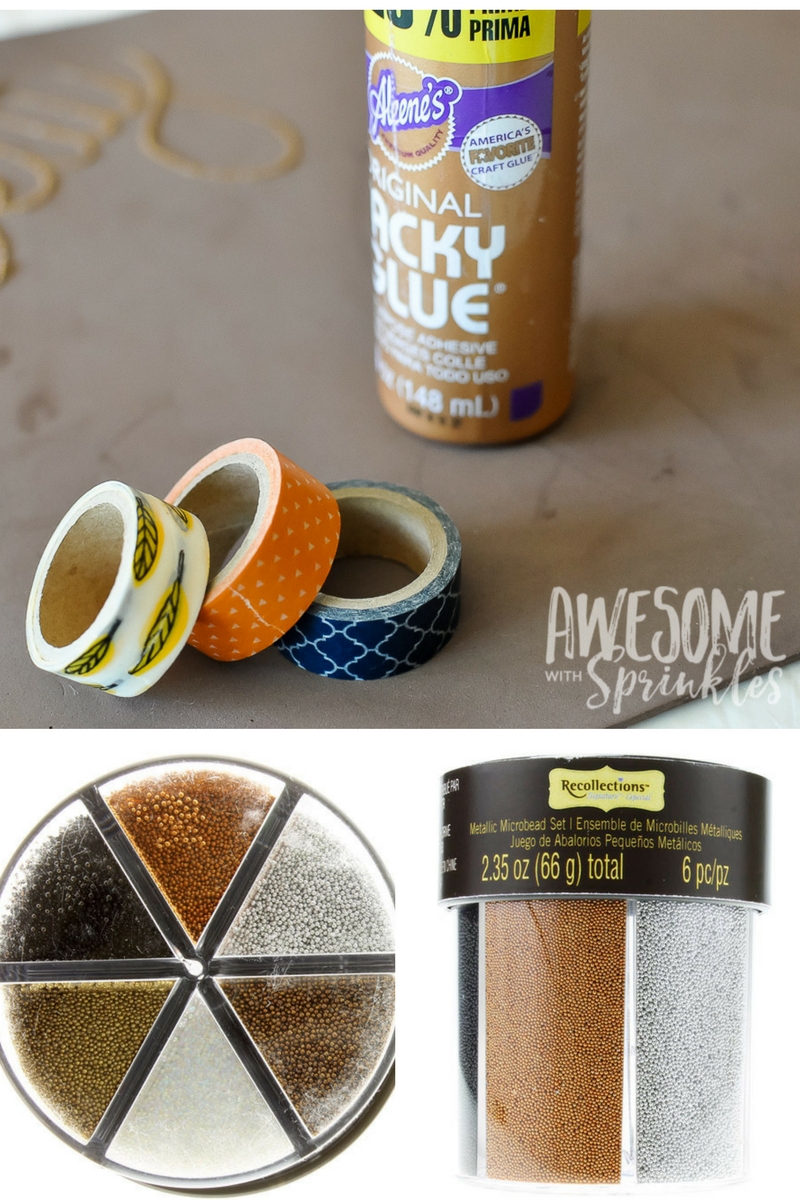 Supplies: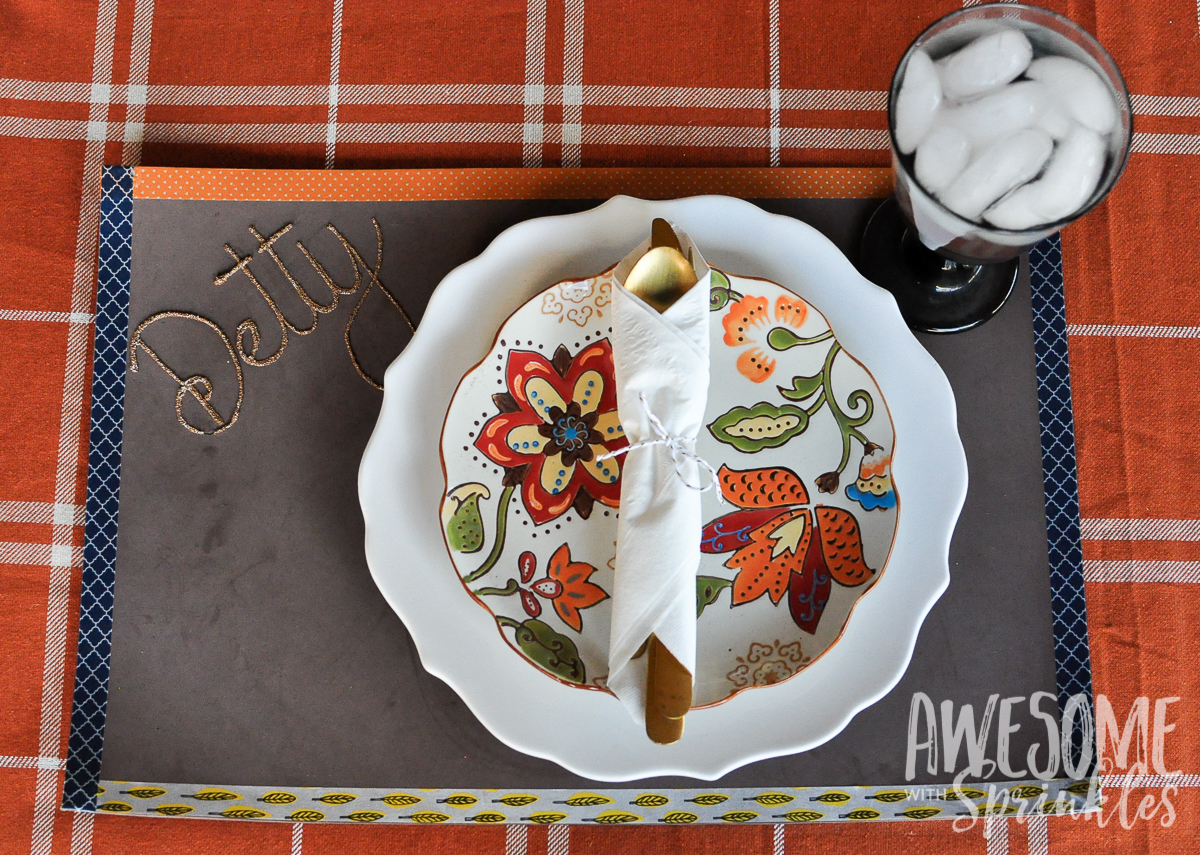 How-to:
Putting this place card together is really a quick project. The washi-tape was used around the outside edge to give the foam a pop of color and texture. If you have used washi-tape before you'll know how finicky it can be when sticking to things. Easy fix…put a dab of craft glue at each corner of the foam sheet, then press the washi-tape to it. Repeat at each corner. For writing the guest's name, I used the tip of my finger to lightly trace my name into the foam sheet (you can also use a pencil) and then went over it with white puff paint. Before it dried I sprinkled a generous amount of glitter – or metallic microbead beads – over the paint. One down and a stack to go!
Glittery Pinecone Place Cards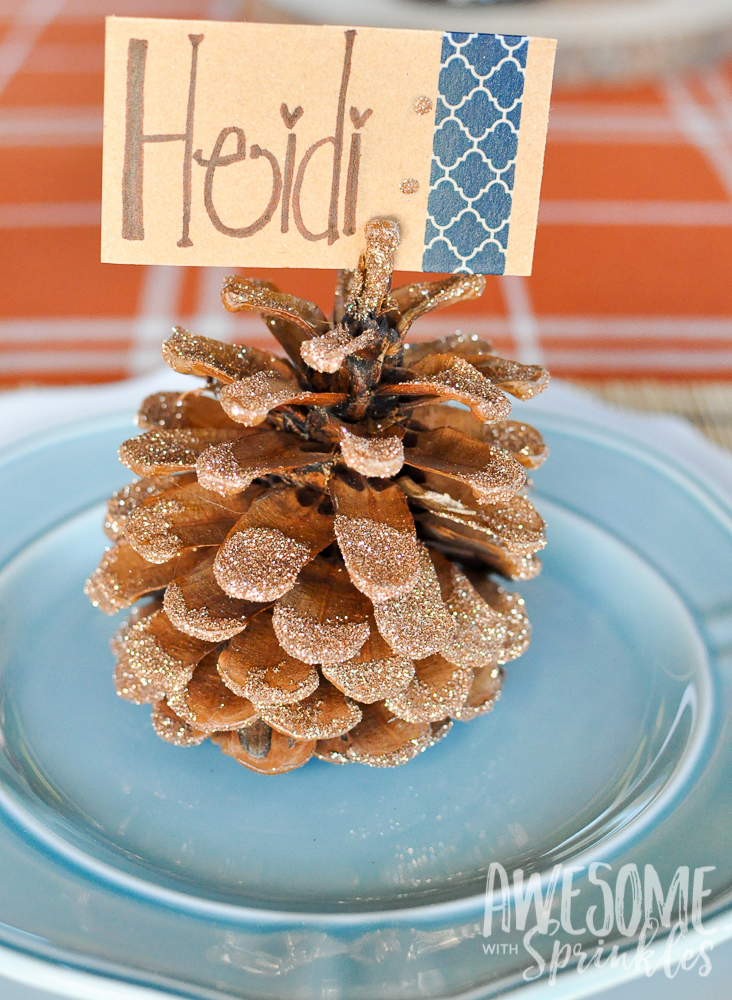 These gorgeous glitter pinecones are so easy to make. They add a bit of sparkle and a touch of nature to your holiday decor. These would also be really pretty for Christmastime. Try different colors of glitter to match your decor or even faux snow!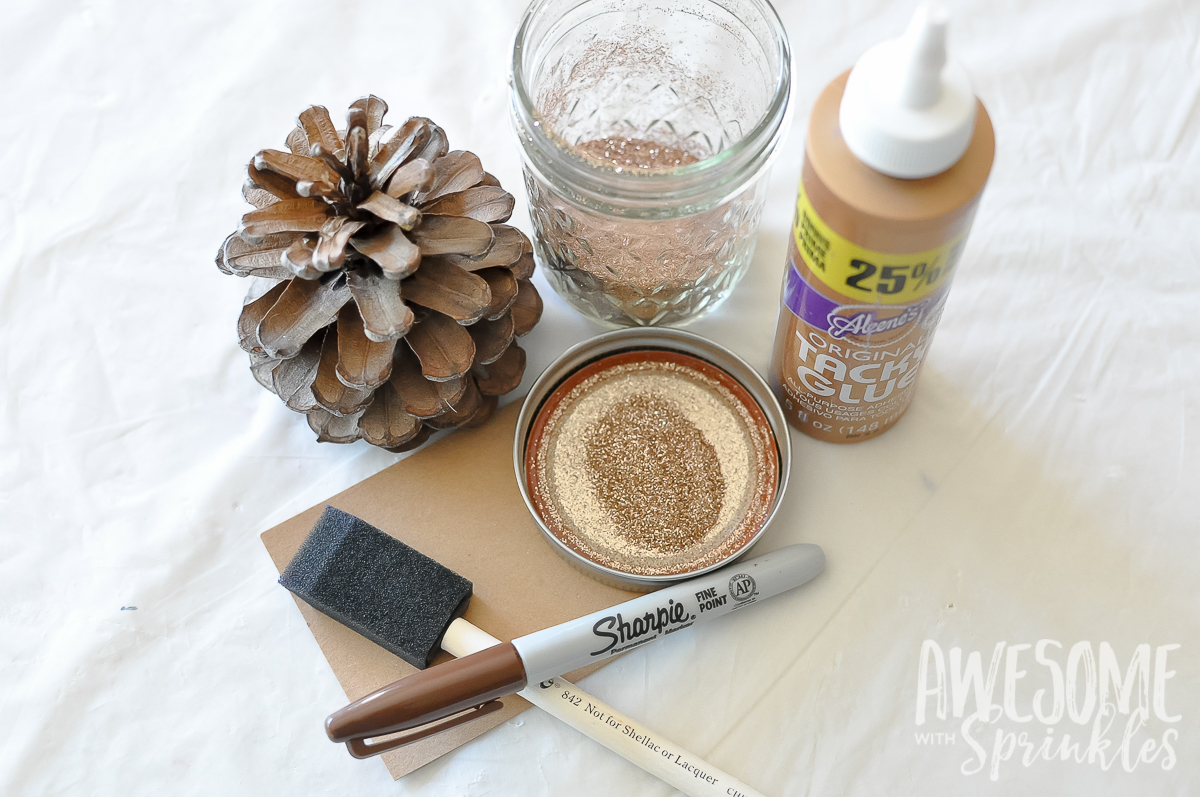 Supplies:
craft glue
foam brush
glitter
note card/piece of paper
washi-tape (optional)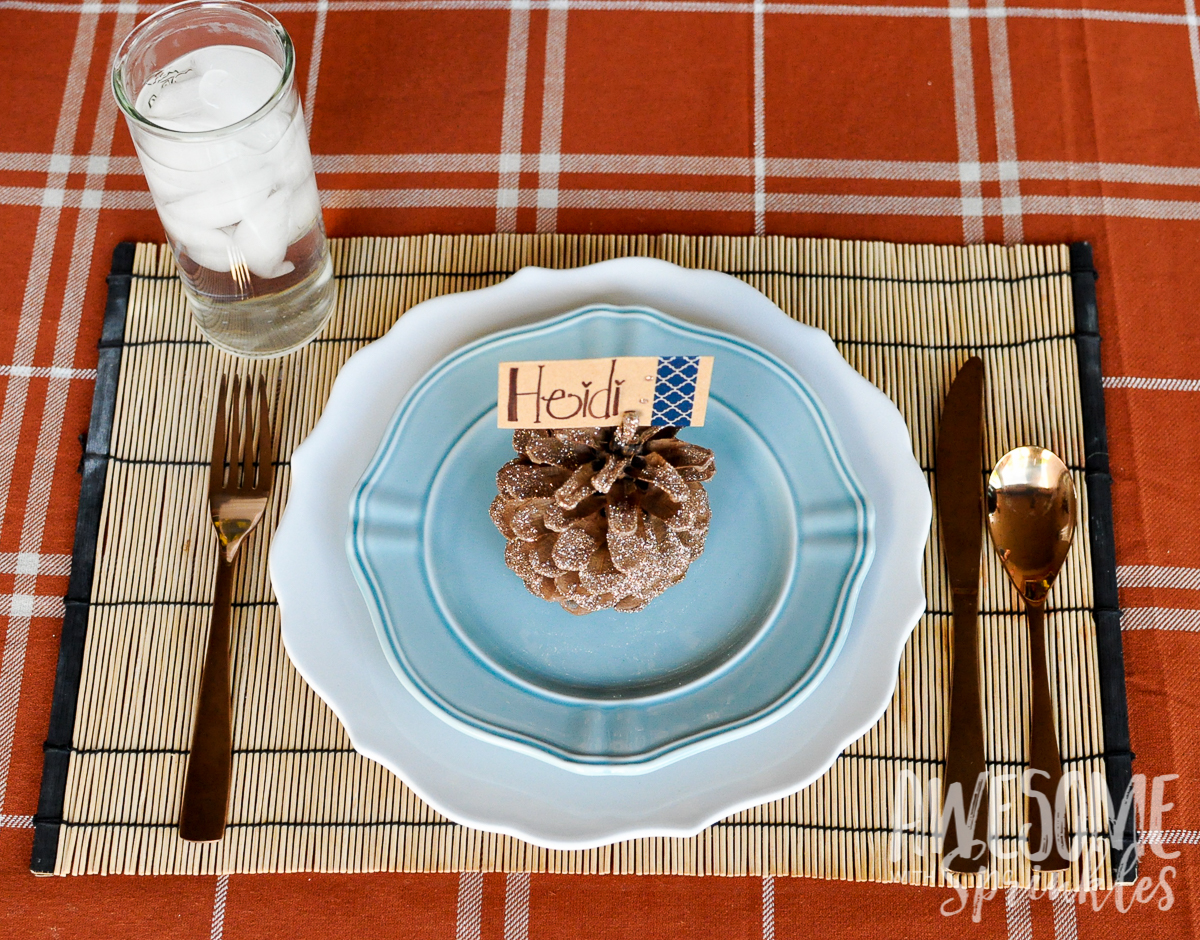 How-to:
The pinecone place card makes for a huge impact, and yet it is simple to make up. You can buy pinecones at craft stores or step outside and use what Mother Nature has given you. You will need a fair bit of craft glue and glitter for this one. We used a paper plate to pour our glue onto and a small foam brush to apply it generously to the tips of the pinecone (you could also use spray glue). Start at the top and work your way down a row or two, sprinkle generously with glitter. Repeat. Once the glitter party is completed, set your pinecones aside and write your guest's name on your note card. Decorate your name card with some washi-tape or glitter accents. After all, you can never have to much glitter! Tuck your name card into the top of the pine cone and you are ready and set to go!
Tip: If your pinecone doesn't have a natural split at the top to slide your card into, you can carefully use an x-acto knife or straight blade to split the top of the pinecone to create a slit to hold your name card.
Pretty Paper Straw Leaves Place Cards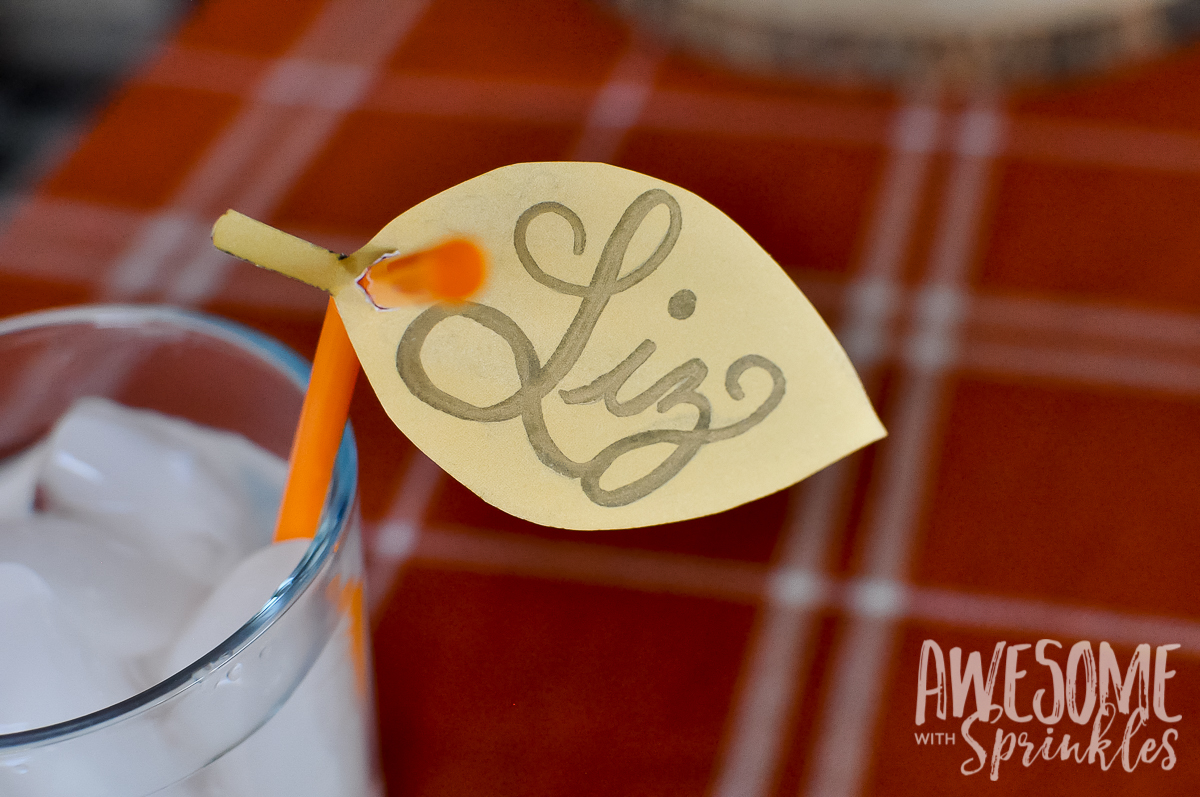 Straws are often an over looked accessory. There are some clever ways to fancy them up, or make a seriously silly or chic statement.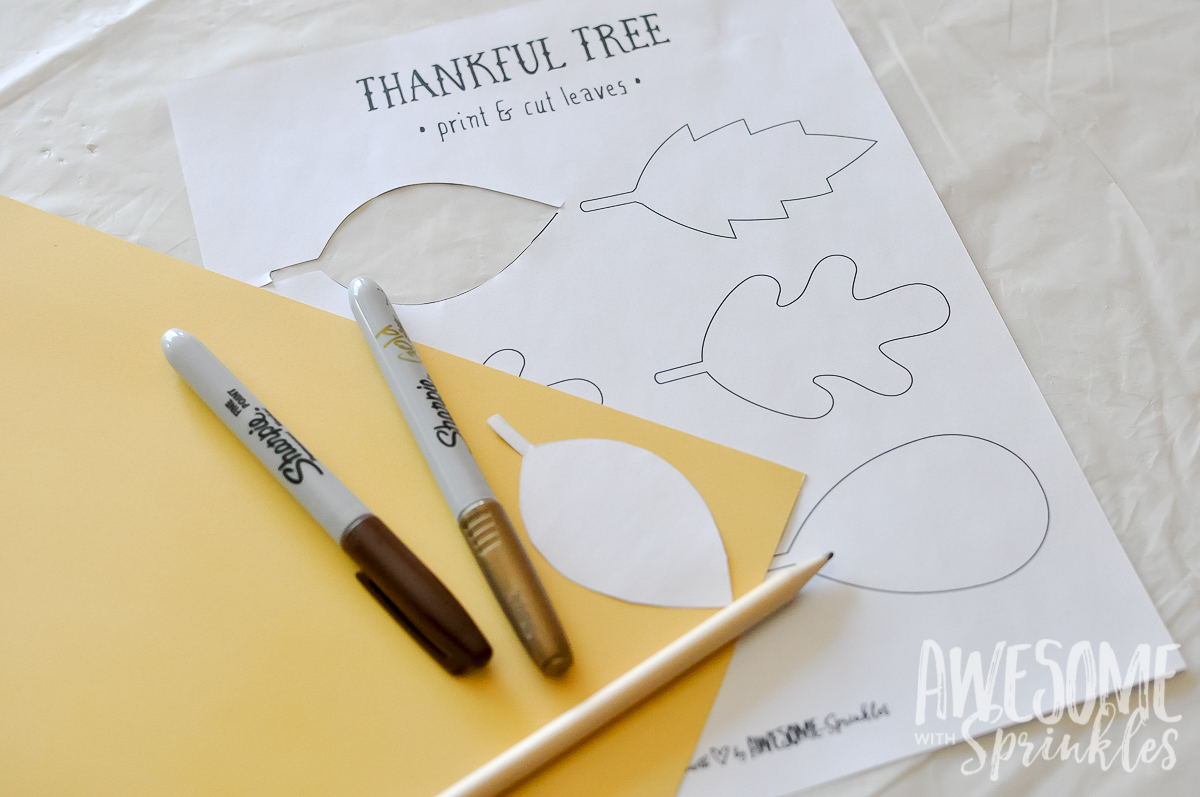 Supplies:
Assorted colored paper
Scissors
Hole punch or X-acto knife
White or colored drinking straws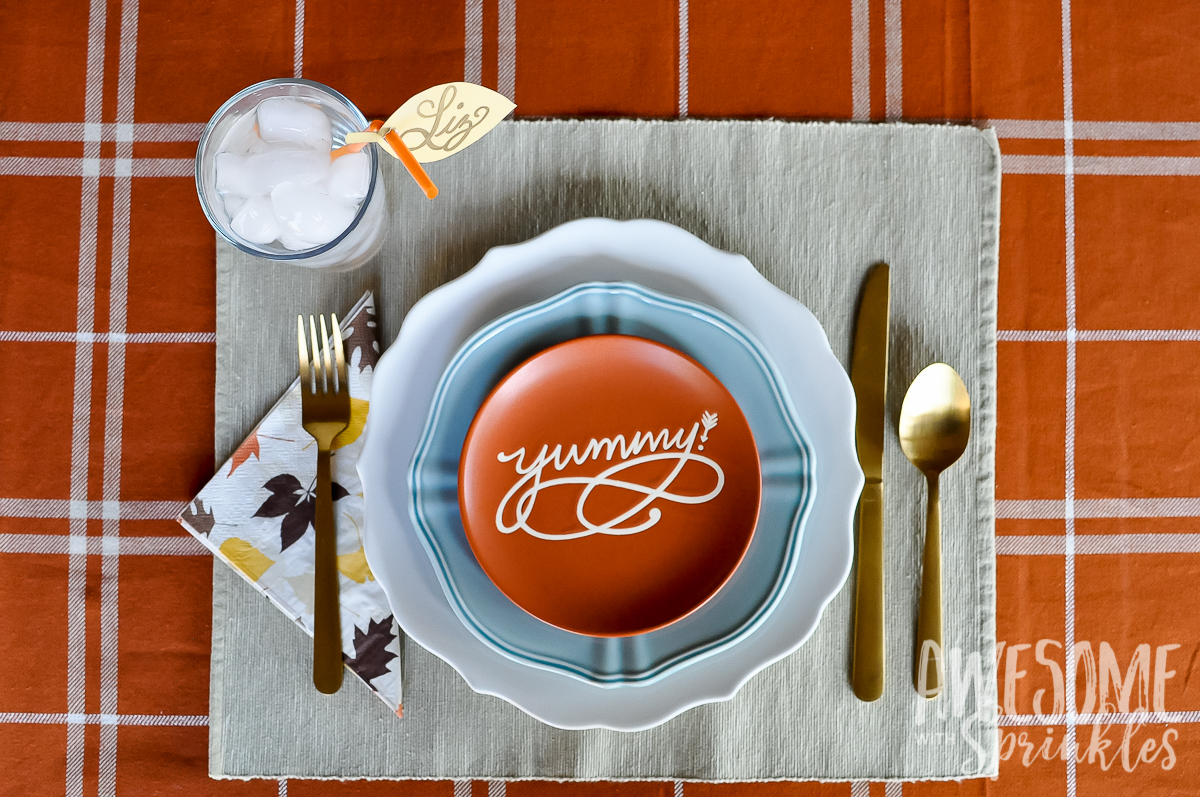 How-to:
Print out the fall-leaves-stencil-template cut and trace them onto colored paper. A pretty variation is to use craft paper with a solid side and a patterned side. After all the leaves are traced use a Sharpie or other marker to write you guest's name in the center. Cut the completed leaves out and make a hole punch near the stem. If you don't have a hole punch handy use an x-acto knife to make an "x" in the same location. Carefully poke the end of your straw through the hole, then pop it into your guest glass. Not only do they know what seat is theirs, but now they also have a marker for their drink!
For the Kiddies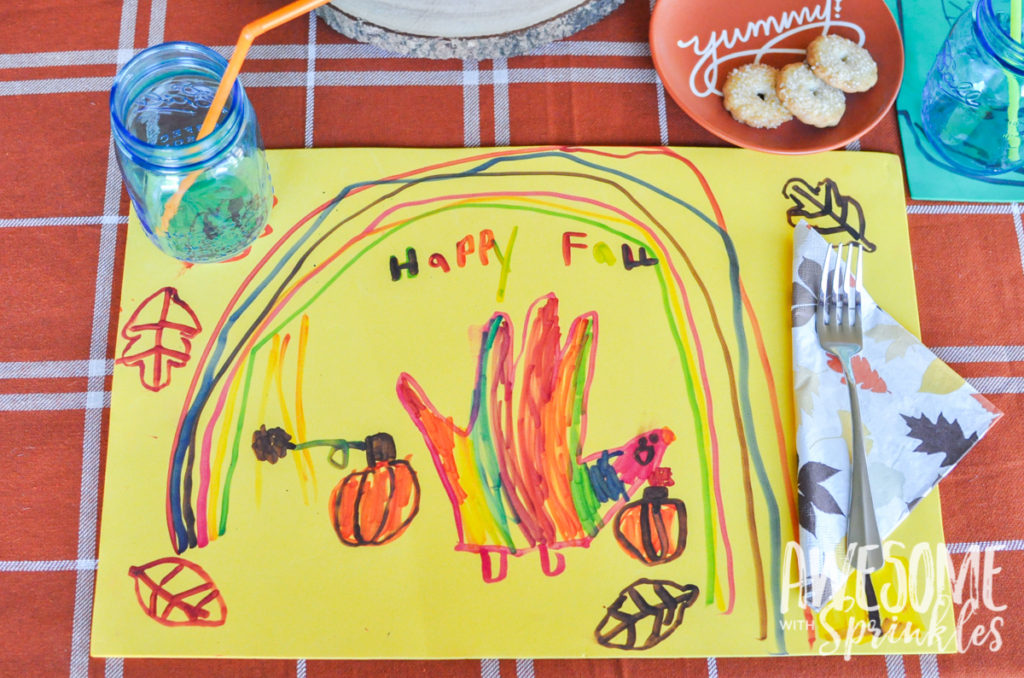 If you are looking for place card ideas for the kiddie table, why not have them make their own! These cute little turkey placemats serve as their place cards AND keeps them entertained while they are waiting for dinner! All you need are some markers, foam sheets and your imagination! You can see how we made them here: Thanksgiving Placemat Kids Craft
Happy Crafting!