These no-bake cookies have long been in my top 3 fave cookie list (being recently bumped into the #3 slot by these little babies). My mom has made this recipe for years and I think this is where my love of coconut started. Chocolate, coconut, oatmeal, marshmallows…how can you go wrong?
These cookies are soft, yet chewy and are super easy to make. The best part is that they don't require any baking. So while they are one of my go to's for the holidays, they are also really great for the summertime. Wrap in wax paper and store in an airtight container and they will stay soft for a week at least (if they last that long).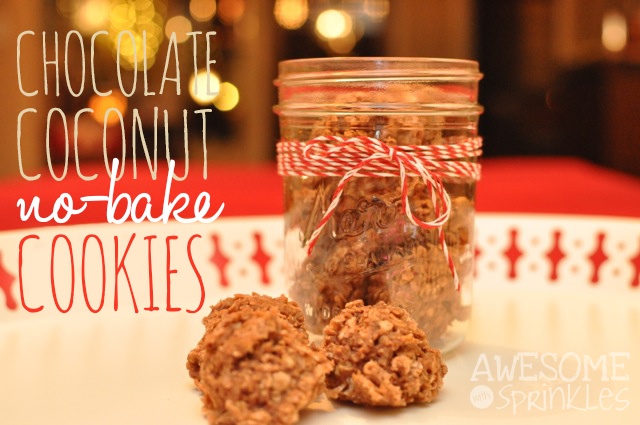 Chocolate Coconut No-bake Cookies
Serves:
Makes about 4 dozen cookies (depending on the size of the cookie)
Ingredients
2 cups sugar
¾ can evaporated milk
½ cup (1 stick) butter
1 12oz package of chocolate chips
1 cup marshmallows
1 cup coconut
4 cups quick cook oats
Instructions
Mix oatmeal and coconut in a large bowl. Set aside.
Bring sugar, milk, and butter to a boil. Reduce heat.
Add chocolate chips and marshmallows. Stir until melted.
Pour over oatmeal and coconut.
Drop 1 tbsp balls onto wax paper and let cool.