This past weekend was Pi Day and these wee little boozy hand pies were the perfect treat to celebrate! Because really, is there a more perfect way to teach this mathematical constant about circles than to eat PIE!? Math is great. Eating pie is better.[jumptorecipe]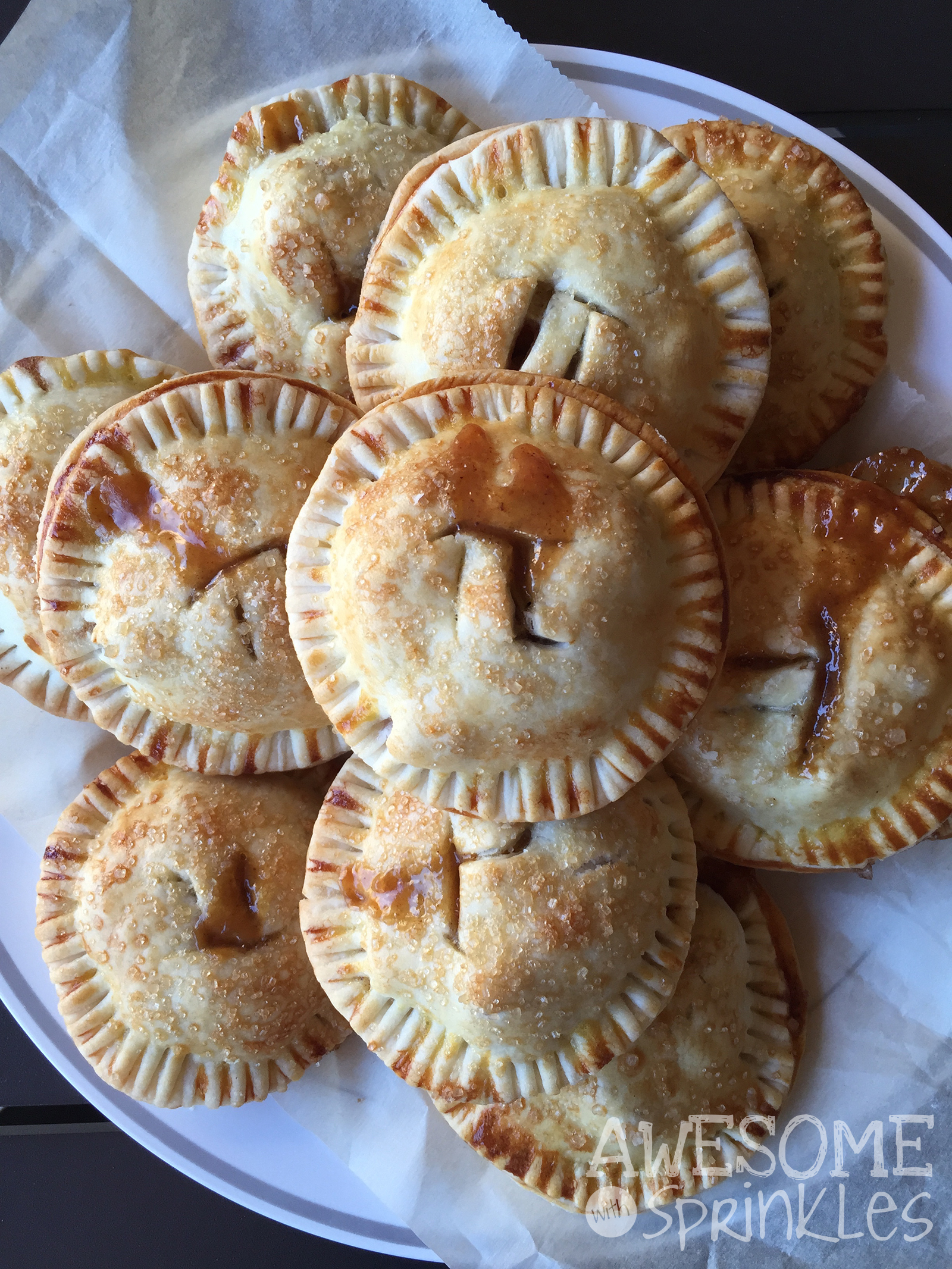 They were super easy to make and bake up and their single serving size made them easy to transport to our Pi Day party and share with all of our Geeky friends. I made these with green apples and Irish Whiskey so they so totally pass for St. Paddy's Day treats as well. See what I did there? 😉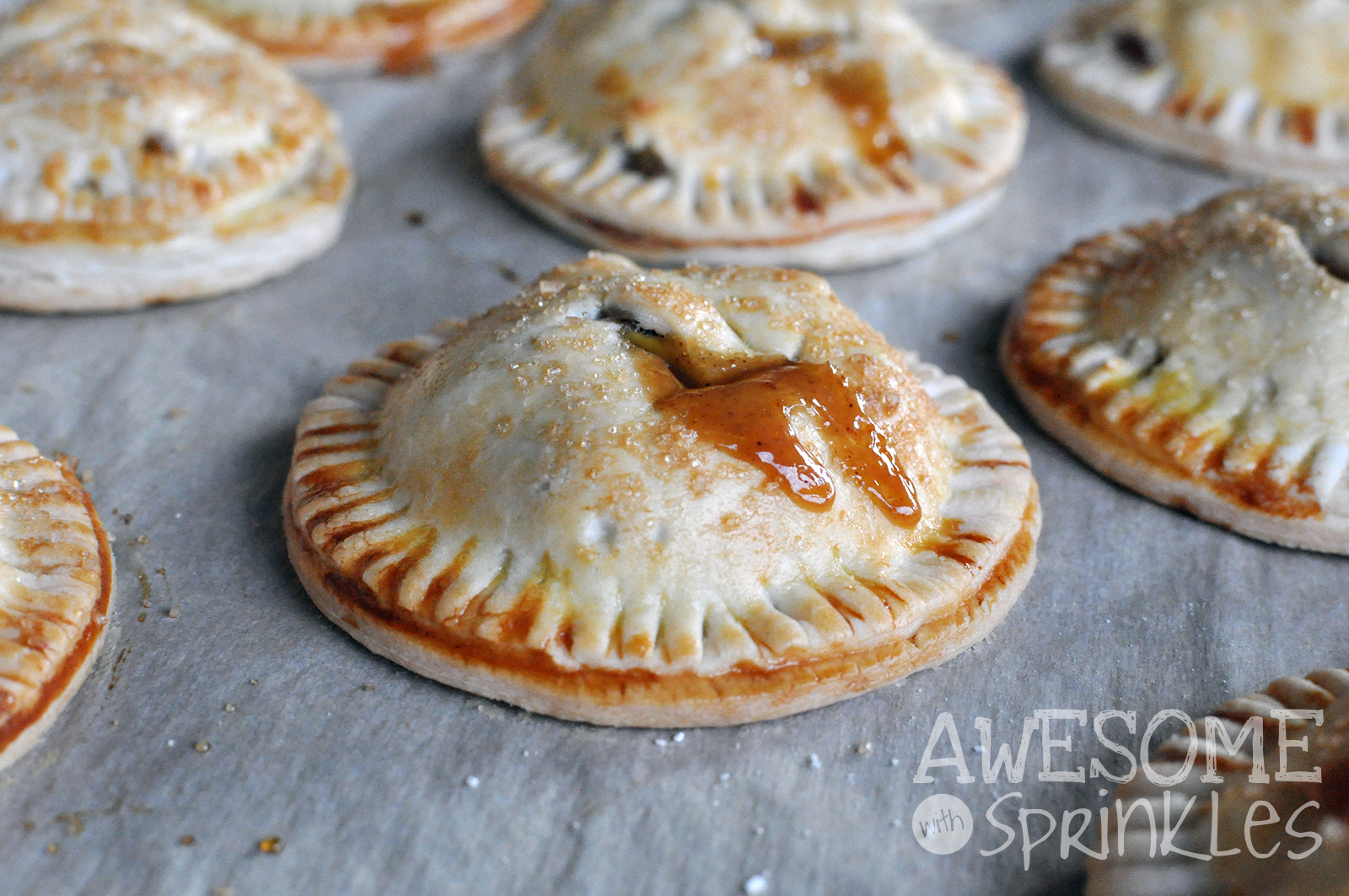 And since apples and caramel are BFFs, I tossed some caramel chunks in there too. My mom sells these amazing sea salt caramels at her shop. Last time I went to visit I came home with a huge gallon bag full. They are homemade style caramels and are so creamy. They are very soft and sticky which can make them tricky to cut, so I chill them in the fridge to harden them a little before I chop them up. I think that the square caramels (like Brachs or Kraft) might not be as tricky to cut since they are a little harder to begin with.
You could really make these with any fruit and booze. I fully intend to try making some bourbon and cherry pies. How about blueberries and Amaretto? Peaches and spiced rum? Yes, please. All of them. Ermahgerd. *drools*
Aren't these so stinking cute? The little Pi symbols cut in the top for Pi Day just make it for me. I *squeeeed* and danced around for a good 5 mins when I pulled these out of the oven and the Pi symbols were recognizable. So much excite!
This particular Pi Day was special as it happened to be the most epic Pi Day of our lifetime. Because 3.1415. Whoa. It was also particularly special to Awesome with Sprinkles because a year ago on Pi Day, I lost my job. Why that might not seem like a reason to celebrate, believe me, it was a blessing in disguise. Even though the Awesome with Sprinkles blog would not officially launch for a few more months, it was something that Jenni and I had been talking about doing and losing my "day job" was the catalyst that I needed to really get the ball rolling.
So here we are, a year later with many new recipes to share, a slew of trials and errors under our belts and so much that was learned in this past year. We are only getting started and are looking forward to an even more AWESOME year ahead! Thank you all for your love, support and requests for treats. <3
Happy St. Patrick's Day!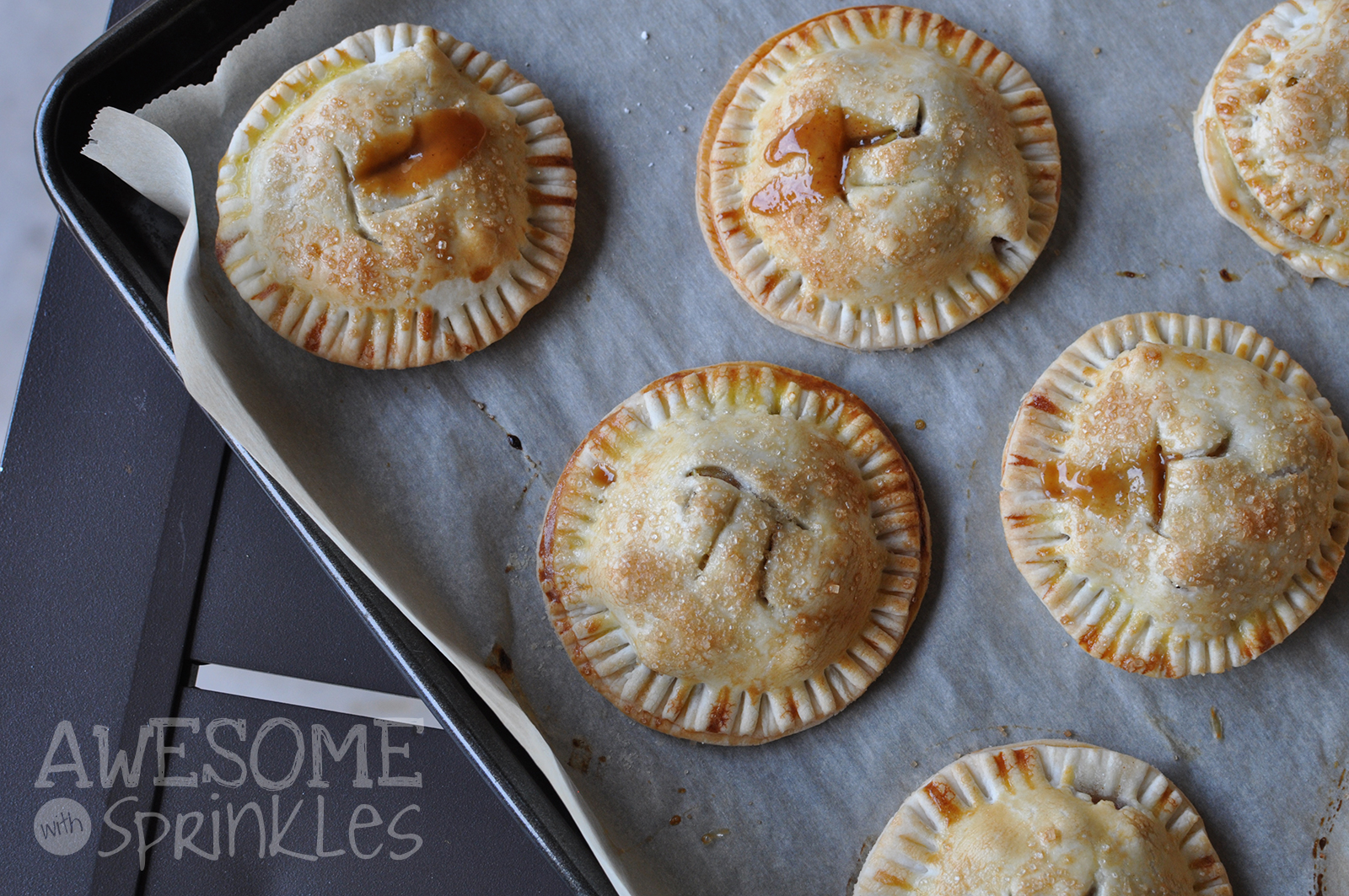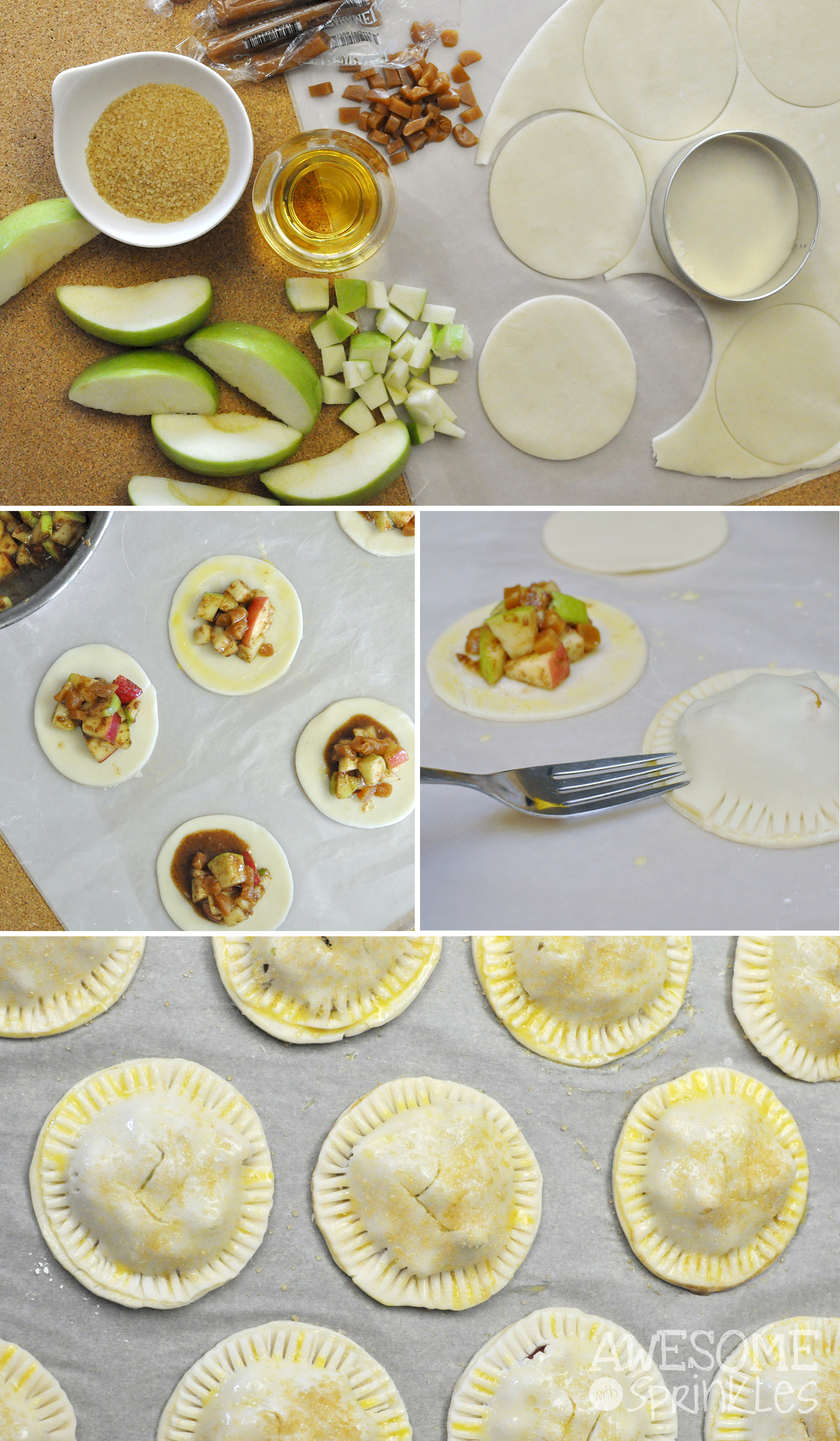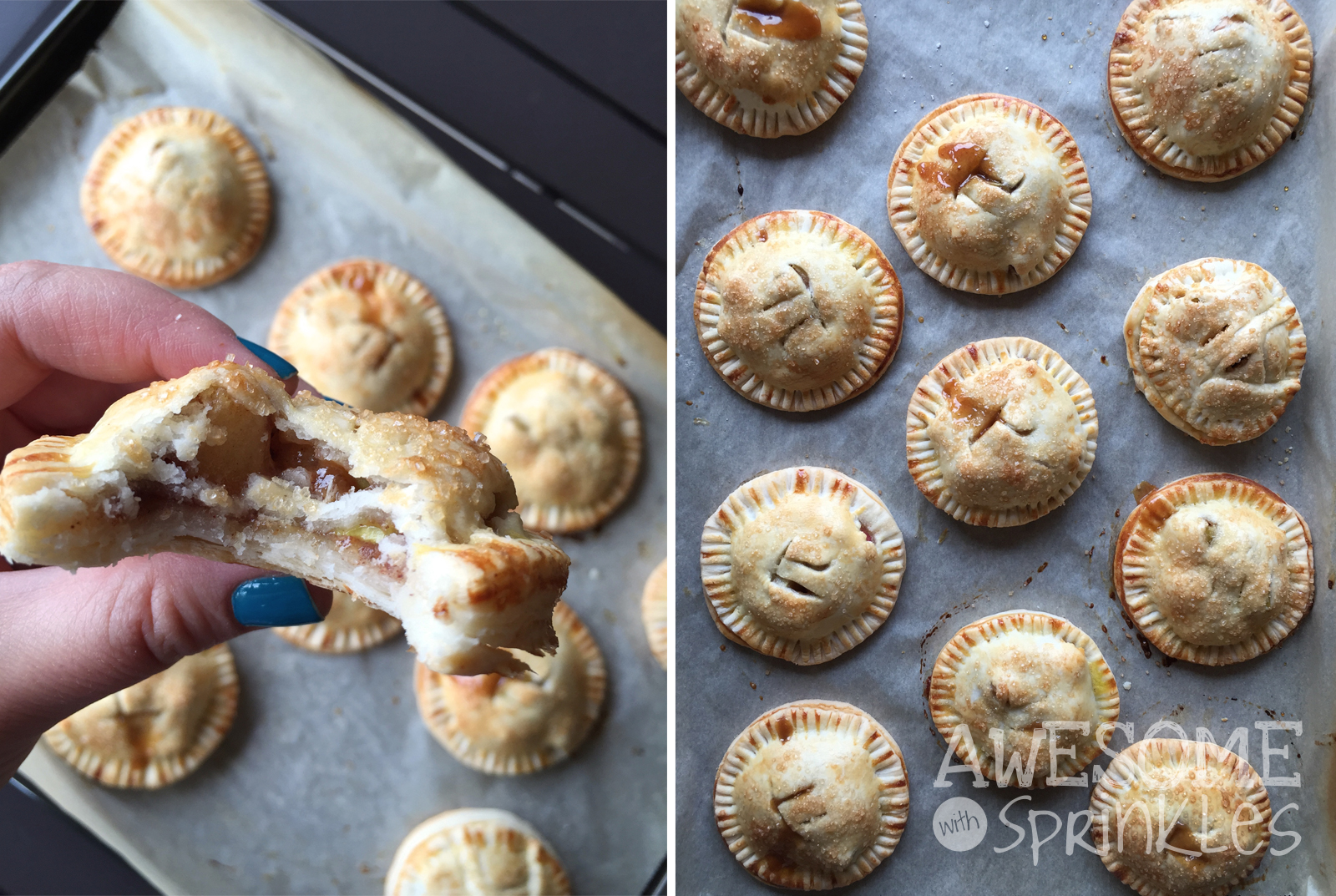 [recipeanchor]

Boozy Caramel Apple Hand Pies
Author:
Awesome with Sprinkles
Serves:
about 2 dozen hand pies
Ingredients
4 rolls of refrigerated pie crusts (2 boxes) - such as the Pillsbury ones
2 cups apples (about 2-3 apples), diced small
1 oz whiskey or bourbon
¼ cup sugar
1 tsp cinnamon
2 tbsp flour
⅓ cup caramel chunks/chips (about 3 chopped Annie B Caramels, I would imagine probably 6 - 8 of the square type caramels)
Egg wash (1 egg + 1 tablespoon of water)
2 tbsp crystal sanding sugar or turbinado sugar
1 tbsp corse sea salt
Instructions
In a small bowl, toss together diced apples with whiskey, sugar, cinnamon and flour until evenly coated. I used a mix of green Granny Smith apples and Honeycrisps. You can peel them if you want, but I don't mind the skins and I like that it adds some color.
Unroll pie crust dough onto a well-floured surface or non-stick pastry mat.
Using about a 3 inch circle cookie cutter (or the rim of a glass) cut as many circles as you can from the dough. With a rolling pin, re-roll the scraps and continue cutting circles until all of the dough is used. Repeat with the remaining rolls of dough.
On a cookie sheet (or two) covered with parchment paper, lay out half of the dough circles.
Spoon about 1 tablespoon of apple filling onto each of the dough circles, leaving an uncovered space all the way around the edge. Add a few caramel chunks on top of the apple filling. Do not overfill or your top crust might tear.
Using a small pastry brush (or your finger), brush some of the egg wash around the edge of the dough circle. This will help the top and bottom crusts stick together.
Place a second dough circle on top of each filled circle. Using a fork, gently crimp the edges of the crusts together all the way around to make a hand pie!
Brush the top of each hand pie with egg wash and cut two small slits (or the Pi symbol!) into the top. Sprinkle on some of the sanding sugar and a pinch of salt.
Chill in the refrigerator for 30 minutes.*
Preheat over to 425ºF and bake for 15 mins (one sheet at a time), or until they are golden brown. Remove from oven and let cool for 5 mins before transferring to a plate or cooling rack. I love hot apple pie, so I like to eat them while they are still nice and warm. I know you are excited, but do let them cool for a few mins so that you don't burn your face off. Enjoy!
Notes
*I like to make the first dozen hand pies and get them chilling in the fridge while I make the second dozen.