Fall is here and that means one very important thing… harvest time! Growing up on a farm, harvest time was a big deal in our family. It was a bountiful time filled with fresh fruits and veggies. It was a time spent in the kitchen canning food, making jams and pies and stocking up for the upcoming winter. Because unlike my totally spoiled winters here in Arizona, we had legit freeze y our ass off buried in snow winters in Idaho. Did YOU have a "winter survival training" class in your high school? Just saying. Legit.
The temps are finally cooling down here in Phoenix and it is starting to feel a bit like fall. Well, at least as fallish as it gets in Arizona as it's still 65º degrees, though quite lovely. The past few days have even been a little rainy so it's really kicking up the fall feels.
Which makes my mind wander to fresh picked apples and shiny cranberries…so of course I had to bake something!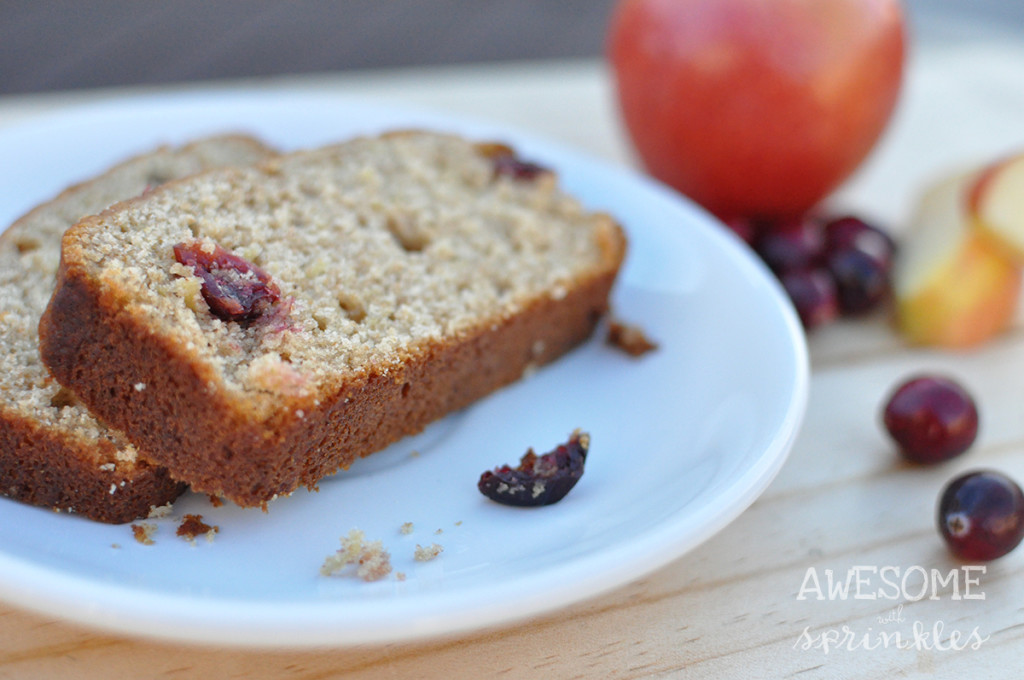 This beautiful bread is full of sweet apples and tart cranberries which are not only delicious, but are food powerhouse packed with healthy goodness.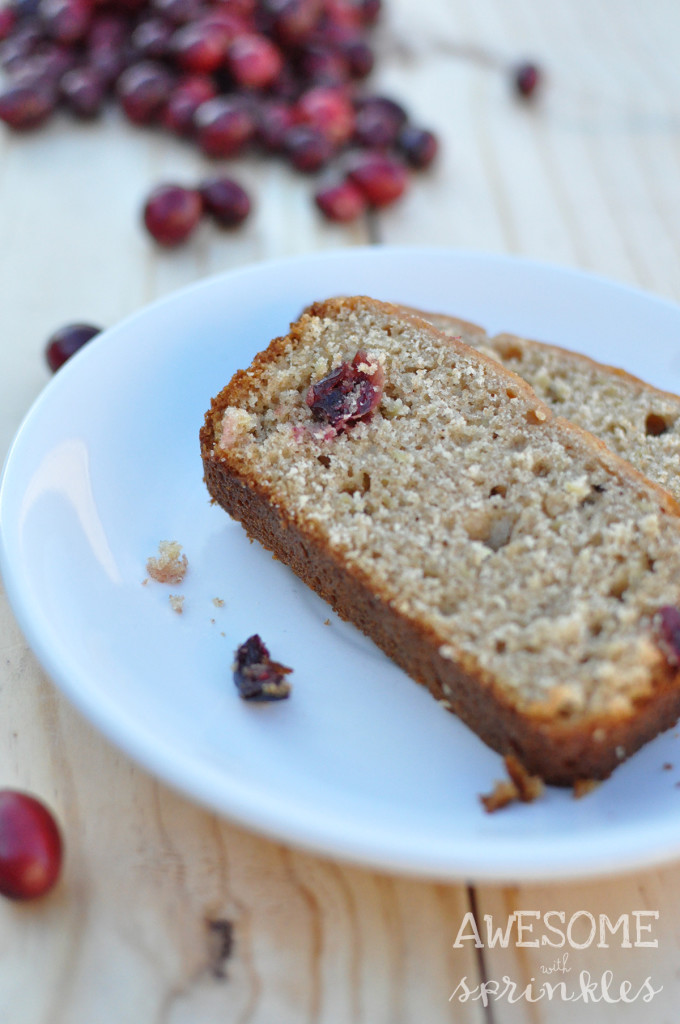 This recipe comes from my dear friend, Liz, who was kind enough to leave a loaf in my mailbox as she was passing by. She likes to do that when she makes treats. Lucky me!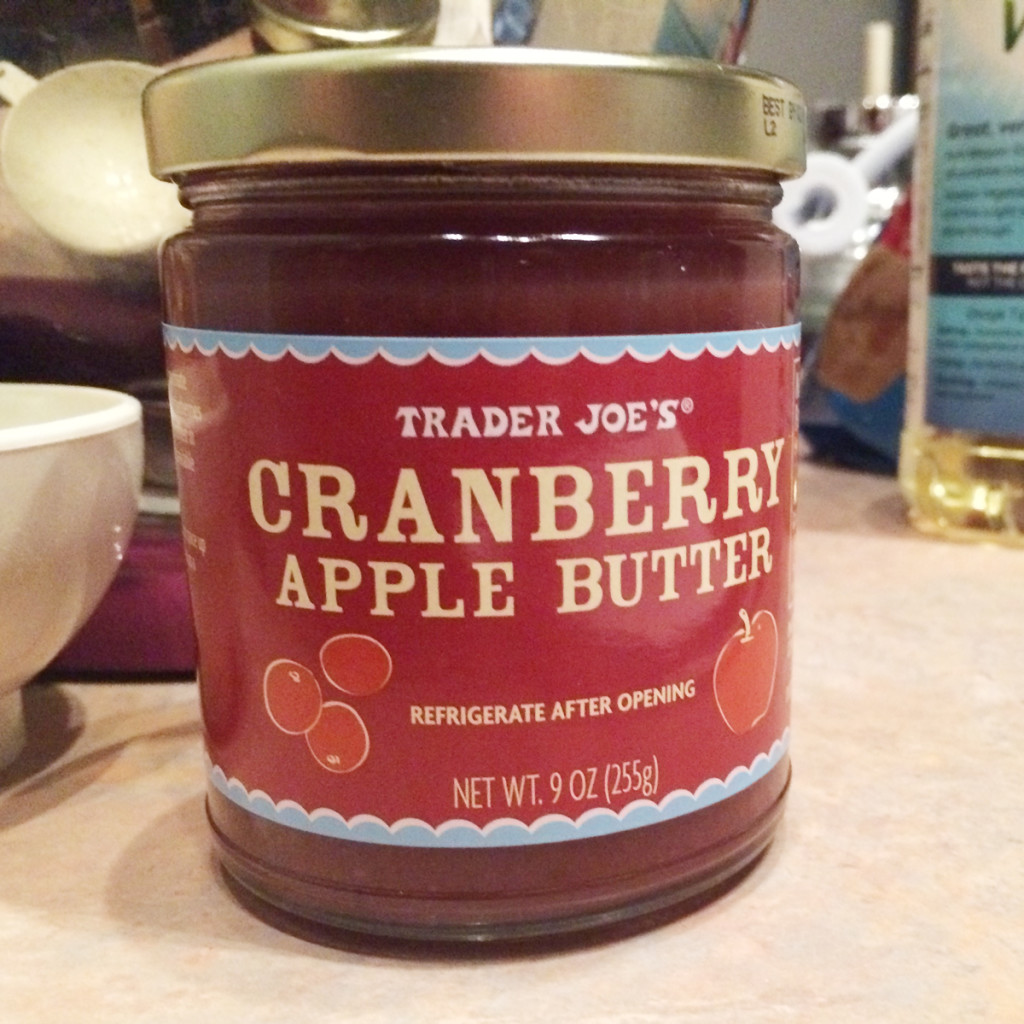 She also likes to make it with Trader Joe's cranberry apple butter, which is AMAZING… if you can find it. It's well worth a trip to TJ's if you have one in your area. Might as well stock up on some cookie butter while you are at it. 😉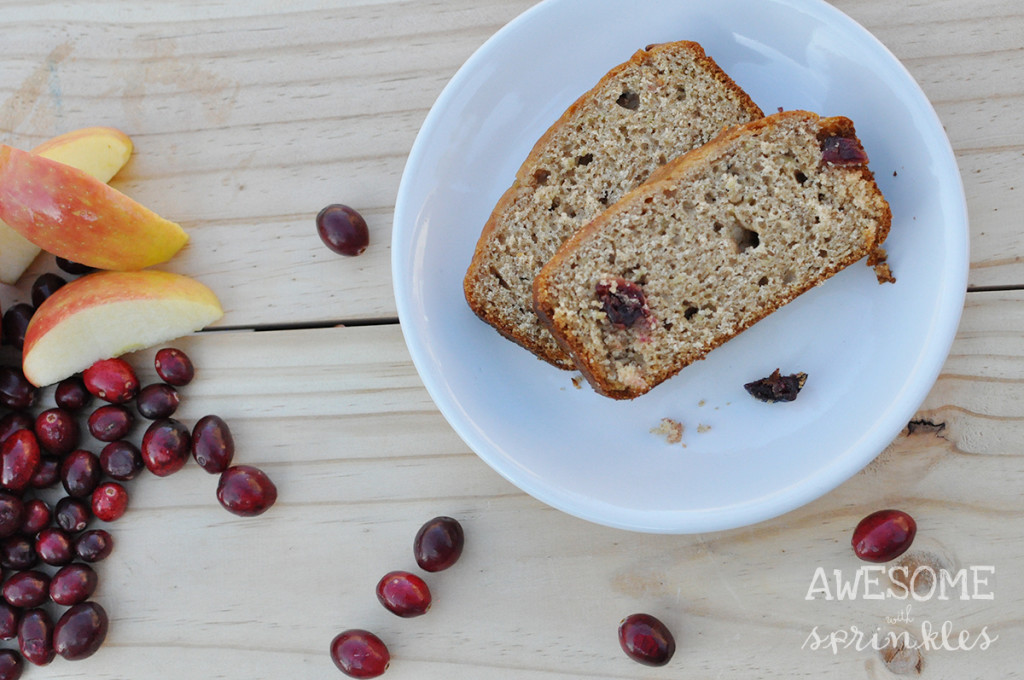 Cranberry Apple Butter Bread
Author:
Awesome with Sprinkles
Ingredients
11/2 cups all purpose flour
11/2 tsp baking powder
¼ tsp baking soda
¼ tsp salt
½ tsp cinnamon
⅛ tsp nutmeg
2 eggs, slightly beaten
¾ cup sugar
½ cup apple butter
¼ cup cooking oil
½ cup chopped apples
½ cup fresh cranberries (I like mine cooked first, or you can substitute dried cranberries if fresh aren't available)
Instructions
For the Loaf
Preheat oven to 350º degrees.
Grease and flour the bottom and half up the sides of a 9 inch loaf pan.
In a large bowl, combine flour, baking powder, baking soda, salt, cinnamon, and nutmeg in a medium bowl. Whisk together and set aside.
In a medium bowl, combine eggs, sugar, apple butter and oil.
Pour egg mixture into flour mixture and stir until moistened (batter will be lumpy).
Stir in chopped apples and cranberries.
Spoon batter into loaf pan.
Bake at 350º for 45mins or until a toothpick inserted into the center comes out clean.
Remove from oven. Cool on wire rack for 10-15 mins, then turn loaf out of pan and cool completely before slicing.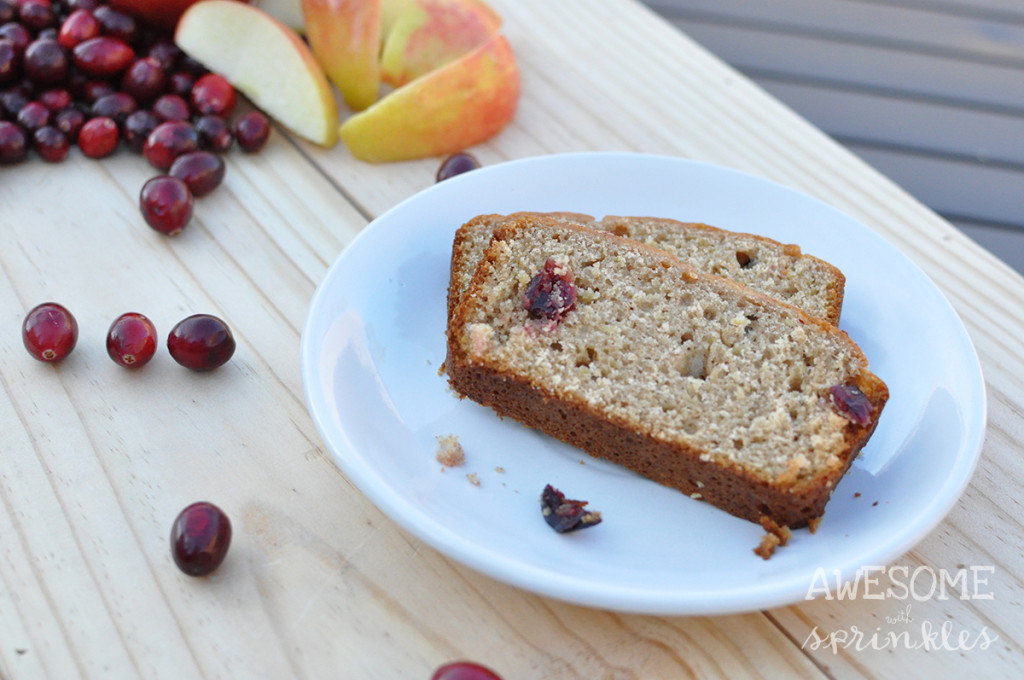 A note on cooking fresh cranberries: I like to cook them in a sauce pan with water and a bit of sugar before I put them in my bread. You can add them in raw but they are too tart for my taste and I like them to have a softer texture.
My go to is about 2 cups cranberries, 1 cup water and 2 tbsp sugar. Gently boil them just until they start to pop and then remove from heat. I like to leave mine just a little undercooked (before they start to get "saucy") so that they retain their shape they will cook a little longer while baking in the bread.
Reduce that amount if you don't need a full 2 cups of cooked cranberries, or add more sugar and keep cooking the rest of the cranberries until they boil down to a nice sticky cranberry sauce. You can freeze the cranberry sauce for later. Try it on toast or crackers with some brie… omg.
Enjoy!
– <3 H