Halloween is creeping up faster than a spooky spider and it's time to spread the "BOO" in your neighborhood this Halloween with a goodie filled Boo Basket!
Boo Baskets are a fun Halloween tradition that has been going around neighborhoods for years. It's an easy way to put a smile on the faces of your friends & neighbors (especially the kiddos) and share a little fun throughout the community.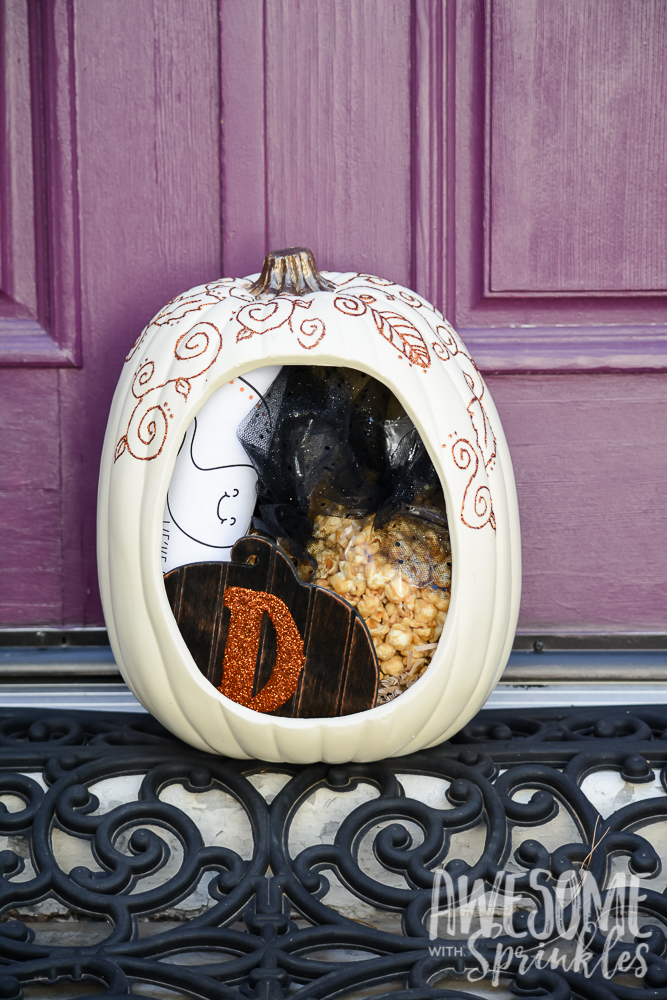 How to Play the Boo Game
There are so many different ways in which you can play the Boo Game and customize your Boo Basket (more ideas below) but the general idea is that you make up a treat basket for a neighbor (or two!) and leave it ANONYMOUSLY on their doorstep with a cute message to spread the "BOO" and carry on the game.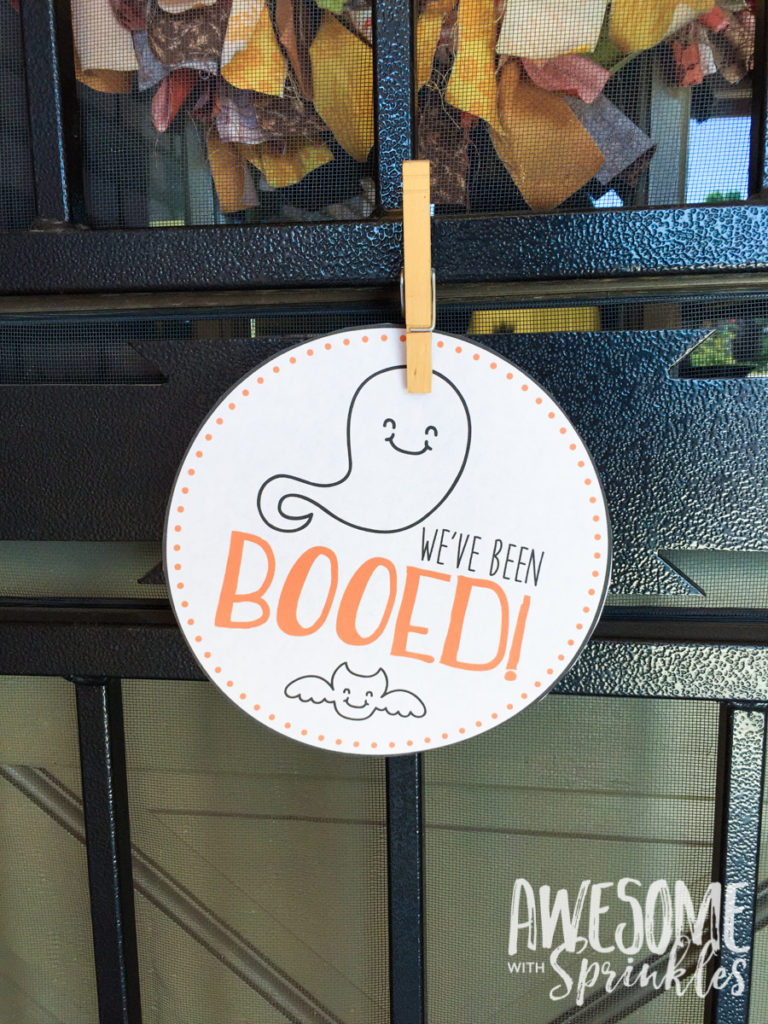 Afterwards, you put up a message on the door that lets others in the neighborhood know that "We've been Booed!" so that you don't get booed again and others can join in the fun! That's basically it! We have even created this totally cute printable to get you started!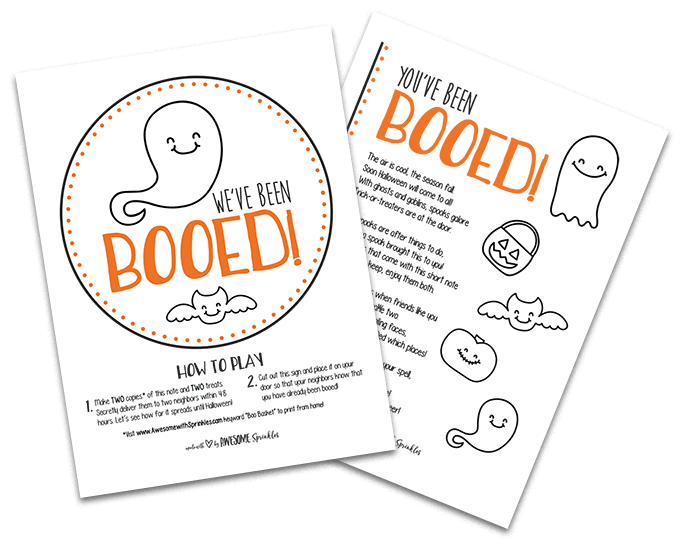 DOWNLOAD & PRINT our adorable Boo Basket instructions!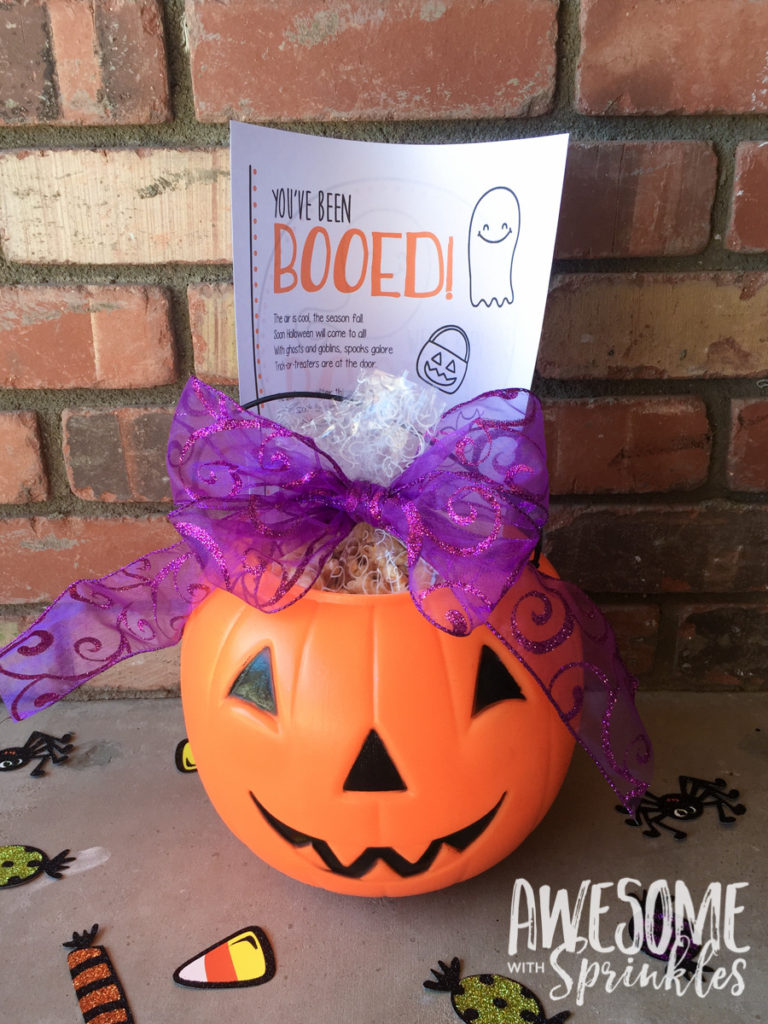 I stuffed this Boo Basket full of Reese's Peanut Butter Cups and topped it off with a giant bag of my favorite homemade caramel corn. I sprinkled about some glittery oversized table scatter from the $1 section around the front porch to jazz things up (because everything is better with glitter!).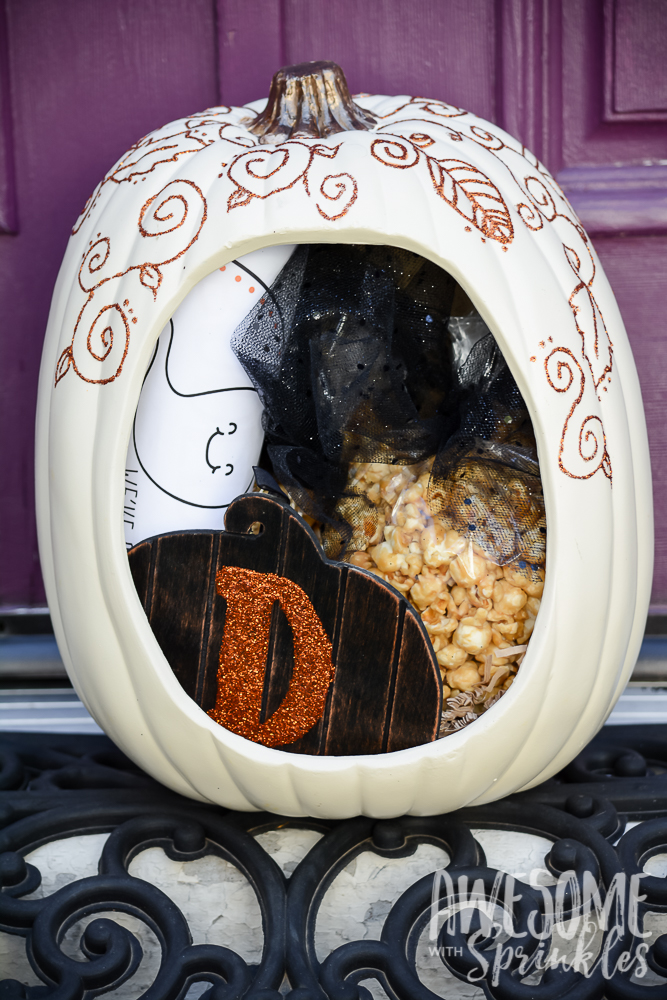 If you know the family you are "booing" you can customize their treat basket with the things they like! Detty created this beautiful Boo Basket from a simple no-carve craft pumpkin. She included a handmade monogramed pumpkin door decoration as a special treat for them to keep up all season! She wanted the basket to be part of the gift as well and for them to be able to use it for more than just Halloween, so she went with a more fancy approach with gorgeous glitter leaves and swirls! So pretty!
You can make your own Faux Fabulous Pumpkin decoration with our easy step-by-step tutorial!
Treat Ideas to fill your Boo Baskets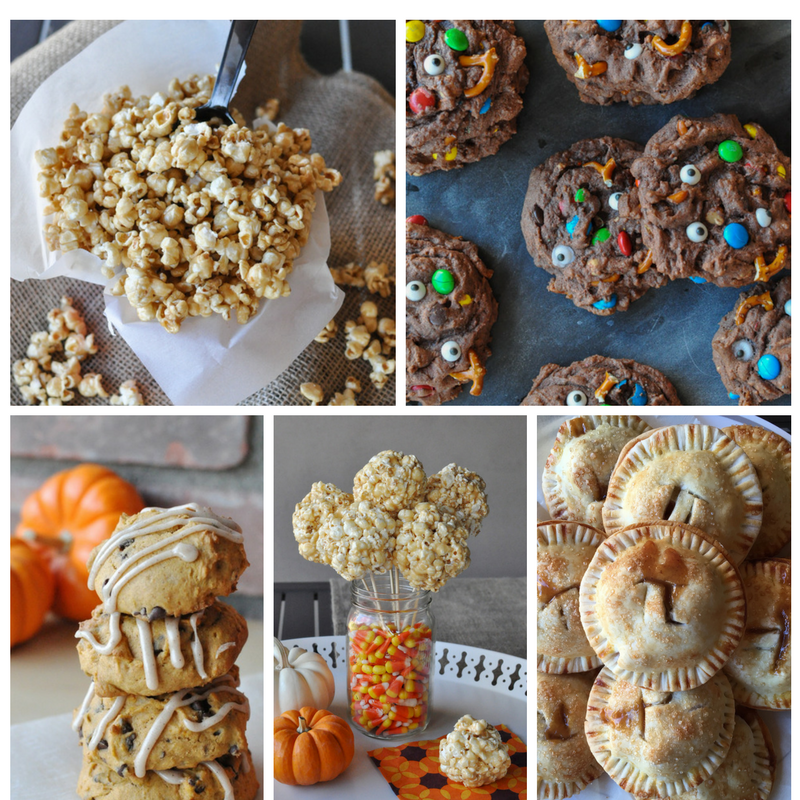 Here are some of our favorite homemade treats to fill your Boo Baskets!
If you are short on time then store-bought goodies will do in a pinch! There are so many cute Halloween themed treats to choose from out there! Consider some of the following:
Halloween candy assortment
Candy corn
Fun flavored soda/juice
Fun shaped fruit snacks
Spooky fruit basket
Chocolate (who doesn't love some good old chocolate!)
Cookies (from your local grocery or bakery)
If you aren't sure if the family you are "booing" has food allergies, then you can include some non-food treats such as these: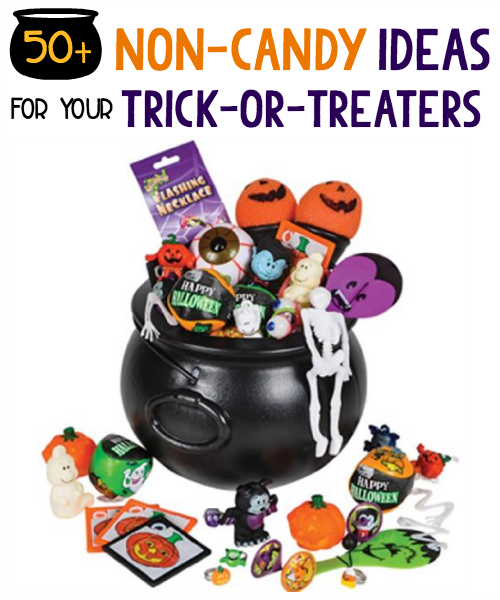 Small toys such as bouncy balls, bracelets or bubbles
Pencils and Halloween eraser tips
Cute or funny mugs
Decorative towels or cookware
Glow sticks or flashlights for trick or treating
Halloween stickers
Halloween coloring/activity book and crayons/colored pencils
Halloween decorations
More Boo Basket Inspiration
There are soooo many different ways that you can customize your Boo Baskets! And who says they have to be baskets at all! Fill trick-or-treat buckets, tote bags, gift boxes, plastic cauldrons and more!
Make a mini candy bouquet using favorite candies! This Reese's Peanut Butter Cup bouquet is too sweet! You can use all the same candies or mix it up. Dress it up even more by putting it in a trick or treat box with some fake spiders and other spooky add ons.
Check out this gorgeous display of a candy bouquet made with all sorts of colorful goodies! I love that it is in a cauldron!
If you REALLY like your neighbors, one-up that bouquet with this tall candy topiary! Freaky fancy!
Looking for something simpler? KISS, or should we say kisses! This "Bugs & Kisses" jar makes for a super easy (and super cute) treat.
Another simple idea is to leave a "handful" of treats on the doorstep. These candy filled gloves would be perfect for "Booing" your office or classmates as well! I love the Smarties for fingers!
I love this idea that takes Boo to a whole new level! The balloon ghost is such a great touch and makes such an impact!
Surprise your GHOUL-friends with a Witch's Survival Kit packed full of everything a witch needs for a night of haunting (or pampering).
Looking for something for that special someone? How about an "I'm FALLing for you" basket. Awwwww. We love you too, Boo.
Why should the kids have all the fun? Give your grown up friends a basket filled with BOOze! How cute is this little poem and spookily wrapped wine bottle!? Drink up witches!
How about a pocket sized party favor for the Witching Hour? 😉
Looking for more ideas? Check out our Pinterest board of Halloween Boo Baskets. We've scoured the internets just for you. You're welcome. Now get out there and Boo somebody!
I wouldn't be sad to find some creepy treats on my doorstep. *hint*hint*