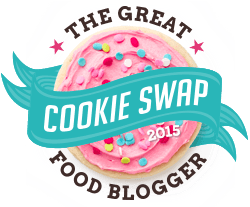 Happy Cookie Swap, friends! This is my third year participating in the Food Blogger Cookie Swap and it just gets better and better each year. It's always fun coming up with ideas for yummy recipes and meeting new blogger buddies! <3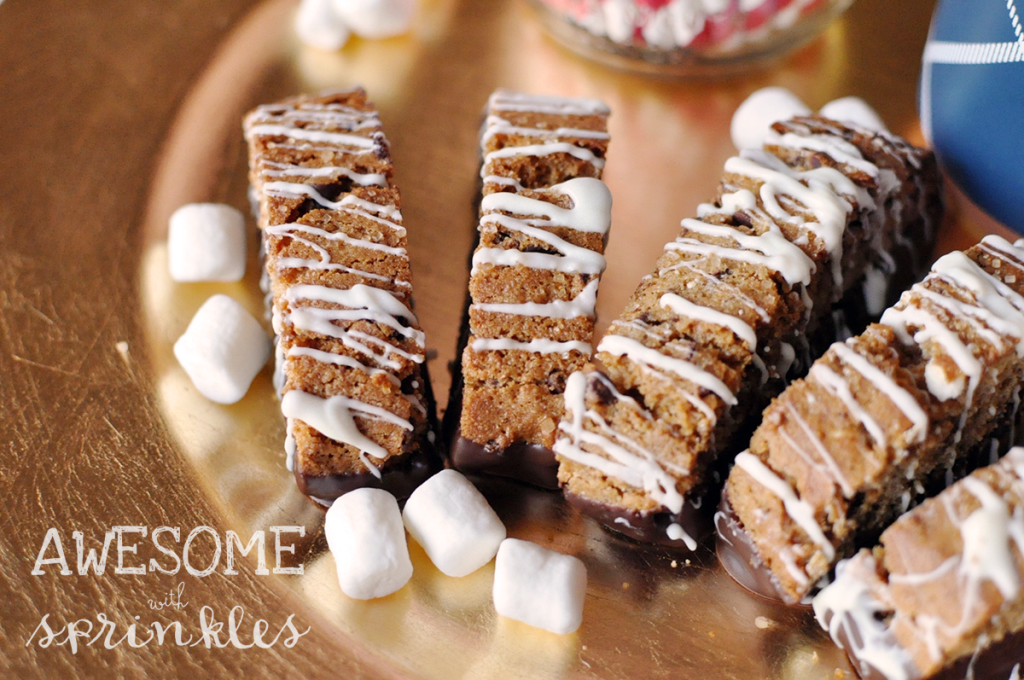 I have been brainstorming cookie ideas since August and I kept coming back to s'mores. Many people consider s'mores to be a summer treat, which I suppose is true in most places in the US. But here in the Southwest the last thing anyone wants to do when the temperatures creep into the triple digits is gather around a sweltering campfire. So for the past decade or so I've enjoyed s'mores in the winter alongside a warm cup of hot chocolate. Chocolate and marshmallows go together for a reason. 😉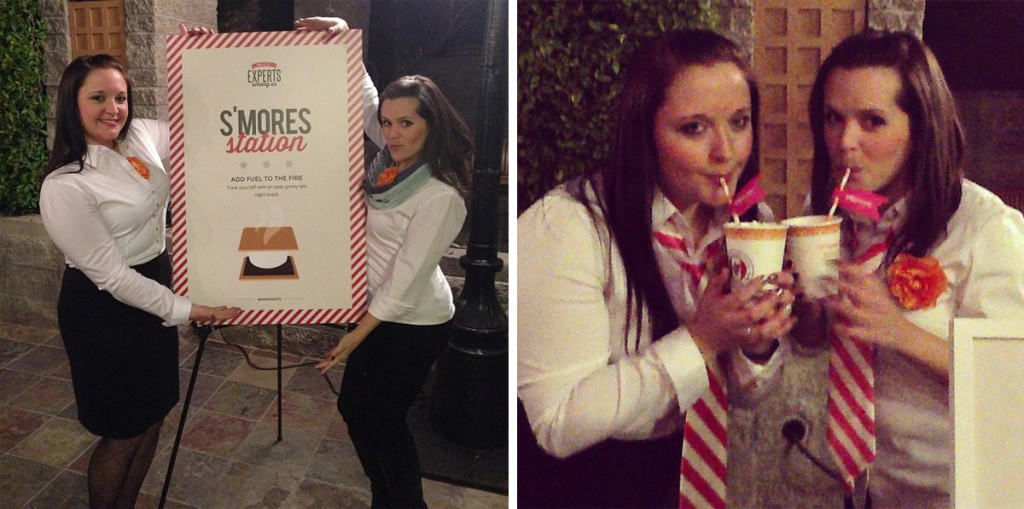 My s'mores daydreaming took me back to a few years ago, right before we launched Awesome with Sprinkles the blog, Jenni and I were hosts at a holiday inspired SheKnows Experts event! We (wo)manned a build-your-own s'mores station!
Along with the expected trimmings we also had some fun fixings to mix it up! We offered different flavors of chocolate including caramel stuffed chocolate bars, dark chocolate raspberry bars, white chocolate bars and peppermint bark. We had regular, cinnamon and chocolate graham crackers as well as regular and toasted coconut marshmallows and to top it all off we had peanut butter, caramel sauce and Nutella to go on top. Have you ever had a toasted coconut and Nutella s'more before? Amazeballs.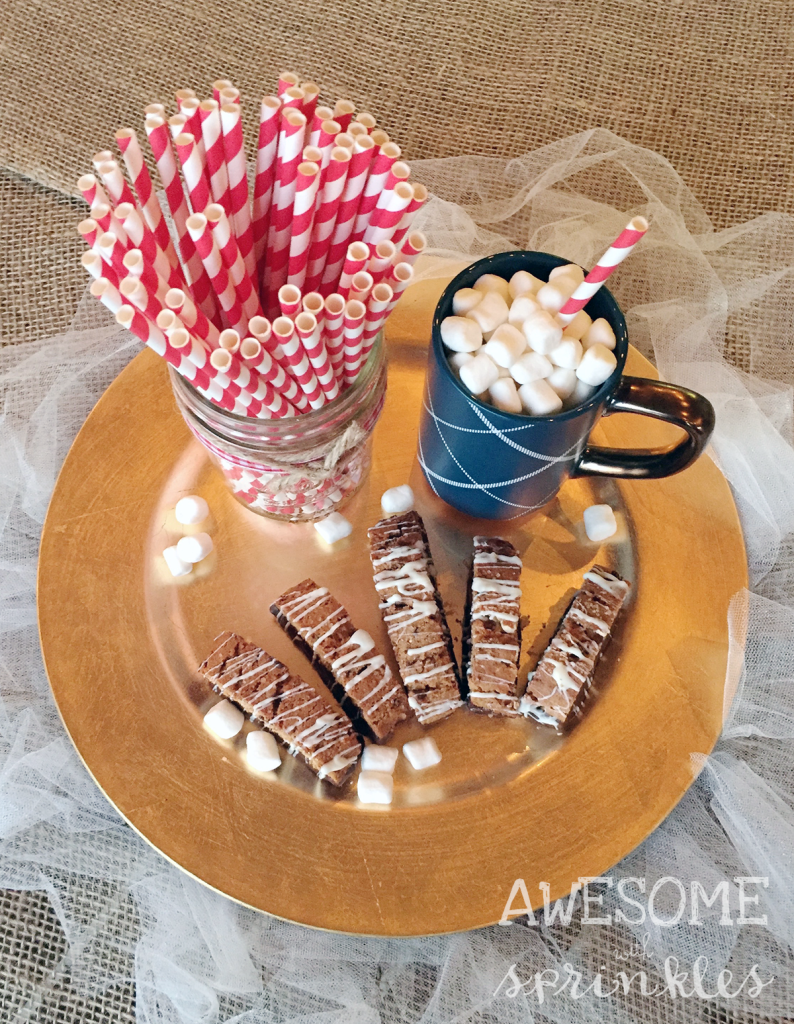 I decided s'mores would be my inspiration! Marshmallows tend to harden quickly, and gooey marshmallows don't hold up when shipped. The challenge with any mail shipped goodie sharing is that the treats need to be something that will stay fresh and yummy for a few days and hold up during travel. Crumbled cookies are just piles of sadness. Then it came to me while in line at the coffee shop one morning…biscotti would be perfect!
I had never made biscotti before, so I wasn't sure the difficulty, but it turns out, it's pretty darn easy. 🙂 It does take a little bit of time though, especially if you are dipping them, like I did.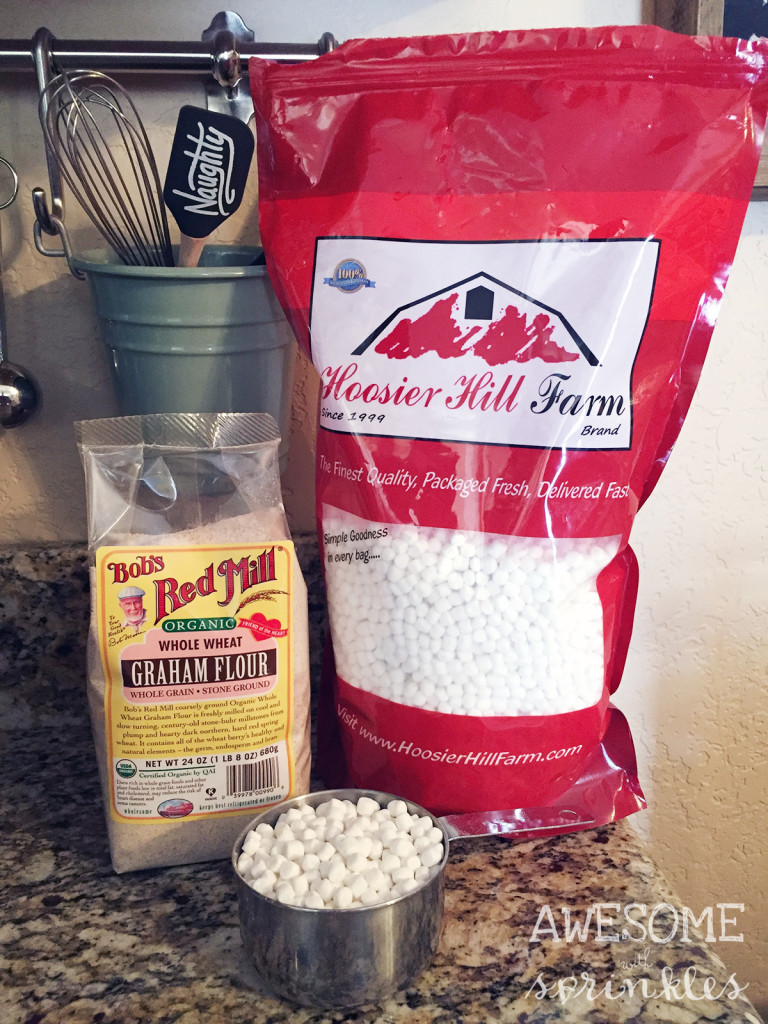 I used graham flour (which I had also never baked with before) and honey for the base to really bring out a traditional s'more flavor. I didn't want the dough to be really chunky (because then it has a tendency to crumble apart) so instead of regular chocolate chips and marshmallows, I tossed in mini chocolate chips and tiny dried marshmallows just like you would find in packet of hot cocoa! They worked perfectly! I ordered these mini marshmallows from Amazon since it was hard to find any locally.
The best thing about the Food Blogger Cookie Swap (besides the cookies of course!) is the treats that you get from the sponsors! This year I was sent these awesome little stacking measuring cups from OXO. Love the rainbow colors!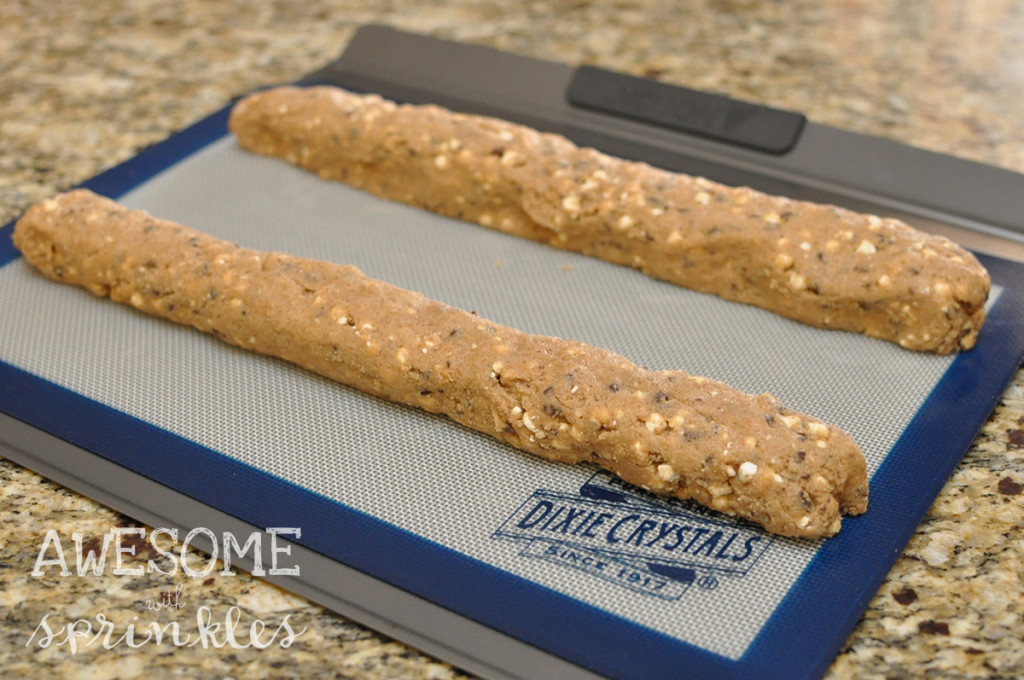 Dixie Crystals sent this silicon non-stick baking mat which is AMAZING! I'd never really used these types of mats before (I always just used parchment paper) but now I am sold! They work so very nicely and I don't have to worry about my treats sliding off like with traditional parchment and there is no waste! Wins all around! Baking is always better when you have the right tools!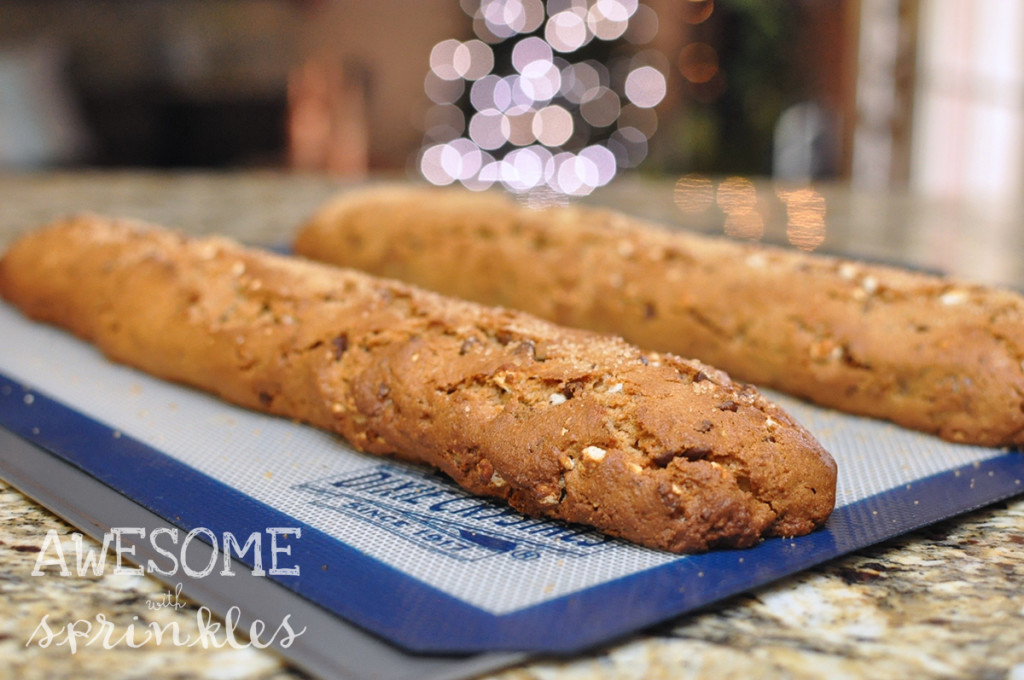 The dough is a little sticky to work with when you are rolling it out so you just have to go for it and do it rather quickly. Keep the rolls rather narrow and longer. When I made my first test batch I made them too wide and they came out a little too soft in the middle. They tasted great but it just wasn't that ideal crisp biscotti texture.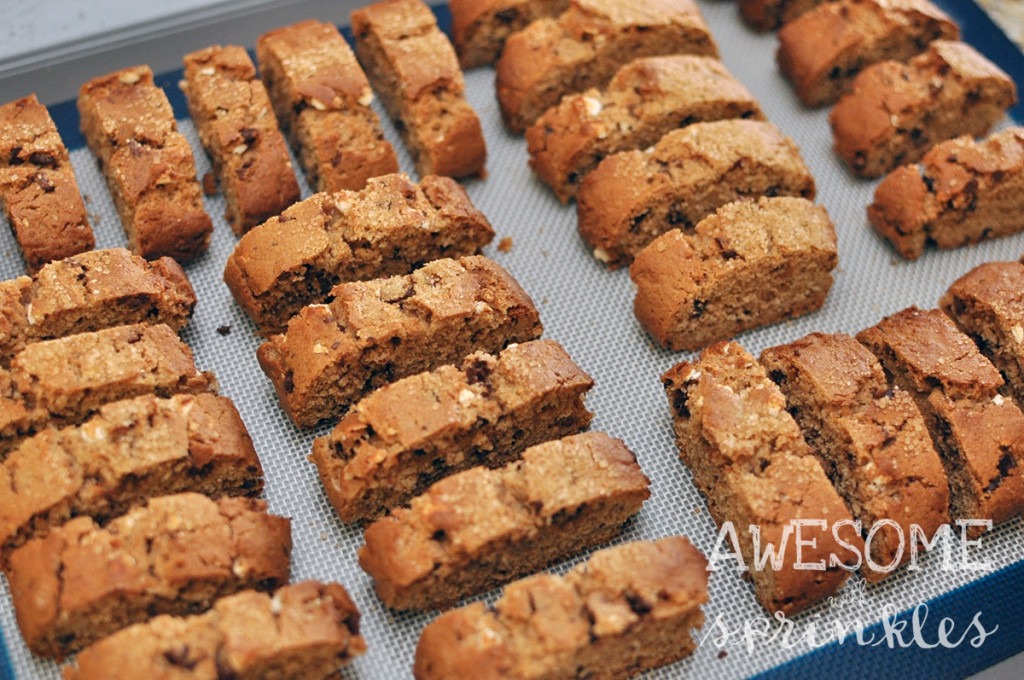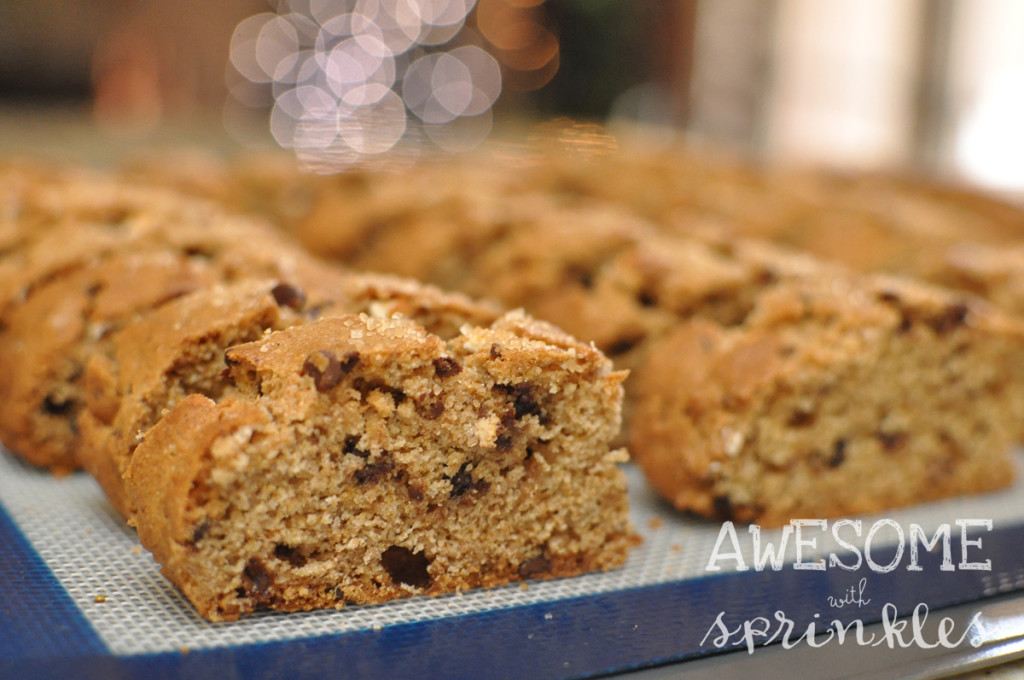 The biscotti are quite lovely all on their own but I wanted to dress them up a bit. They were going to be holiday gifts after all. So I do what any sweets loving person would do… I covered them in chocolate! 😉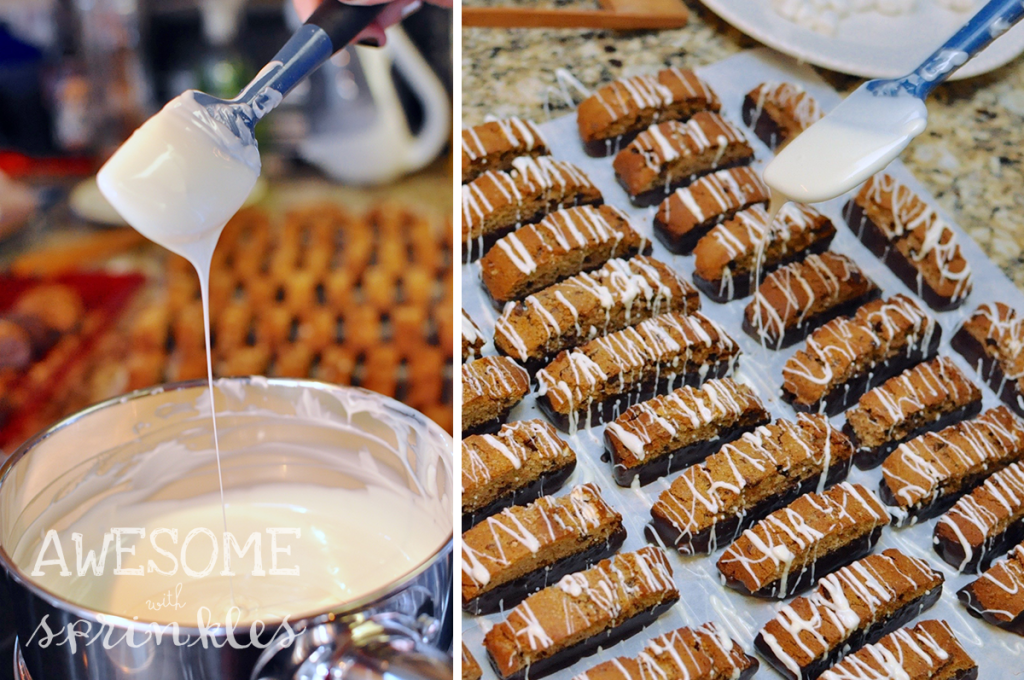 Dipped in Ghirardelli dark chocolate and drizzled with white chocolate, these biscotti are all dolled up and ready for the holiday party! I like the extra bit of chocolate to enhance the s'moriness of the cookies (and it also helps keep things from getting too soggy whilst dipping. 😉 ).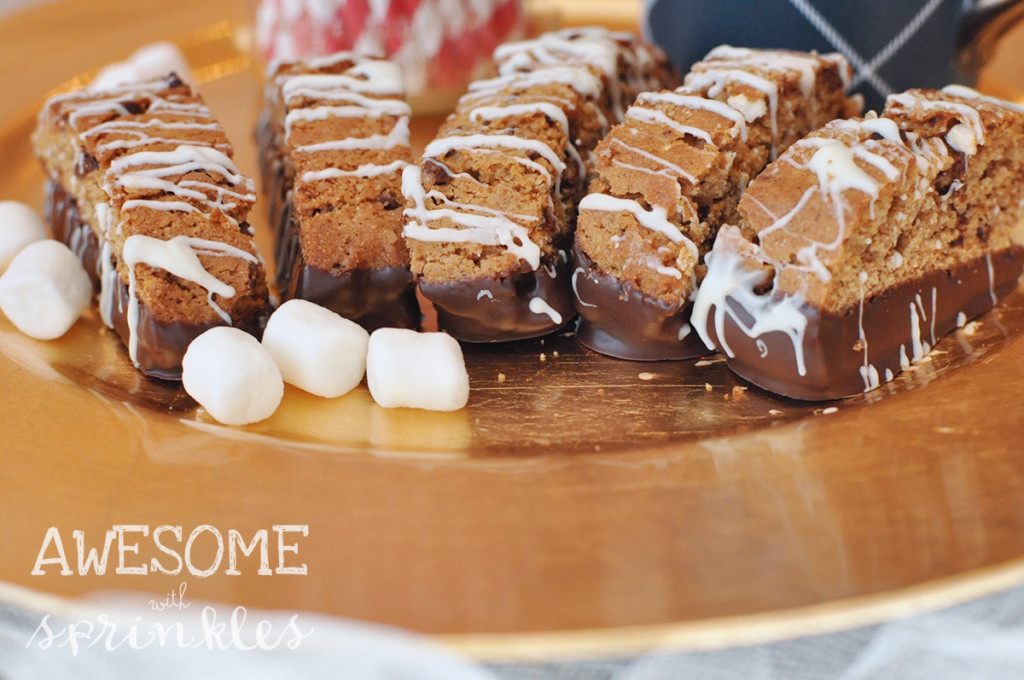 Just look at those beautiful chocolate drippies. So yum.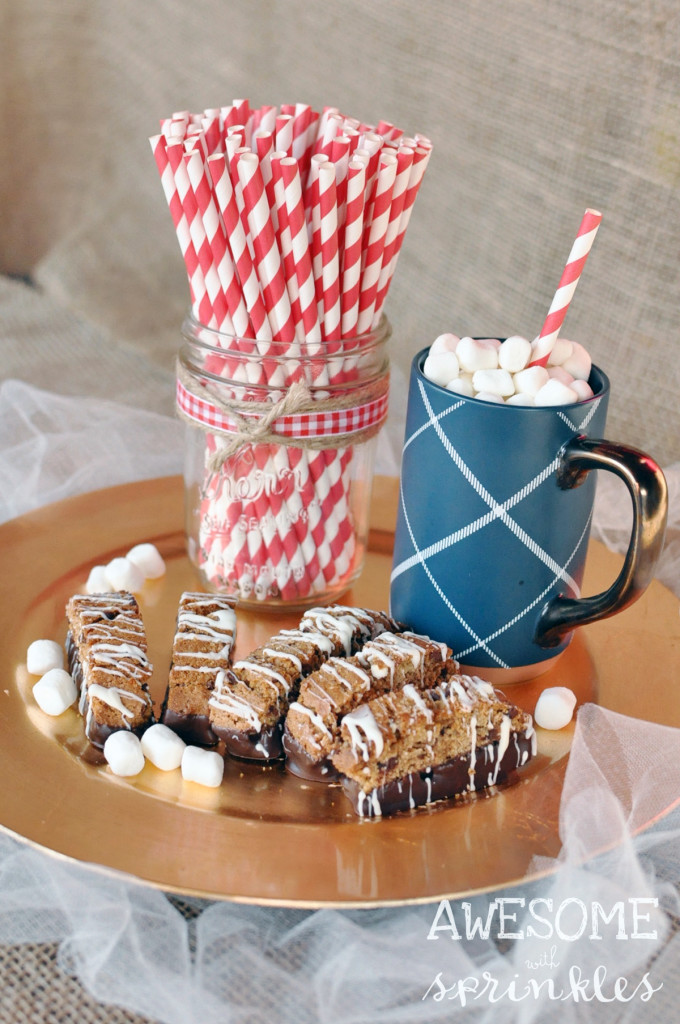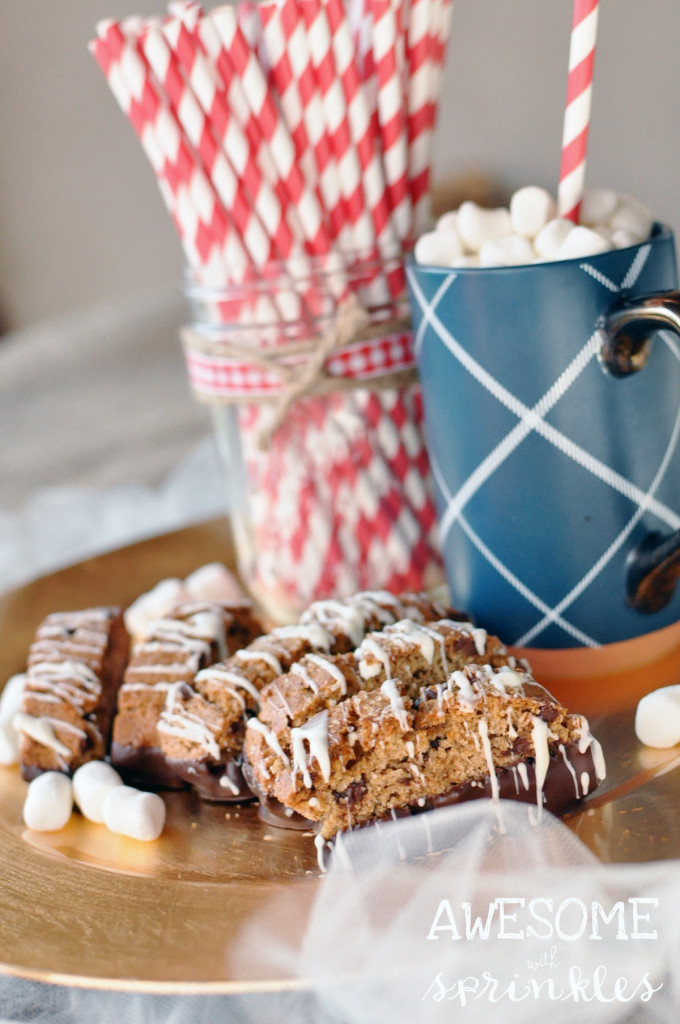 S'mores Biscotti
This delicious s'mores biscotti cookie captures all of the cozy flavors of chocolate and marshmallow. Adapted from PBS.org
Author:
Heidi Claunch - Awesome with Sprinkles
Ingredients
1¾ cups all-purpose flour
1 cup graham flour
1 teaspoon baking powder
1 teaspoon ground cinnamon
½ teaspoon baking soda
½ teaspoon salt
5 tablespoons unsalted butter, softened to room temperature
¼ cup light brown sugar
½ cup good-flavored honey
2 large eggs
1 teaspoon vanilla extract
¾ cup mini chocolate chips
¾ cup mini dehydrated marshmallows
1 tablespoon turbinado or demerara sugar
1 bag (12oz) Ghirardelli dark melting chocolates (optional)
½ bag (6oz) Ghirardelli white melting chocolates (optional)
Instructions
Preheat the oven to 350º degrees. In a large bowl, mix together all-purpose flour, graham flour, baking powder, cinnamon, baking soda and salt.
In a medium bowl beat together the softened butter, brown sugar and honey, until light and fluffy, about 3-5 minutes. Add vanilla extract and eggs, one at a time, beating until smooth and until completely incorporated.
Gently fold in the chocolate chips and marshmallows until incorporated. Do this gently so that you don't crush your marshmallows.
In two batches, add the dry ingredients to the wet ingredients, combining between additions.
Line a baking sheet with parchment paper (or non-stick silicon mat). Divide the dough in two and shape each half into a log (about 12x3-inch) and place on the baking sheet a few inches apart. Sprinkle the tops with the turbinado/demerara sugar. Bake for 20-25 minutes, until lightly golden brown.
Carefully remove from the oven and turn the oven down to 325º degrees. Transfer the biscotti logs to a cutting board and let cool for a moment until they are cooled enough to handle, but are still warm. Use a serrated knife to cut each log into 1-inch slices.
Place the slices of biscotti back on the baking sheet and bake for an additional 10 minutes, until they're a bit more dry and medium golden brown in color. Remove from the oven and cool completely on a wire rack.
To decorate
Once biscotti are completely cooled it's time to decorate! Lay down some parchment or wax paper.
Starting with the dark chocolate, melt in a double boiler (or in the microwave) according to the package instructions.
Using tongs gently dip the bottoms of the biscotti into the dark chocolate and transfer to the wax paper to cool and harden.
Next melt the white chocolate (same way as above). Using a spoon or spatula, drizzle melted white chocolate over the top of the biscotti. Let cool completely before peeling from the wax paper.
Biscotti are good for 7 days when kept in an airtight container.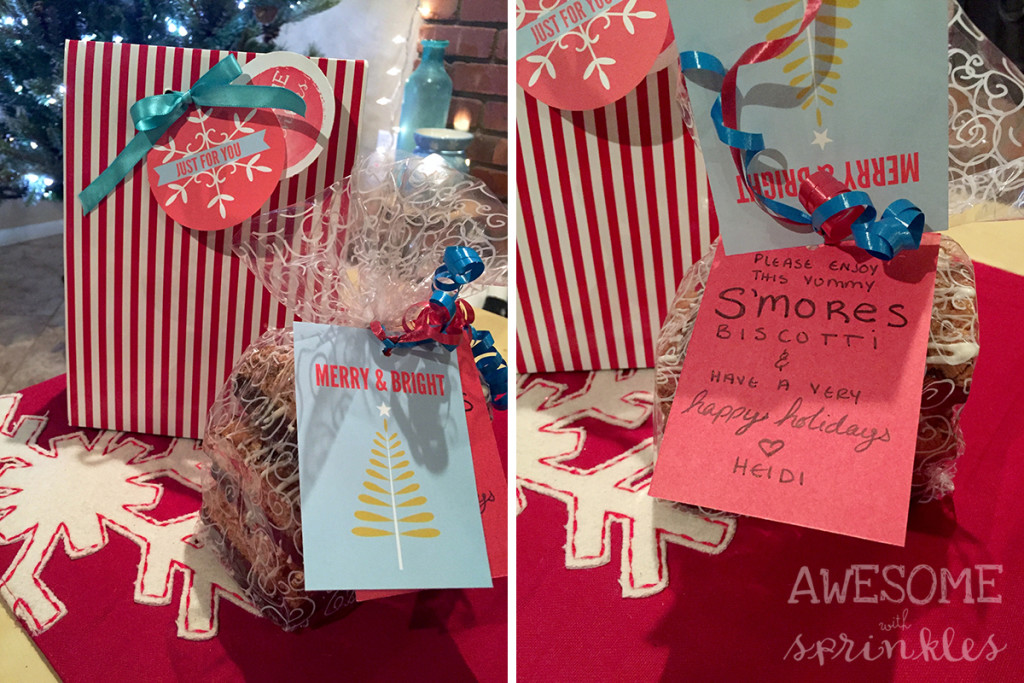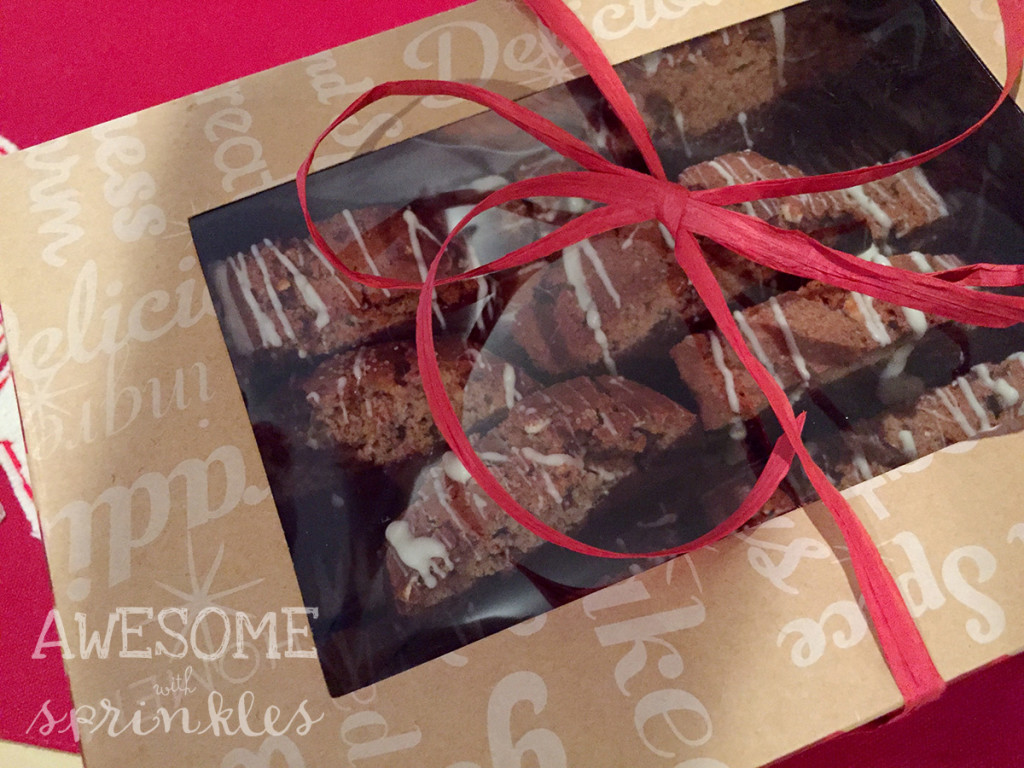 They turned out pretty cute didn't they? I would be pretty happy to have this little sugar package arrive in my mailbox. 😉 In case you are wondering what I got in exchange here are some snaps of this year's goodies!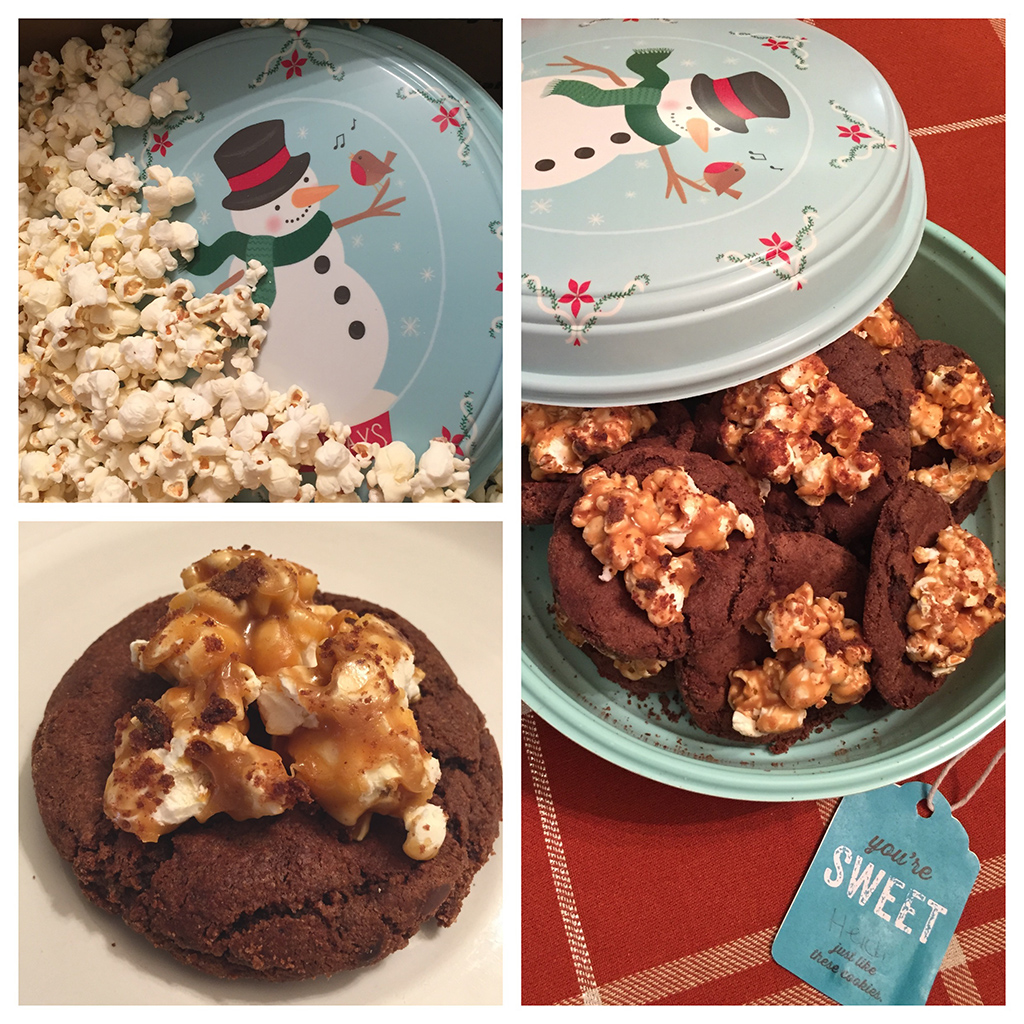 Chocolate Peanut Butter Popcorn Cookies (packed in popcorn! Hah!) from Blonde Girl Cravings
Get the recipe »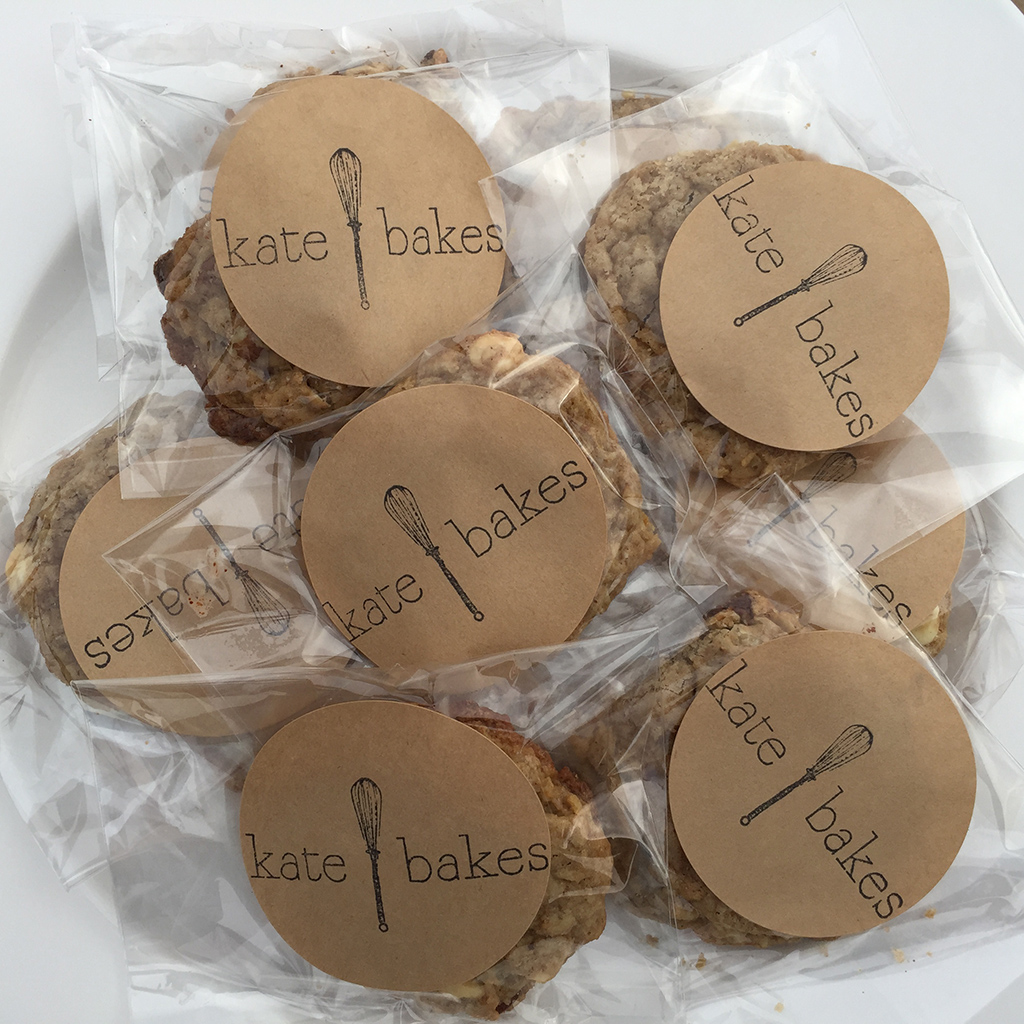 These adorable individually wrapped Spiced Kitchen Sink Cookies from Kate Bakes
Get the recipe »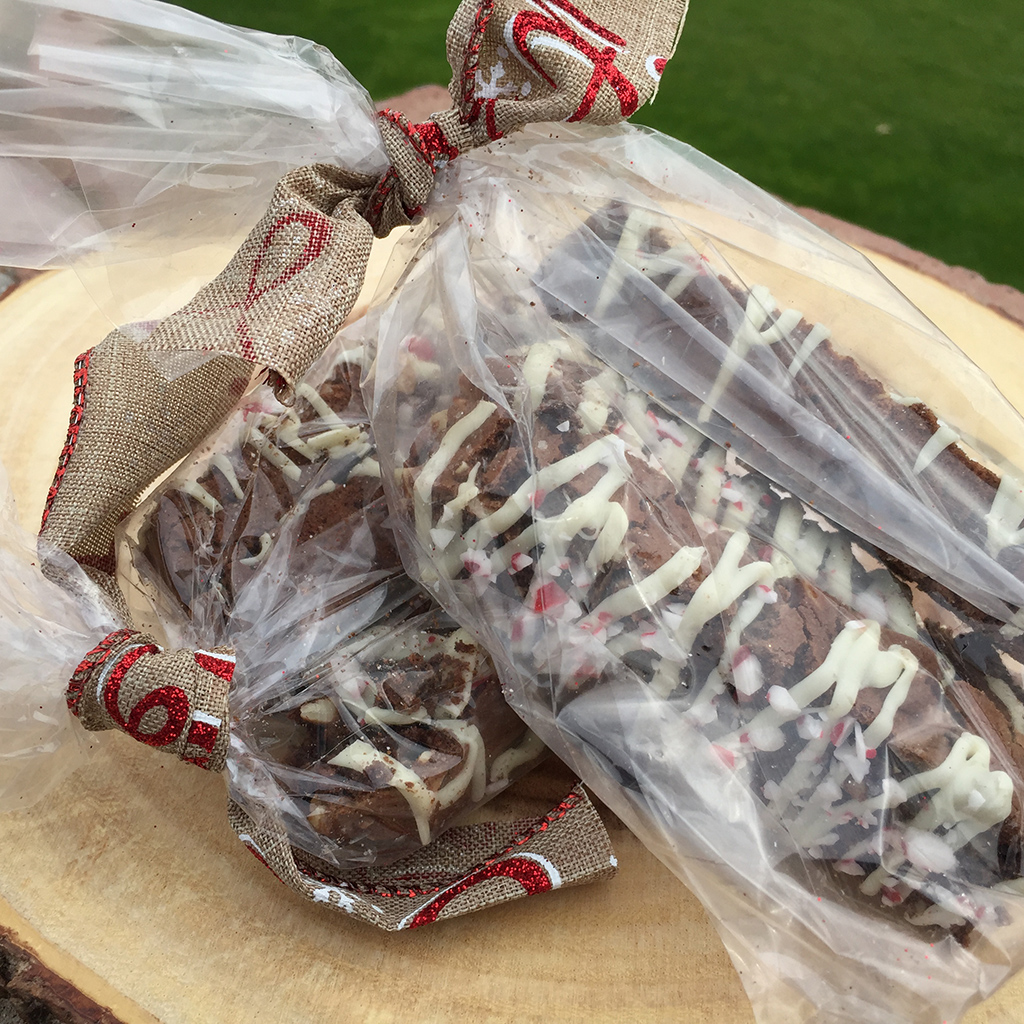 Lastly we have treats from Peanut Butter and Julie! Julie couldn't make up her mind so she made TWO treats! Lucky me! First is this Triple Chocolate Peppermint Biscotti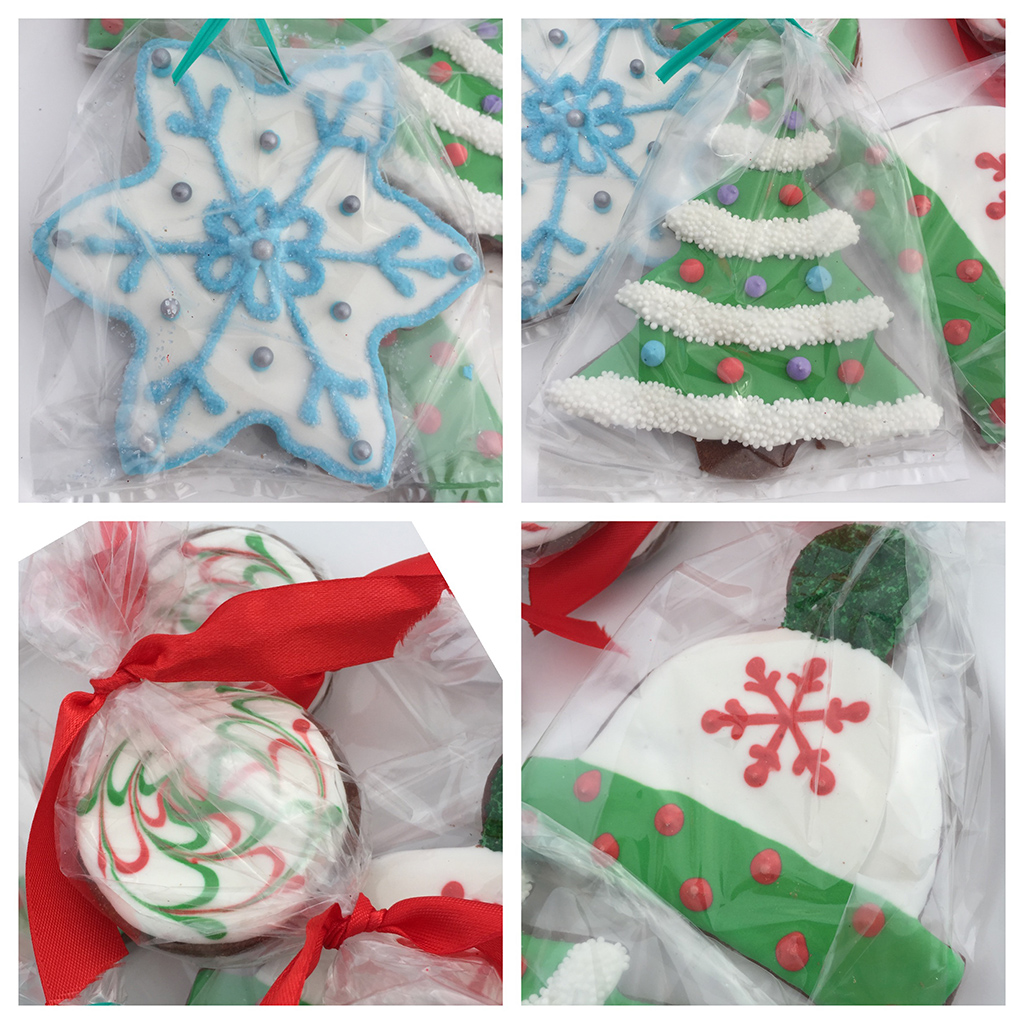 and these GORGEOUSLY decorated Dark Chocolate Sugar Cookies! These little works of art are almost too pretty to eat. Almost.
Get the recipe »
That's it for this year's Cookie Swap, but you bet we will be back to baking again next year!
Have a sweet holiday!
<3 – H