An adorable shark shaped cream ranch cheese ball with a face only a mother could love!
[jumptorecipe]
OMG this face. I can't even.
Look at that big cheesy grin…he makes me giggle every time I see him. Makes it really hard to take photos.

When I envisioned making a shark cheese ball for Shark Week this year, I had no idea that he would come together so well! I can't get over his mouth and his little cheese teeth! Hahahaha! I'm a proud mama!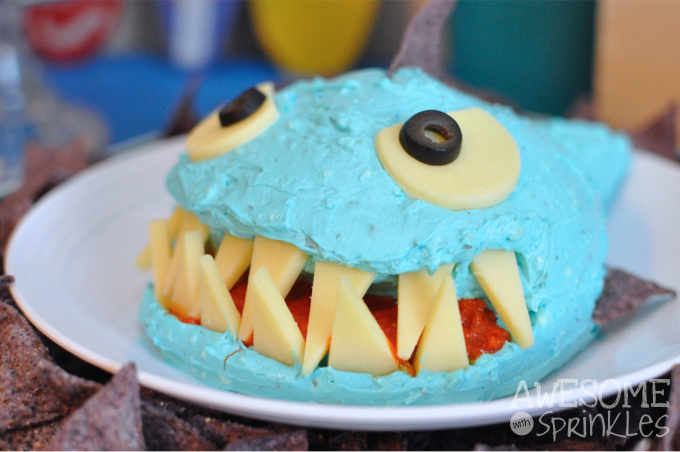 The blue color might throw you off at first and make you think he would be more sweet like frosting, but I promise he is a delicious, creamy, ranch cheese ball. Which makes him super kid friendly both in looks and in taste. I mean, what kid doesn't love ranch? Perfect for dipping chips or veggies.
We take things up a notch by adding savory onion and garlic flavors and feta cheese that adds the perfect amount of texture and tang. There's nothing sweet about him (except that face, of course!).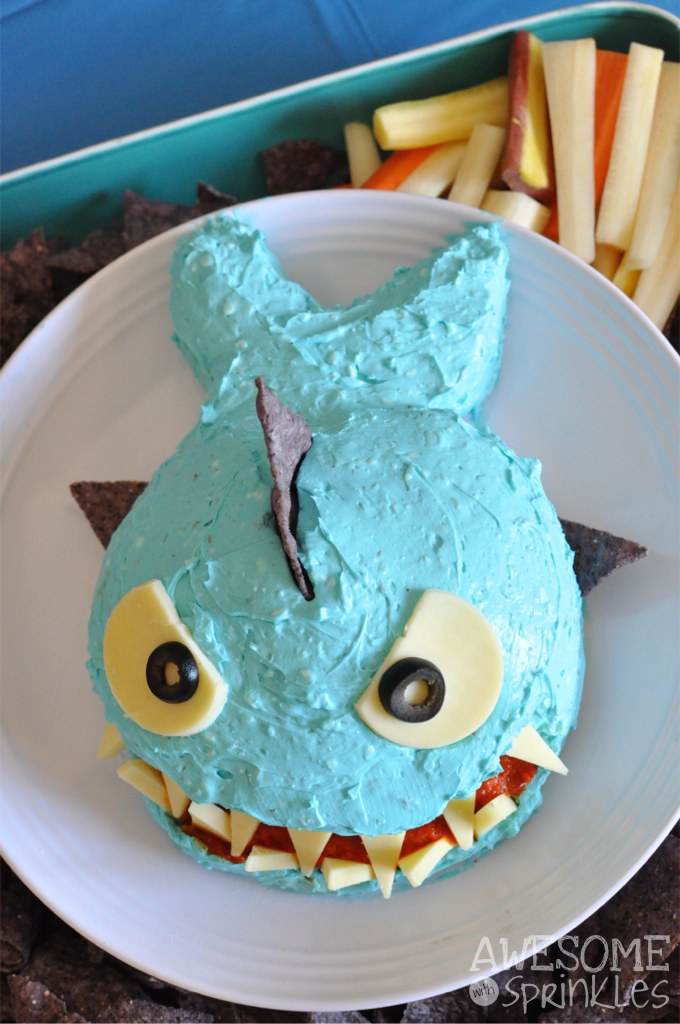 I'm not the best 3D sculptor (there is a reason I dropped out of animation school). He's kind of a chubby little shark but that's okay, I was going for a cartoon look. He also kind of looks like a piranha but hey, whatever.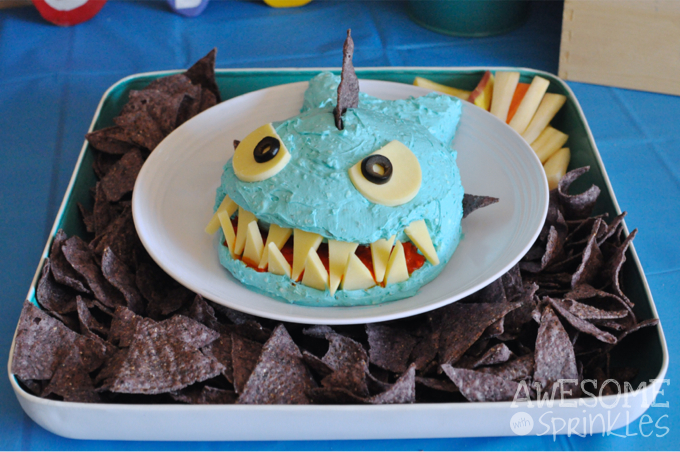 [recipeanchor]

Jaws Jr: A Shark Sharped Creamy Ranch Cheese Ball
Ingredients
For the Cheese Ball
4 8oz packages of cream cheese (softened)
1 cup feta crumbles
2 packets (2 oz) Ranch dressing mix (we used Hidden Valley)
½ of a large onion (finely chopped or grated)
2 tbsp minced garlic
black pepper to taste
Blue food safe dye
For decorating
Hard white cheese (we used a sharp white cheddar)
Tomato garlic pesto spread (or other tomato based spread)
Blue corn tortilla chips
Instructions
Soften cream cheese to room temperature. Beat cream cheese and Ranch mix until smooth and creamy.
Add blue food coloring and mix until incorporated and cheese is desired shade of color. We went with a bright blue!
Toss in the onion, feta, garlic and pepper and mix until incorporated. We finely chopped half of the onion and grated the rest. That way we had lots of yummy onion flavor but not too many chunky bits so that the cheese ball was still smooth and creamy.
Line a bowl with plastic wrap and dump your cheese into the bowl. Form it into a rough ball shape and chill for at least 1 hour so the cheese can harden back up a bit.
While the cheese ball is chilling you can make the teeth. Slice your white cheese into thick slices and then cut them into tall triangle shapes. You will want a hard cheese like cheddar so that the teeth will hold their shape and not bend too much.
After your cheese ball is chilled, remove it from the bowl and plastic wrap onto a serving plate.
Now comes the fun part! Get your spatulas, spoons, hands, whatever, and sculpt yourself a sharky shape! I used two spatulas and molded the cheese into a teardrop shape and then split the back for the tail. I then just kept shaping and smoothing and adding definition until I had the look that I wanted.
Next take your spatula and gently cut a slit in the front of the cheese ball, this will be the mouth. I removed some of the cheese from the mouth area and put it back up on his head so that his mouth was pretty deep.
Holing the top of his mouth with your spatula so that it doesn't fall back down on itself, add a layer of tomato spread across the bottom of his mouth to make it look like he has a tongue. Stick in some teeth on the bottom layer. These teeth will help hold up the top layer once you remove your spatula.
Carefully remove your spatula from the top of his mouth and add in the top row of teeth. Line them up so that intersect with the bottom teeth.
Add some eyes made out of cheese and olive slices.
Stick a few blue tortilla chips in the top of his head and on each side for his fins.
That's it! Stick him next too a bowl of chips and veggies and chow down!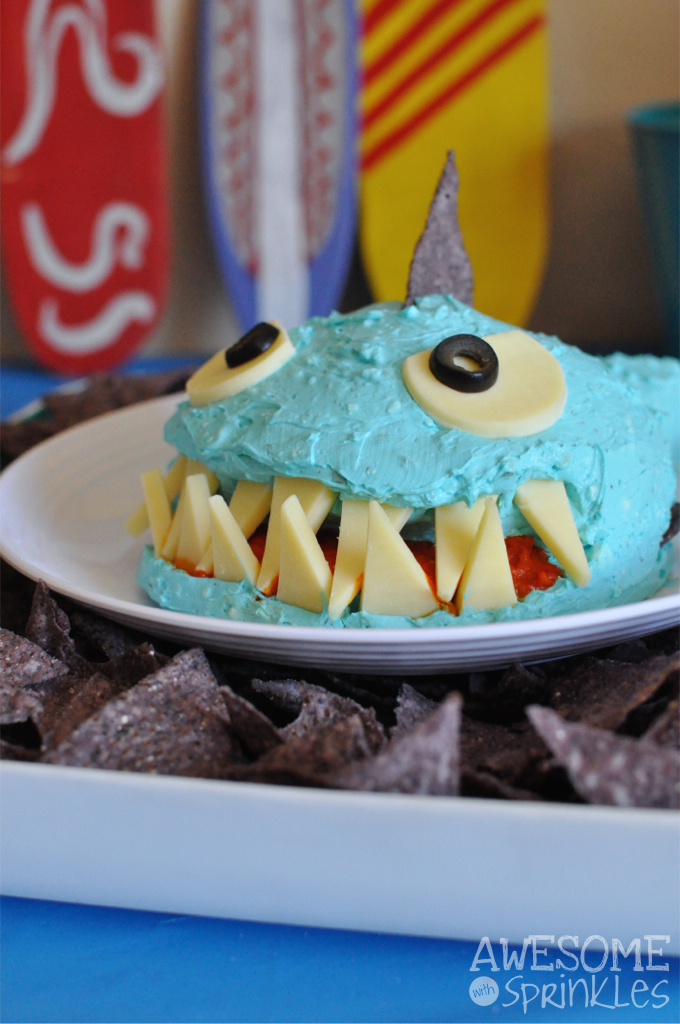 It would be super easy to use this same technique and make clown fish, say for a Finding Nemo Party or a dinosaur or a monster or whatever! Get creative and if you make something fun shoot us a link in the comments! We would love to see it!
Pin for Later: