Da-dum. Da-dum. Da-dum-da-dum-da-dum…*CHOMP*
Happy Shark Week! Ah, I remember the good old days of summer vacation; sleeping in, popsicles, and Shark Week. For that week my brother and I would be glued to the TV watching the story of the great sharks told in all of it's bloody, chummy, toothy, chompy glory.
Love them or hate them, you have to admit sharks are pretty dang awesome. They have their own week on TV for goodness sakes! What other animal can make that claim? I've seen no jellyfish week. No okapi week (you don't even know what that is do you? It is a real animal, I promise). Not even a puppy week.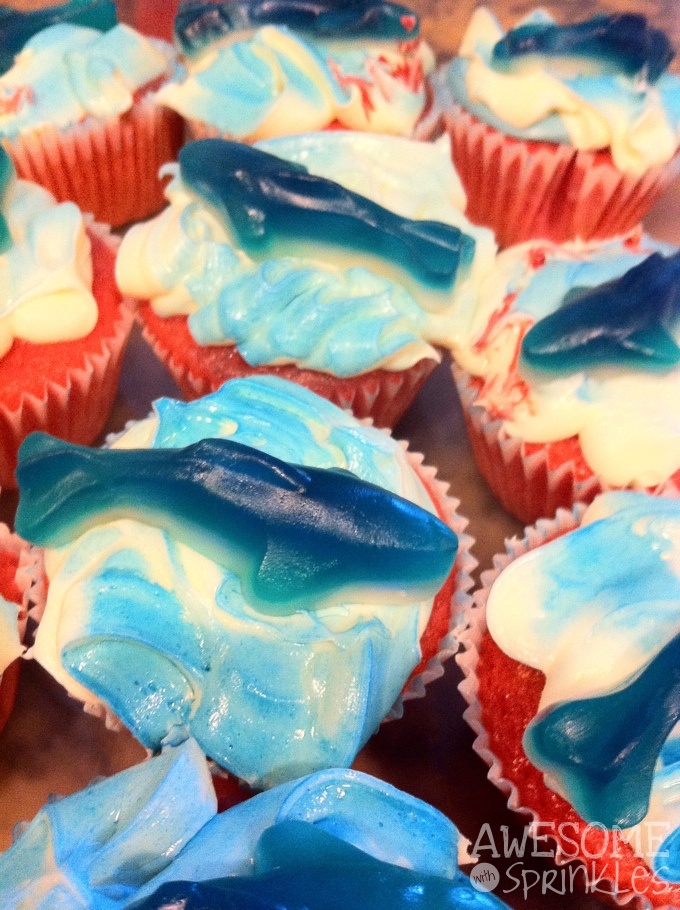 So to pay homage to these beautiful and powerfully amazing creatures of the deep blue sea…I made cupcakes! What greater honor is there than that? First a week, now a cupcake. Might as well go down in history as the coolest animal ever. 😉
So I give you…strawberry filled vanilla cupcakes with vanilla buttercream frosting. The tried-and-true cupcake and frosting recipes come from one of my favorite cupcake books: Hello Cupcake.
Tasty Tip
I used strawberry kool-aid mix to add a bit of flavor and a burst of color to the cupcakes. Just add one packet of mix right into the batter like you would food coloring!
I liked the idea of the cupcakes being red so that when you bite into them you got a little surprise. So in addition to the red coloring, I used an injector tip to fill them with seedless strawberry jelly. Super tasty surprise!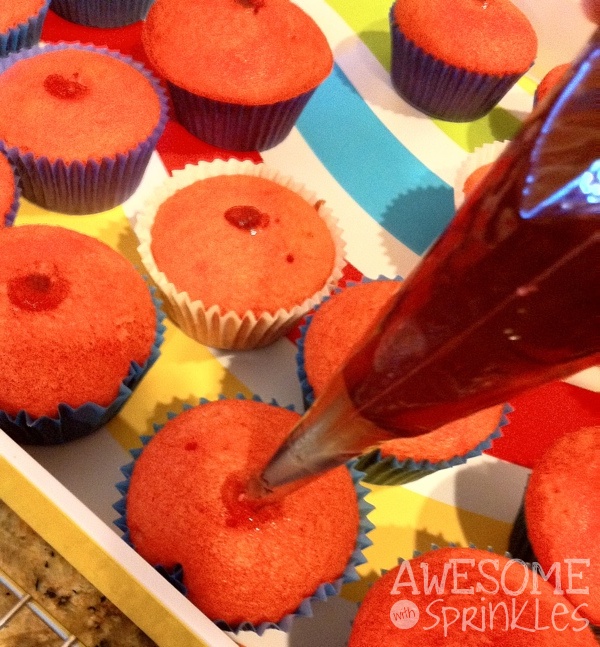 I used spray food coloring to give the waves a frosty blue look and topped them with gummy blue sharks. YUM! They were super fun to make and one of my most well received creations thus far! *nom*nom*CHOMP*