Hey party people! You may have noticed that the hot party and home decor trend of this summer season is all things "tropical". Particularly pineapples and flamingos. Everywhere you turn from Target to Sur la Table, pineapples and flamingos adorn everything from tableware to bedsheets. Do a search for "pineapples" or "flamingos" on Target and you will find PAGES of search results. It's the new hotness.
I personally have been digging on pineapples for YEARS, so I am not sad about this. ??? I LOOOOOOVE pineapples. I love the way they taste and smell and I have pineapples scattered throughout my home decor and wardrobe. Pineapples are the pumpkins of my summer season and I go CAH-RAZY for them. In fact, my only gripe with this whole trend is why couldn't it have come around sooner. 😉
Six weeks sooner in fact, when I was throwing what I thought was a super clever pineapple and flamingo inspired patio party at my home. I wanted to do something outdoors since we would have a big crowd and the weather was beautiful. Outdoor party weather in Arizona starts in March while the rest of the states are still practically freezing. Though our party was in April, it would be perfect for summertime!

I was inspired by the original Alice in Wonderland Disney cartoon and the flamingo croquet scene. We would have a patio party! We could play lawn games and chill on the patio. Pineapples and flamingos for decor. It would be tropical-esque but not tacky tiki bar. Like a patio paradise. Brilliant.
Decor Ideas
I didn't have a whole lot of time to party prep so I shopped around some local stores and I didn't find a single pink flamingo lawn ornament anywhere! Can you believe that!? I ended up ordering some on Amazon. I opted for these mini pink flamingos with whirligig wings
.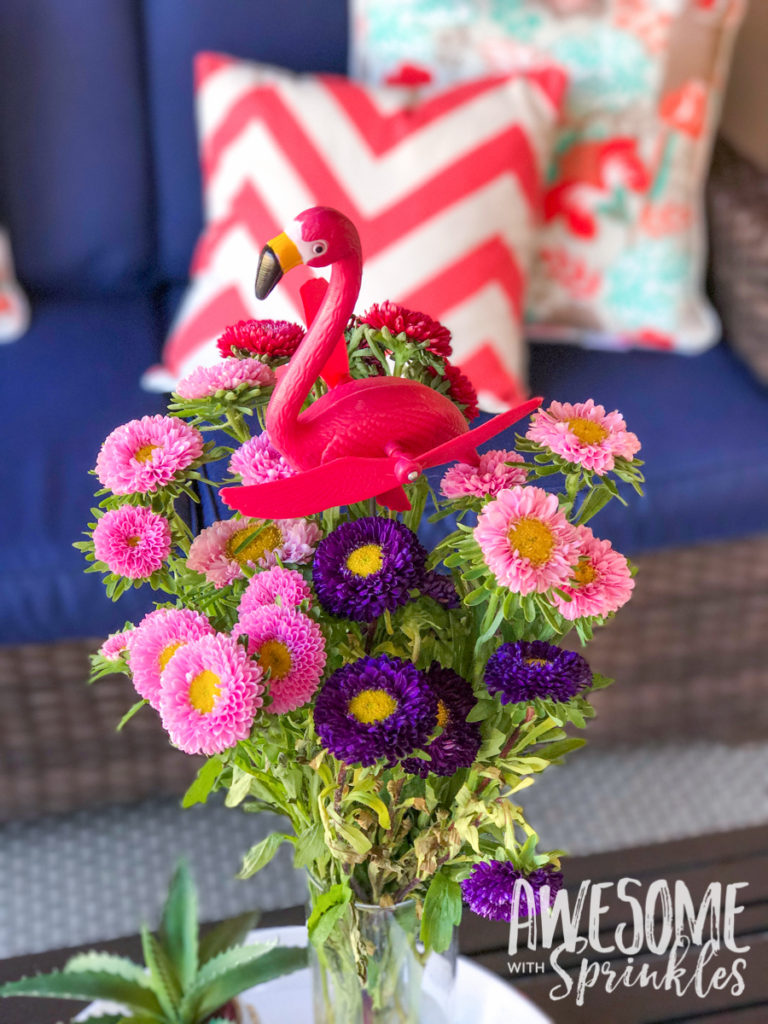 I used the flamingos to decorate in flower arrangements and stuck in with some faux grass centerpieces for the tables!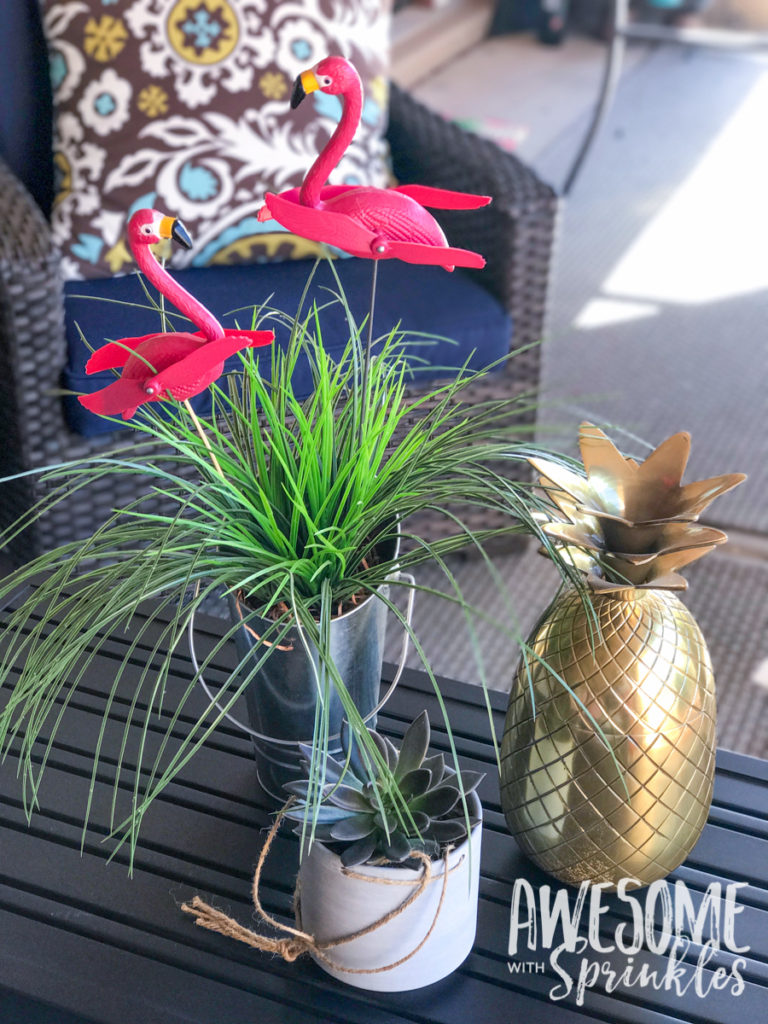 One of my favorite pieces of decor that I pulled from my personal stash is this GIANT golden pineapple! Originally intended to house a cocktail shaker (for what purpose, I don't know) it is now a fun decorative accent on my patio (and also the place where I store matches for the citronella candles).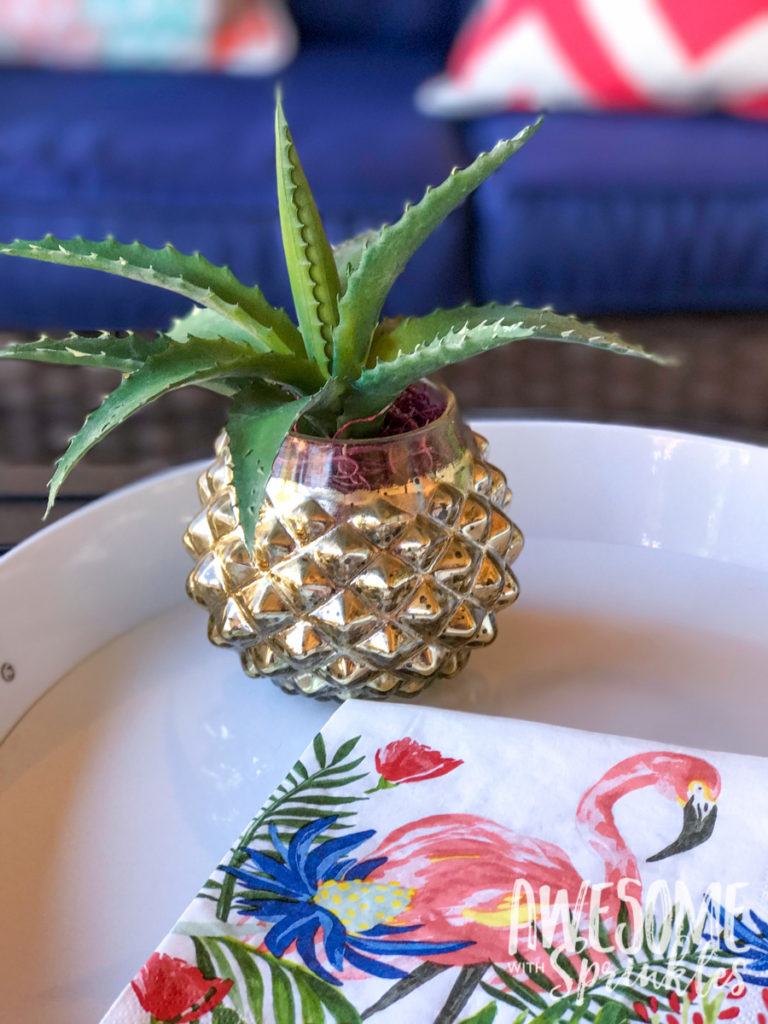 A spiky succulent tucked into a textured gold vase makes for the perfect "pineapple" table top decor. Also totally loved these flamingo paradise napkins from Target! You can find a whole collection of stuff in this design at Target now for summer.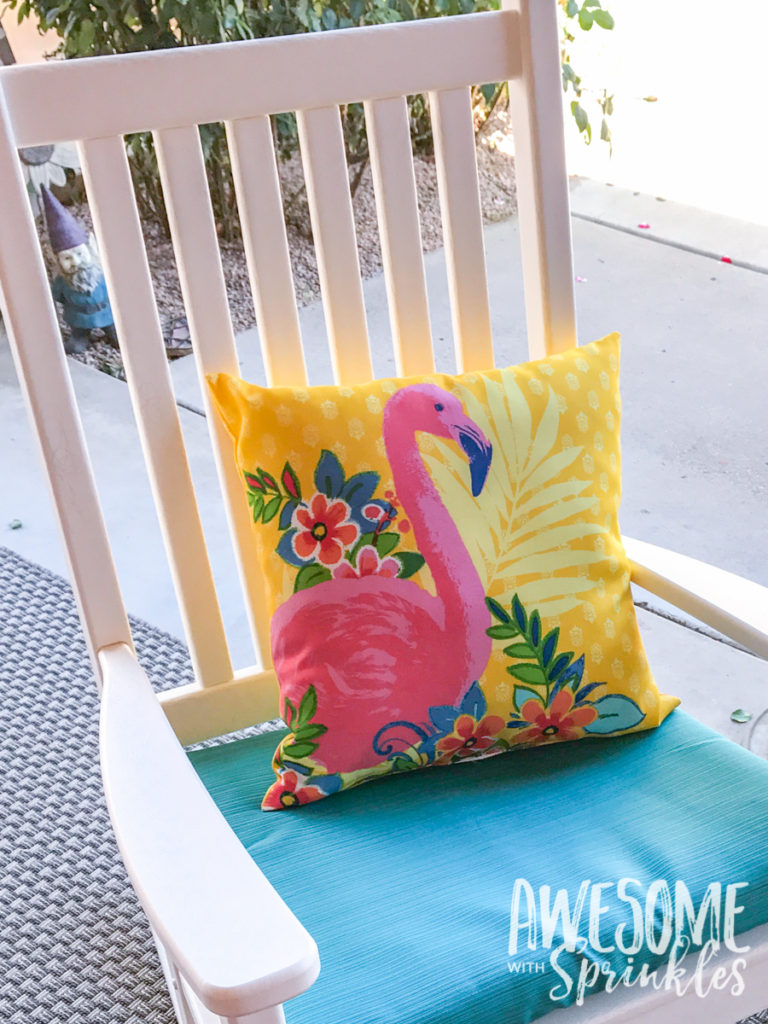 No patio decor would be complete without a themed toss pillow. A random find at my local Home Goods store that had me giddy with joy in finding it, but now you can pick them up practically anywhere! Seriously, this trend turned around quick!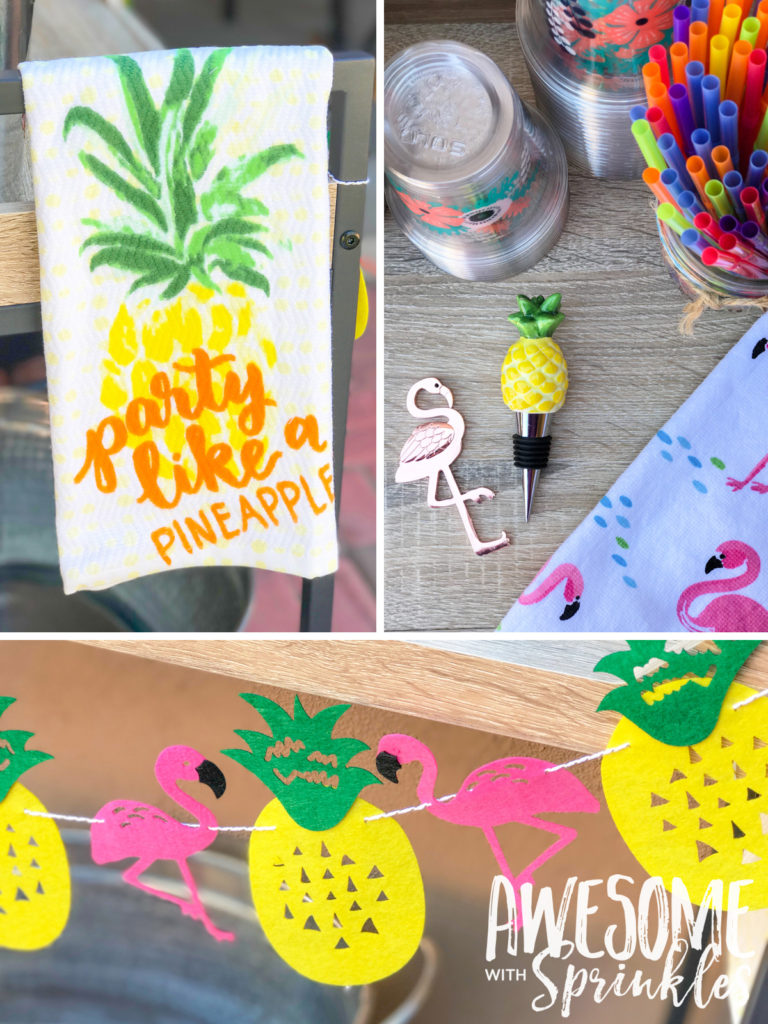 I did find some gems for our bar cart, like this flamingo bottle opener (Total Wine) and pineapple wine stopper (Target) and cute pineapple and flamingo towels. Most of the rest of the decor I pulled from my personal stash. Yes, I really do have a lot of pineapple stuff! 😀
Lawn Games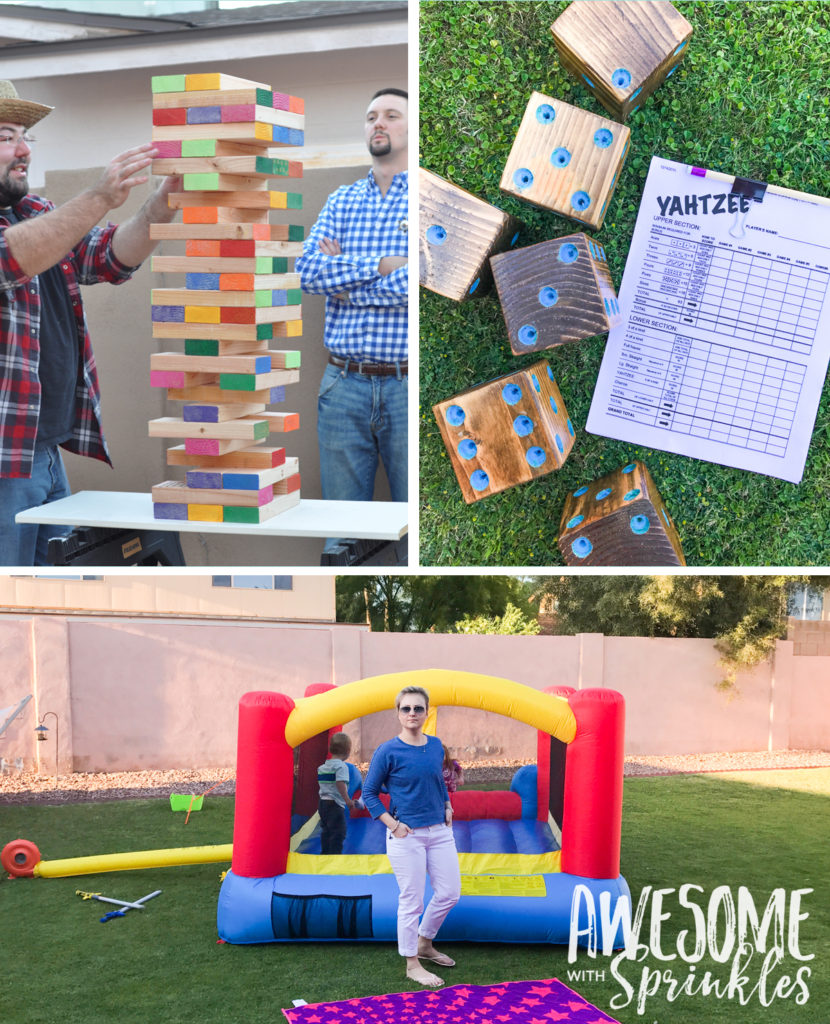 I was  going to pick up an actual croquet set, since that was my original inspiration from the film but I didn't find any at the second hand store and they are surprisingly expensive to purchase new. I didn't feel the investment would be worth it as I can't see us playing croquet often enough.
Instead I setup camp chairs and beach chairs in the lawn along with some large picnic blankets and our hammock. For games we had a giant jenga set, giant bubbles, nerf swords, and this awesome giant Yard Yatzee game that my mom sent us for Christmas. My super cool friend, Anya (just look at her being too cool for school!) also brought over a small bounce house for the kiddos that kept them entertained for hours!
Tropical Treats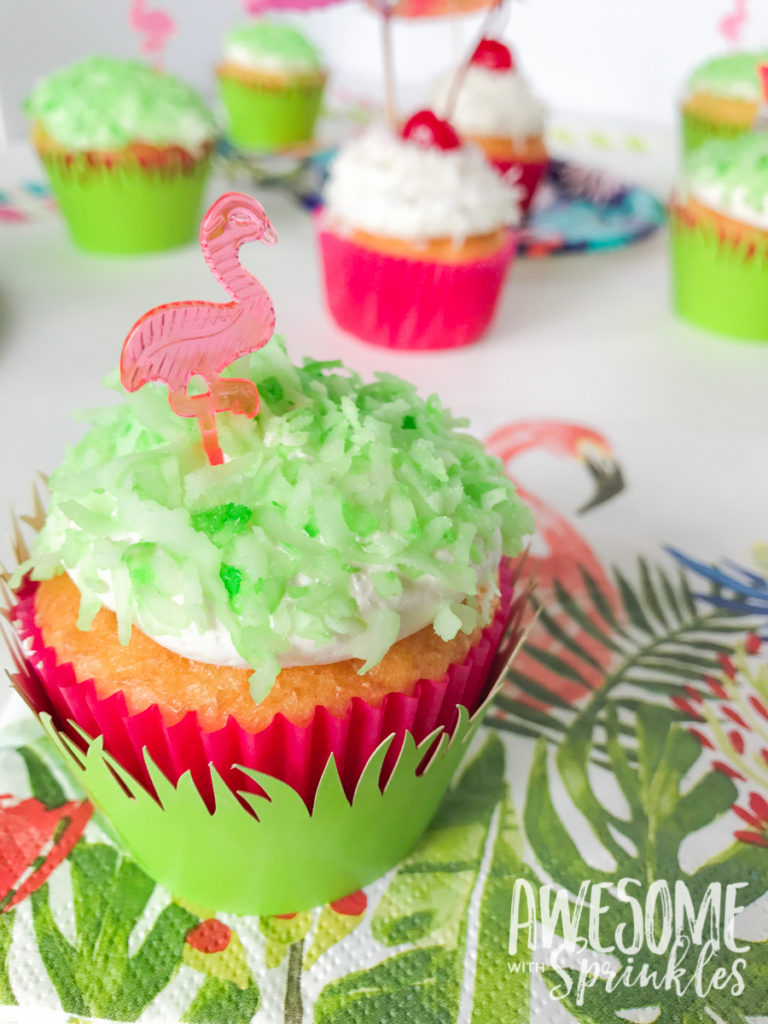 And of course, you can't have an Awesome with Sprinkles party without some kind of awesome treat! I made these Piña Colada cupcakes and decorated them like little lawns, complete with mini pink flamingo picks! Soooo cute! Get the full recipe here »
Although, I am bummed that the stores are stocked with cute pineapple and flamingo stuff NOW, I am pretty excited that my idea was on trend. I am also pretty certain that the consumer party market is stalking me and stealing all my ideas. ? This isn't the first time something like this has happened, just saying. I'm looking at you Tar-jay. ?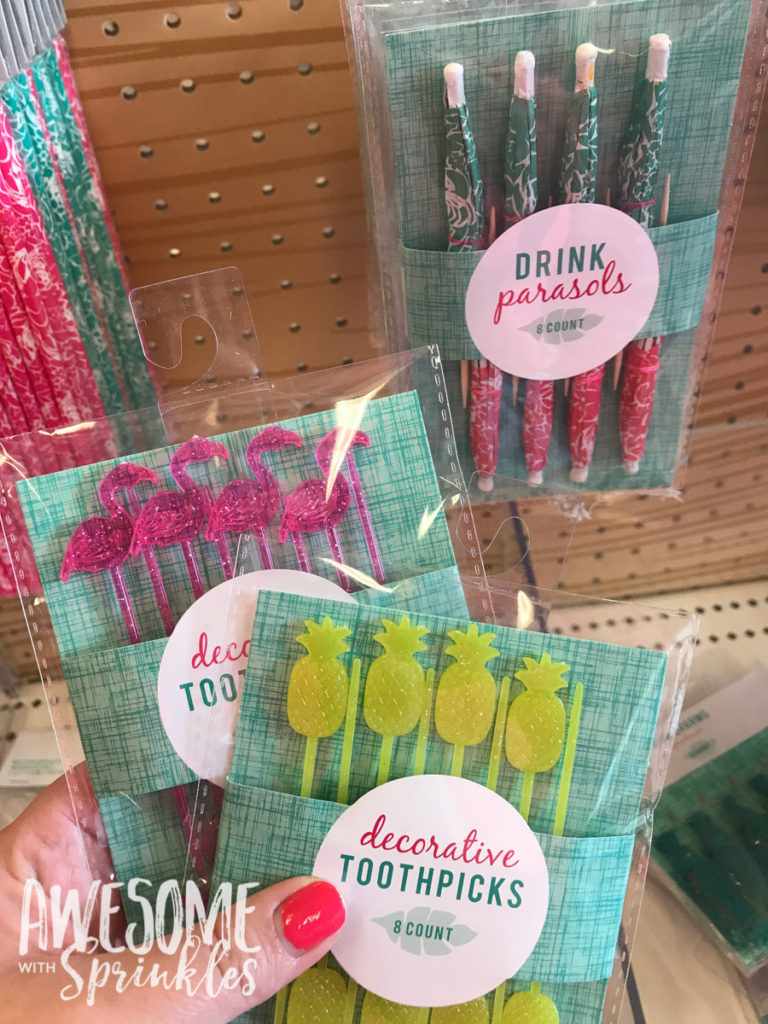 Seriously though, look at what I found just the other day! With all of the cute pineapple and flamingo stuff that is out there now you will have no problem creating a fun patio paradise party of your own. Go snag yourself some cute swag quick, before everyone else catches on to this hot trend!
Cheers!