Everyone likes getting dolled up for the holidays. Even our furry friends! Okay, maybe THEY don't really care, but we certainly think they look cute! But decking out your doggie can get expensive quick! Martha Stewart's designer collars are cute, but dang girl, $15 for a collar!? Are you kitten me right meow?!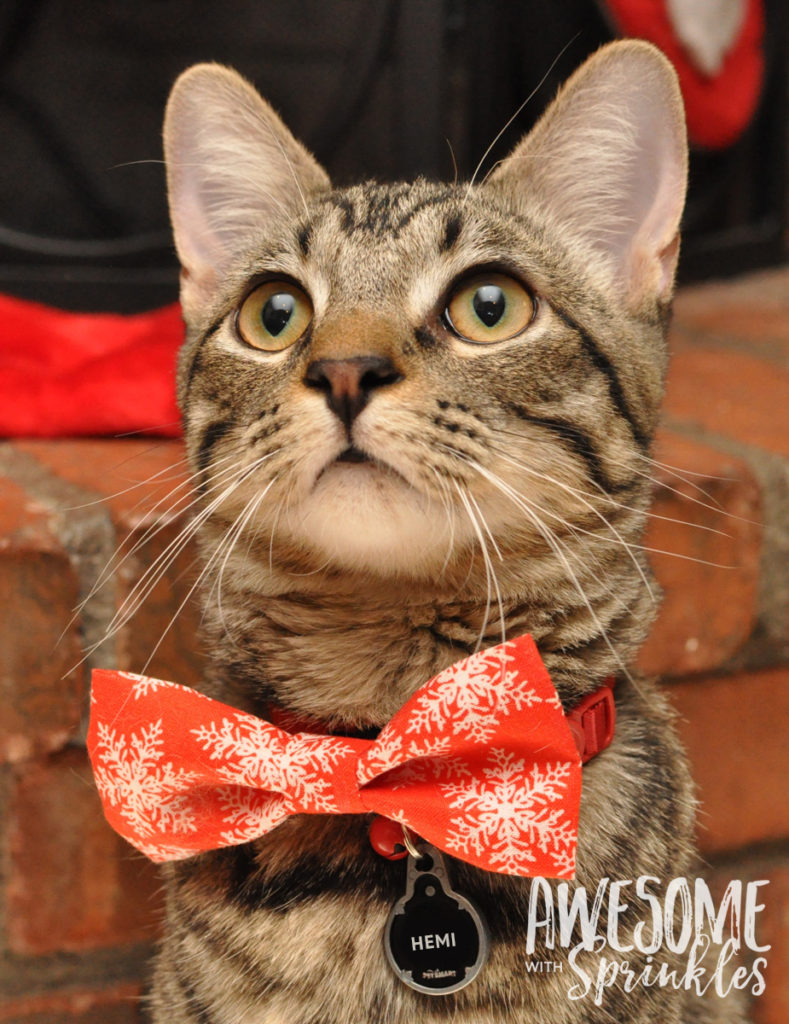 If your little fur ball is anything like my rough and tumble kitty boy, then those cute bows don't stay pristine for long. (Seriously, I have never in my life known a cat that voluntarily plays in the mud. Weirdo.) Hemi goes through collars and bow ties at least once every few months. I imagine with some dogs, that might be even quicker.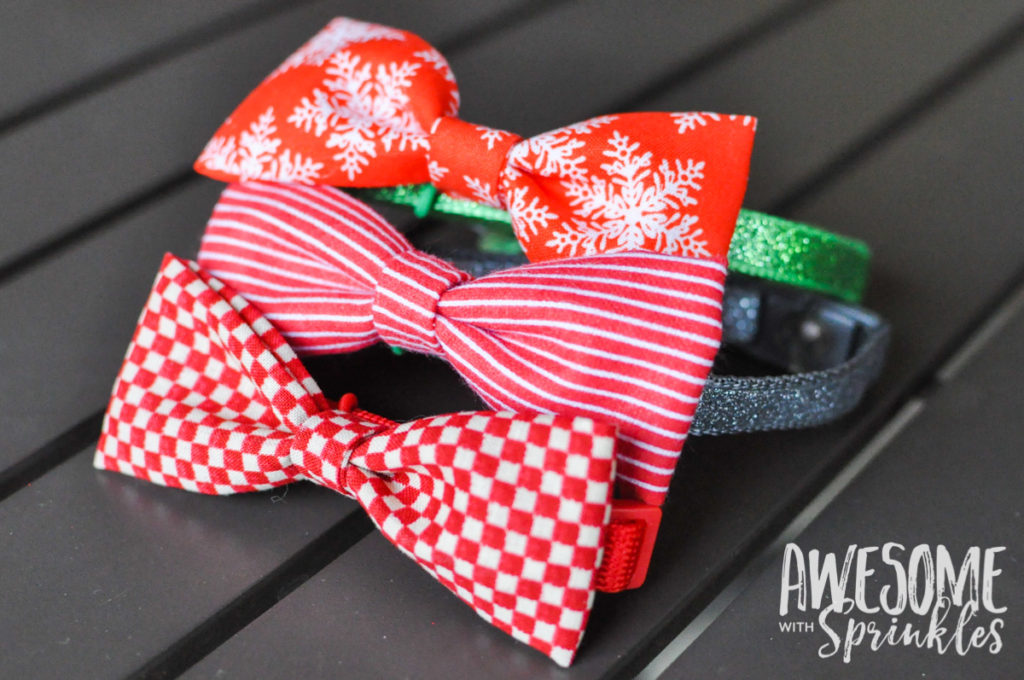 I got tired of paying high prices for collars and the design selection for cats is never as good as it is for dogs. I could buy small dog collars, but cats collars are usually a break-away style and I prefer that safety measure. So I started making my own no-sew pet collar bow ties for the kitties a few years ago. I get so many compliments on them and they always look festive and cute. It was time for a new batch for the holidays which means it was crafty time!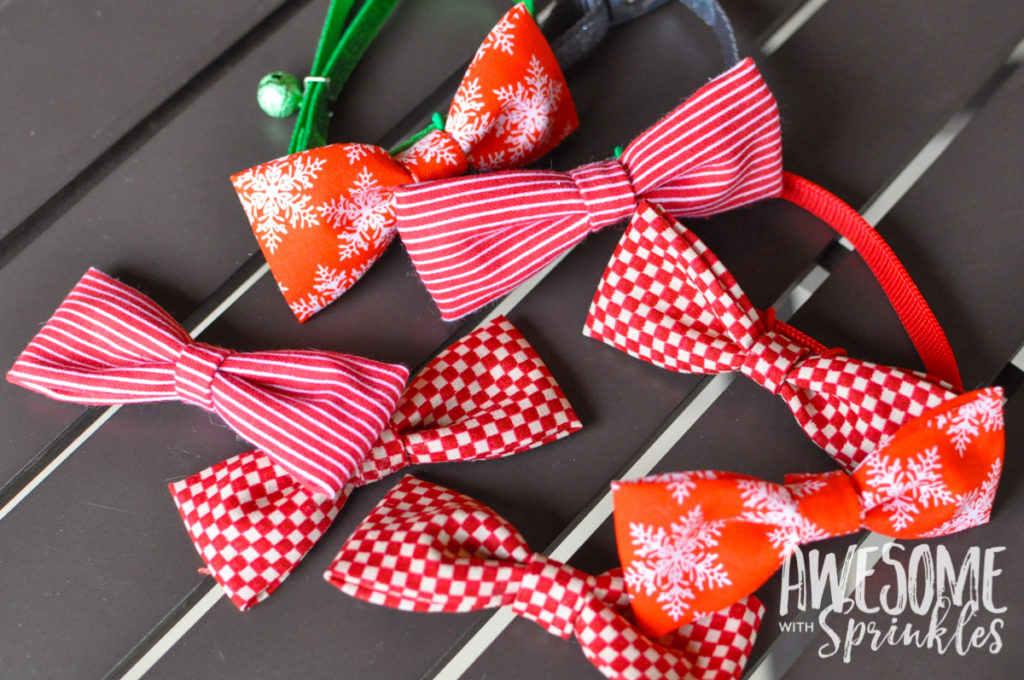 These no-sew pet collar bow ties are super easy and quick to make. I put together this pile of bows in less than an hour. They will make the purr-fect stocking stuffers for all of Hemi's fur friends!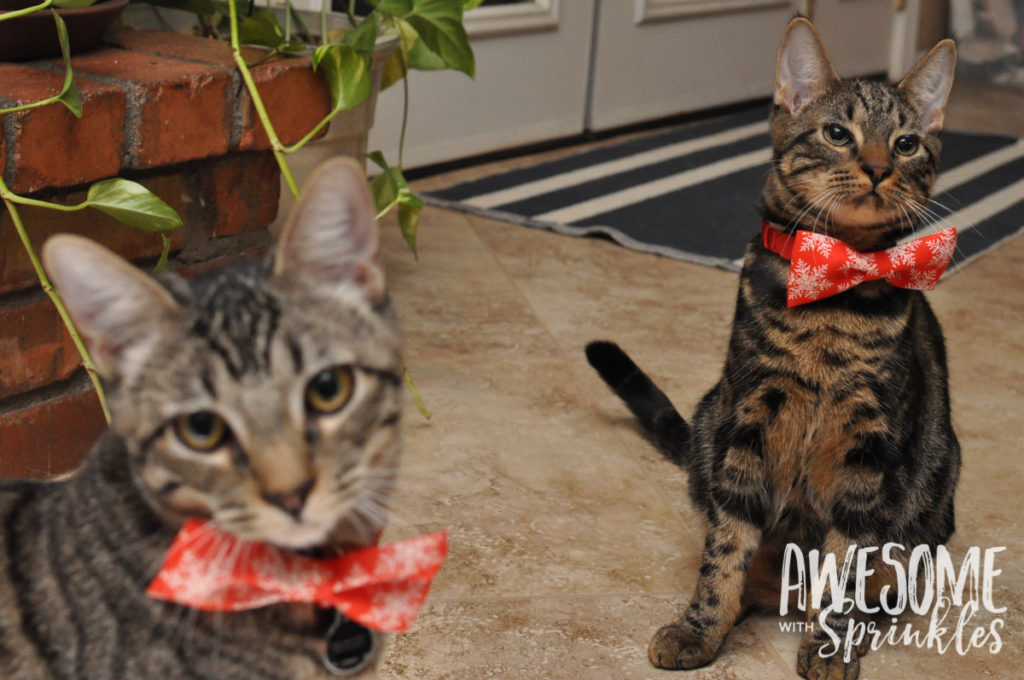 Just look at these handsome boys! <3
How to make No-Sew Pet Collar Bow Ties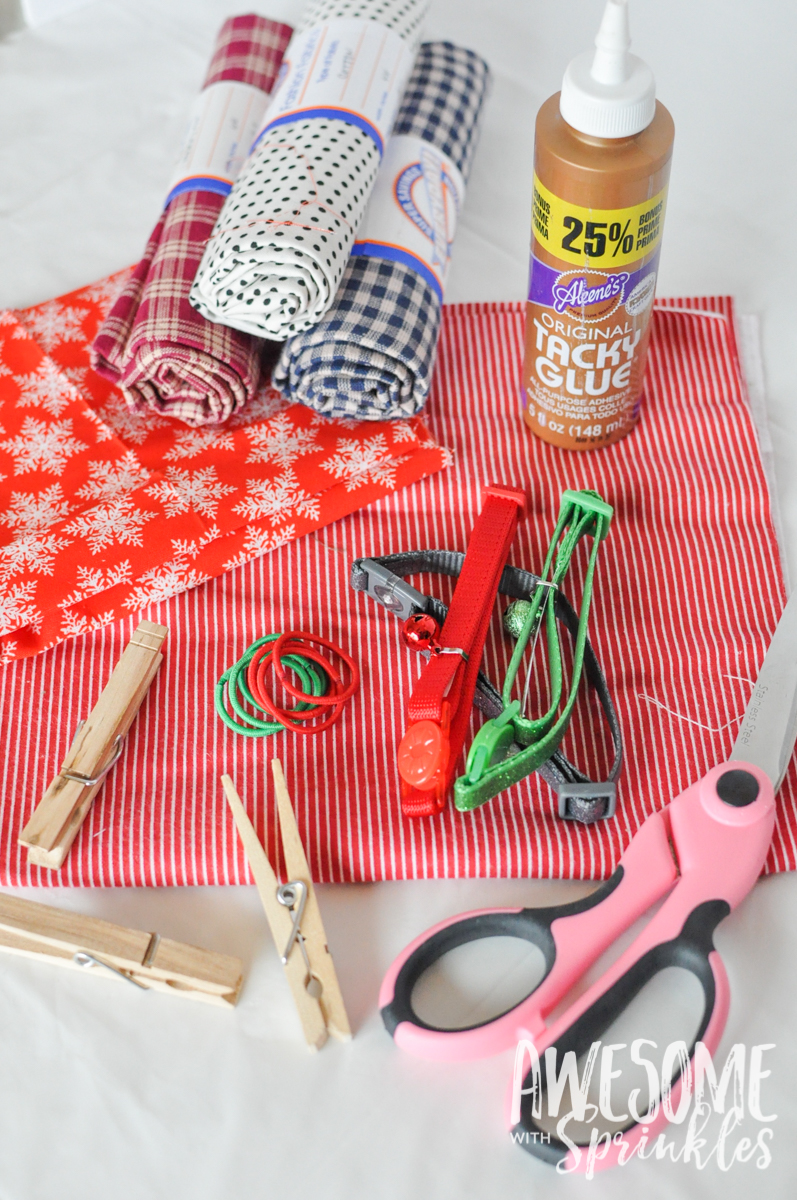 Gather Supplies
festive fabric pieces
scissors
fabric glue and/or hot glue
clothes pins
elastic hair bands
pet collar
1. Cut fabric strips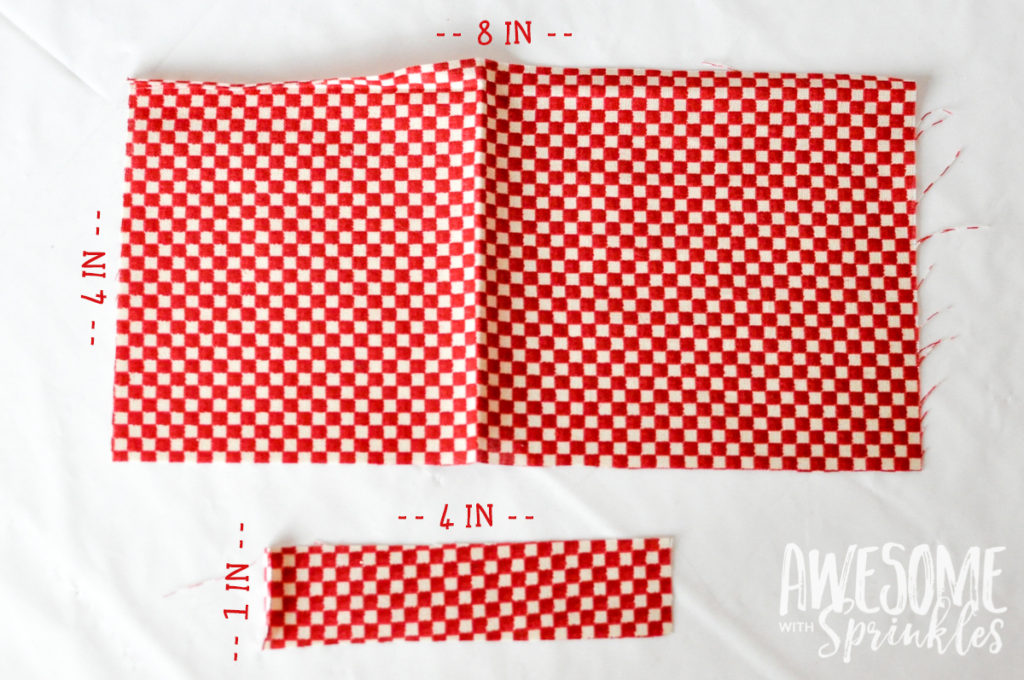 Cut out fabric strips in the sizes that you need. The pieces above are 4 in X 8in for the bow and 1 in X 8 in for the strip that wraps around the center. This makes a bow tie that is 4 in X 1 1/2 in which is the perfect size for cats, small – medium sized dogs, and babies and toddlers.
I have found that standard cotton fabric works really well for this because it has good structure and holds it's shape when you fold it. A thicker velvety fabric would work too. Fabrics that are too satiny or silky tend to look floppy and the glue has a difficult time sticking. I usually just pick up assorted packs of fabric squares used for quilting because I can get so many fun patterns in one pack.
Custom size guidelines

If you would like to make a larger bow then all you need to do is measure the length that you want your bow to be, and cut your fabric to be double that size in length. I cut the height of my fabric at 1/2 the length and have found this to be a good proportion for bows. If you wanted a more squat/fat bow tie, then measure the height and cut your fabric to be 3 times that measurement (since you are folding it in thirds).

For example, if you want a bow that is 6 in X 2 in, your large fabric square should be 12 in X 6 in. I cut the smaller center strip the same length as the height of the large strip and just eyeball the width. Again you are folding this in thirds, so I would say 1 1/2 in – 2 -in for this example.
2. Fold and Glue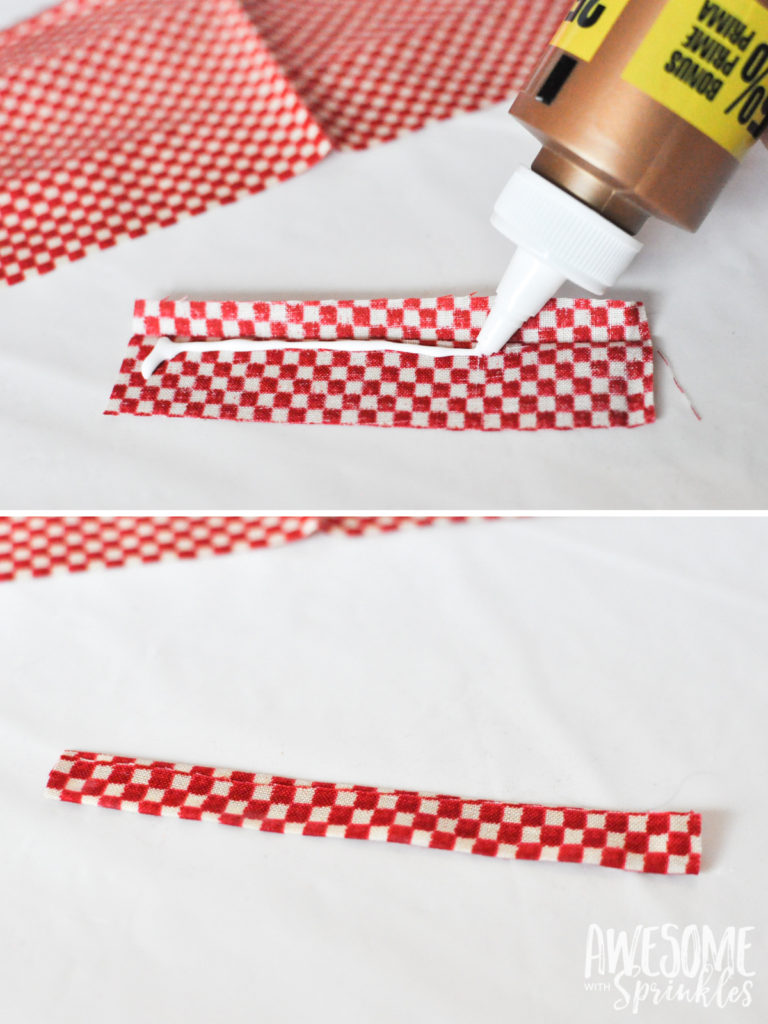 Lay your small piece of fabric face down and fold into thirds length-wise (doesn't have to be exact) and glue each side to the center. Set aside to dry. I use fabric glue for this step because hot glue can get too stiff or peel off the fabric.
Fold your large piece of fabric into thirds length-wise and glue each side down. Then fold the large strip in half, mark the center and unfold. Bring each end of the strip to the center mark and glue down, making your strip 1/2 it's original size with the loose ends in the middle.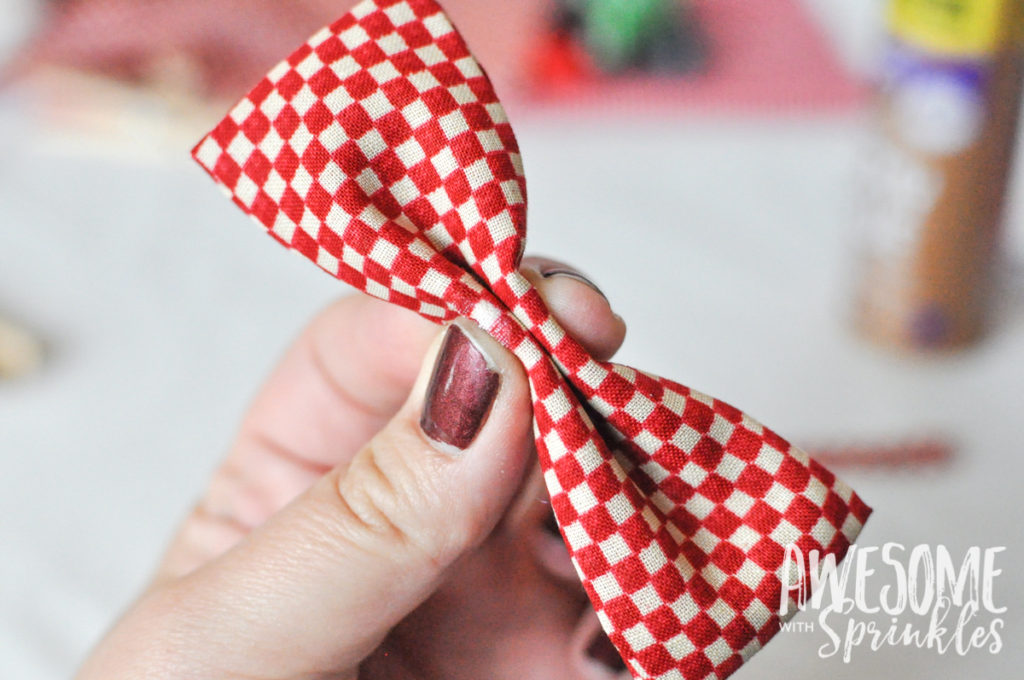 Pinch the large strip in the center and tuck in the middle creating the bow tie shape. Holding the bow tie shape with your fingers, gently release and squeeze in a few drops of glue in the center and pinch it back together.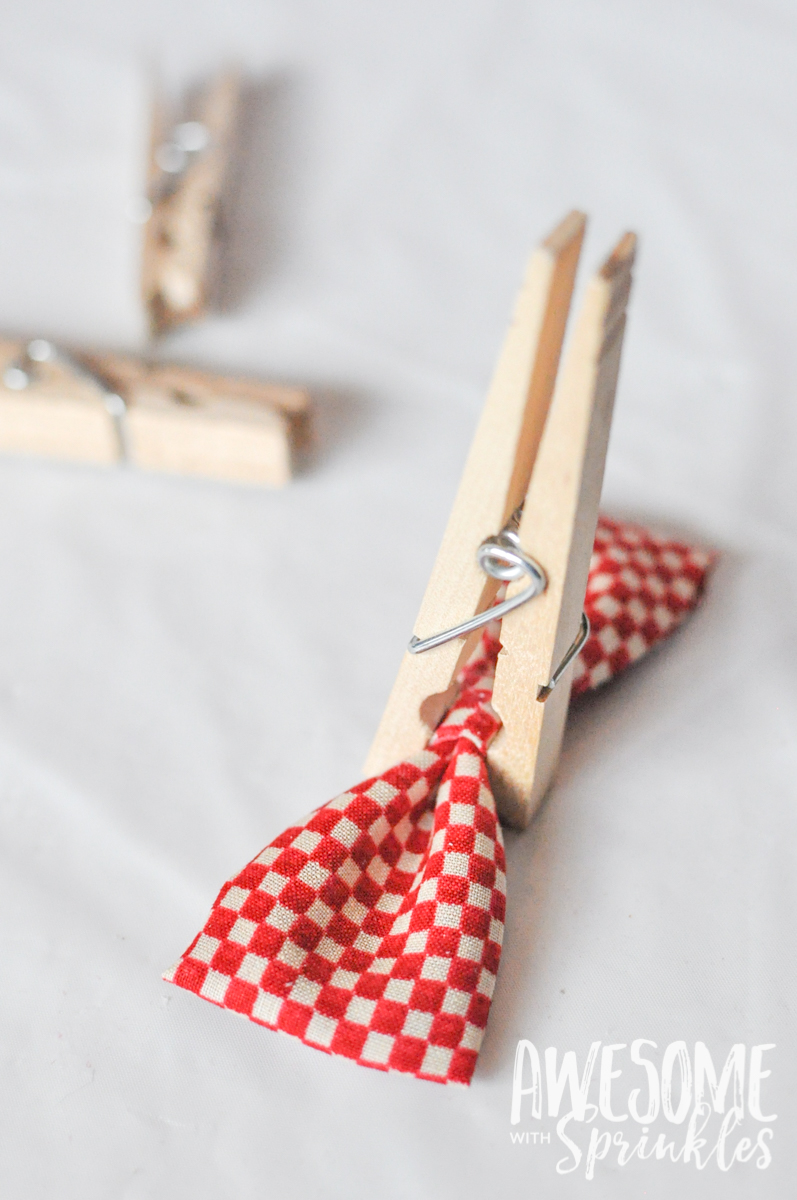 Use a clothes pin to hold your bow together and allow it to dry for a few minutes. It doesn't need to be completely dry, just tacky enough to hold it's shape while you work with it.
3. Attach to Collar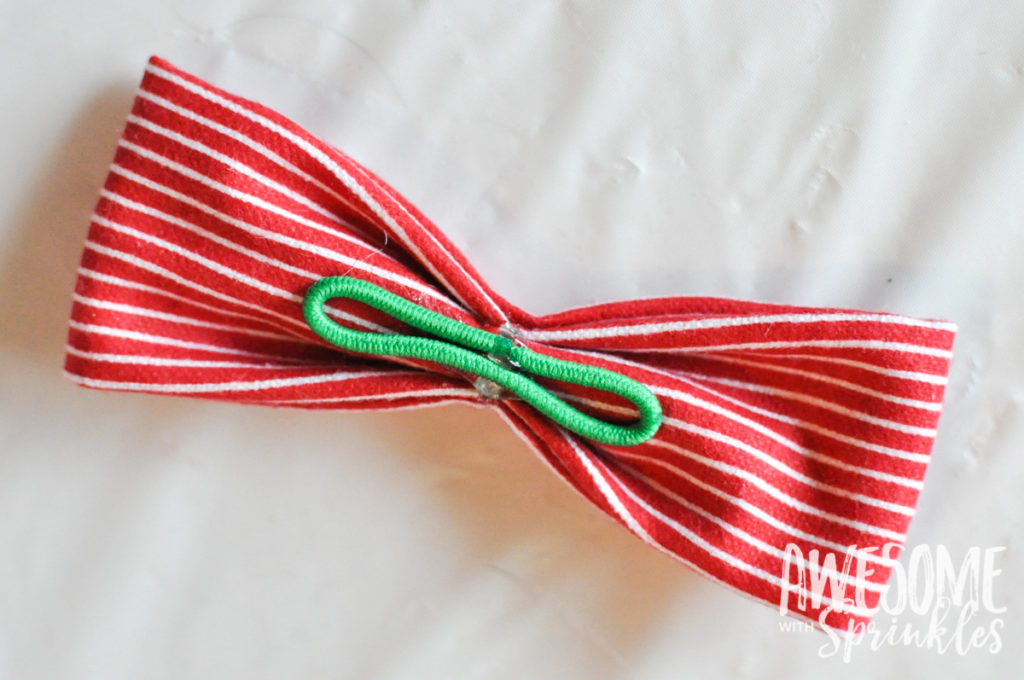 Take a hair band and pinch the middle. Secure with a dab of glue onto the back of the bow leaving a loop opening on each side. I usually use hot glue for this step because it dries quicker.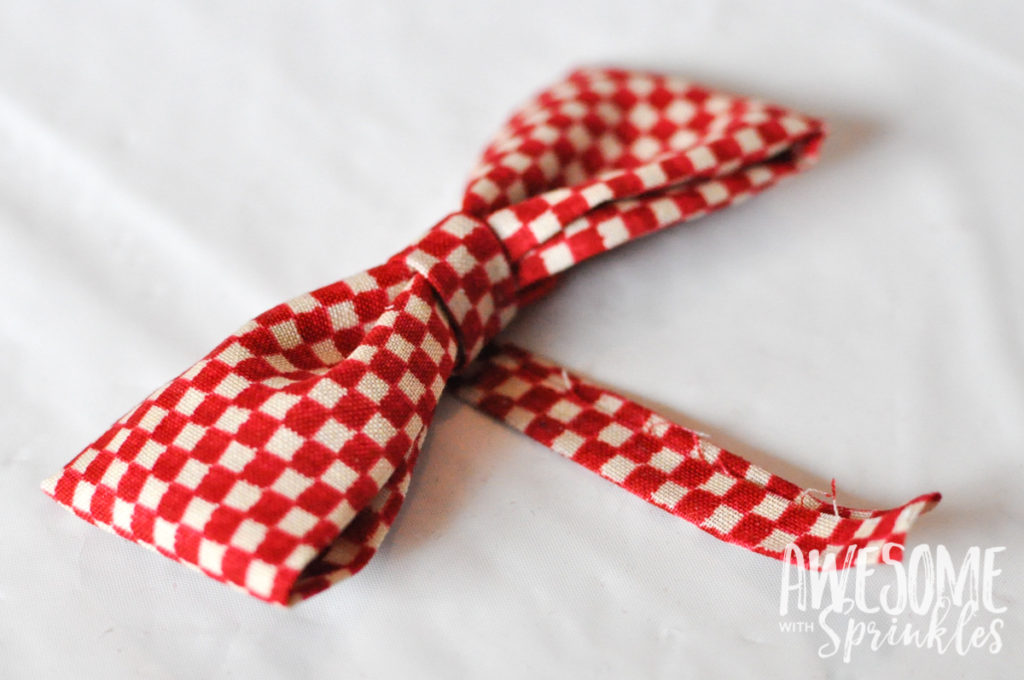 Take the small strip of fabric and glue one end to the back of the bow. Wrap the small strip around the pinched center of the bow and the hair band 2-3 times to create the center of the bow tie. Glue the strip in place on the back side of the bow (so the loose end is out of sight) and trim off any excess length. Allow everything to dry and cool completely.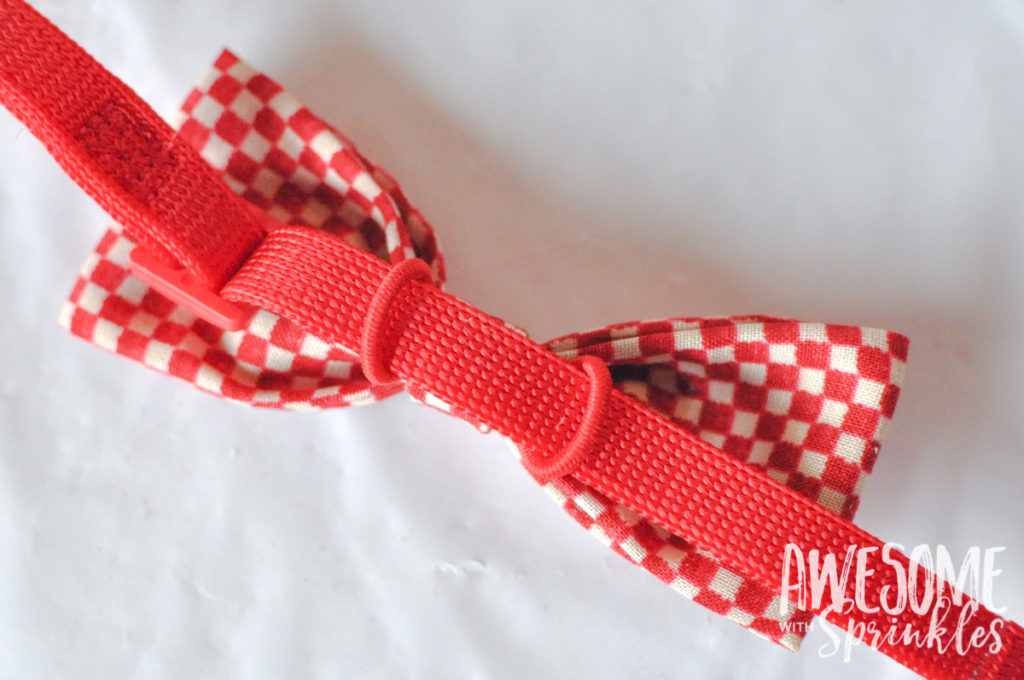 Gently slide the collar through the two loops of the hair band to fasten the bow tie to the collar. Slide it to the desired placement and viola! You now have a dapper doggie or a pretty kitty!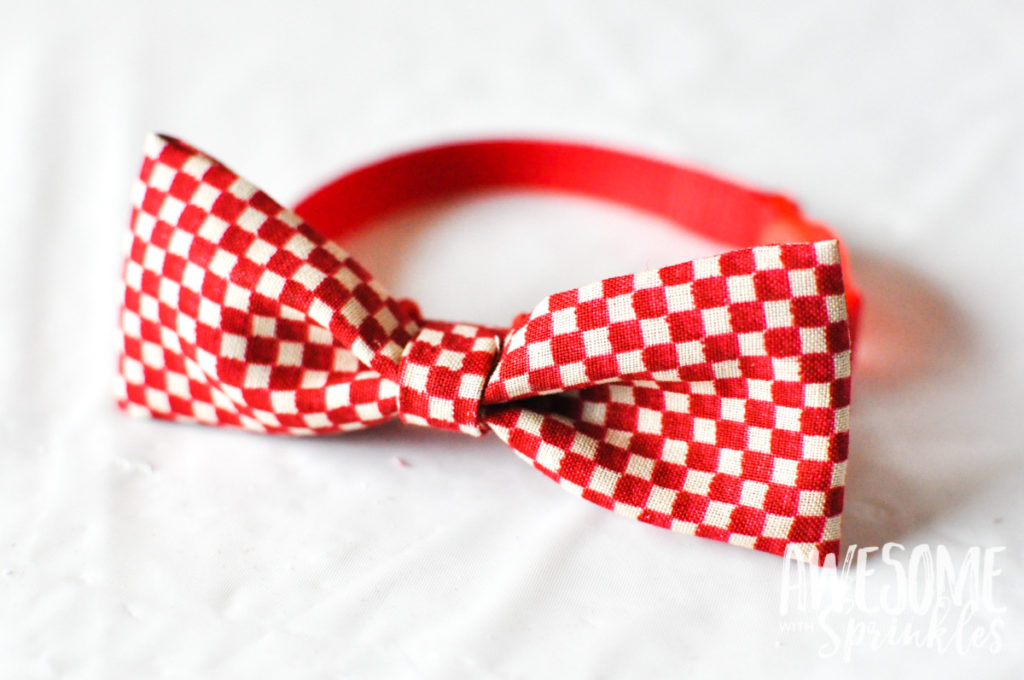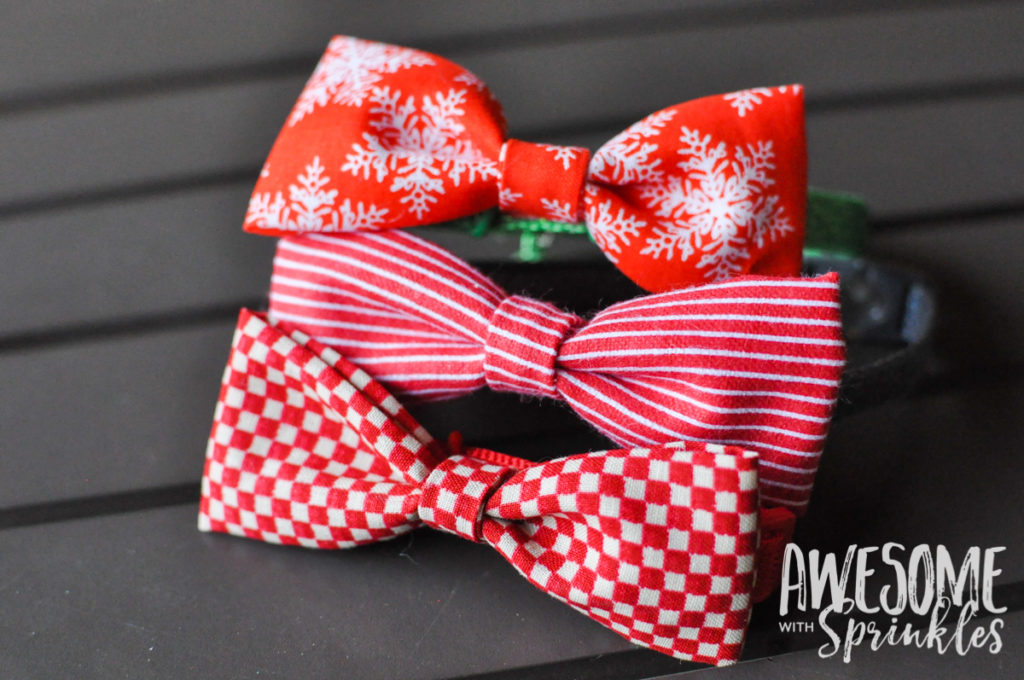 These no-sew fabric bow ties aren't just great for pets. You can make these bow ties for little kids too! Fasten them to a headband or hair clip for customizable hair accessories for little girls. Attach them to a ribbon to tie around a stuffed animal's neck or use as an embellishment in a scrapbook or on top of a present!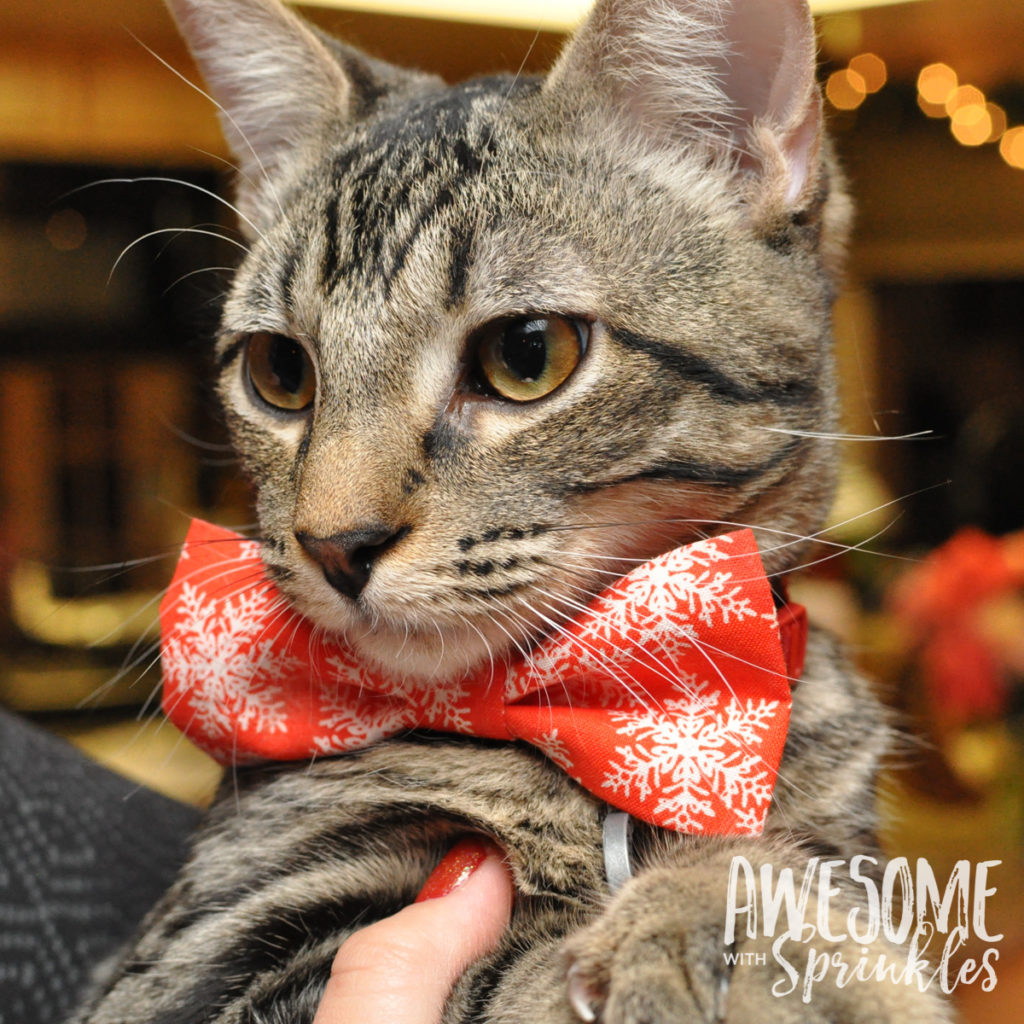 Looking good, Hemingway! Bringing it with that bow-tie!

Happy crafting!