With Independence Day around the corner I was itching to craft something red, white and blue! I really do enjoy American flag decor (it is blue and covered in stars, duh!) but I like it to be subtle and even somewhat understated. Let's face it, sometimes we can get a little too…shall we say "redneck rustic" with our star spangled trimmings. ?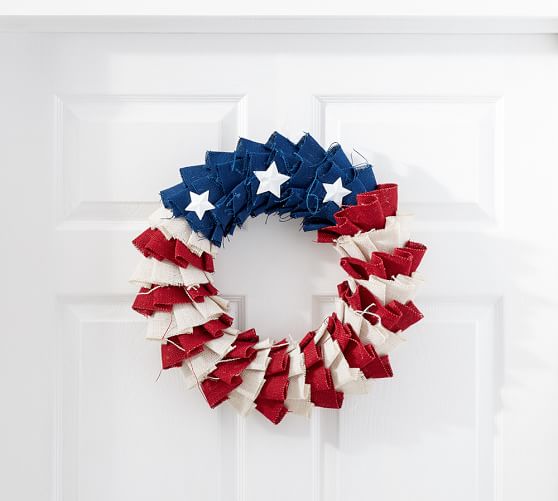 I was inspired this lovely Liberty wreath that I came across in this summer's Pottery Barn catalogue. Cute, huh?! Everyone else must have thought so too, because it sold out quickly. But fortunately for me (and you too!), I am crafty. So we are going to make our own!
Truth be told, I was a little dismayed with this project when I first started out because I could not find this style of burlap anywhere locally. 🙁 It's a tighter weave, more of a canvas than true burlap which makes it a great deal easier to work with.
I was also bummed when I could not find a darker blue or a white burlap either. But once I got my version all finished I have to say that I am really happy with how it turned out and I like the traditional burlap and muted colors more than I thought I would. They have a weathered and rustic feel to them which is so my style.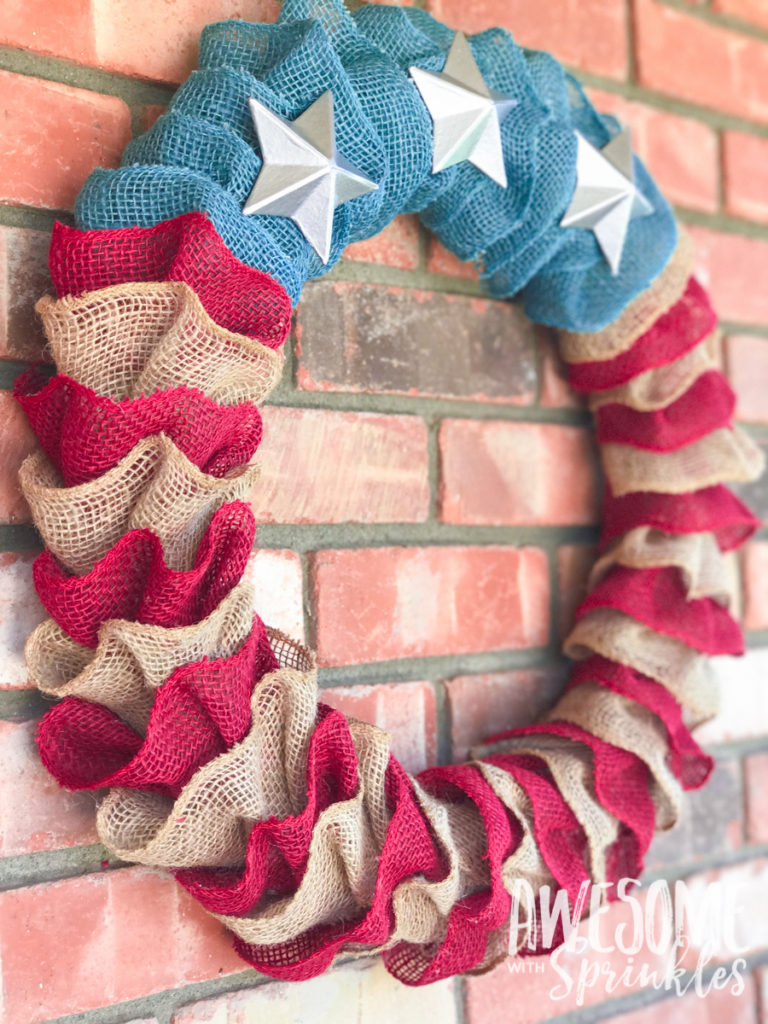 I will admit this project takes a little bit of time to create, but just pop on a few episodes of Netflix (it was "The Great British Baking Show" for me) and you will be done in no time. 🙂
How to make a flag burlap ruffle wreath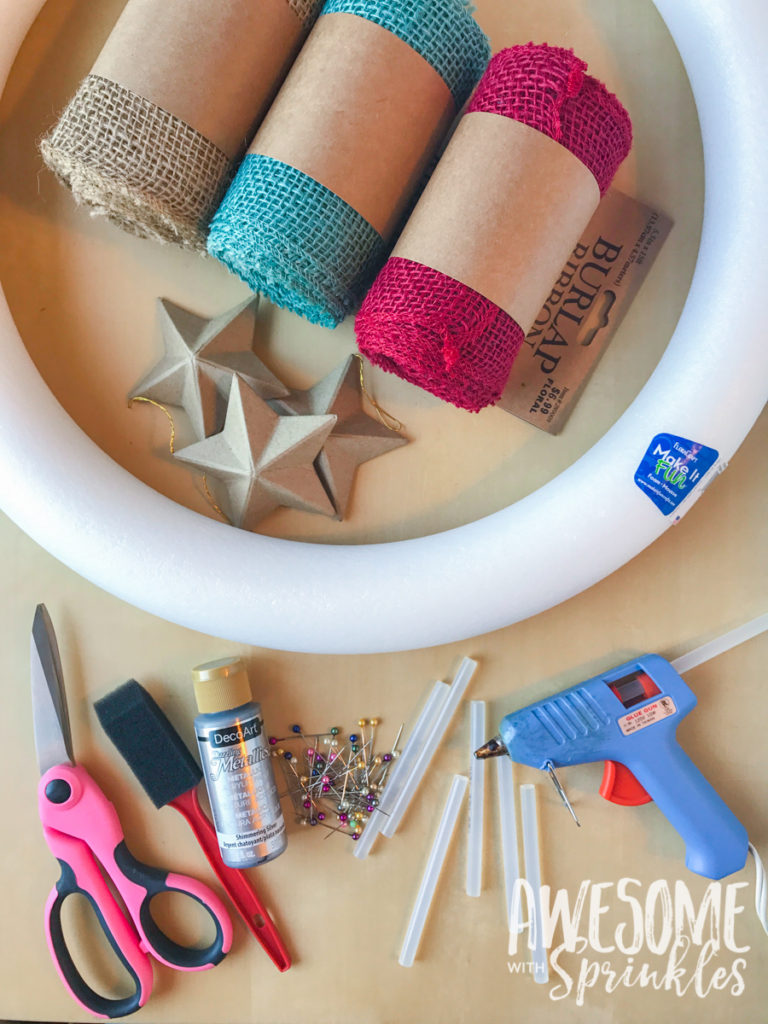 You will need:
blue burlap – 12 strips measuring 12 in x 3 in (about 6 ft)
red burlap – 14 strips measuring 12 in x 3 in (about 7 ft)
natural burlap – 14 strips measuring 12 in x 3 in (about 7 ft) + 1 full roll (about 15 ft)
16 in foam wreath form
star decorations + paint (if needed)
straight pins (or floral pins)
hot glue gun + glue sticks
scissors
1. Cut the burlap ribbon into strips
The burlap ribbon I was using was about 6 inches wide so I got two strips from each 1 ft section. This size of ribbon is pretty common to find in crafts stores. If you are using a smaller width of ribbon, you may need to double the total length needed when you are purchasing ribbon. For a 16 in wreath form I used 12 blue, 14 red and 14 white strips that were each 12 in x 3 in long. You may need to adjust a bit if your wreath form is larger or smaller.
Whenever you are working with burlap, it has a tendency to fray like cray when cut. Cutting across the weave causes the edges to unravel creating an uneven mess!  To help prevent that, and get a nice straight edge, I have a little trick for you.
Measure the burlap to find where to cut. I just folded the ribbon in half and eyeballed it. 😉  Using a straight pin (or your finger if you can manage it) pick out one little thread.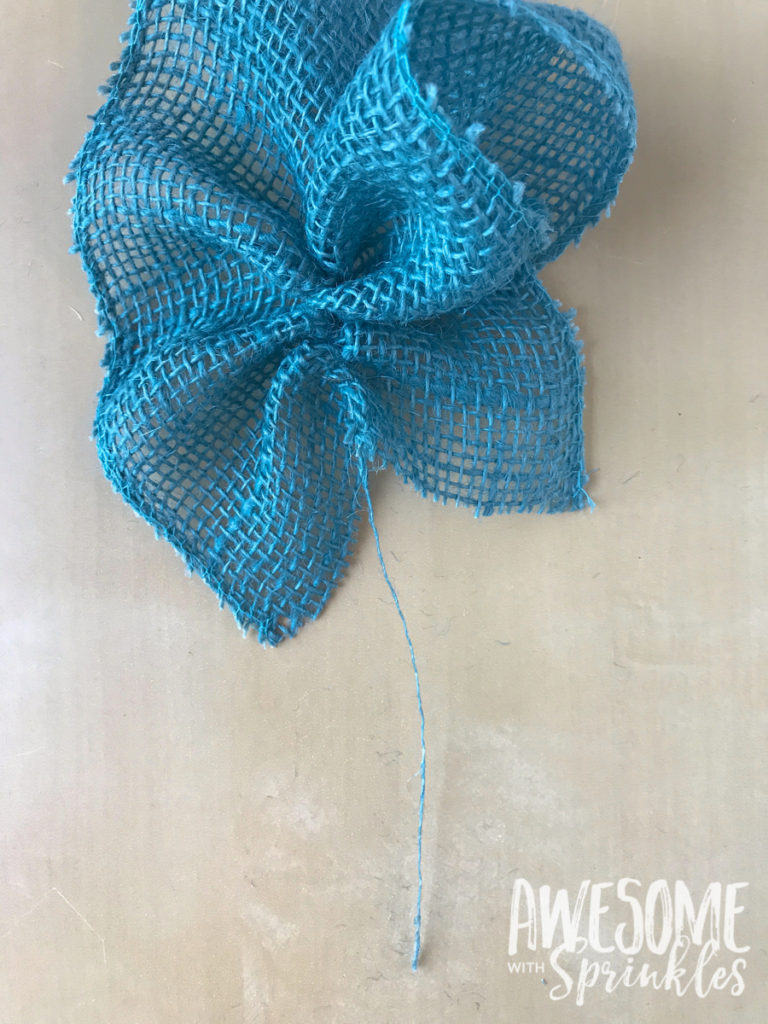 Gently pull the thread, scrunching up the burlap as you go until the thread is pulled all the way out.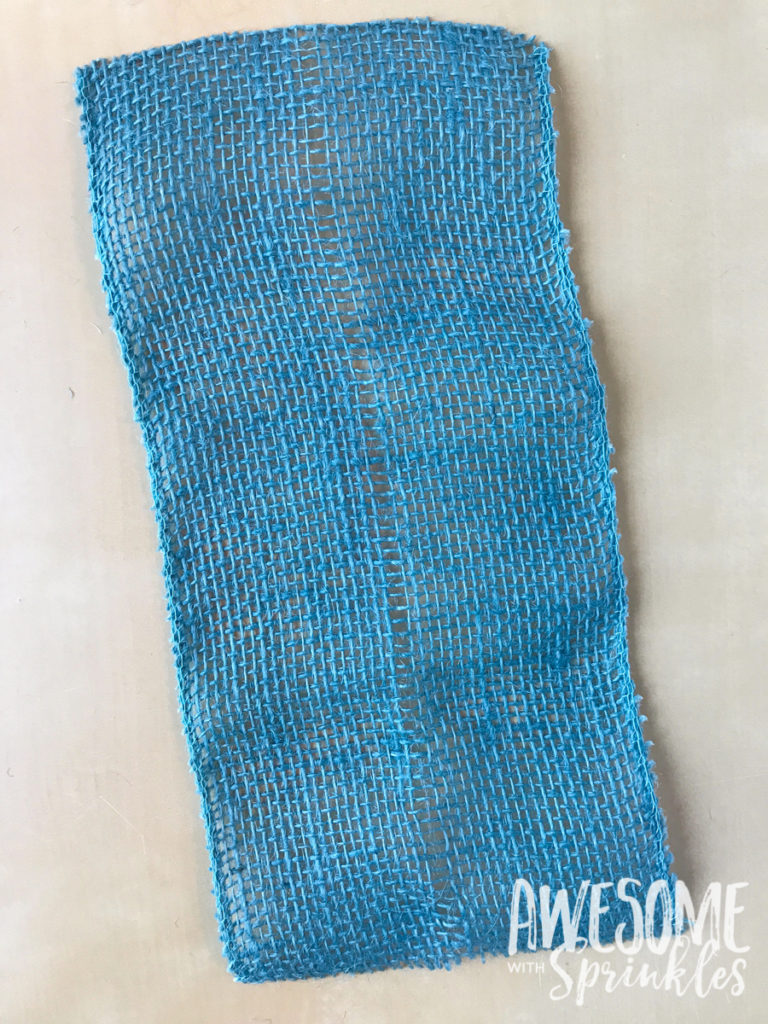 There will be a clean and clear space in the burlap where the thread used to be – this is now your cut guide.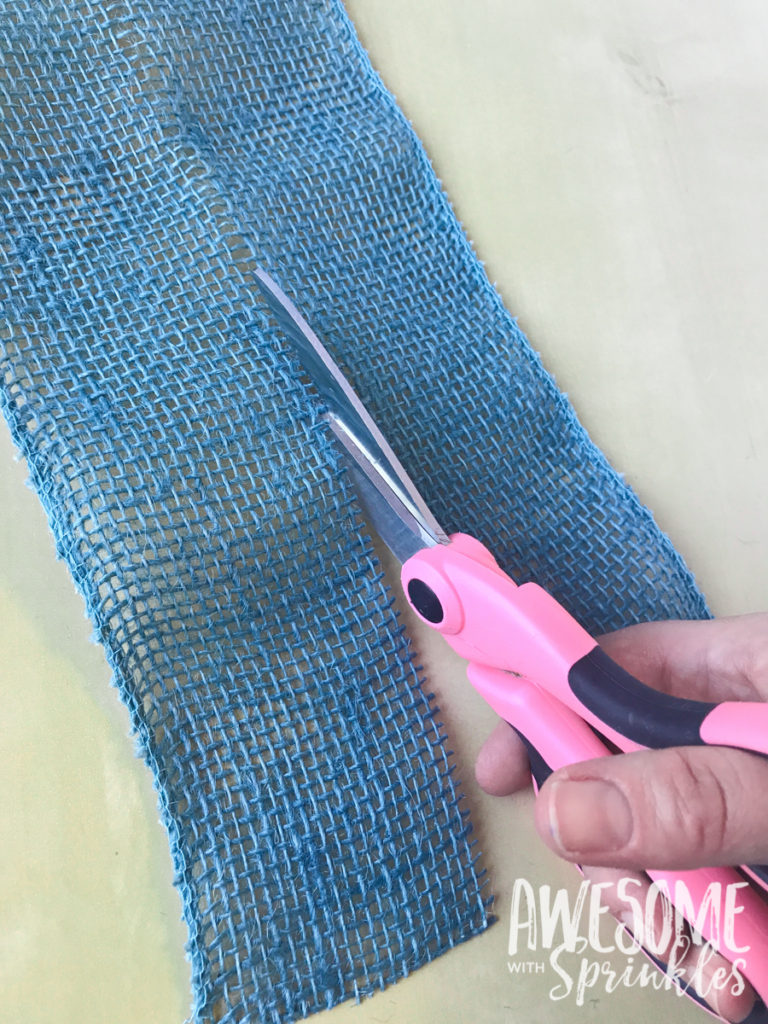 Using sharp scissors cut along this line. You will get a clean edge that won't fray! If you want to keep it from fraying further, you can sew a zig-zag stitch, but since this ribbon already has stitching on one side, I am going to work with that.
Safety Tip: If you have ever worked with burlap before, you may be familiar with how dusty it can be. If you are concerned about breathing in all that burlap dust (or have a sensitive a respiratory system) then consider wearing a face mask to protect your lungs. 🙂
2. Prep the wreath
Using an uncut roll of natural burlap, wrap the burlap around the wreath form, securing with hot glue as you go.
Cover the entire wreath form. This will prevent any "naked" wreath from peeking through and also give you a little extra texture for the hot glue to adhere to when you glue on your ruffles. I used an entire roll to make sure there was full coverage.
3. Ruffles away!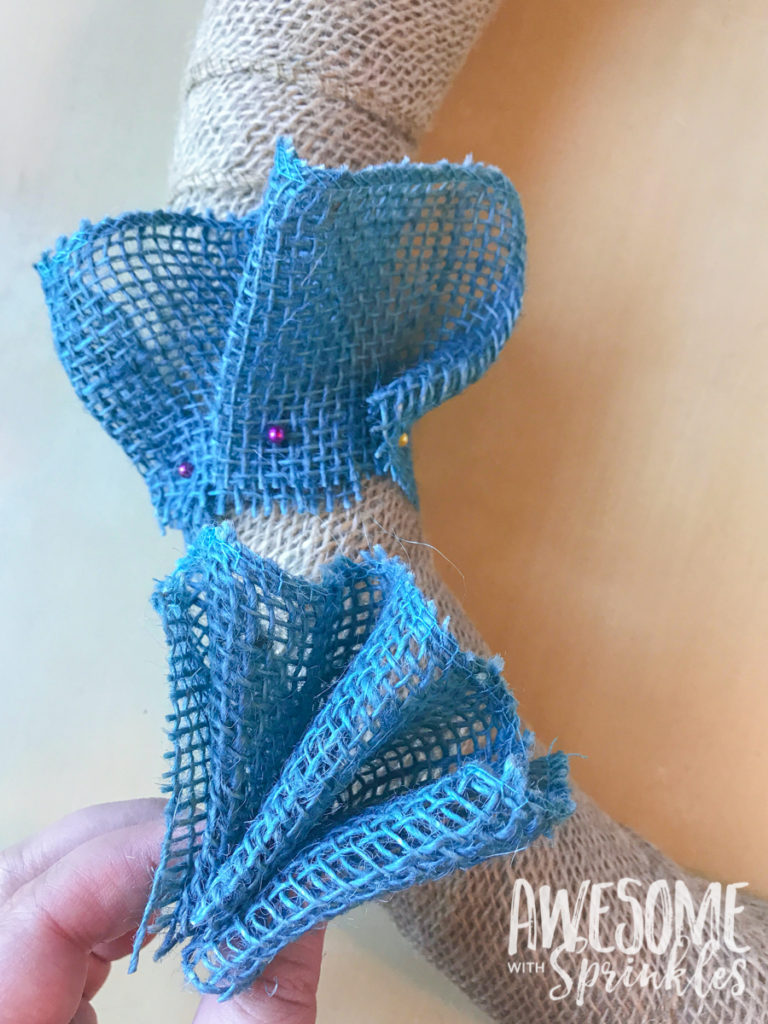 I used a sharpie to mark on the wreath form how large my blue section would be before I started attaching my ruffles. I made mine a little over 1/4 of the wreath's total size.
Taking a strip of burlap, fold it accordion style to create a little fan and define the folds of your ruffle. I found this helped me shape my ruffles easier. Using straight pins or floral pins, wrap the fan around the wreath form, pinning through each fold as you go. Pinning will allow you to adjust the shape and spacing of your ruffles before permanently glueing them down.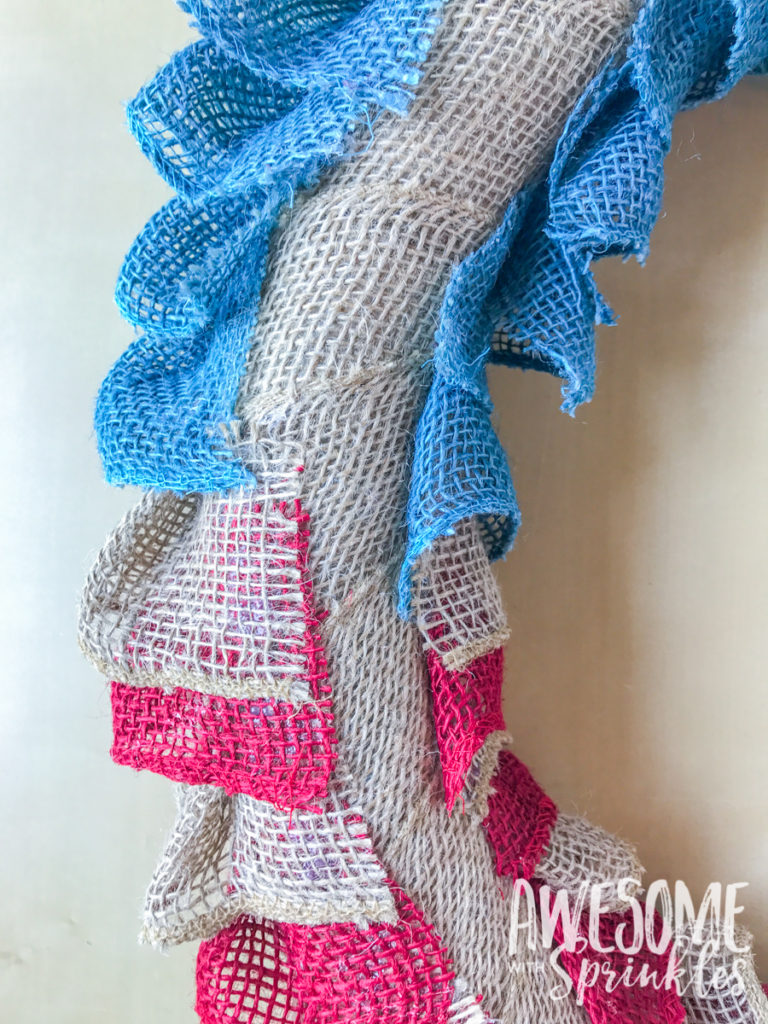 I started on the outside working into the center of the wreath and attached the burlap just at the edge of where the back of the wreath touched the table so that none of the wreath form was showing from the sides, but the back was still left "open". The ruffles do not need to go all the way around the wreath, as this will add bulk to the back of the wreath and keep it from laying neatly against the door or wall. It isn't very pretty, but you won't see it anyway.  😉
I spaced each ruffle about 1 1/2 inch apart so that the folds overlapped each other about halfway through. I did not measure this, just eyeballed it. It's a craft, not a science.
I also made sure that the sewed side of my ribbon was on the top of each ruffle, to prevent fraying. The un-sewn side will be glued down, so I am not worried about it. If you like the more frayed look then by all means, fray away, friends!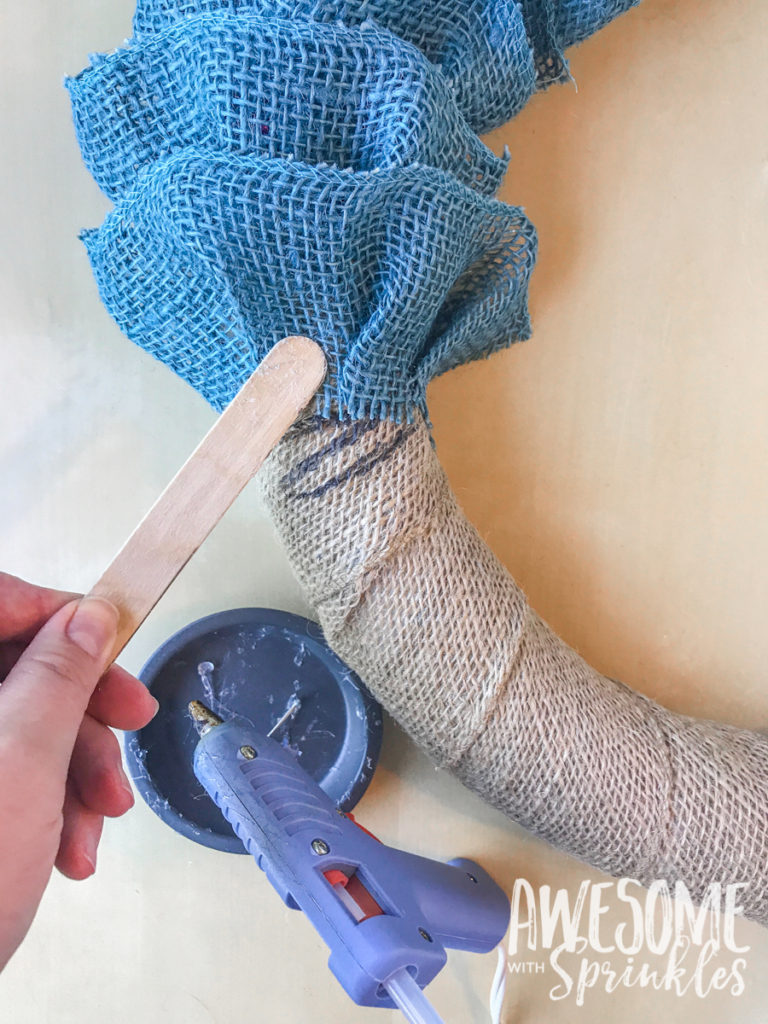 Once you are satisfied with the look of your ruffles you can start hot glueing. Burlap is tricky to hot glue because of it's loose weave and the glue seeps through, so to avoid blistering my finger tips I used a wooden popsicle stick to push the burlap into the glue.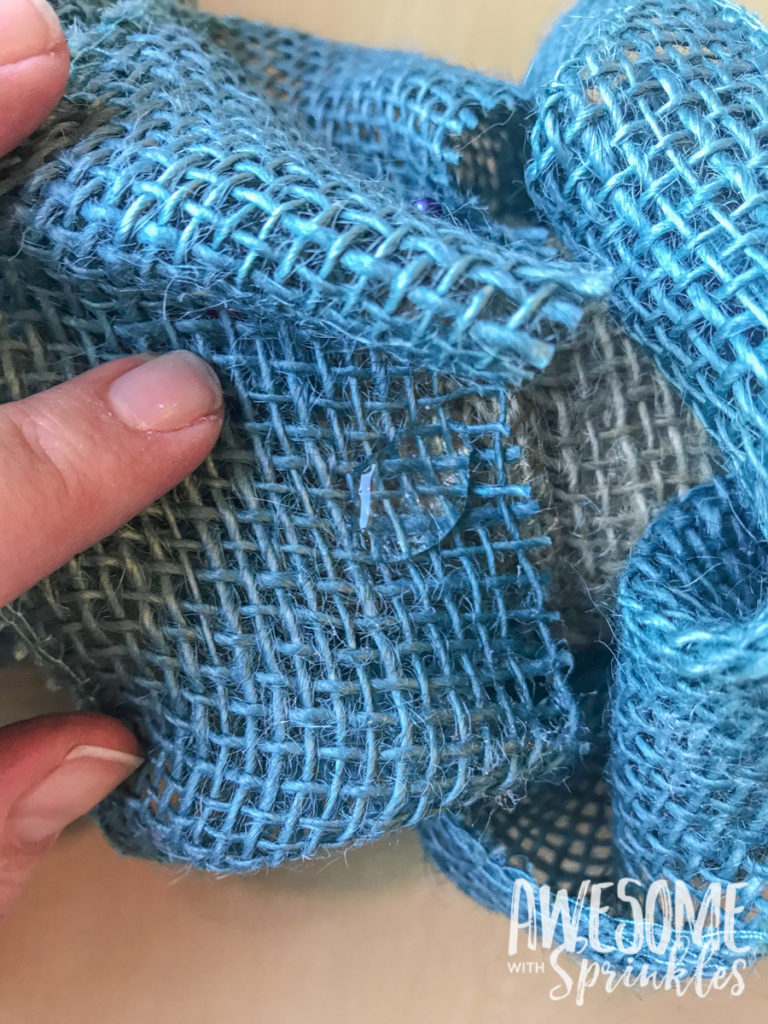 I started by glueing one edge and moving along to each fold and adding a sizable dollop of hot glue. The ruffles may slowly start to lift from the glue as it dries, but fortunately hot glue is forgiving. Once the glue cools enough that you can touch it but is still tacky, you can smoosh those folds back down and they will stay.
I removed the straight pins as I went along (mostly because I didn't have enough to leave them in!). I think the glueing step would have gone a bit faster had I planned ahead and bought a pack of floral picks that I could have left pinned in the burlap to hold the ruffles in as I glued. So use that info to your advantage!
After the blue section is securely adhered, move on to the next section – stripes!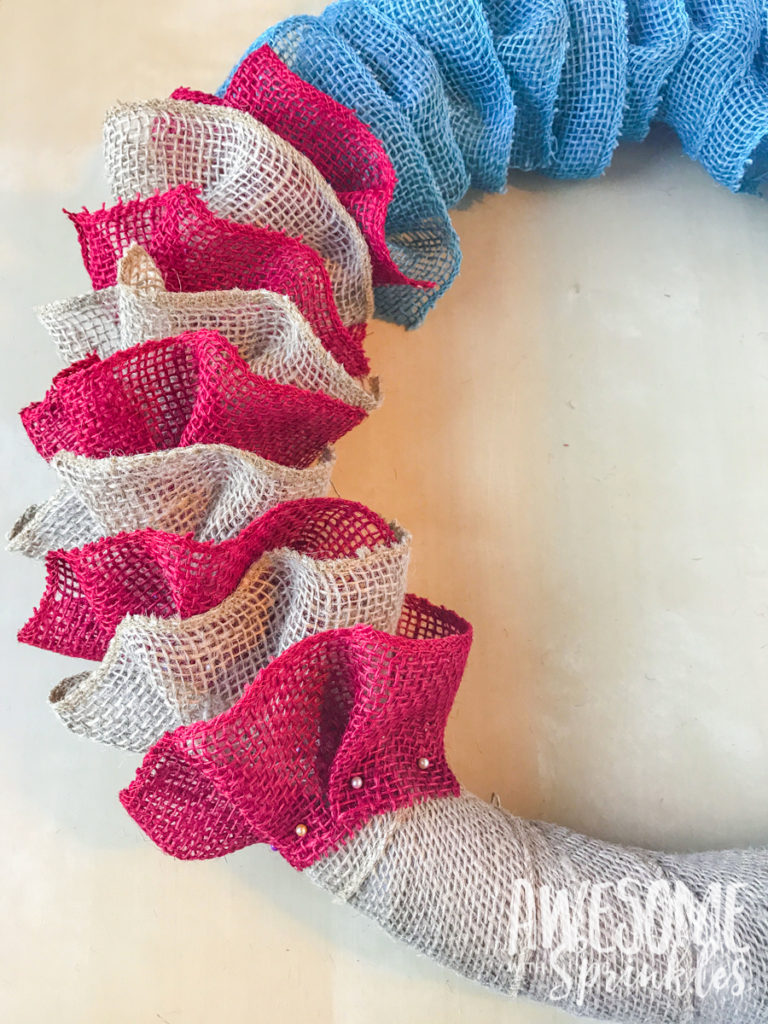 Continue with the same method as you did for the blue section, alternating between the red and the natural burlap. Pinning and primping your ruffles until they are perfect. Hot glue down. Be patient. There is a LOT of glueing in your future.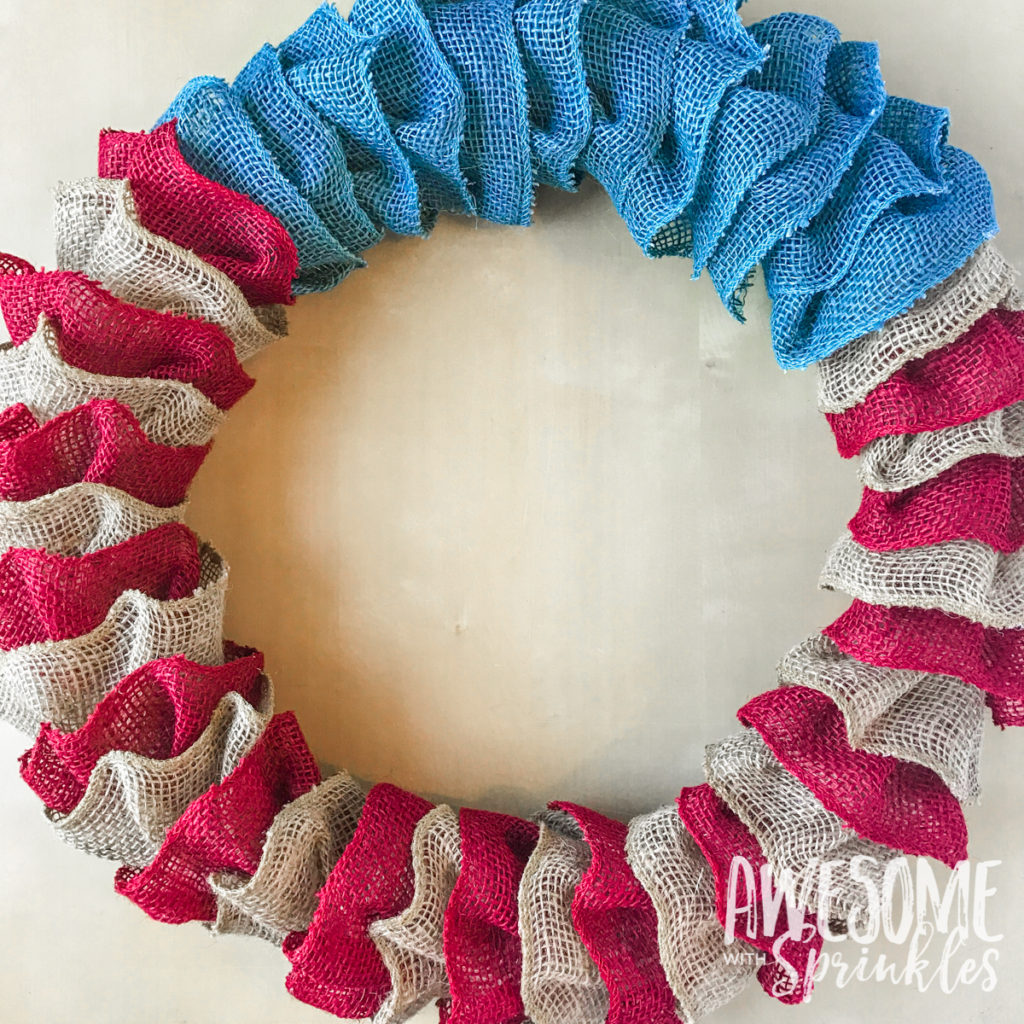 But soon enough you will have a completed wreath! Yay! Looking good ruffles!
4. Embellish with Stars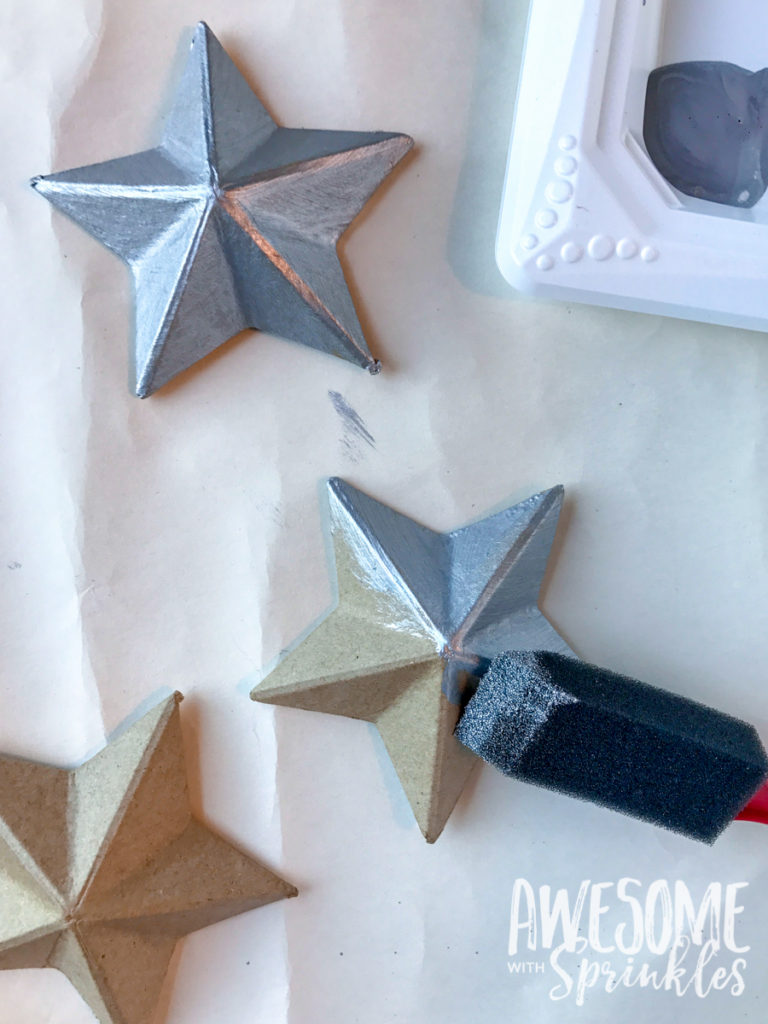 You can't have stars and stripes decor without the stars! You can use metal stars, wooden shapes, paper cutouts, or 3D papier-mâché stars like I found here. I painted mine silver. Look around your craft store for whatever style tickles your fancy.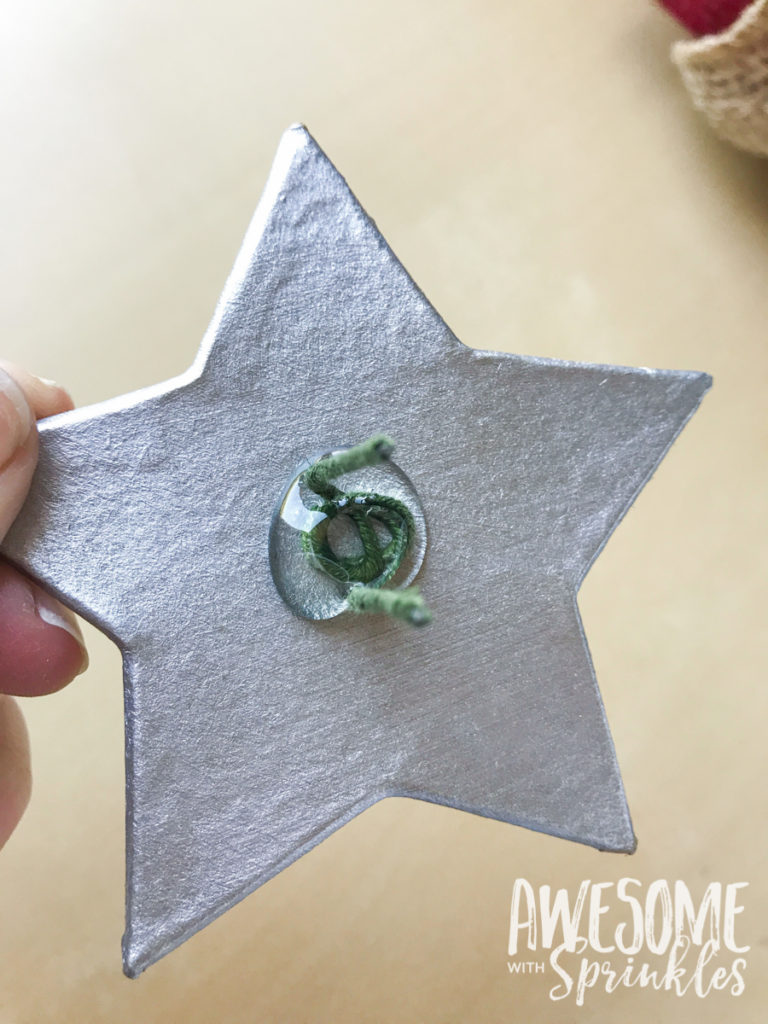 My stars did not come with a way to attach them, so I fashioned a piece of floral wire into a pick (another time a floral pin would have come in handy!) and glued it to the back. I then added a little extra glue around the edge of the star and pressed it securely into the foam wreath.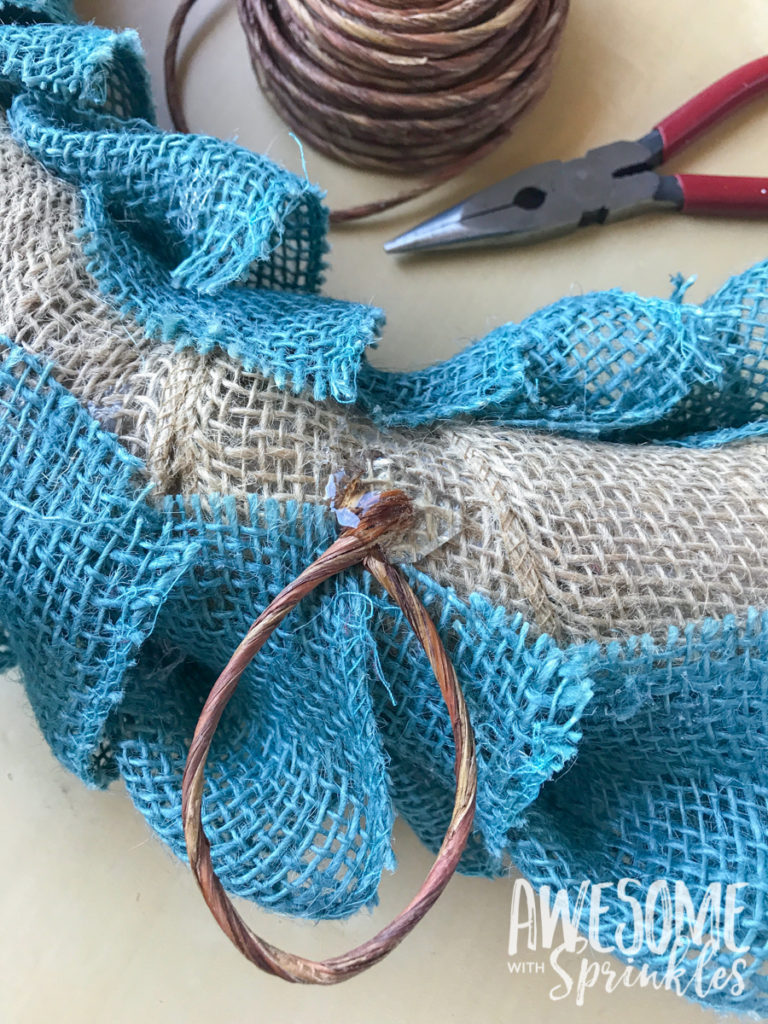 I also created a hook for the back using a piece of raffia covered floral wire. You could also use twine, ribbon or if you have a wreath hook on your door you may not even need to make a hook at all.
5. Hang and Admire
Hang and admire your beautiful wreath!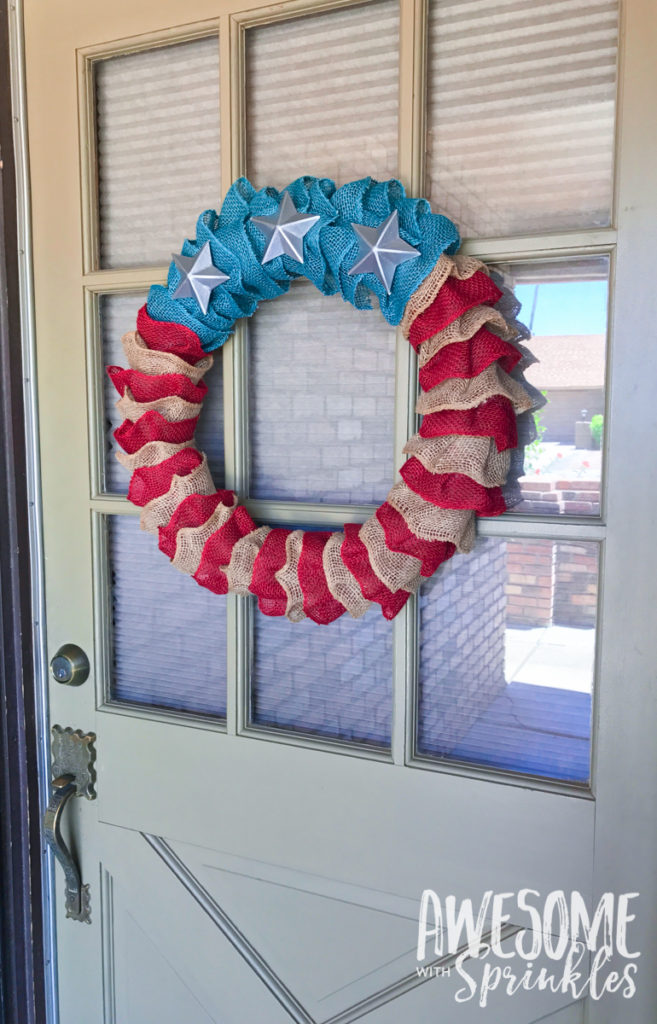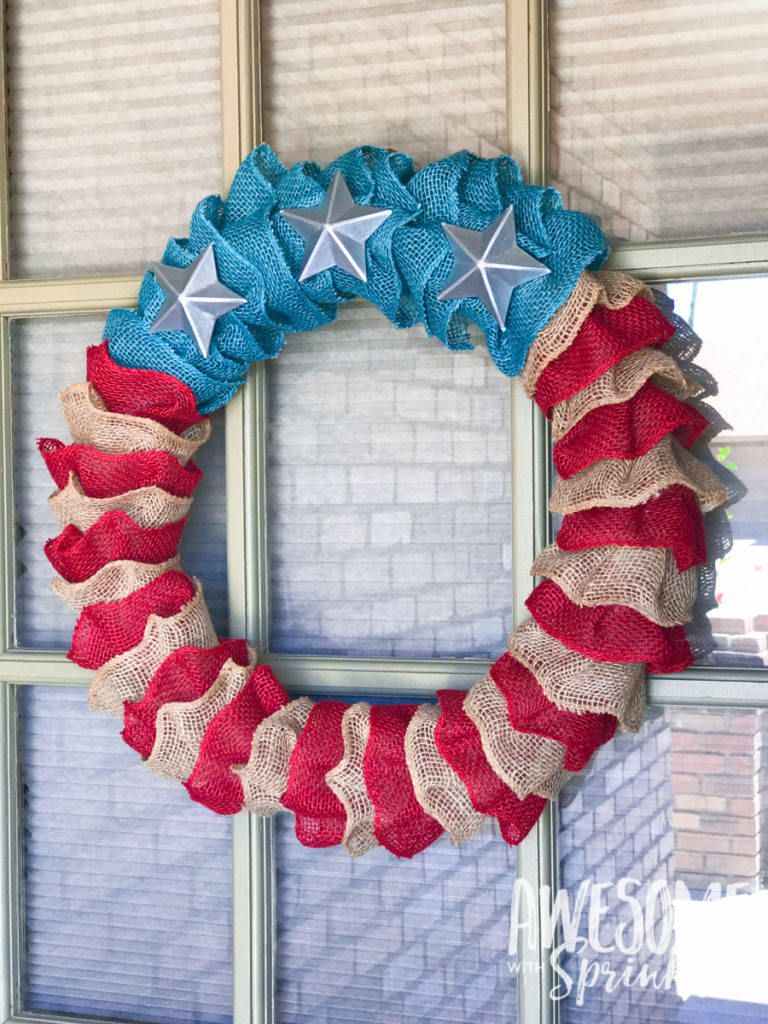 My front door is covered by a good length of patio which is fairly untouched by rain (which is a rare occurrence in itself here in the desert). I have a different burlap wreath made of the same type of burlap ribbon that has lasted for two seasons now and has faired just fine.
That being said, since this isn't outdoor treated fabric I would not recommend it for outdoors if you intend to place it in a location that gets a lot of sun or is exposed to the elements. Instead, look for the canvas style burlap or maybe even a sun-fade treated upholstery fabric if you plan on putting your wreath in a highly exposed location.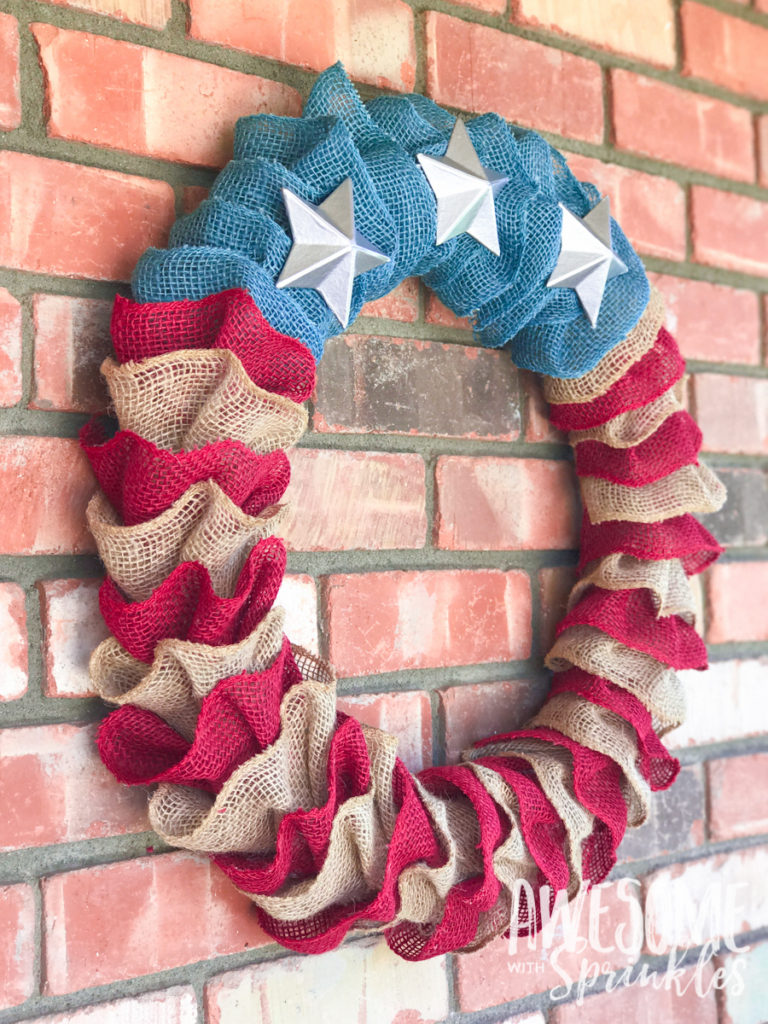 With a little bit of patience (and whole lot of hot glue) this beautiful burlap ruffle wreath will keep your home looking patriotic from memorial day through labor day. Stars & stripes forever!
Pin for Later: