Holiday signs are all the rage on front porches, entryways, fireplace mantels and everywhere inbetween! They are an easy easy way to add a festive touch to your living space. But let's face it, not all of us have the time (or storage space!) to curate the perfect holiday visage for every season.
This is a struggle I have been dealing with for a long time. I have been searching for the perfect holiday sign for my home, but I can't find anything out there that I just love! Something is always amiss; some signs aren't the right size, other the message is cute but the typeface isn't, some are just too expensive! Because, lets be honest—if it isn't something that makes your heart sing, you probably shouldn't buy it. At least that is how I govern my shopping, or I would come home with all the adorable things! And then where would I put them!?
While prowling the aisle of my local craft store, with my partner in all things crafty, Heidi, we stumbled upon a sad piece of galvanized metal. It was begging for some TLC and that's when inspiration struck. One sign to rule them all! This simple metal frame would become the backdrop for ALL of my holiday signs!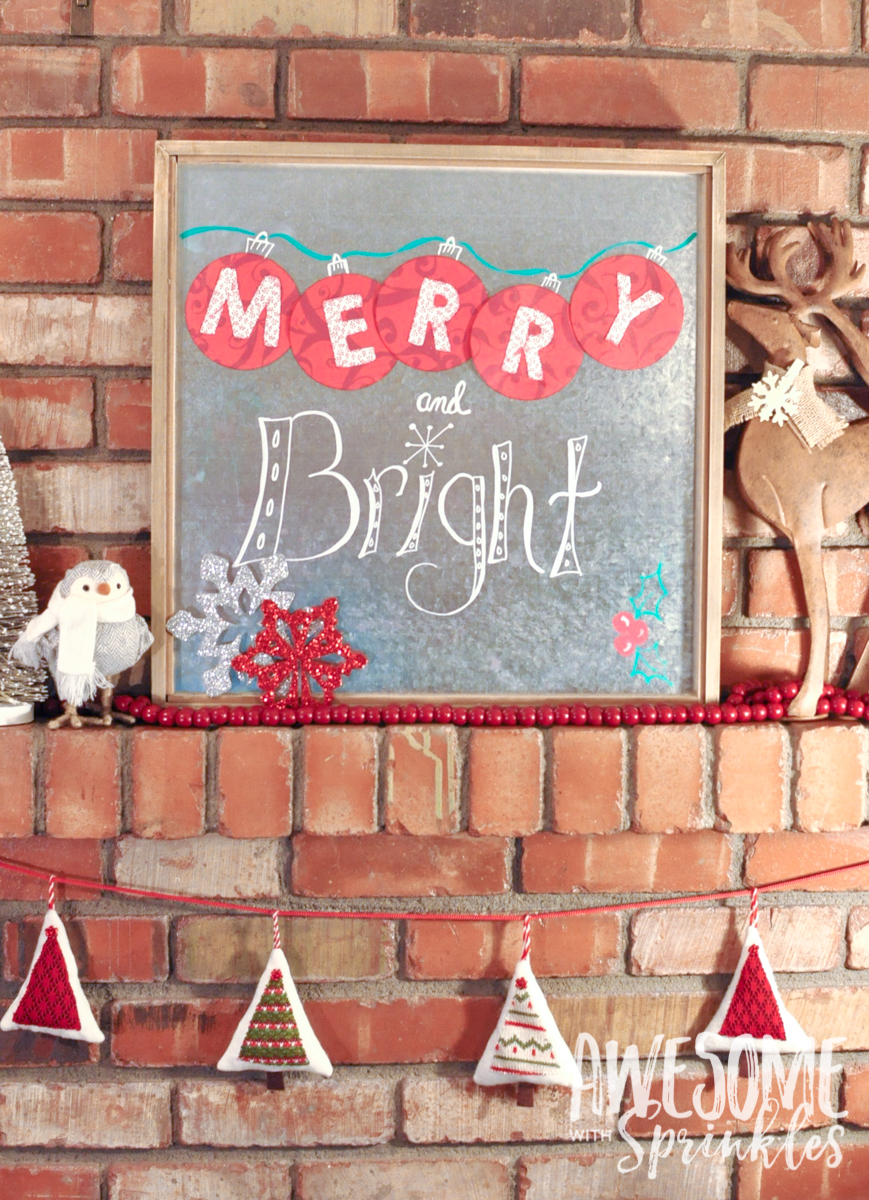 There are several things that I ABSOLUTELY love about this project! First, your holiday sign can be customized to fit your space, color scheme, and a personalized greeting to fit your personality. The possibilities are endless! Second, it is super easy!
Gather:
Bunting banner sections such as Burlap Pocket Banner Kit by Recollections (or cut them out using our banner template)
Variety of left-over fall fabric (you can get bundled fabrics at your local fabric stores – I get mine here)
Twine, yard, ribbon (something to string it all together)
Colored Sharpies and/or ink pads
Pencil
Paper
Scissors
Galvanized Sheet or Frame (or backdrop of your choosing)

1. Choose your backdrop
Trying to decide what to put your sign on might be the hardest part of this craft! There are so many awesome materials to choose from. I actually found the above mentioned galvanized sheet already framed at Hobby Lobby. But you can find plain unframed sheets at craft stores, hardware stores or online that you can frame however you like. Mix it up by putting your banner over a chalkboard, wooded sign or other backdrop that suits your style!
I wanted something that I could write on to easily change the messages out so I loved that I could write on the metal. I am wild about liquid chalk pens! Guess what? They wipe right off with a damp towel. BOOM! Ready for the next holiday! BONUS: It is also magnetic which adds a whole new element for cute magnet accents.

2. Choose your Message
First things first…what do you want your message to say!? One of the best things about this project is that you can make your sign say whatever cheery messages you would like! Use your favorite welcome messages or holiday greetings! Are you a traditional "Season's Greetings" type or a sassy "BAH HUMBUG" sort? You decide! Pinterest is great for finding inspirational quotes and hand-lettering examples!
My holiday signs were a mix of banners and messages written on my metal background. You might want one or two different sized banners hanging from your background for a layered look. Give it some thought or sketch it out on a sheet of paper before you start cutting. Measure twice, cut once, right?
3. Cut out your bunting
After you know what you want your message to say, now you can choose what you would like your message to be displayed on! You can use fabric, burlap, felt squares, foam pieces and even paper! Did I mention the possibilities were endless? I think I did! 😉
Craft stores are bursting at the seams with quick DIY pennant banners like the one I used for the cutie "Welcome Fall" sign (I found mine HERE). Easy peasy!
If you have a favorite fabric or paper in mind it is SUPER easy to make your own bunting. All you need is a little math and THIS handy banner template! These might not be the exact sizes you need, but hopefully they will cover most of the bases. You're welcome!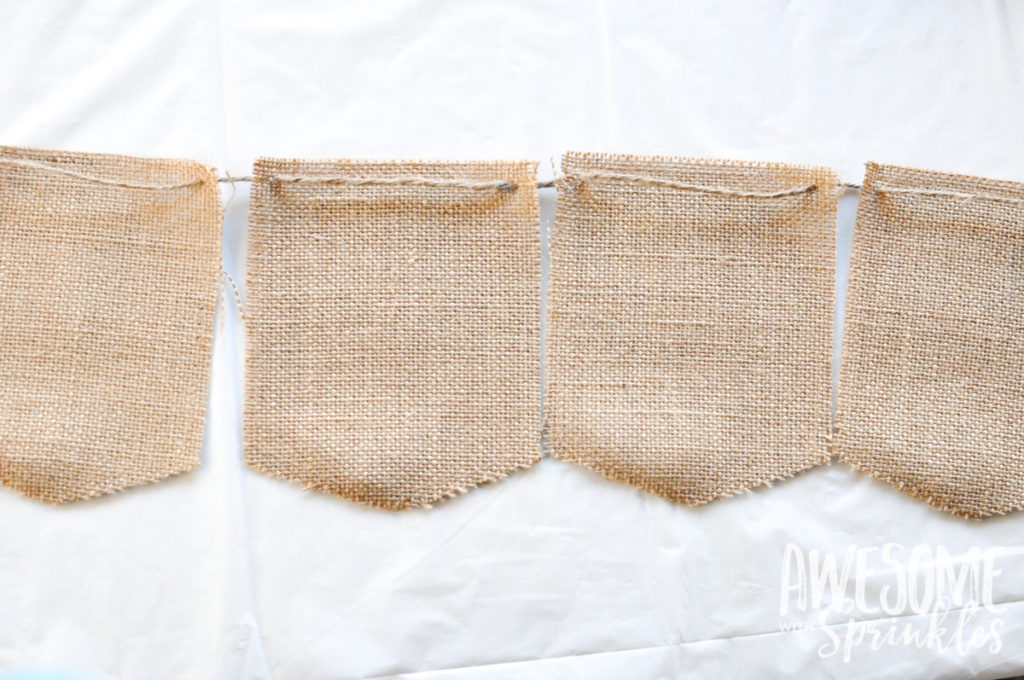 How-to measure your bunting: Depending on the size of the backdrop you are using, and the length of your message, you will need to figure out how large you want your bunting banner sections. The easiest way to do this it to measure the width of your sign backdrop (minus a few inches for padding on either side) and divide by the number of letters that you have in your message.

For example, my sign was 20in x 20in. I subtracted 2 inches on either side = 16 inches. My message was the four-letter word FALL. So 16 inches divided by 4 letters = 4 inches. Meaning my bunting banner should be no more than 4 inches wide. I went with 3.5 inches just to have a little extra space between to add some fabric ties and allow the message to "swag" a little.

I also used the template to cut out fabric that was a slightly smaller size than my bunting to layer even more fall festive details into my sign.
3. Cut out your letters
I used my Cricut to cut the letters for my message out of paper, then I then traced them onto fabric. If you don't have a Cricut, don't worry, you can freehand the letters directly on the fabric or make your own template by blowing up your favorite font and printing it out. Then just cut out the letters and trace around them. My banner sections were about 3.5″ x 3.5″ so I made my letters about 2″ tall.
We have some of our favorite fonts saved on Pinterest if you are looking for ideas!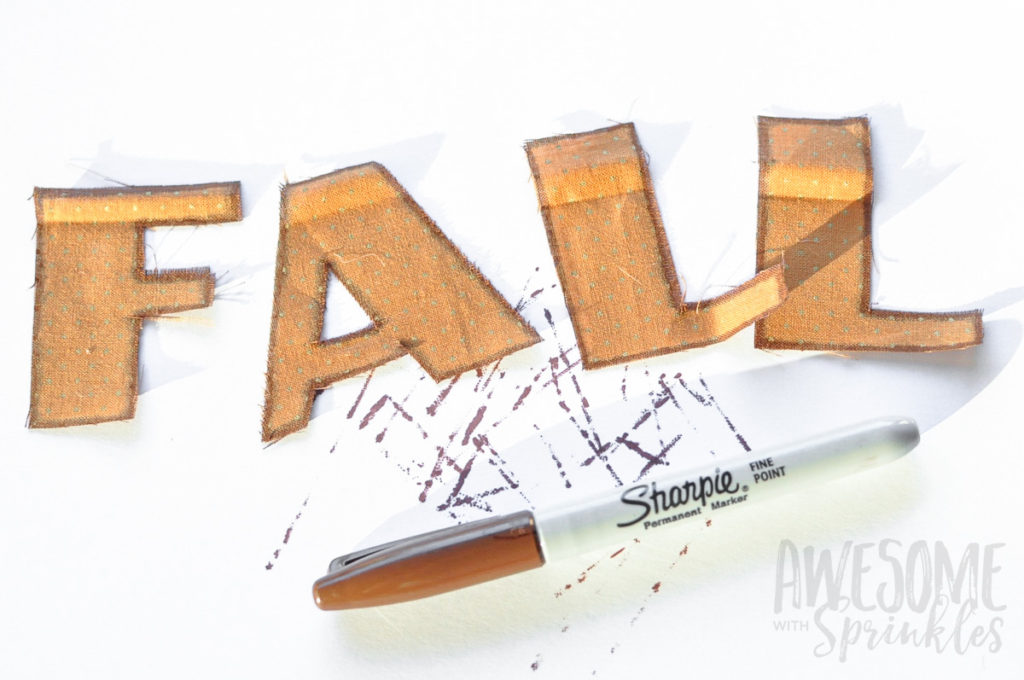 I then used a brown sharpie to outline my letters for my fall sign. I love how the fabric frayed a bit while I traced around it. It adds to the overall rustic feel of my project.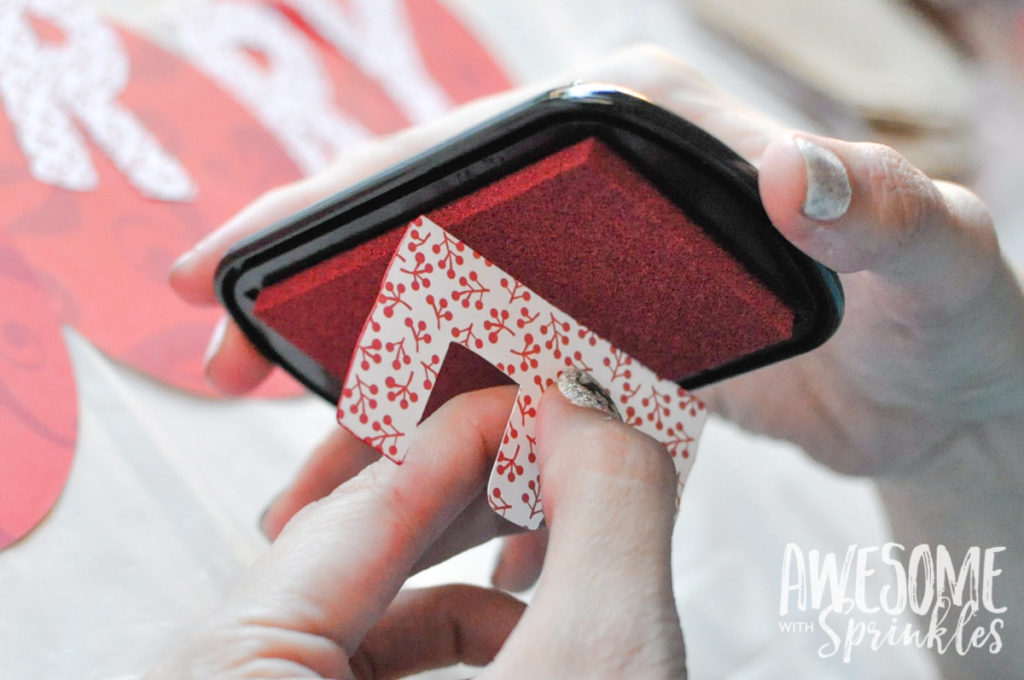 For my second holiday sign, I used a red ink pad to "edge" the paper letters. Simply hold your ink pad perpendicular to your paper and gently drag the paper across the ink pad. This gives a smokey, slight discoloration on the edge ot the letters.
3. Assemble your banner
Now that you have your banner sections and letters ready to go, it's time to put it all together!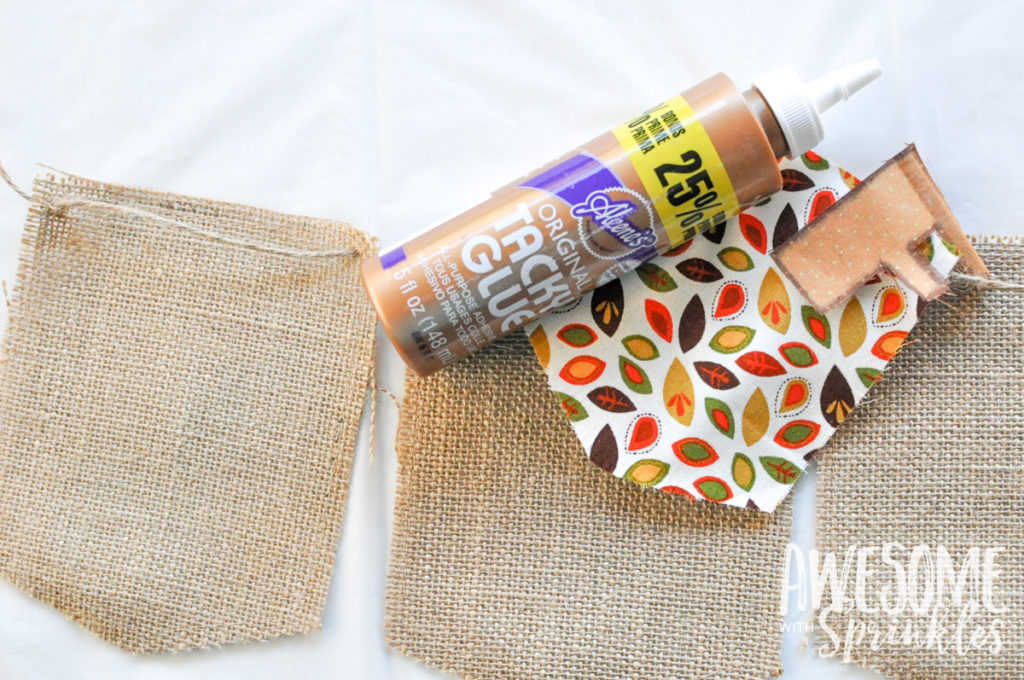 Start by attaching your letters onto your banner with craft glue, fabric glue, hot glue or whatever else is appropriate for the medium you are using. I used craft glue to adhere our fabric to the burlap.
Pro Tip: When working with burlap, note that the glue might seep through the loose weave of the burlap. Be sure to keep a sheet of paper or plastic under your project to avoid getting glue on your table top.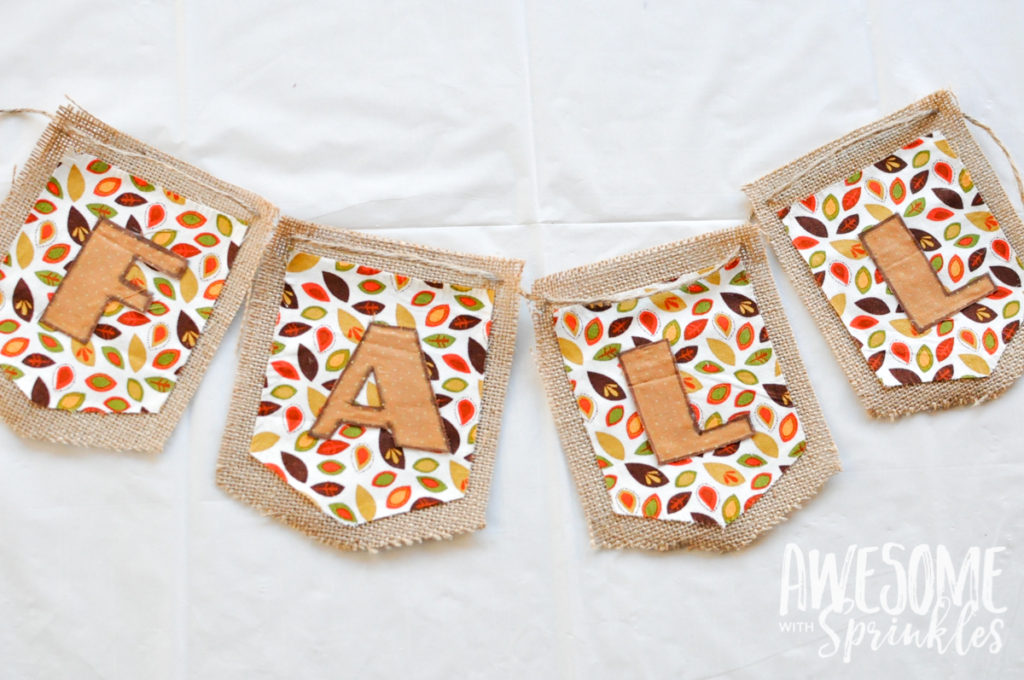 Once your banner sections are dry, string them together! I used the twine that came in the banner kit and my tapestry needle to string them together. You can use any color of twine, yarn or ribbon!
4. Finishing Touches
Now comes the fun part! I used my chalk pens and wrote out "Welcome" with a few embellishments around the frame. I cut some of my leftover fabric into strips and tied them in between the banner sections to add a little extra touch of color. Then I simply used some tape to attach the banner to the back of the frame.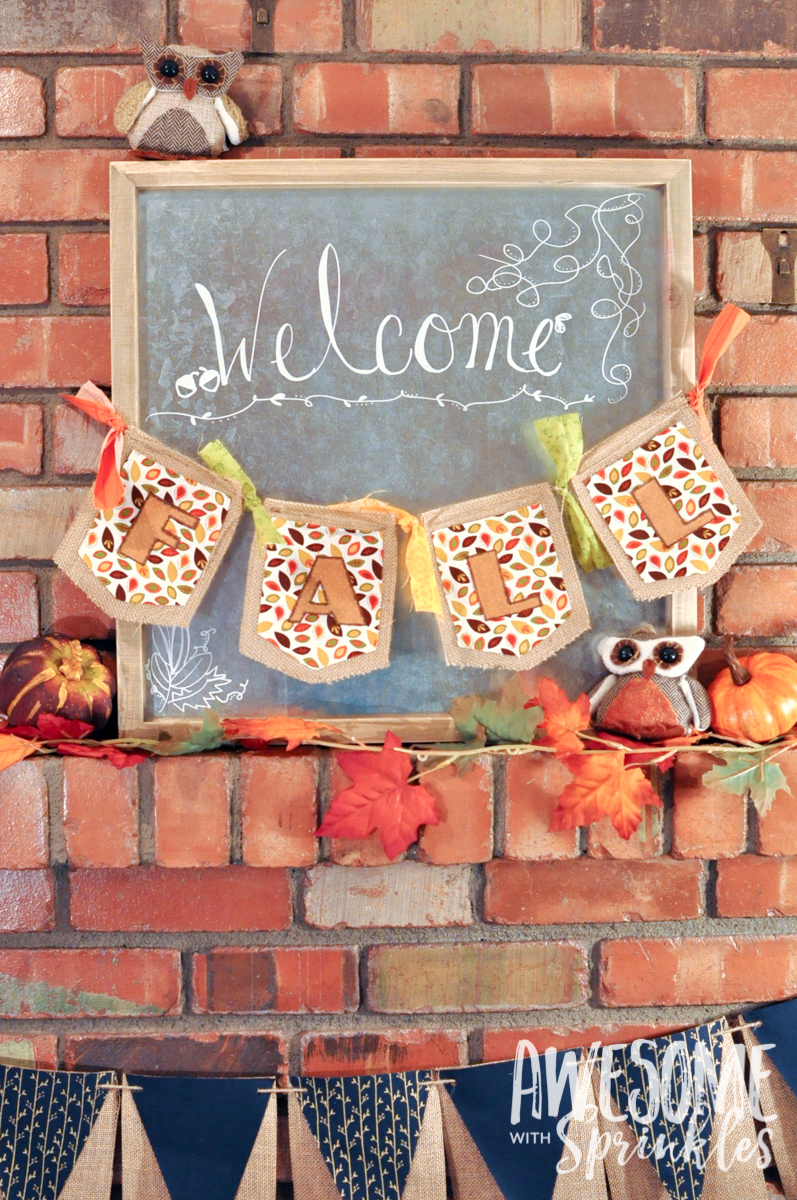 LOVE IT! It's just what my home decor needed!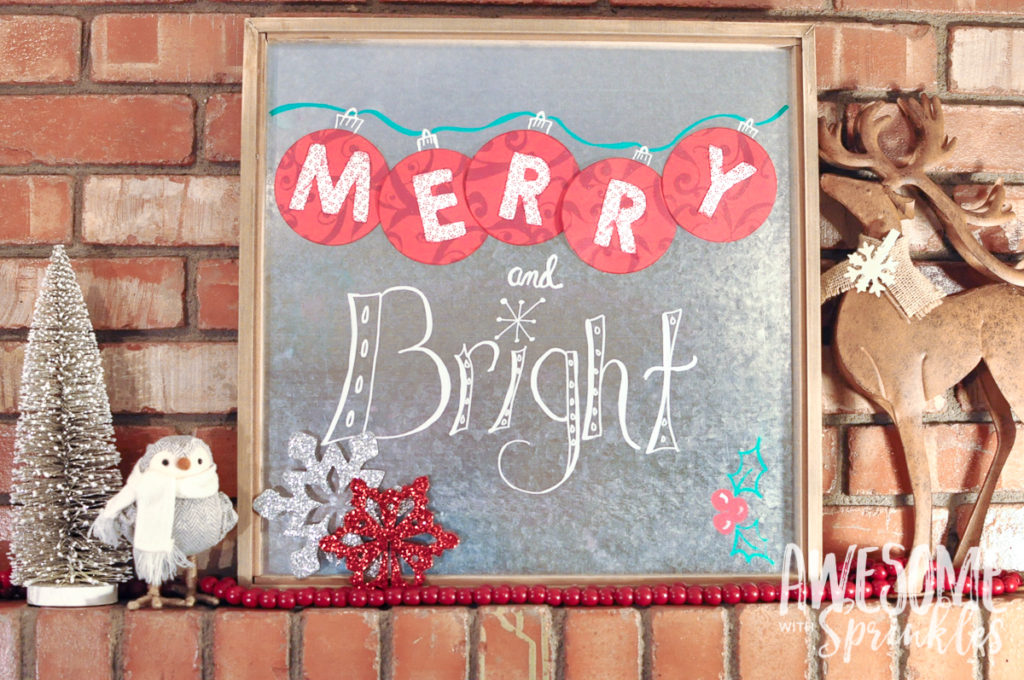 For my "Merry and Bright" holiday sign I used cute seasonal paper instead of fabric. I added some accents to the paper to make them look like a string of ornaments! I even busted out the glitter pens and added some sparkles!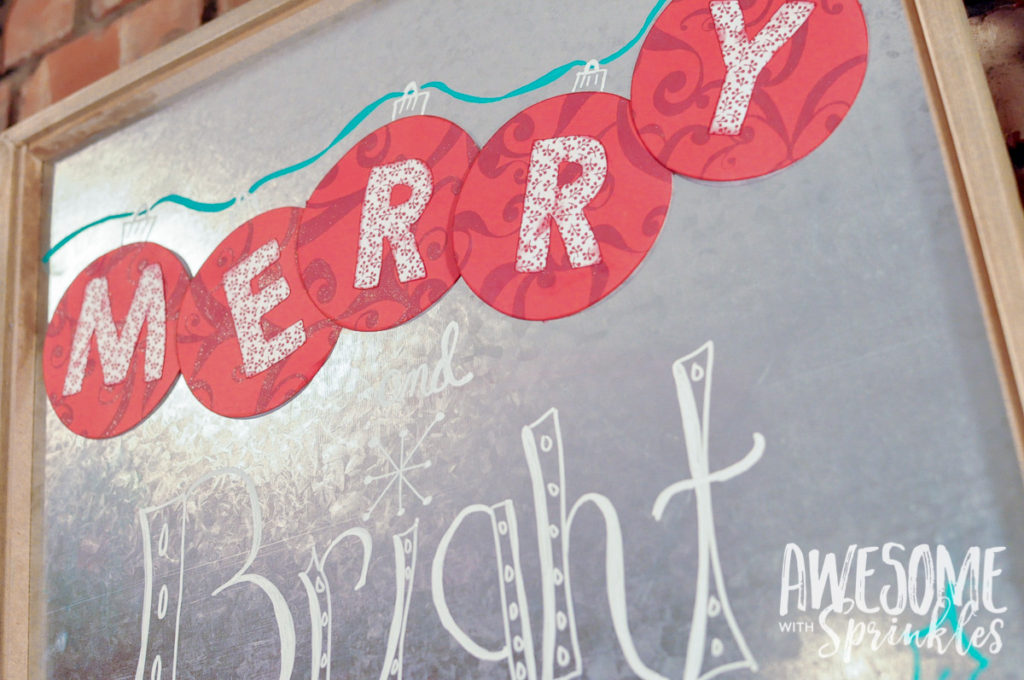 You can use fun seasonal magnets, twinkle lights, additional banners, and all sorts of things to embellish your sign. Seriously, the possibilities are endless and fun! When you are ready to swap out seasons, just tuck your decorations into a large baggie for safe keeping. So much easier than storing a half dozen bulky signs!
I started by making my fall and Christmas signs but I am so excited for what ideas might come in the new year! It's a fun ongoing project to keep my crafting all year round! How will you welcome the seasons? Share photos of your designs with us by tagging us on Facebook and Instagram! We would LOVE to see what you come up with!