Oh my macarons! These petit pastries have got our hearts melting and our sweet tooths drooling! These easy to make DIY macaron ornaments are the perfect treat for anyone who is in love with these wee French bonbons.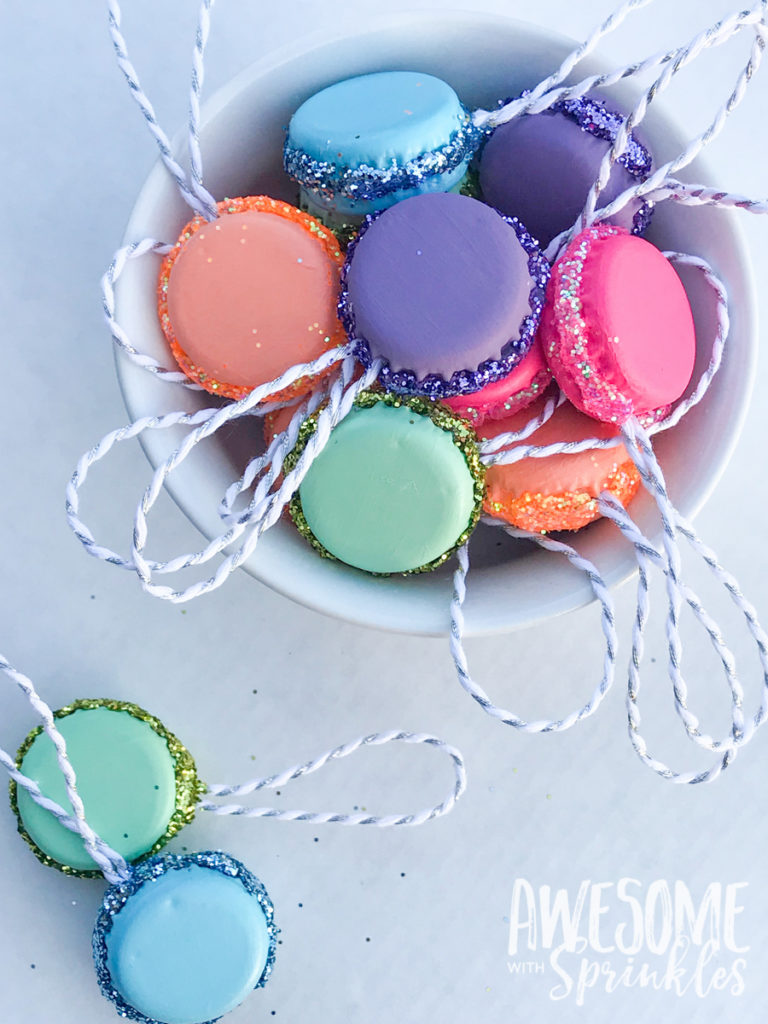 I'll admit, I am not the first to make bottle cap macaron ornaments. These little beauties were inspired by this post I came across on Pinterest. There are lots of different tutorials for them actually but they turned out just so pretty that I had to share mine too!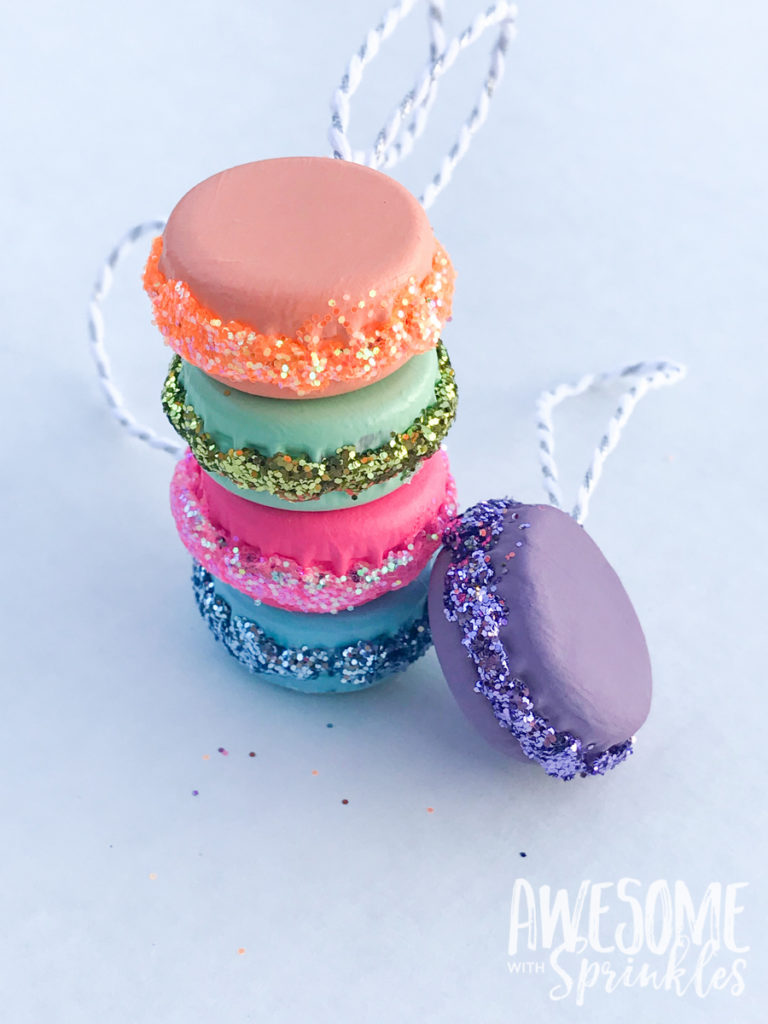 I have had macarons on my mind ever since this fall when I was inspired by the beautiful rainbow display of macarons at Jean-Philippe Patisserie inside of the Bellagio hotel while on a trip to Vegas. I had two requests from my gal Liz for my trip to Vegas: 1. visit the Cosmopolitan and 2. bring her back some fancy macarons.
Check.
And check.
Liz has kind of been obsessed with macarons this year. So I got it in my head that I was going to get her a macaron ornament this year for Christmas. I thought for sure I would find something charming in one of the shops in Vegas – I was staying at the Paris for goodness sakes – but alas nothing was cute enough, glittery enough or sturdy enough to survive the curiosity of her cat.
So I decided I would get crafty and make my own! Time for some Pinterest research! Ooooh my favorite kind of "work"!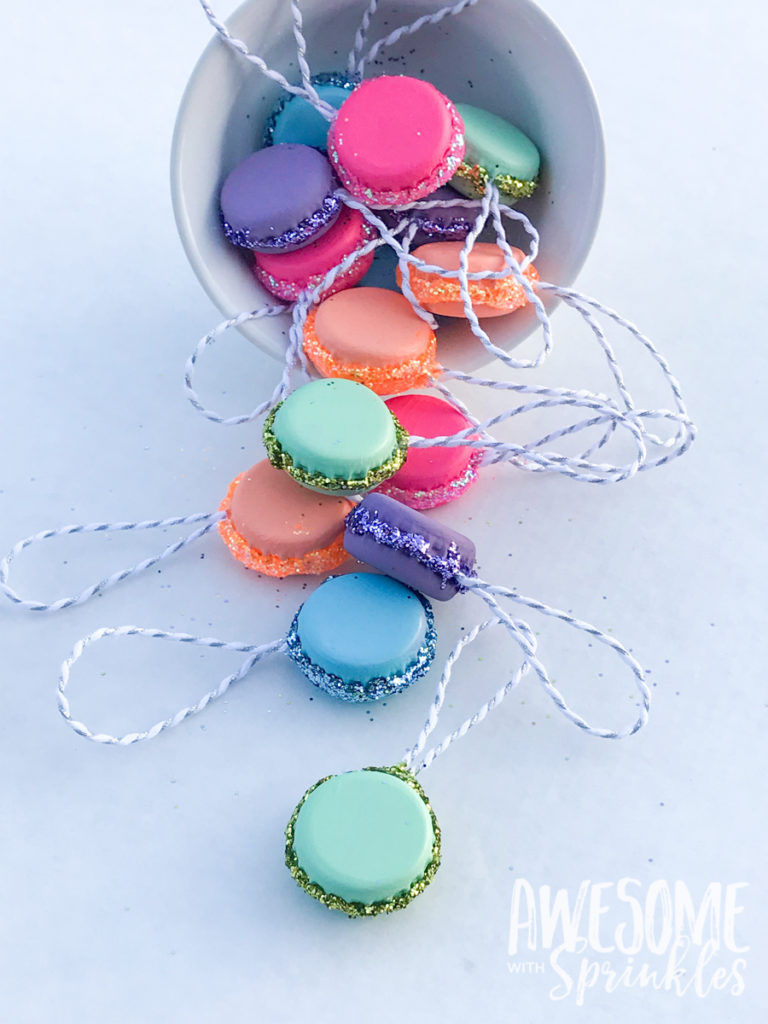 Even though I made these to give as Christmas gifts, I can totally see them coming back for more fun for Galentine's Day!
Leave off the hanging string and use as table scatter or place card holders for a French brunch! Package multiple macarons in a mini sweets box for decorative everlasting treats! Or swap the hanging string for a metal loop and hang from a chain for a sweet statement necklace. Oh la la!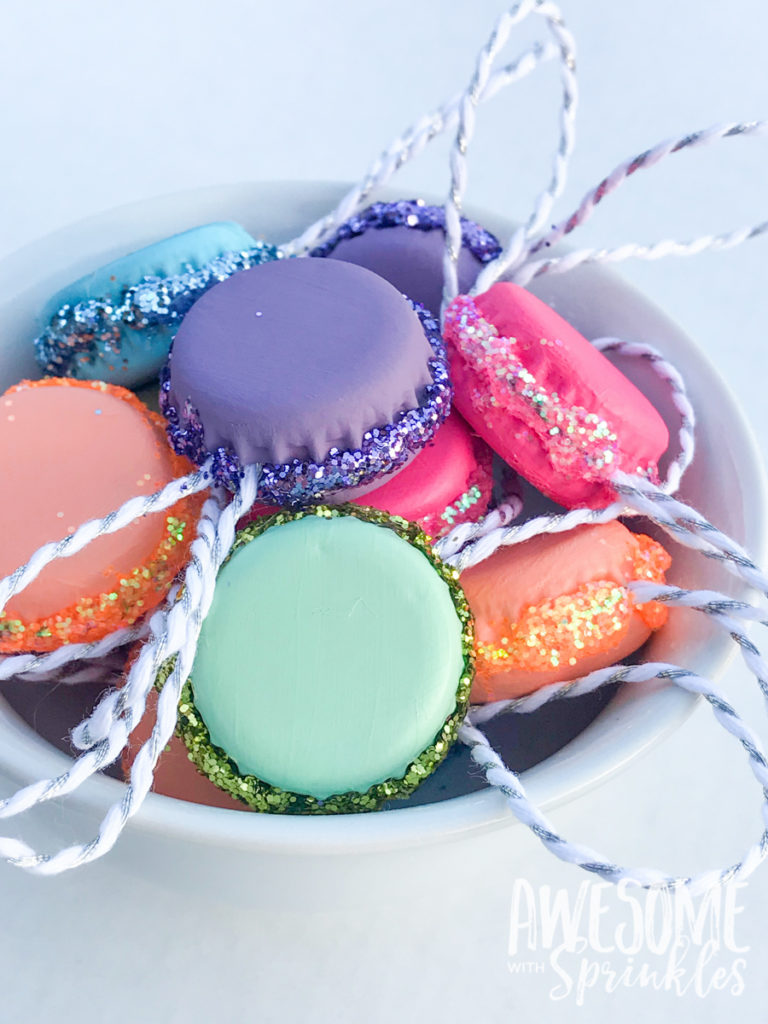 How to Make DIY Macaron Ornaments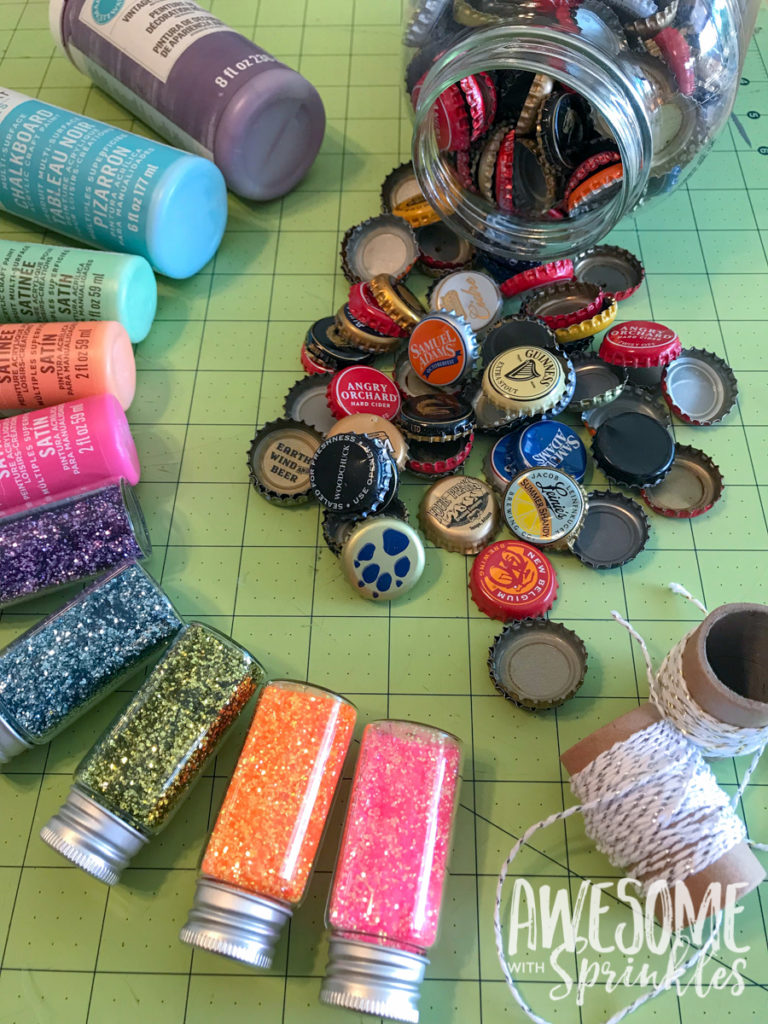 What you'll need:
hot glue gun + glue sticks
bottle caps
paint (I used matte finish and chalkboard acrylic paints)
string
GLITTER!

1. Paint bottle caps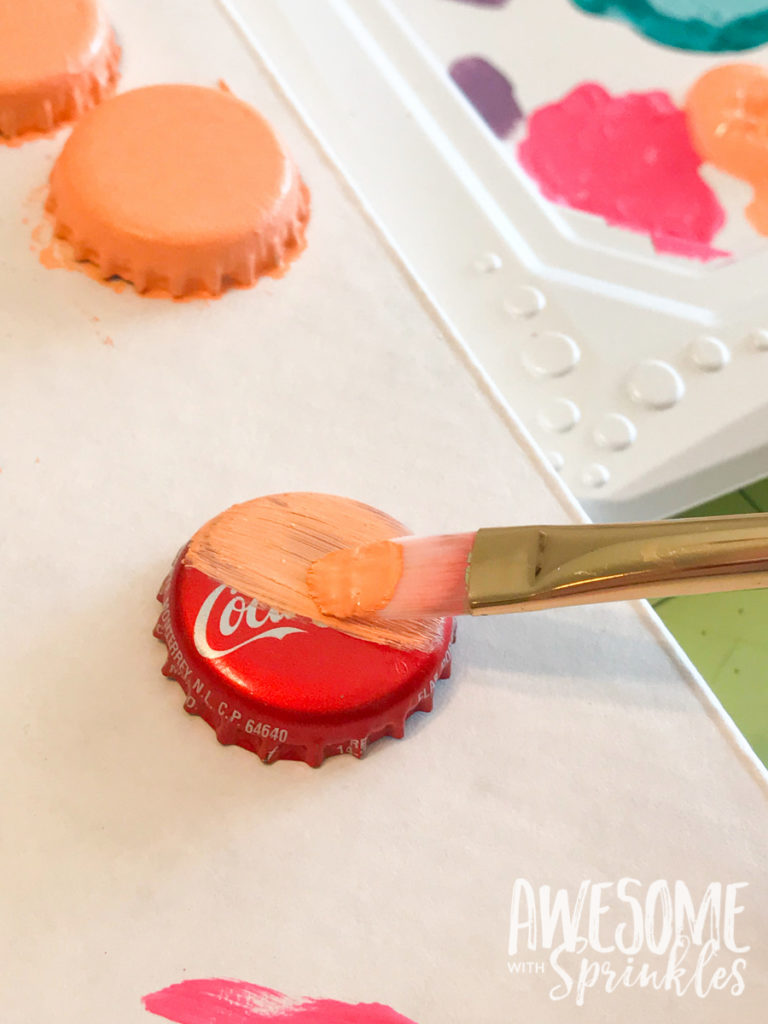 Sort the bottle caps into pairs – two bottle caps for each macaron. Try to use caps that are in good shape and aren't bent too much from being pried open. Twist-off caps work great for this project! Clean the bottle caps of any sticky soda residue before painting.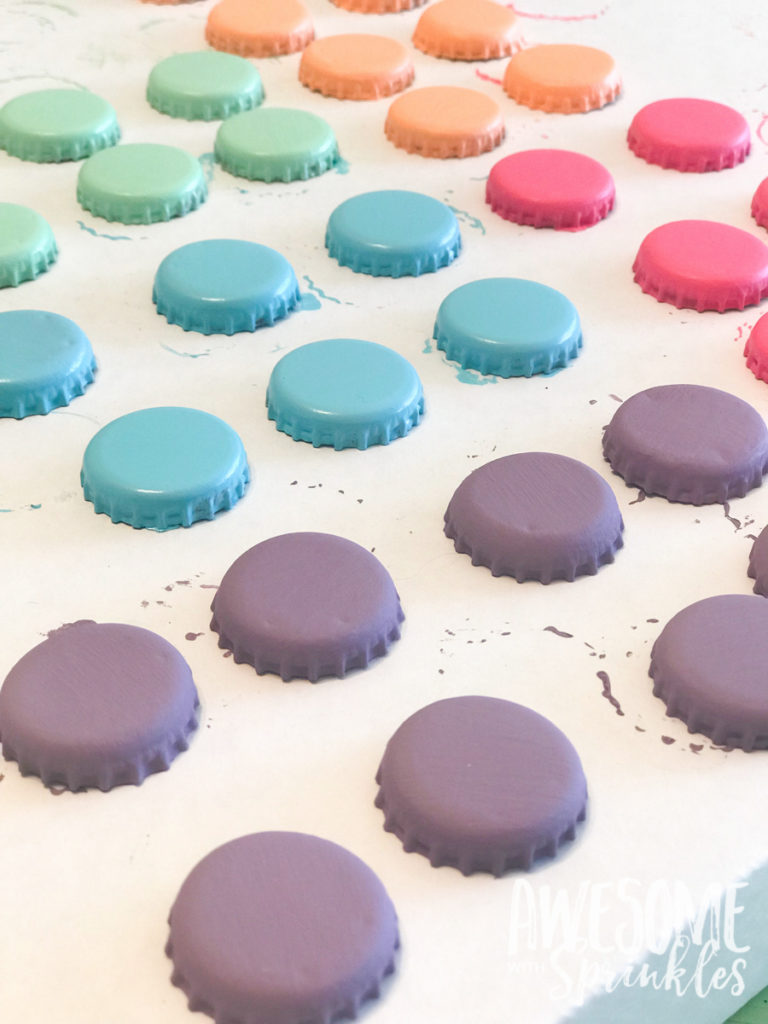 Paint the bottle caps. It took me about 3 coats of paint to cover up the logos on the caps. Let each coat dry to the touch before painting on the next to avoid the paint lifting off.  I used acrylic paints with a satin or chalkboard finish so that they had a similar matte look as real macarons. Let dry completely before handling.
2. Add a string for hanging (optional)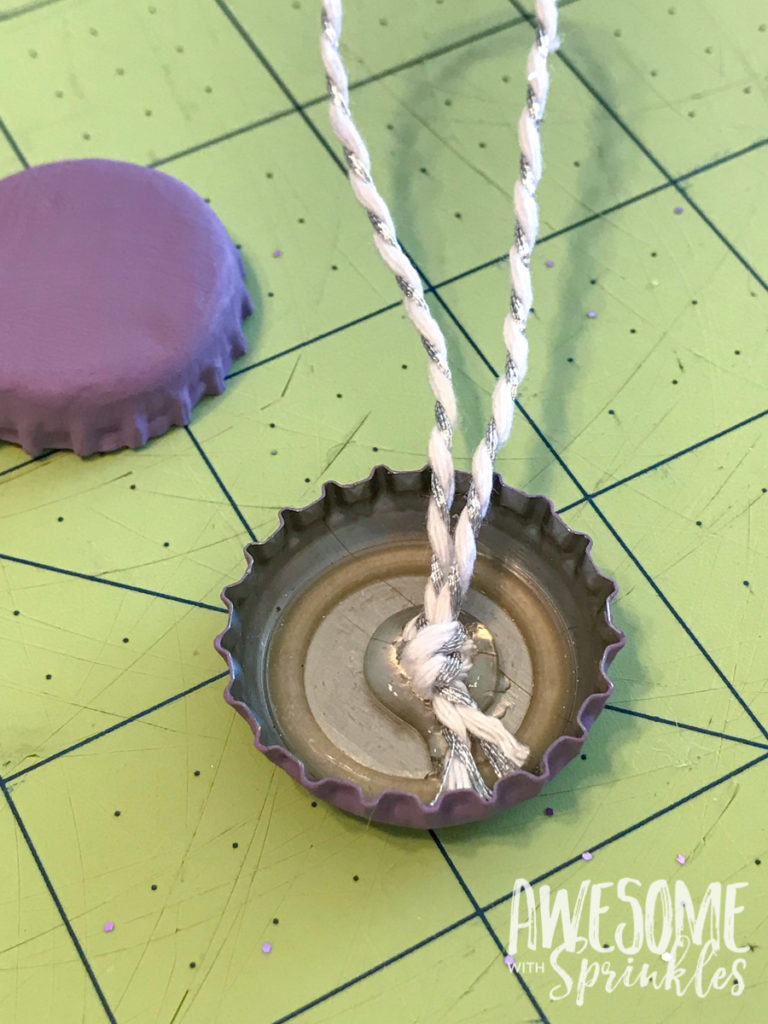 Cut pieces of string (about 8 inches) into equal pieces, one for each macaron, and tie into a loop. Place a bead of hot glue in the center of one of the bottle caps and press the knot of the string loop into the glue and let dry.
3. Glue + Glitter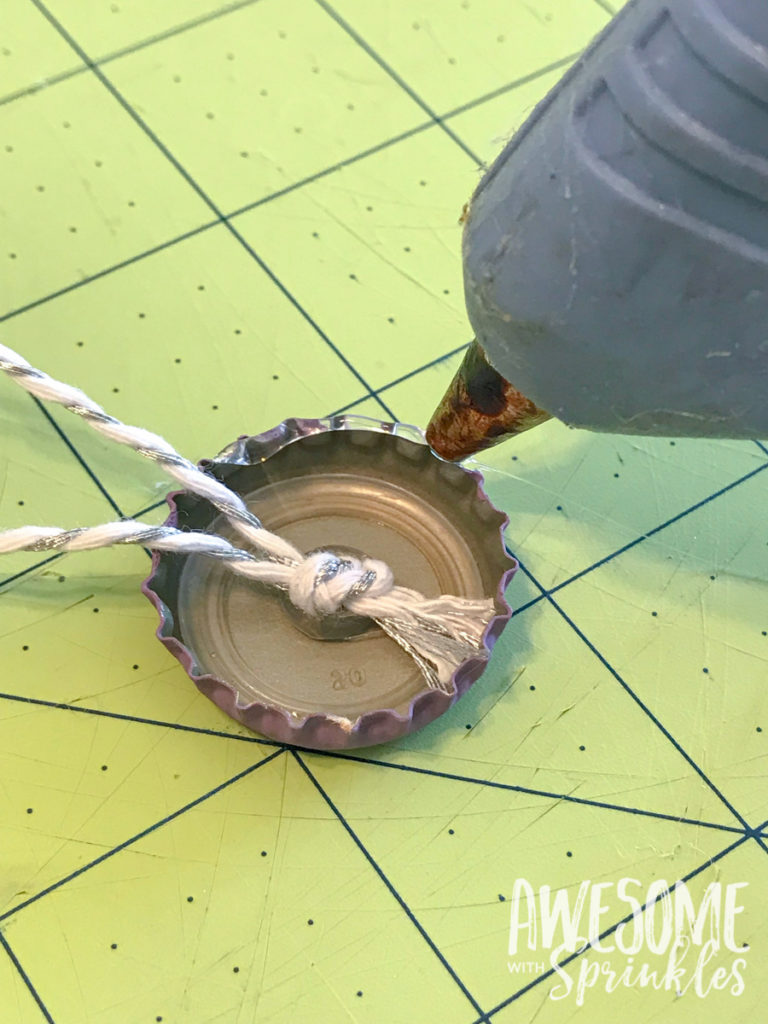 Run a bead of glue along the outside edge of one of the bottle caps, working quickly so that the glue doesn't dry. Line up the ridges of the bottle caps and place the second bottle cap onto the first one and press together. Hold for a few seconds while the glue dries.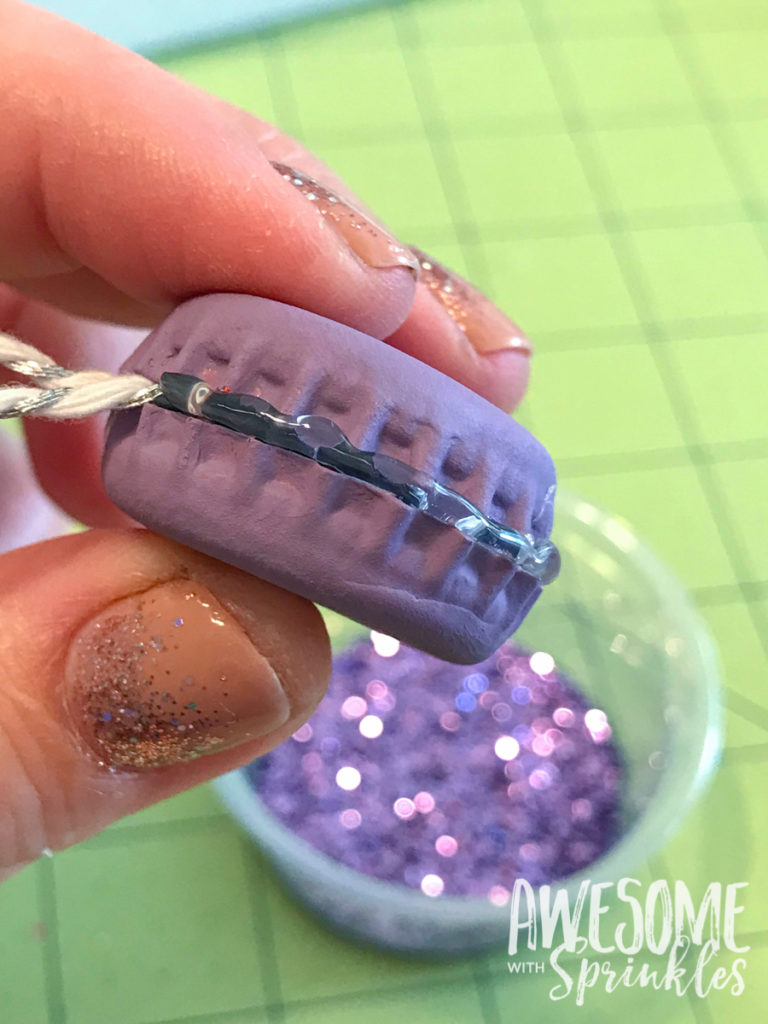 Add a bead of glue around the outside edge, along the seam of the caps and then gently dip in the glitter. Work in sections (I did a quarter at a time) to make sure that the glue doesn't dry before you get the glitter on.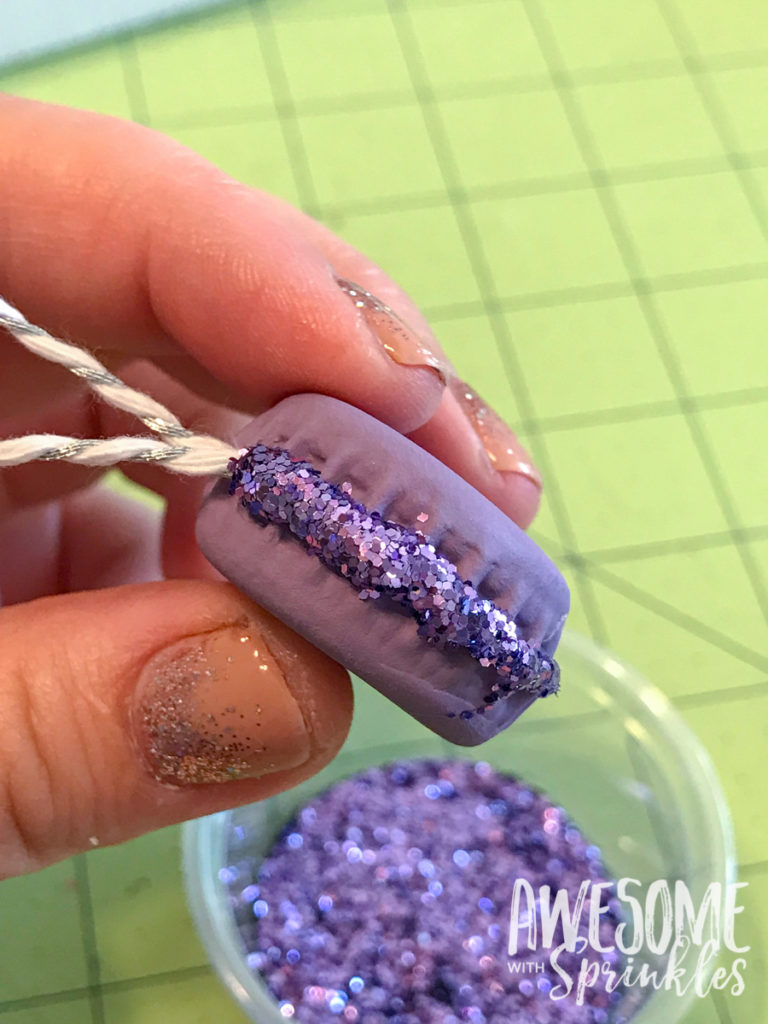 Press the glue gently into the glitter being sure to cover the hot glue bead completely but not to smush the glue flat. You want the bead to keep it's rounded shape so that it looks like the filling of a macaron squishing out.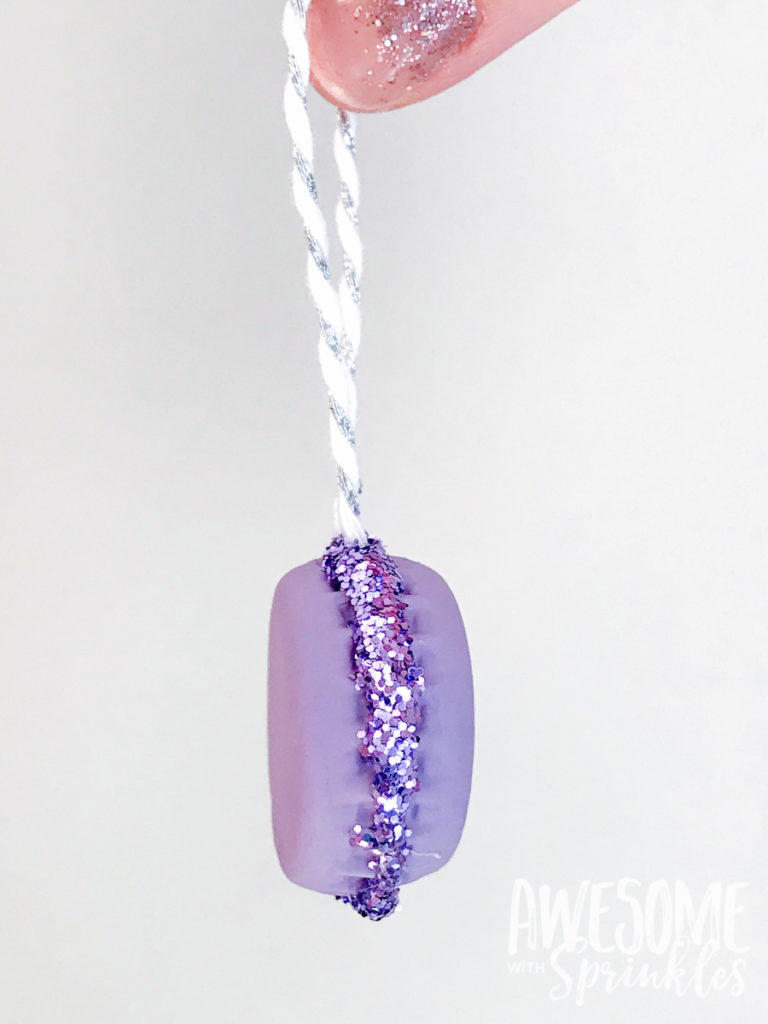 Once you have glittered all the way around, let your little macaron dry completely. Admire its teeny sparkly beauty and try not to let your mouth water too much.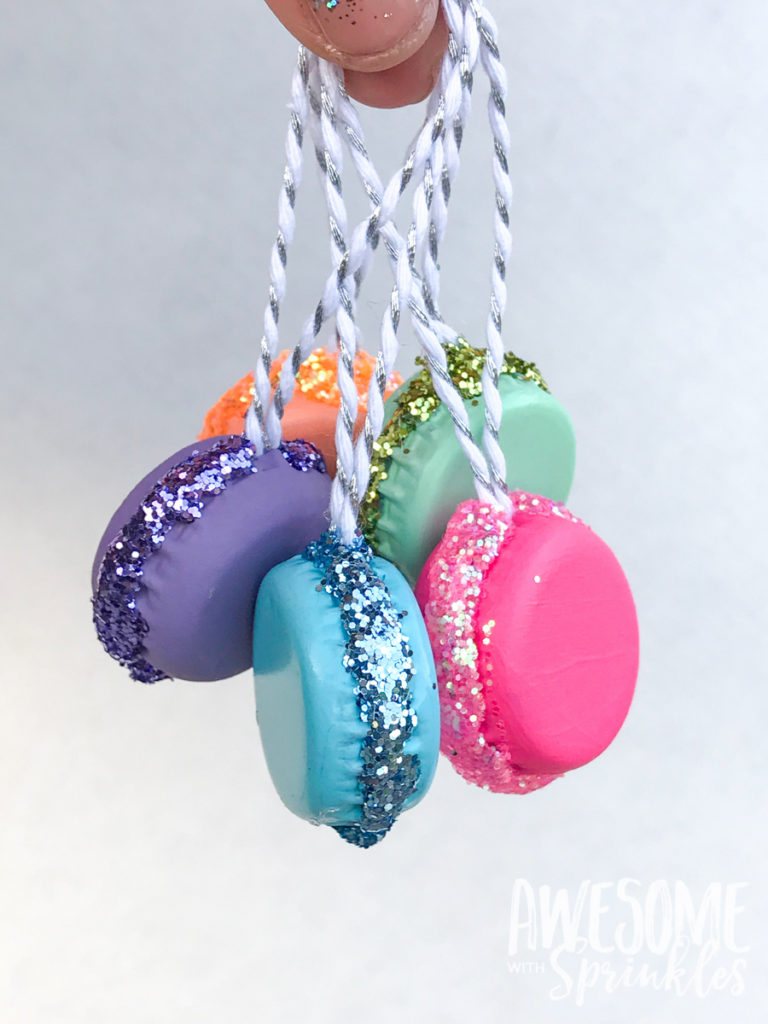 Repeat again and again! I used these beautiful pastel colors with matching glitter to really get the look of traditional macarons and add a little pop of color to my mini Christmas tree.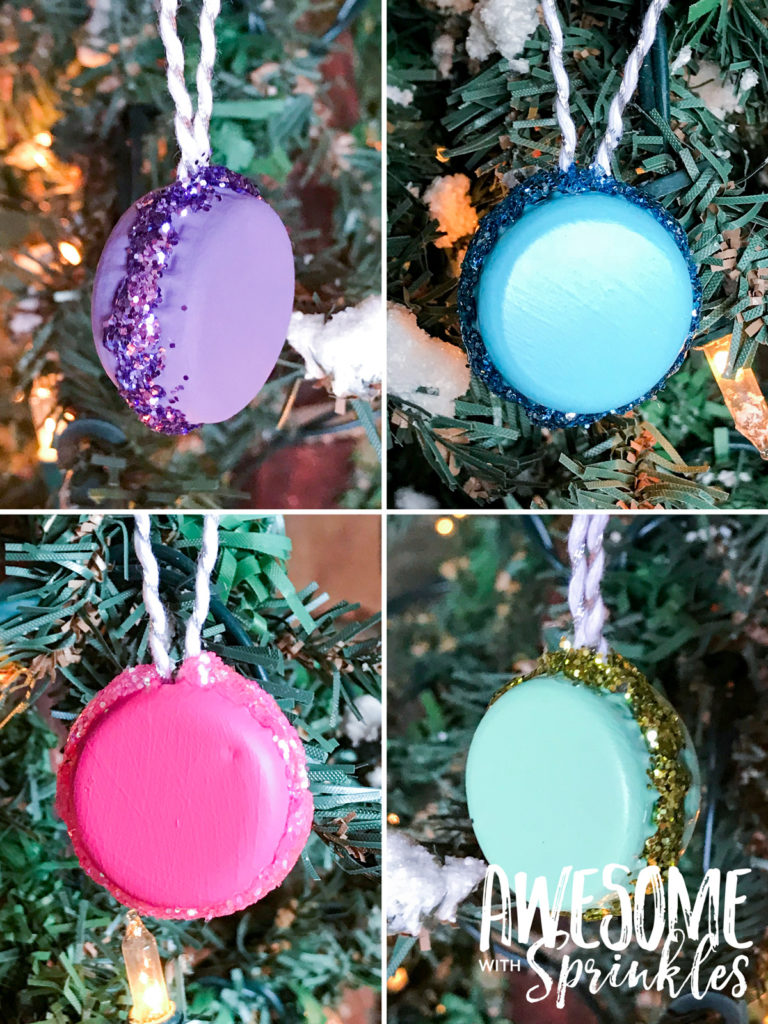 Use your mini macarons to trim a treat themed tree…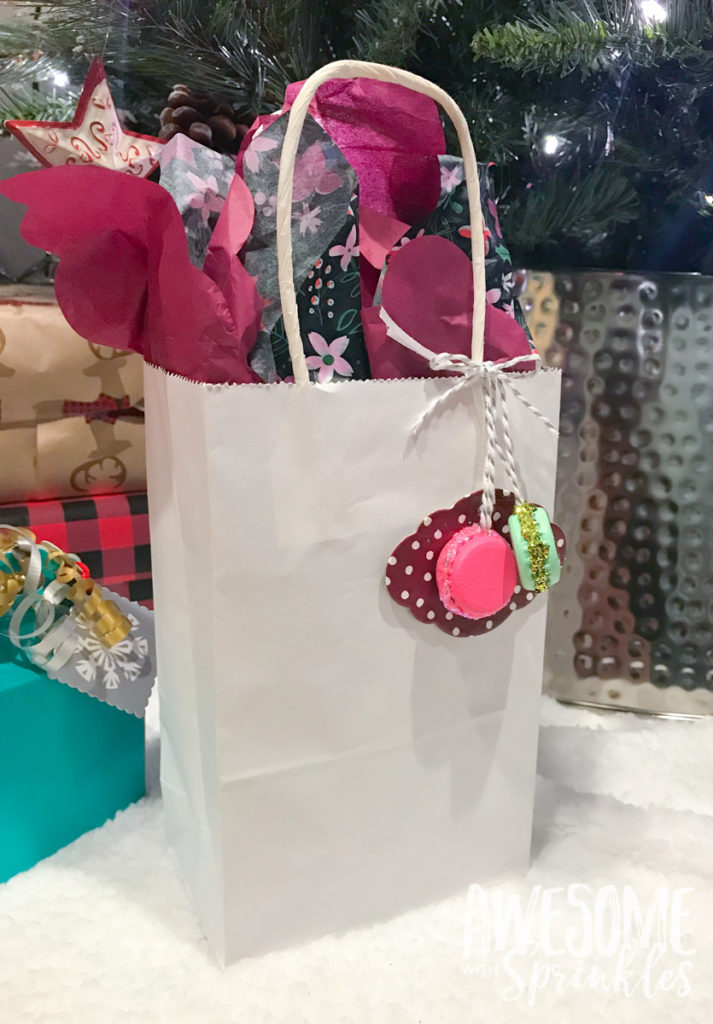 …or to sweeten a gift for someone special!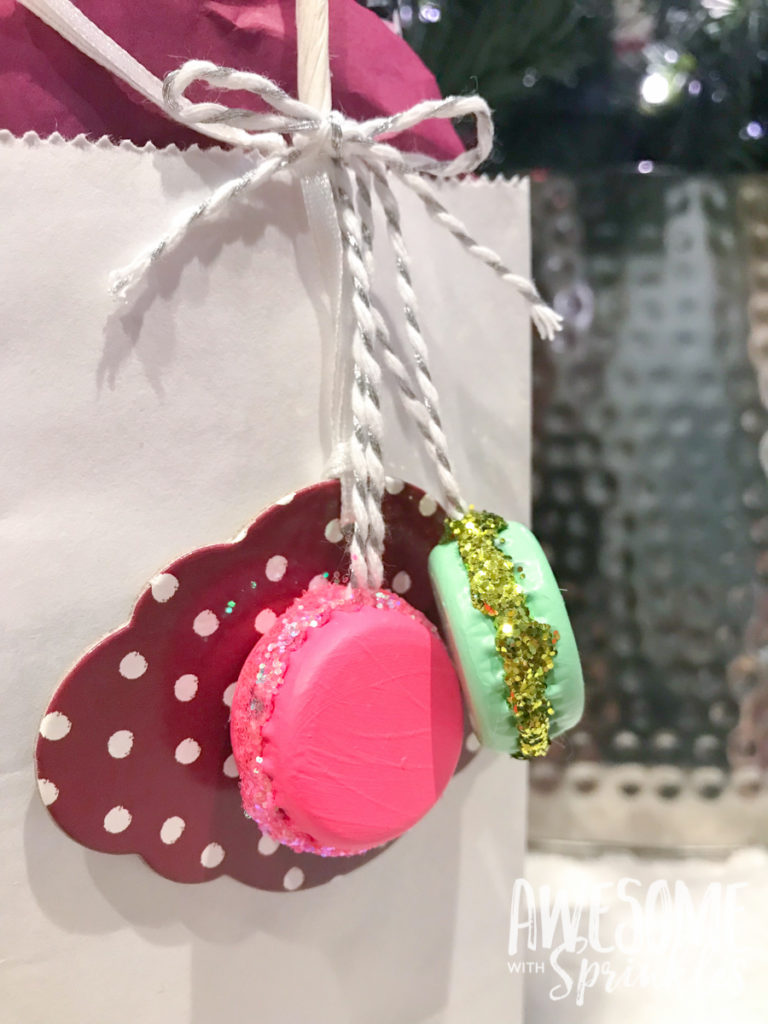 They look absolutely adorable atop a gift box or hanging from a bag.