Howdy friends! I hope that you had an awesome evening of trick-or-treating last night! We did! Now we're winding down from all the Halloween hubbub (and recovering from our sugar rushes) and getting ready to gear up for the holidays! I don't know what it is but I am extra super excited for the holiday season this year! How about you?
With the holidays comes the hustle and bustle of the season. Filled with holiday parties and social engagements, Christmas shopping, gift wrapping, guest room prepping, tree trimming, decorating, stringing up lights, cookie making, crafting and other various decking of the halls…my calendar looks like a technicolor rainbow exploded on it!
At the end of the day often times I am too busy (or too tired!) to even think about making dinner. That's where some easy crockpot recipes are the true heroes of the holiday season!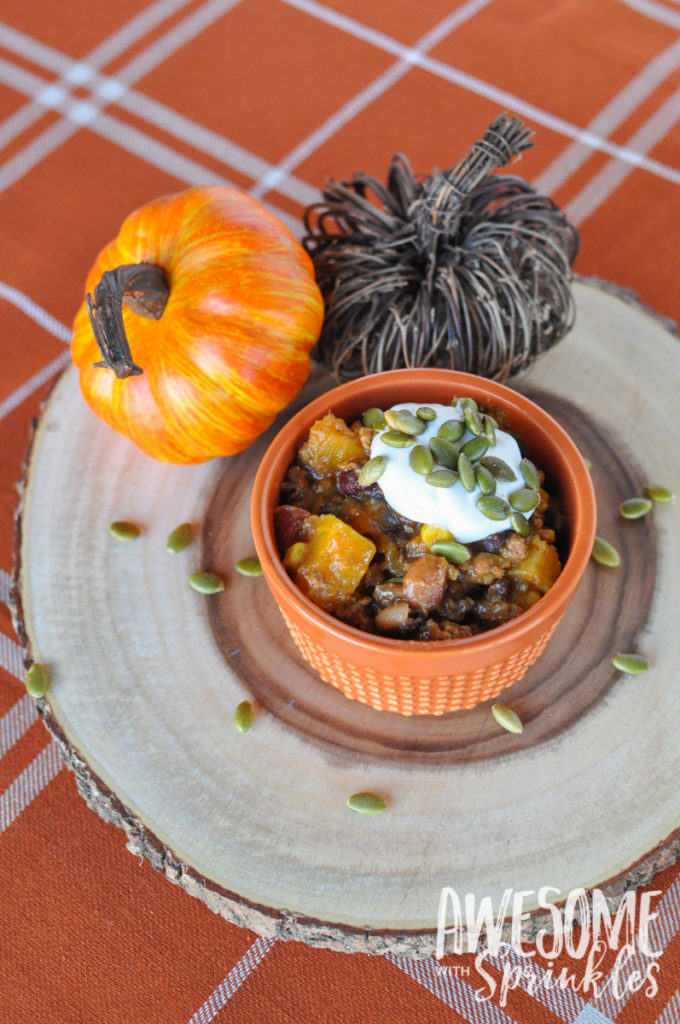 This crockpot pumpkin chili is my fall/winter go-to chili recipe. It is easy to toss together and is packed with flavor and texture! I don't know about you, but I like my chili chunky and full of meat and this chili delivers!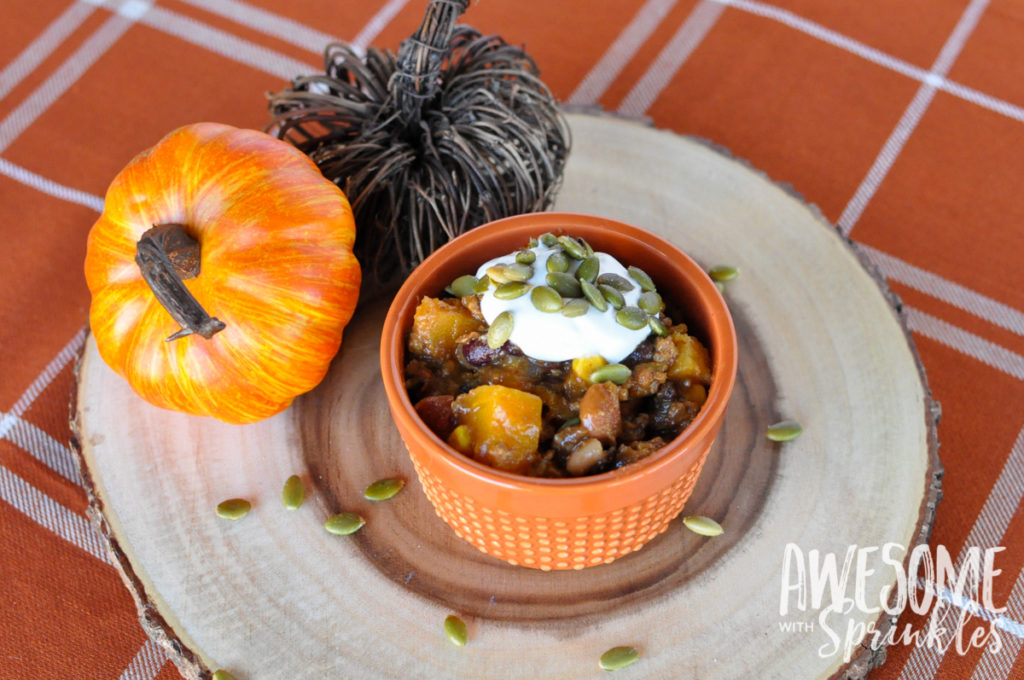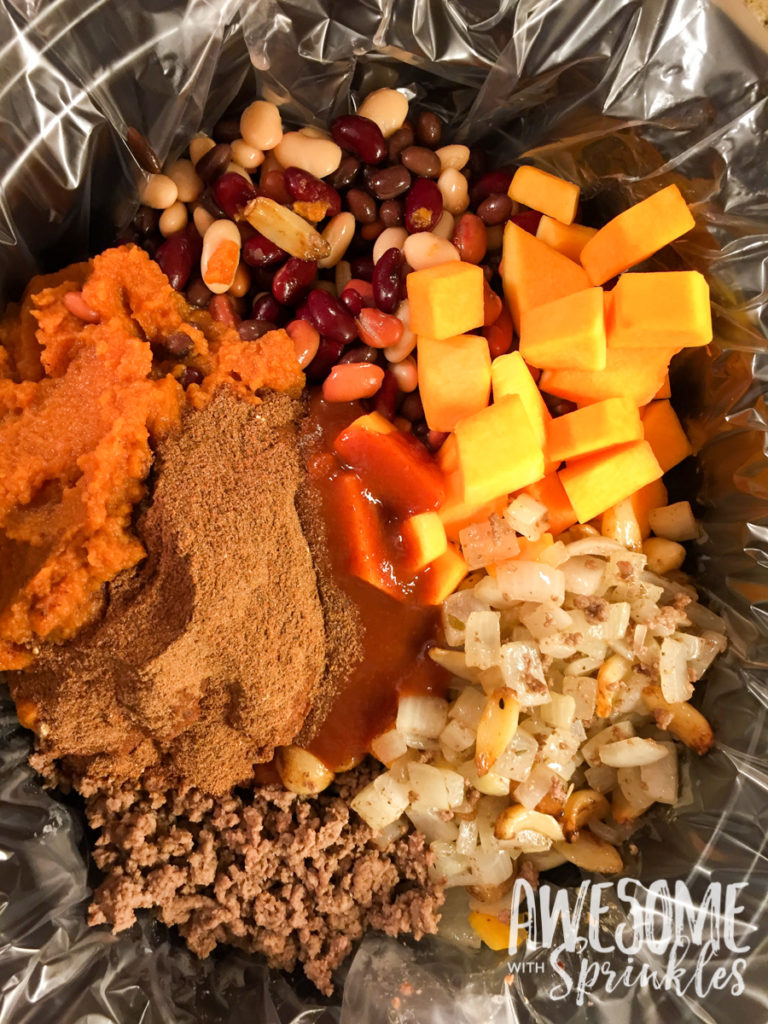 Just toss everything into a pot, forget about it for a few hours and come back to this: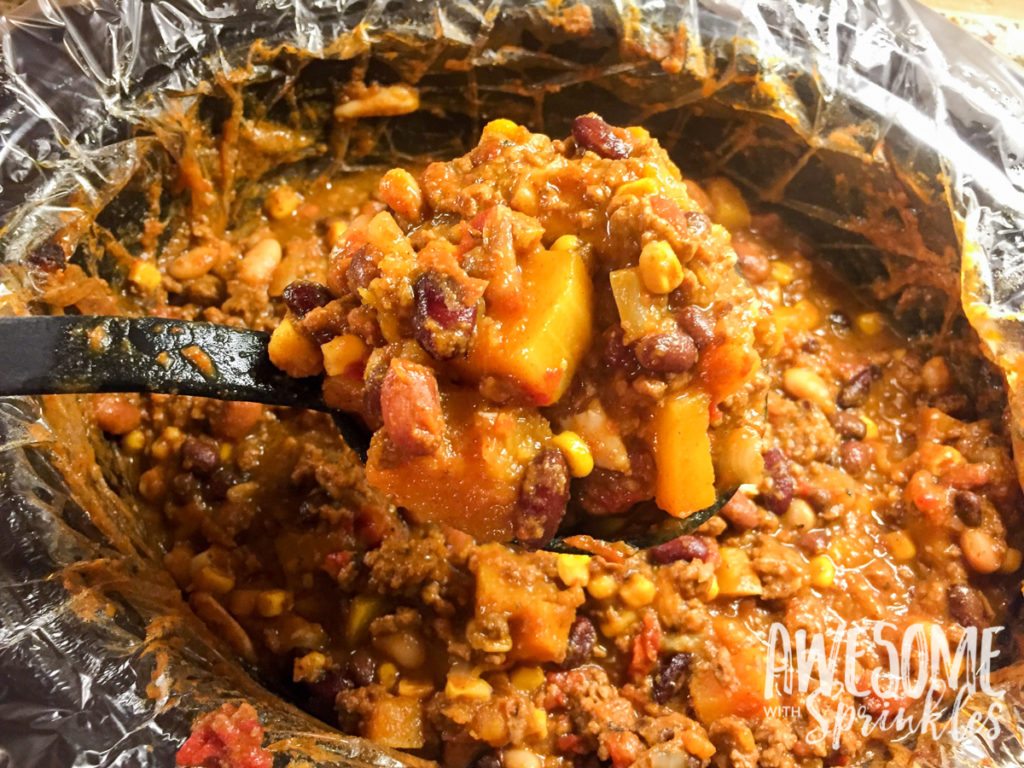 A warm, yummy bowl full of goodness ready for devouring. This pumpkin chili packs a generous helping of meat, beans and chunks of pumpkin into each bite. It has a little bit of a spicy kick to it and you can easily adjust the seasoning to your liking if you like more or less spice.
What really sets this pumpkin chili apart from others I have tried is that it not only contains pumpkin puree, but also hearty chunks of fresh pumpkin! Yum! You can also sub the pumpkin for butternut squash, which is often easier to find than pie pumpkins suitable for eating. Most grocery stores are starting to carry bags of pre-cut butternut squash as well, which makes your life even that much easier!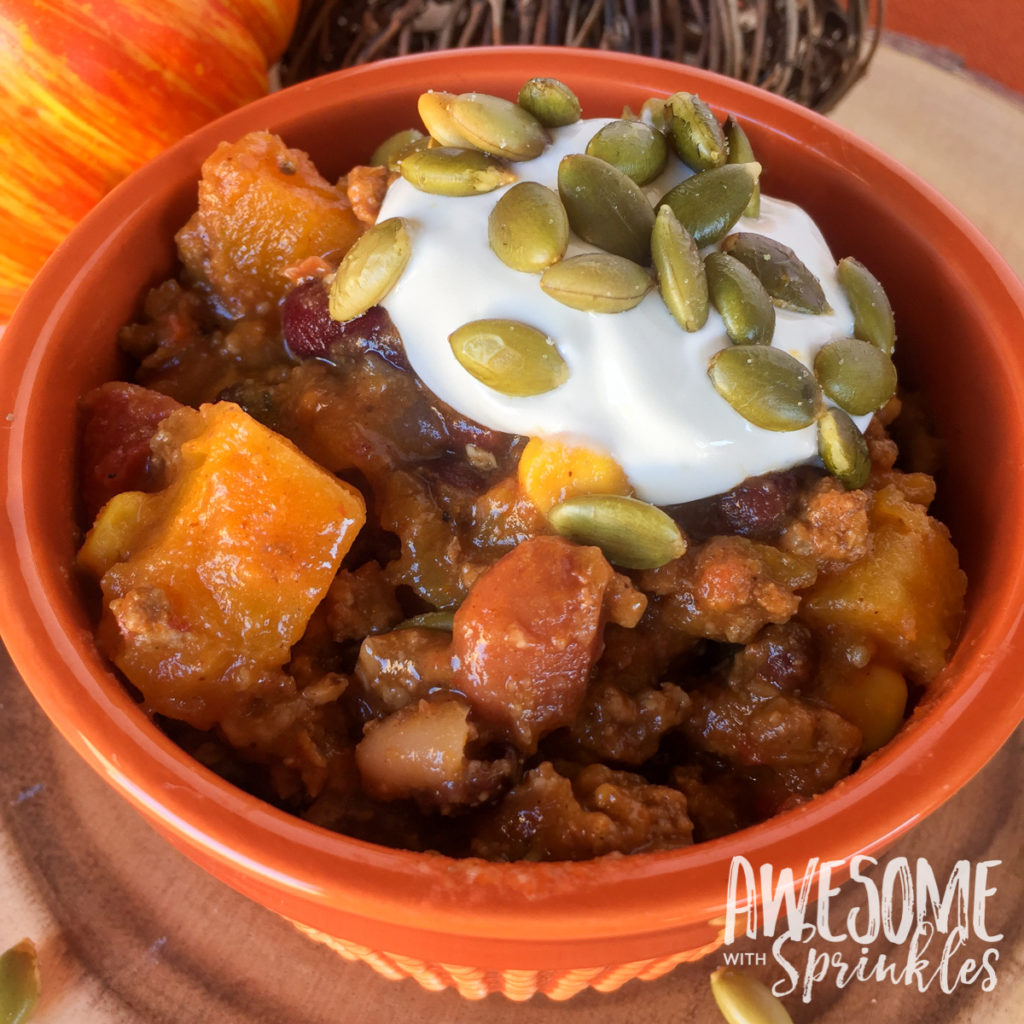 This recipe makes a heaping crockpot full of chili, so it's perfect for Sunday night football gatherings. I like to freeze the leftovers to have on hand for other busy nights throughout the month.
I almost always make a big pot of this pumpkin chili for Halloween night (though this year I made this harvest pumpkin soup instead) so that there is no fussing with dinner while getting ready for trick-or-treaters.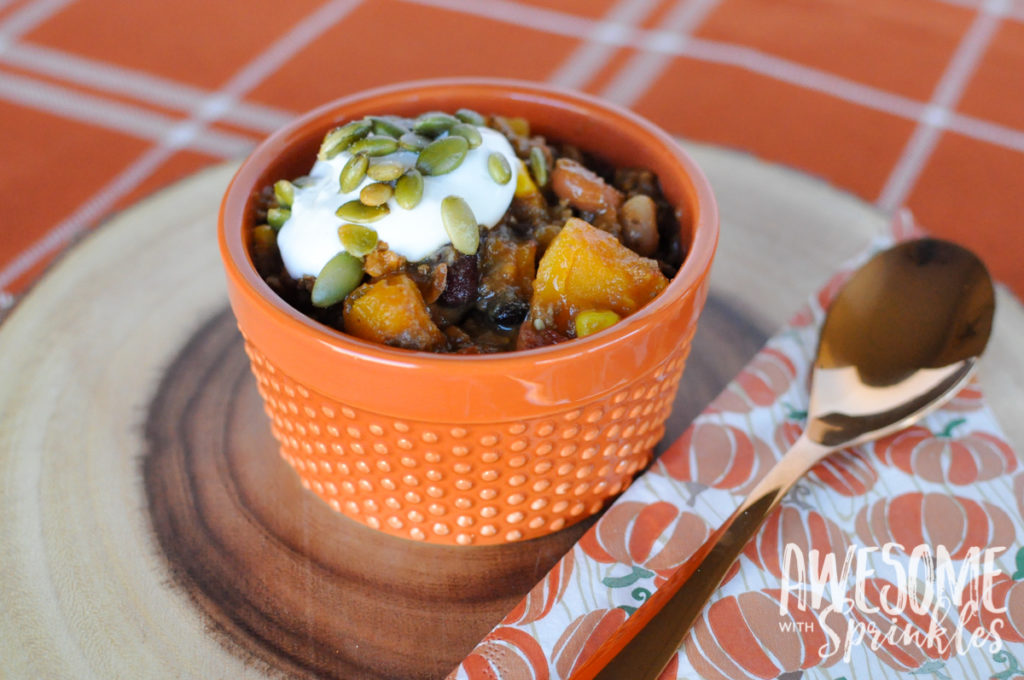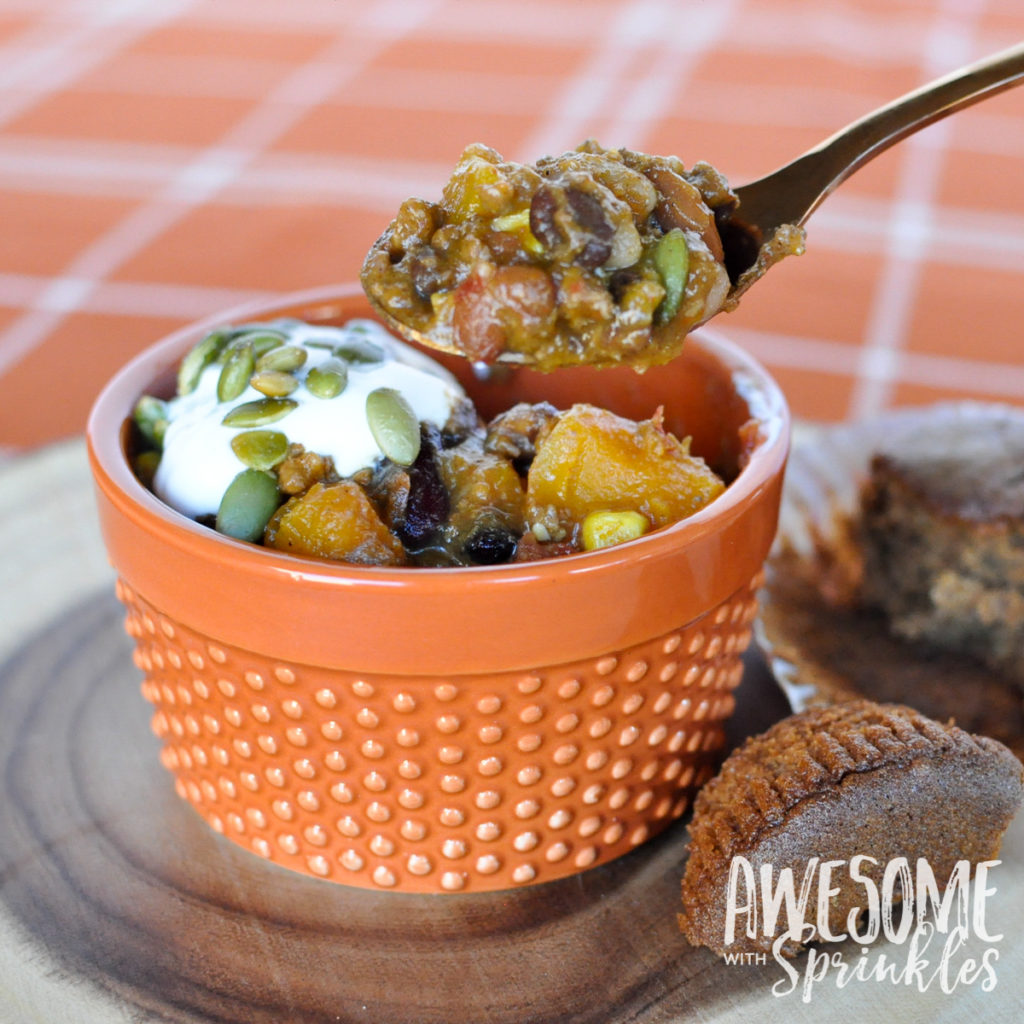 Serve with a dollop of sour cream (or shredded cheese) and sprinkle with pepitas for a little extra crunch! You can also serve with corn chips, crackers or my favorite, pumpkin cornbread muffins! So yummy! I really hope you enjoy this pumpkin chili as much as I do!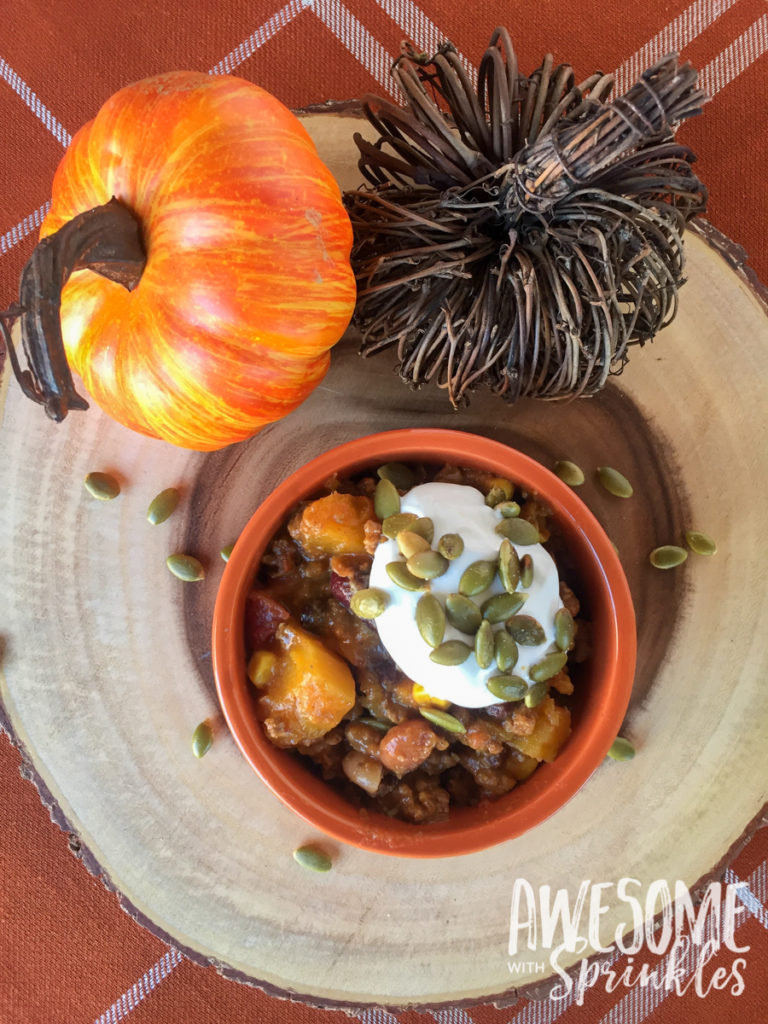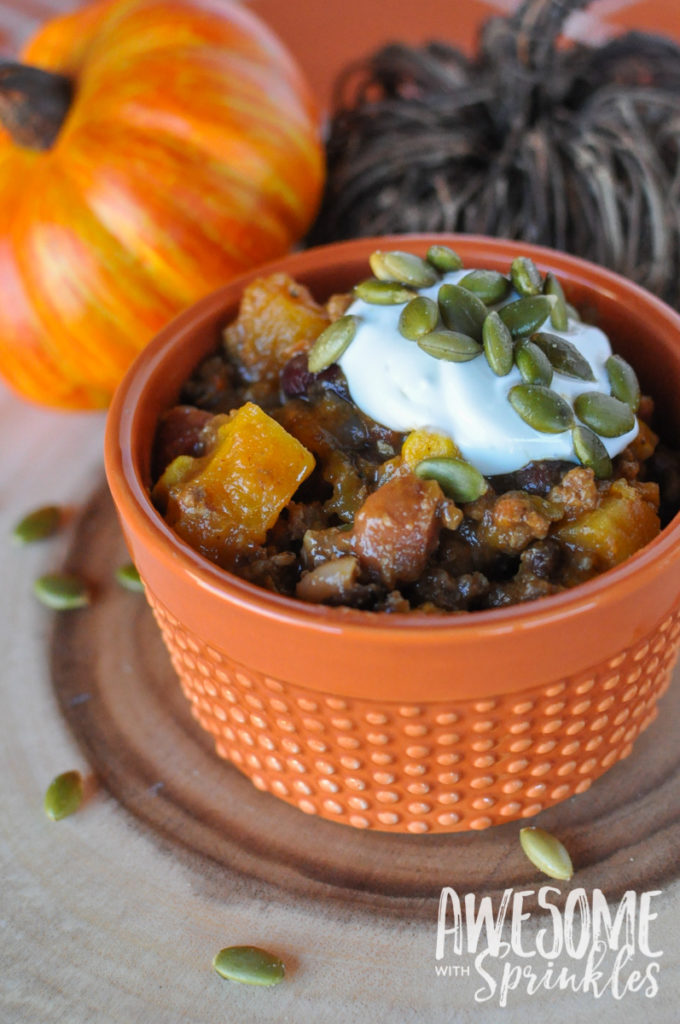 Pin for Later: