Nothing says fall in my house like a big bowl of this hearty harvest pumpkin soup. Stir up a pot for when you are expecting company or just want a yummy comfort food to cuddle up on the couch with. Pairs well with friends, crusty bread and pumpkin beer.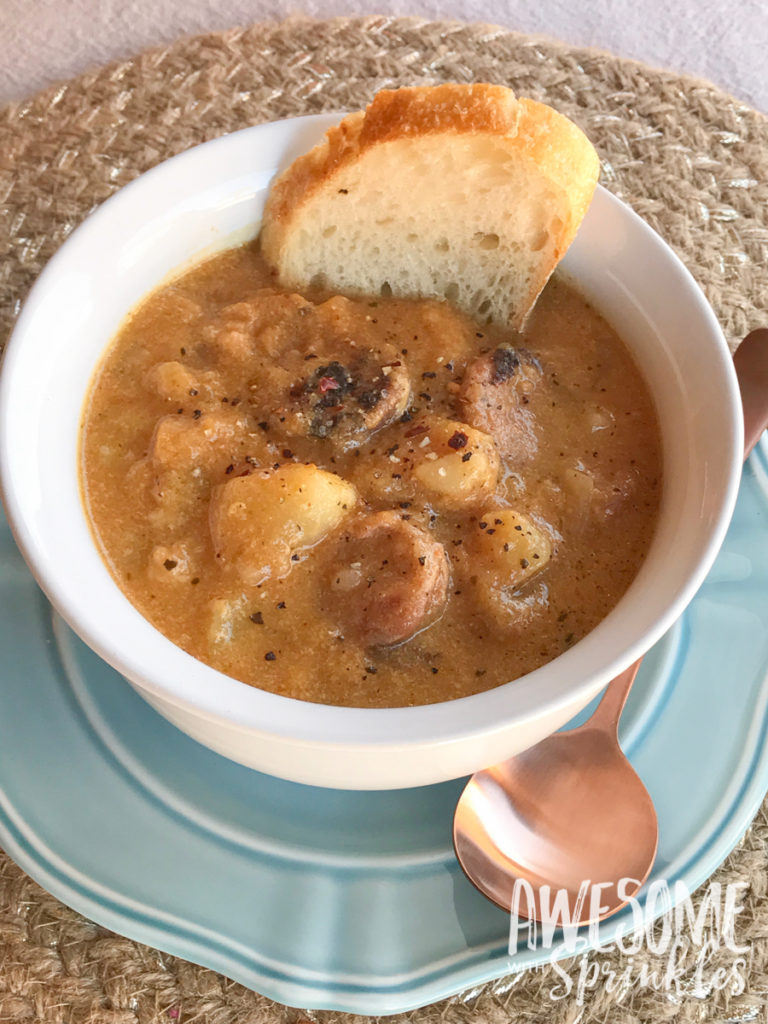 This pumpkin soup is a staple of my autumn menu. It is thick and creamy with hearty chunks of apple, potato and sausage.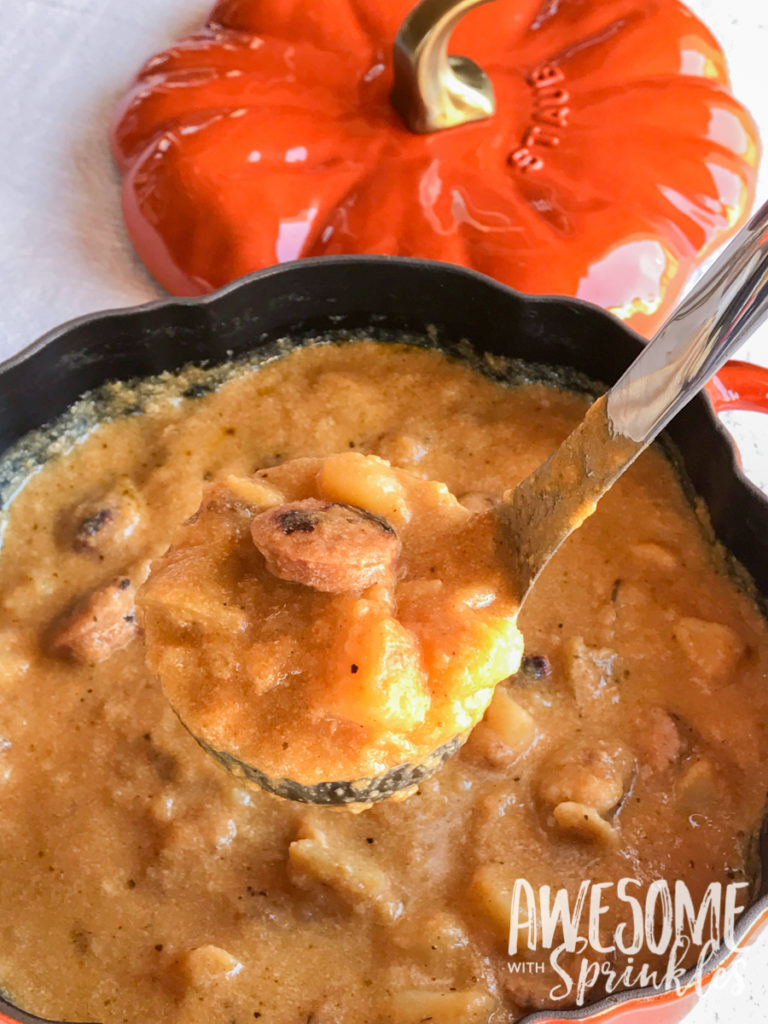 Fresh Honeycrisp apples enhance the sweet notes of the apple chicken sausage. I leave the skins on my apples but you can peel them if you like. I know it can be a texture thing. I tend to cook my soup long enough that it isn't a problem. 😉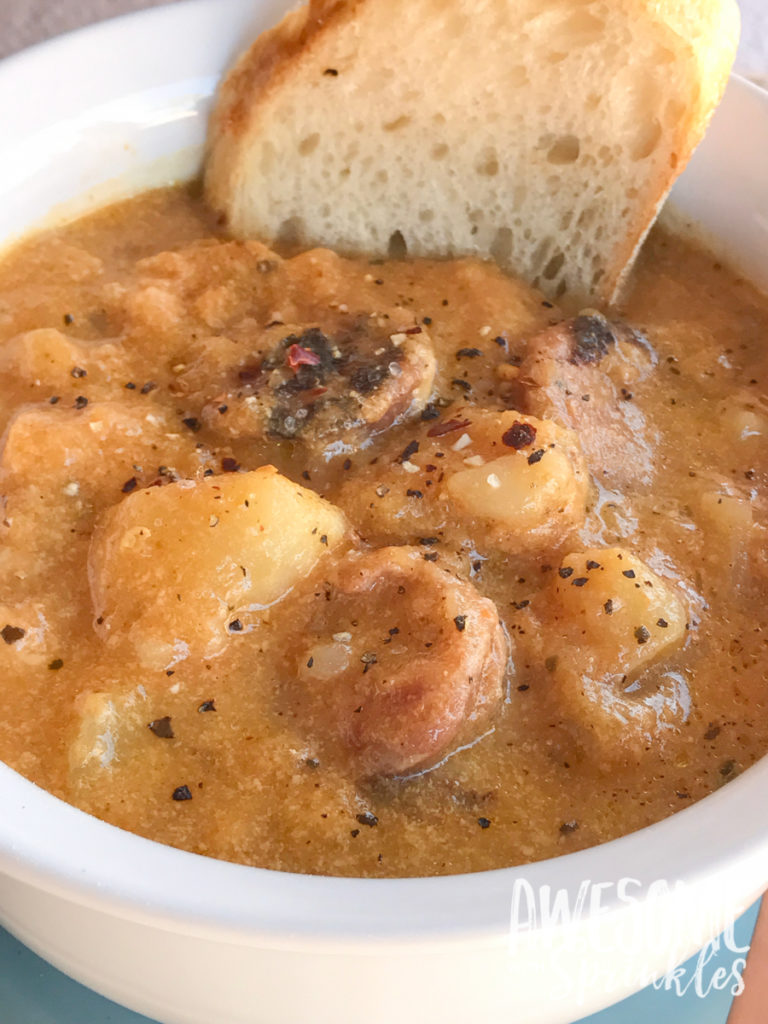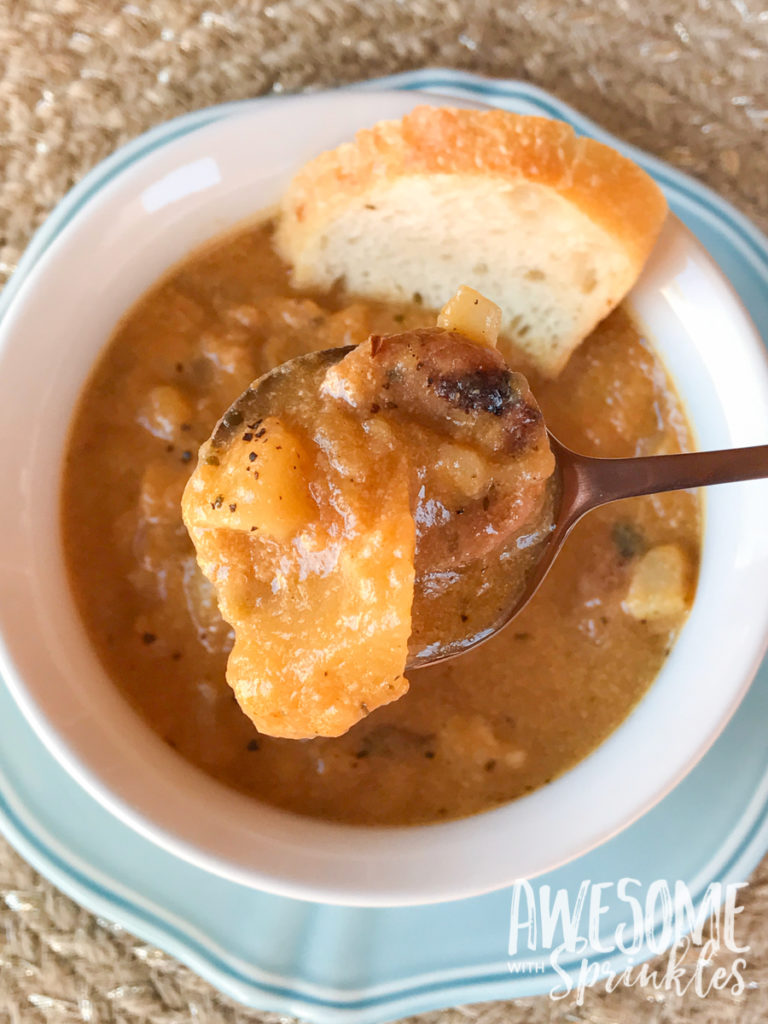 Though any sausage will do, I really like the added sweetness of the apple chicken sausage. My favorite sausages are these ones from Aidells. You should be able to find them in most grocery stores and I have even picked them up at Target and Costco.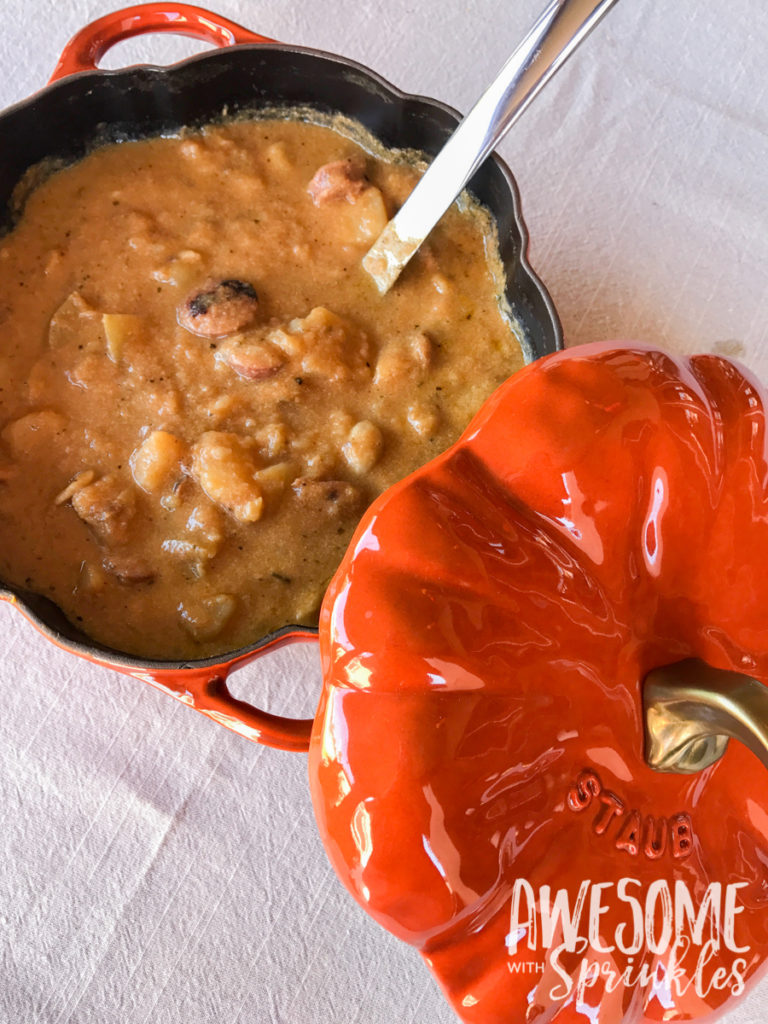 Can we just talk about this lovely pot – excuse me…cocotte – for a moment? This absolutely beautiful Staub Cast-Iron Pumpkin Cocotte is one of my favorite pieces of cookware.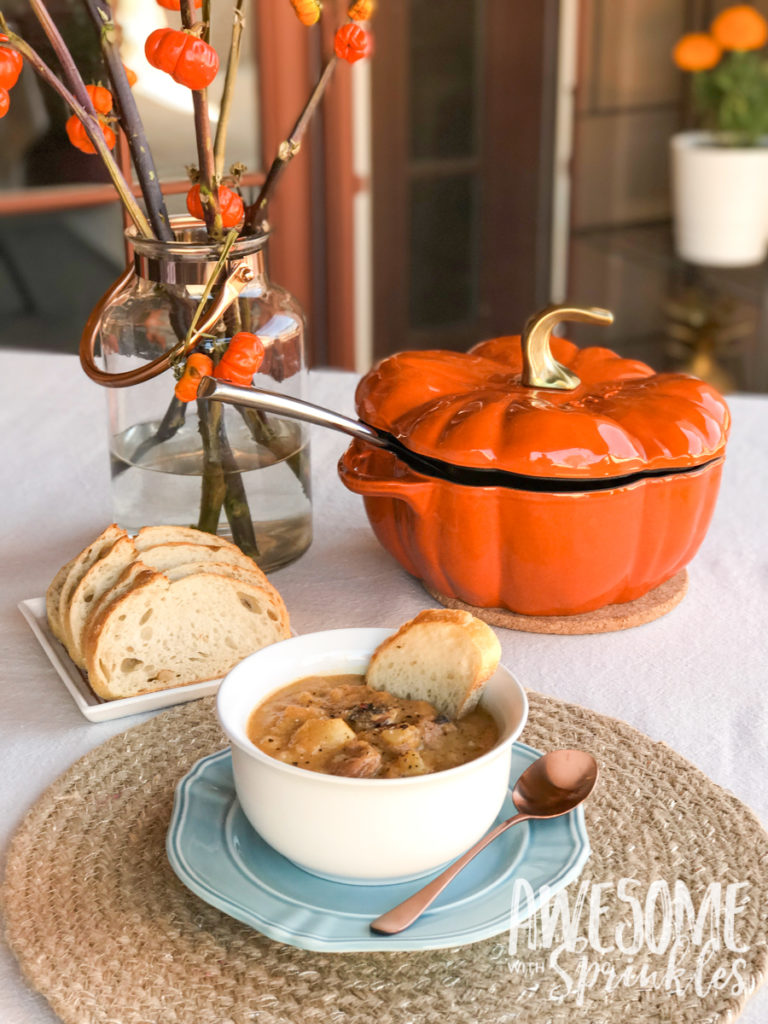 It was a birthday treat (from myself) last year and I am so excited to get it out for this autumn season! I use it whenever I can to make soup and small batches of chili. I have even baked artisan bread in it! It's a wonderful piece and oh so pretty! Perfect for pumpkin soup!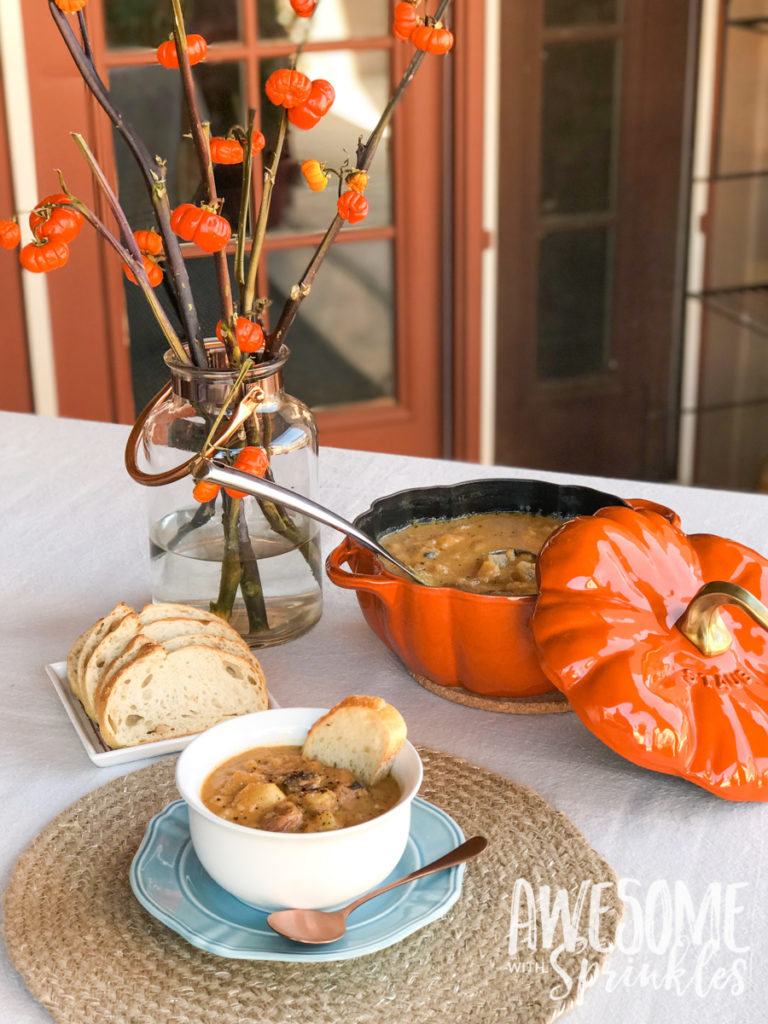 It makes such a beautiful serving dish and how fun are these mini "pumpkin" branches? They match so well!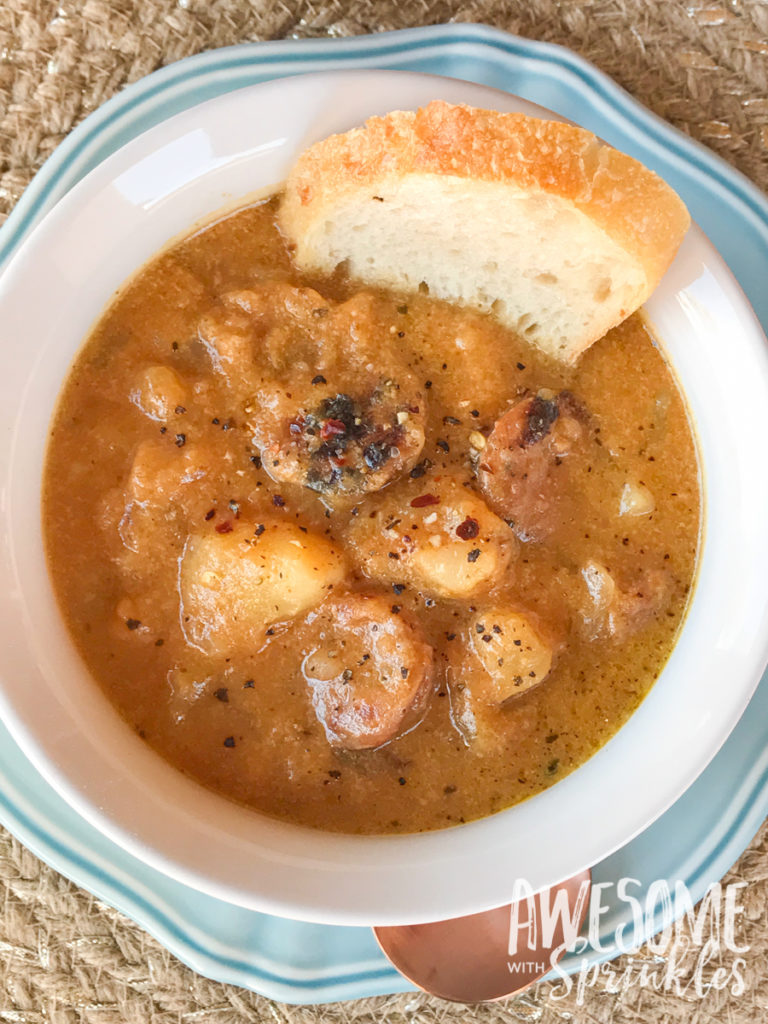 Low and slow is what makes this soup perfection. Simmer on low heat for 40 mins (or more) stirring occasionally. Take your time and let the flavors incorporate and cook into each other. Garnish with fresh cracked pepper, sea salt and chili flakes and serve with crusty bread.
This soup keeps really well in an airtight container in the fridge and can also be frozen. I like to make a big pot and freeze several containers of it for quick dinners for busy weeknights. With the holidays coming up our schedules start to get pretty crazy. It's nice to have a few go-to's to save some time and still have a yummy homemade dinner!
Pin for Later: