Whether you are going back to a dorm for a new semester of school, or just looking to spruce up the sun-faded porch, these easy DIY decor ideas are sure to help you spruce up your space.
Back to School time signals the end of Summer. I always feel a little sad that summertime is coming to a close but also excited that my fave season, FALL is just around the corner. #AutumninAugust!
Here in Arizona, it also means that the temps are cooling down enough to be outside again. This time of year always feels like "spring cleaning" for the fall season to me. The front porch and patio get cleaned up from all the monsoon dust, the covers come off the patio furniture and it also means that I can DIY outside again! Ever tried spray painting anything in 110º heat? I don't recommend it.
These easy DIY decor ideas are sure to give you a fresh take on your everyday decor and have you feeling all tidied-up just in time for school (or whatever the fall has in store for you).  Plus you are sure to have some fun while making them. I mean who doesn't love a good makeover montage?
Easy DIY decor ideas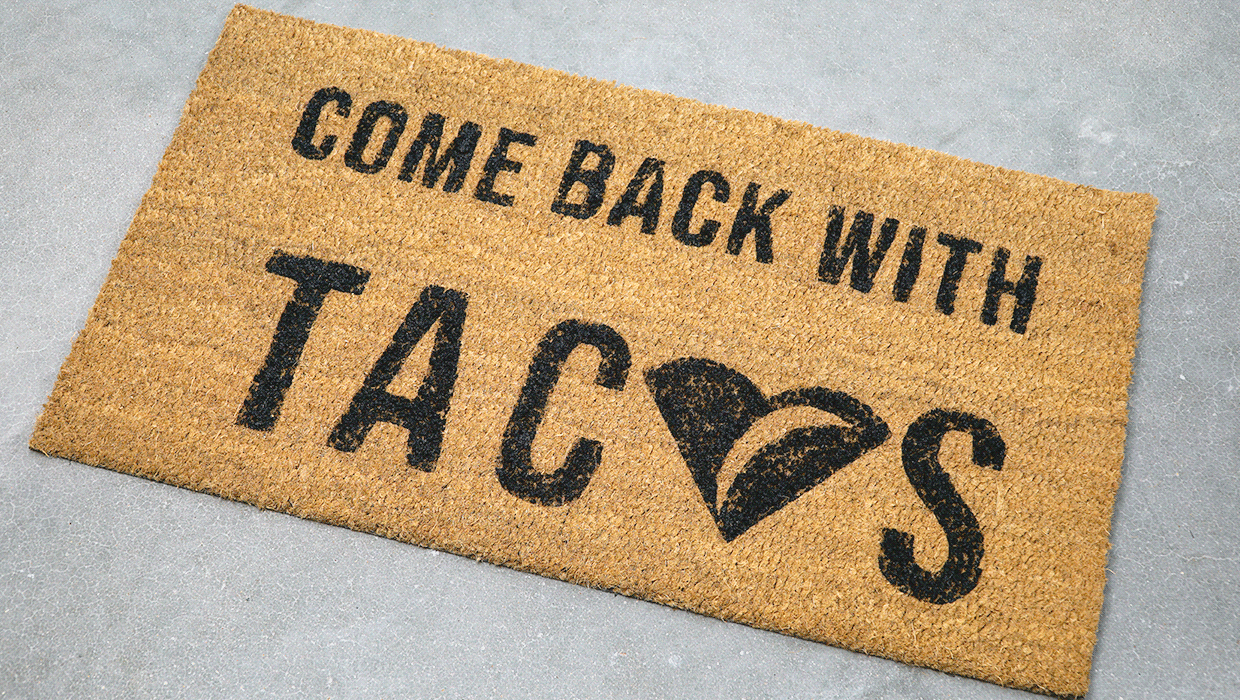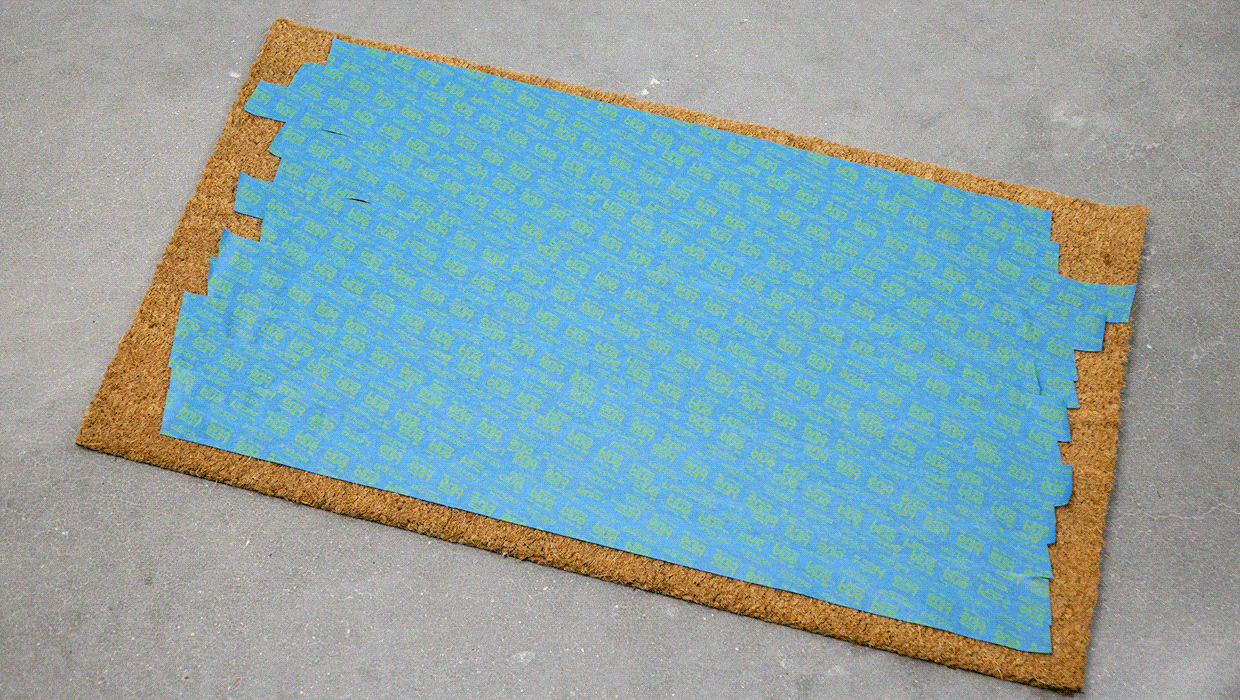 1. DIY Custom Stencil Doormat
Your doormat is the first thing that your guests see when they come into your space. Make a stunning (or punny!) first impression by DIYing your own doormat!  Some cute stencils and a little painters tape is all that you need to make it happen! Get some free printables and the step-by-step instructions here.

2. Patterned Background Bookcase
Swapping out the backing of your bookcase is a simple way to add a major statement to any room. Whether it's a basic pop of color or a crazy pattern you can get a whole new look for a very low price point. Try fabric, peel-and-stick wallpaper or even craft paper to back your shelves. Style with complimentary accent pieces and you are all set! Bobby Berk would be so proud. Full instructions for how to add fabric behind your bookcase here.

3. DIY Colorblock Bookends
Now that your bookcases have a new look, let's take those bookends up a notch too! Don't pay $$ for fancy bookends when you can totes make your own. Like these colorblocked bookends, which are literally made of blocks (bricks to be exact). I love their modern look and it's a super easy after dinner DIY. Get the full how-to here.
And check out Buzzfeed's roundup of even more inspiring DIY bookend ideas!

4. Refinish furniture with Wallpaper
Wallpaper has come a long way since the days of your gram's floral prints. Peel-and-stick wallpaper is all the rage in the decor world and for good reason! It's affordable, easy to apply and comes in a plethora of fun prints! Spruce up an old dresser, blank closet doors, boring bookcases and more all while saving money (and the laborious schlepping) instead of buying new furniture. Check out the how-to here.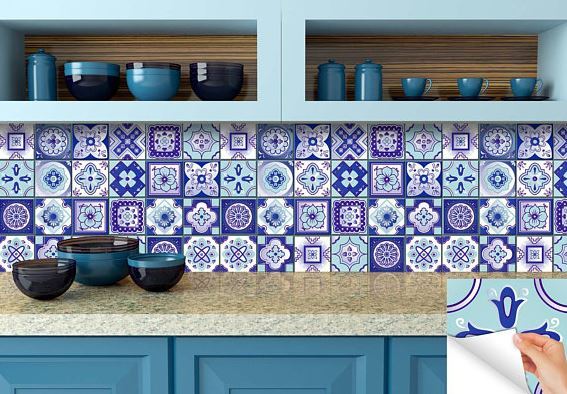 5. Peel-and-stick mosaic tiles
Want to take that wallpaper trend even further? Check out these peel-and-stick mosaic tiles! These waterproof and removable stickers go right over your existing tiles and are perfect for changing up kitchens and bathrooms. They are a huge way to make a statement without the mess and expense of actually re-tiling, which makes them great for renters and commitment phobes who want a big impact without the permanence. Check out a collection of styles here.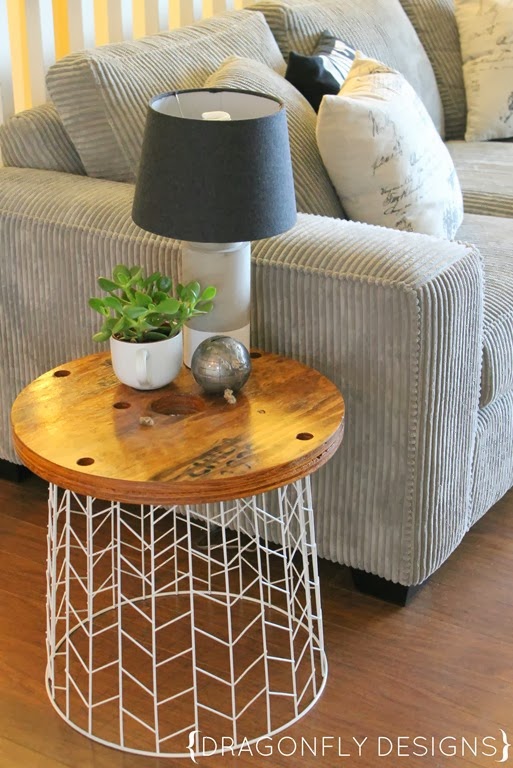 6. Copycat Accent Table
Pretty accent tables are surprisingly expensive and when you are on a budget, sometimes you just can't justify that $300+ accent table from the Pottery Barn catalog no matter how damn cute it is. DIY copycat ideas to the rescue. This is usually how most DIY projects start, am I right? This cute wire accent table is no different. Inspired by fashion and born out of frugality, can you believe this stunning table is made from a trash bin and only cost $12? Believe it! Get the full instructions here.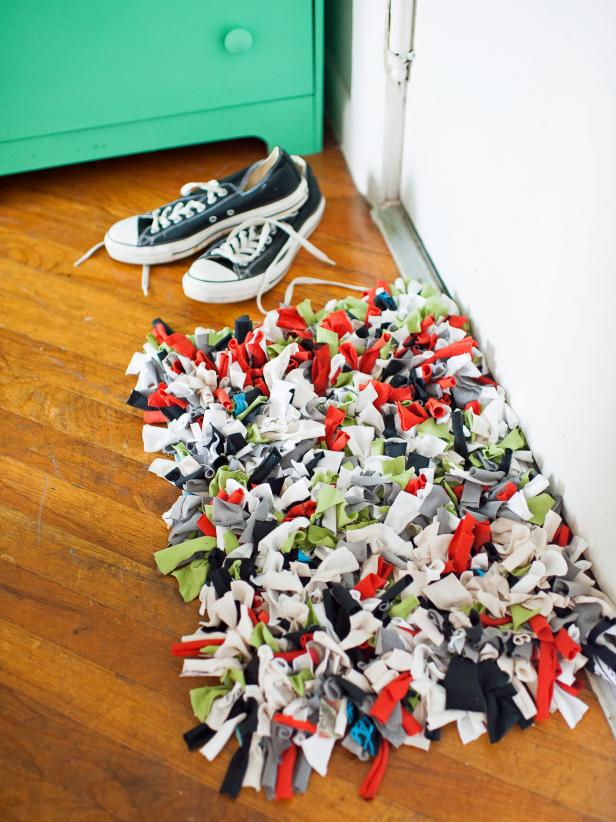 7. Recycled T-shirt Rug
Ripped shorts, wine stained tees… come the end of summer there are always at least 1 or 2 pieces of clothing that are ready to be retired (this goes double for those who have children!) Turn those items unworthy of the donation pile into something useful with this fun recycled t-shirt rug! Just cut strips, tie knots and glue onto a base for a super soft rug for the kid's room, bathroom, pool deck or wherever your bare feeties need a little love. Get the how to here.

8. No-sew Fabric Tie Wreath
And while we are talking recycled fabric, this goes for all those scrap pieces laying around the craft room. Cut them up and make a unique wreath for the front door. T-shirts, quilting squares, old tablecloths, any fabric will do. I am going to make one out of denim scraps. Finally a reason to be excited for the death of a favorite pair of jeans. Get the full how-to here.

9. Over the Chair Organization Pouch
For those of you who can sew (or can still get mom to do it), this genius over the chair pouch is a space saver and organizer. Great for classrooms, dorm rooms and home study areas, this pouch is perfect for stashing your books, binders, sweaters or anything else you don't want cluttering up your desk. Have multiple kids or dorm mates? Make one in a different pattern for each person. Get the free pattern and instructions here.

10. Fabric Pouf Ottoman
There is nothing better after a long day of DIYing than kicking up your heels and relaxing with some Netflix and wine. This DIY fabric pouf ottoman is the perfect accent to your comfy corner. It also doubles as seating for game nights. Bonus. Get the free pattern and instructions here.
What will you make?
Share snaps of your creations with us on social! We would LOVE to see what you make! Happy Back-to-Schooling (or whatever the fall season has in store for you). 🙂