What is better than cold, sweet, slightly melty ice cream during a hot summer day? Ice cream, sandwiched between two homemade chocolate cookies, SHAPED LIKE A SHARK. (I mean, it's Shark Week still…. you should have seen that coming.)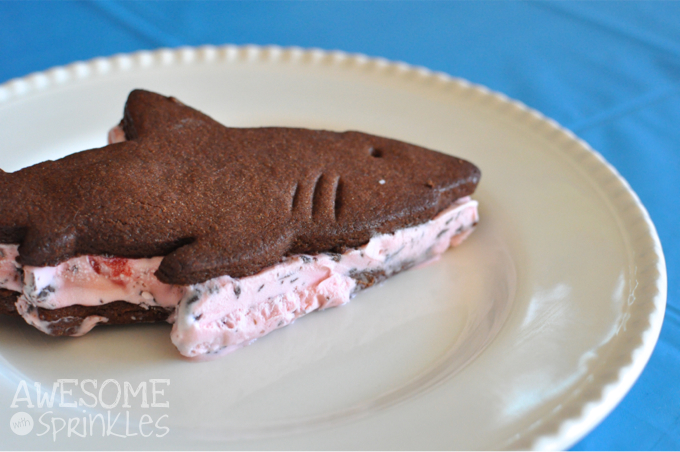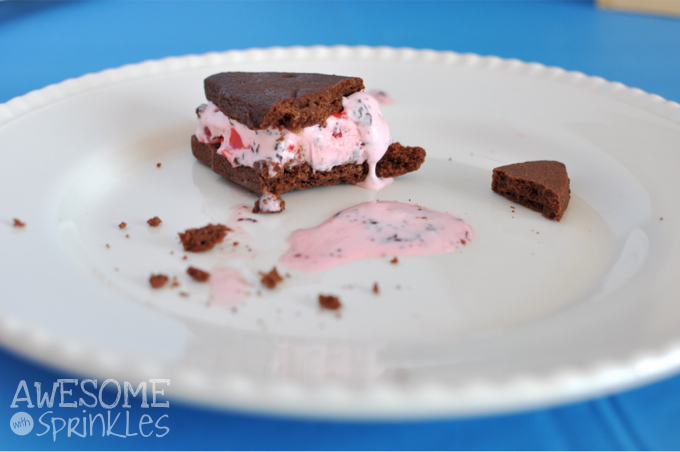 A little messy but soooo tasty… and aren't the things that leave you awkwardly licking your fingers, unable to touch anything around you, even a napkin, the best? (Lookin' at YOU, Carl's Jr.)
Heidi and I had never made ice cream sandwiches before. We've eaten plenty of them; we've both cranked dozens and dozens of cookies out of the oven and we've dabbled in ice cream churning. But for these devilish beauties, we knew we wanted to get our blogspiration from a woman and a blog we have admired for many years: Deb Perelman of The Smitten Kitchen.
This wizard in the kitchen has the best go-to recipes for homemade versions of usually store-bought treats that are so much better than the original (and we agree, things are ALWAYS best homemade, hence the blog you're reading!). Actually, she has many of our favorite go-to recipes for really anything & everything you could imagine: shaksuka, salted brown butter crispy treats, chocolate babka…  Okay, swear this isn't just a love letter to Smitten Kitchen (if you're reading though, HI DEB!), but we could go on and on. We digress.
We made our chocolate cookies from this post about classic ice cream sandwiches. In the post, Deb also gets her blogspiration from outside of her four kitchen walls in this book about throwing amazing parties by Amy Atlas. We just love the way inspiration travels, don't you?
Follow our step-by-step guide & tips below and get ready to nom these perfectly crunchy & melty ice cream sandies.
---
How to Assemble your Sharky Ice Cream Sandies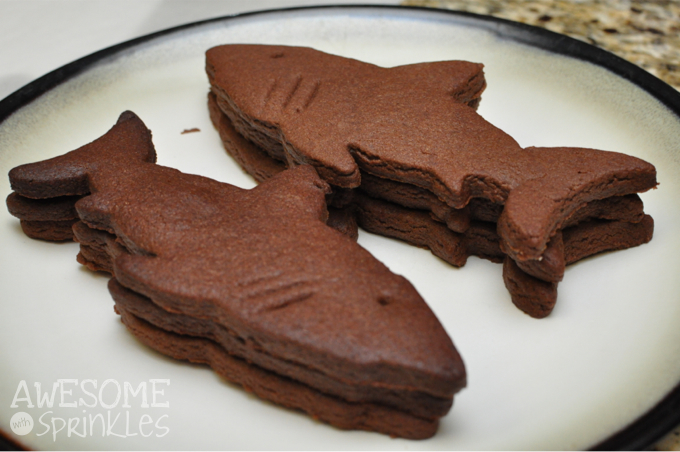 First bake the cookies. Preheat the oven to 350° and make the cookie dough according to this recipe from Smitten Kitchen. Rather than cut out rectangles, roll out the dough about 1/4 – 1/2″ thick and cut out your favorite shape. For these, we used our shark-shaped cookie cutter. (HELPFUL HINT: the dough is quite sticky, so we rolled it in between two pieces of parchment paper. Worked like a charm.)
To make adorable terrifying shark faces, we used the tip of a food thermometer for eyes & the soft edge of a spatula to gently press his gills. Too cute!
Bake cookies according to the recipe and transfer gently to a wire rack (careful, they will crumble easily when hot). Wait until completely cooled.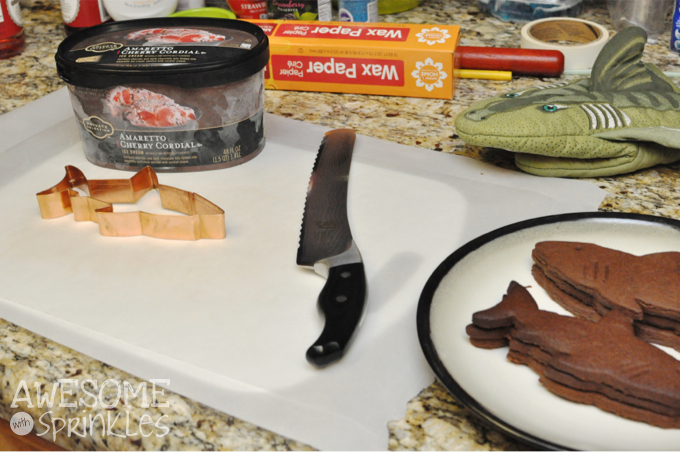 Gather your supplies. You are going to want all of your tools laid out and ready to rock, because – to nobody's surprise – ice cream melts fast! (Especially in Arizona where we're sweating triple digit heat in the summer.) You will need to work fast. Gather these items and create your workspace:
Cooled cookies, laid out in two stacks – top and bottom cookies.
Ice cream: Keep this in the freezer until you're ready to assemble! Heidi found the perfect "bloody" ice cream, an amaretto cherry cordial flavor with chunky red cherries and flecks of chocolate. But you can use your favorite ice cream flavor here!
Your shaped cookie cutter
A long, serrated knife
Kitchen scissors
Wax paper
Cutting board or counter
Pre-torn sheets of saran wrap (trust us, your fingers will be sticky shortly)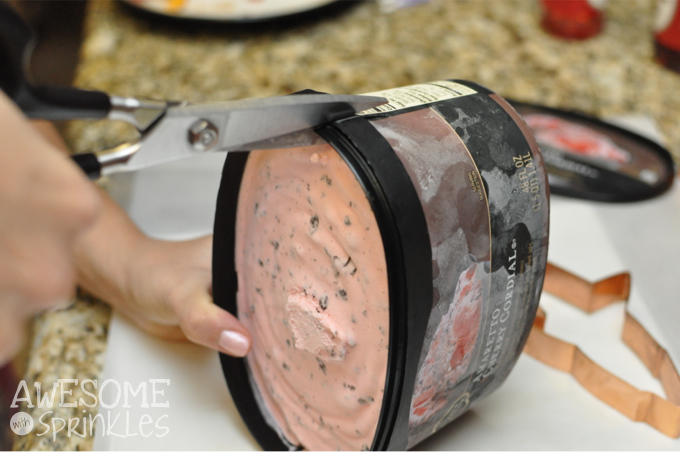 Step 1: Lay out some wax paper over your cutting board, or the surface of your counter, where you're going to work. This will help contain the melty mess. Cut the carton off of your ice cream, as shown, to expose your block of creamy goodness.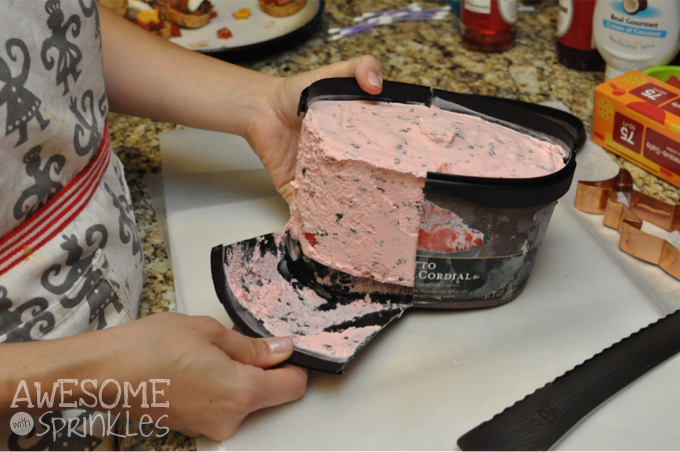 Step 2: Use the serrated knife to cut the ice cream into 1/2″ or so layers. This will be the middle of your sandwich, so make sure you cut the layers long enough to fit your cookie cutter! If you're ready to work immediately, go to the next step.
Helpful Hint
If you're prepping ahead, separate these ice cream layers with pieces of parchment or wax paper, wrap it all up and re-freeze it until you're ready to assemble. This will help with the melty mess.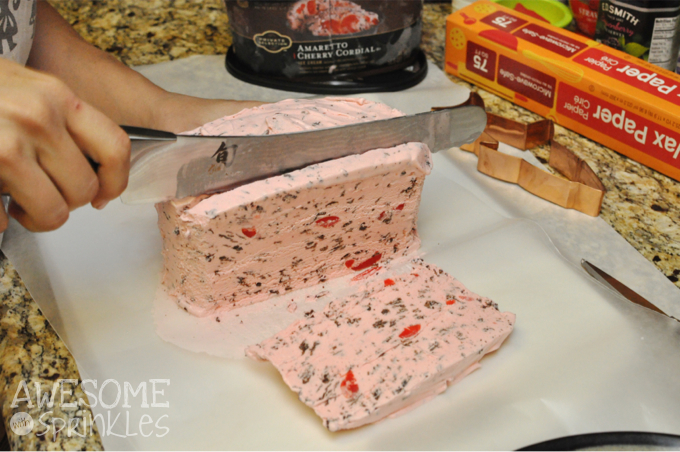 Step 3: Lay your ice cream layers out on the wax paper surface, and firmly cut out your centers with your cookie cutter. We found it helpful to leave the cookie cutter in the ice cream while we scooped the rest of the ice cream surrounding the cutter away & into a freezer-safe container to save for later.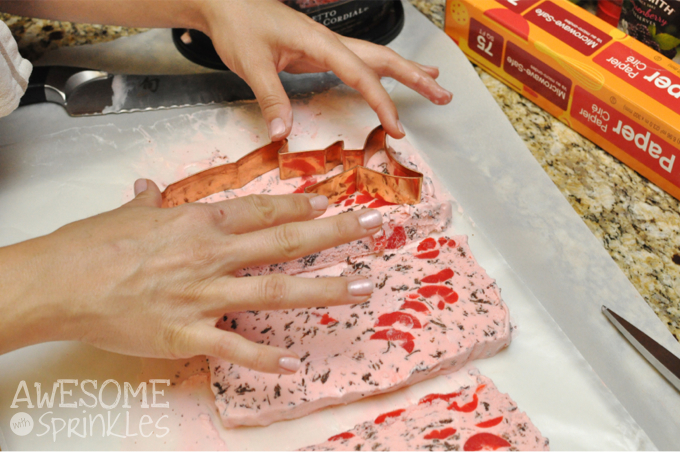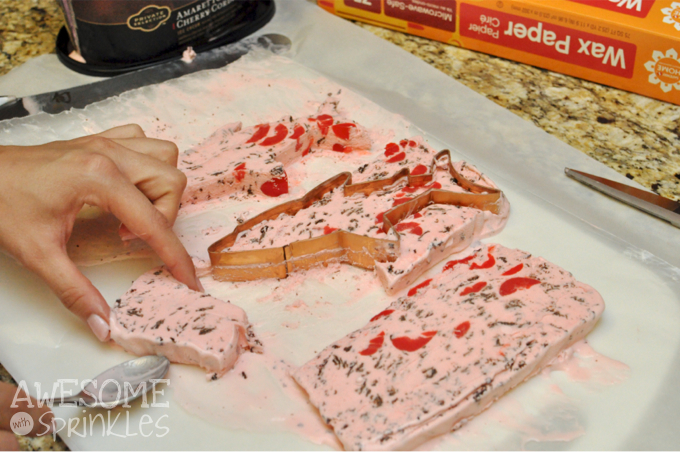 Step 4: Match your first stack of cookies to your ice cream cutouts and place them on top, like so.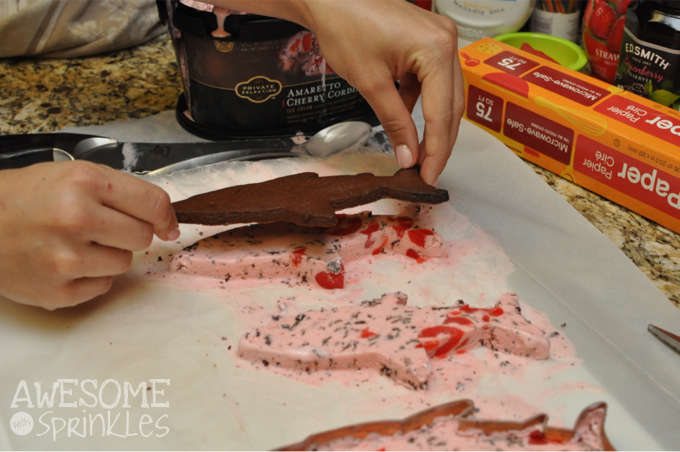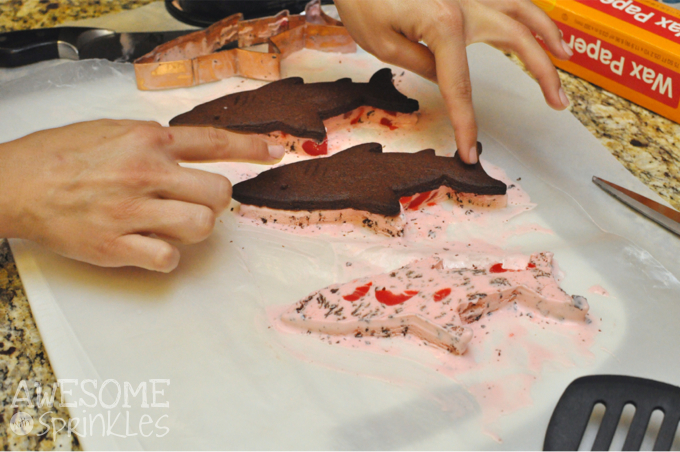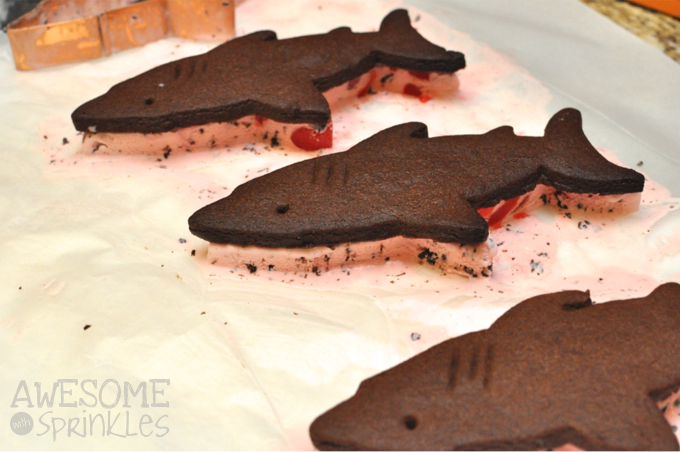 Then, use a spatula to flip your cookies over onto a clean part of the wax paper & place the other half of your cookies on top.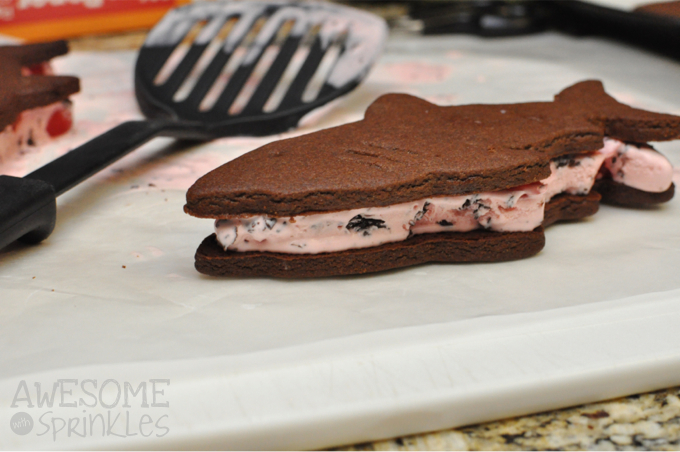 Step 5: Quickly & snugly wrap your stunning ice cream sandwiches in the pre-cut pieces of saran wrap you've got. Put them in the freezer right away! This will help them hold their shape and freeze them to a firmer consistency so you can eat them without ice cream squeezing out all sides.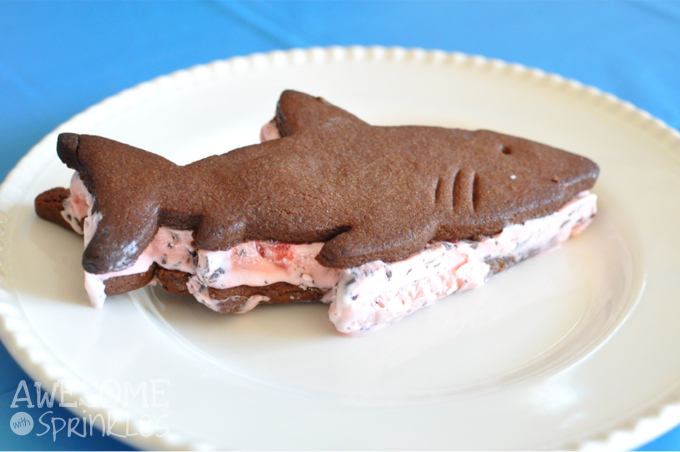 When you're ready, take them out, unwrap & admire. You made perfectly imperfect, freaking delicious, homemade ice cream sandwiches!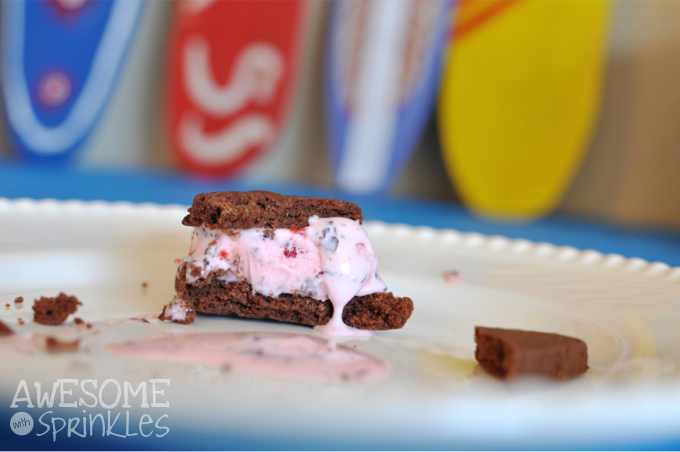 Oh yeah. And EAT!