Jingle balls, jingle balls, jingle all the way!
It was a busy day in the kitchen today as we get things wrapped up for the holidays. There is so much to be done this time of year and even me, who would love to do nothing more than play in the kitchen all day, doesn't even have time to bake all the goodies that I would like too, let alone get everything else done (like posting the #3 cookie recipe…oops)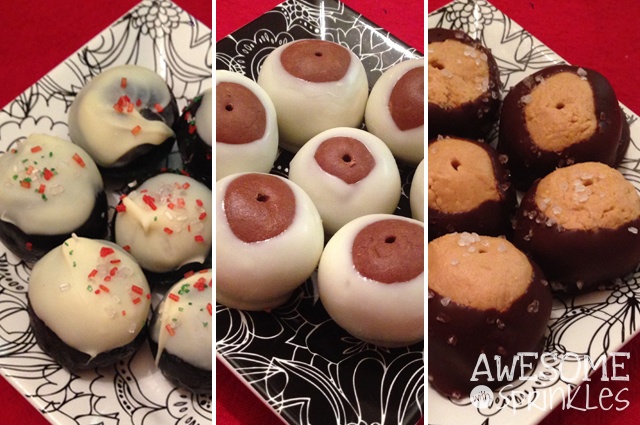 So today we have 3 super easy ball recipes that require no baking and that can be done in shifts so that you can run about and do your other holiday to dos in between and still be the rock star of the holiday party with your chocolate, salty balls (sorry… I couldn't resist that one).
#alltheballs
I'm so bummed, after taking the time to make all of these beautiful balls my fancy camera battery died. I guess it has had a long week too. AND the backup battery was dead too because I guess someone forgot to plug it back in after the last shoot (oops).
The balls were a success though. We sprinkled some of the plain ones with sea salt and rolled some of them in coconut just to change things up a bit.
Oreo Truffle Balls
Ingredients
1 package of oreos
1 package of cream cheese
white chocolate (or chocolate of your preference)
Instructions
Crush oreos in a food processor
Add cream cheese and blend until the mixture resembles cookie dough
Place dough in the fridge for 20 minutes
Roll into balls and place on wax paper.
Put balls back in the fridge and chill for an hour.
Once chilled and hardened, get your dipping chocolate ready.
Melt white chocolate in microwave safe bowl (or in double boiler)
Dip balls into white chocolate. You can drizzle the tops with chocolate or dip the entire ball to completely cover it.
Place back into the fridge to let the chocolate harden on the outside. Serve and enjoy!
Peanut Butter Balls + Nutella Balls
Ingredients
1 stick of butter
1 tsp vanilla
1 tsp salt
1½ cups peanut butter or 1½ cups Nutella
2½ cups powdered sugar
2 cups chocolate chips or melting chocolate
Instructions
Beat butter, vanilla, salt and peanut butter or Nutella together until smooth.
Mix in powdered sugar. The mixture will be slightly crumbly.
Roll into 1 in sized balls and place on wax paper on a cookie sheet. Stick a toothpick in the center. Chill for at least 30 mins.
Once chilled and hardened, get your dipping chocolate ready.
If you are using melting chocolate, follow the instructions on the bag. Usually this means heating in a microwave safe bowl for 20 seconds at a time until melted. If you are melting chocolate chips, then you can also do this in the microwave or a double boiler. (If you do not have a double boiler, then you can use a metal bowl fitted snuggly on top of a sauce pan of boiling water. Just be careful, because the bowl gets hot.)
Use the toothpicks to hold the balls as you dip them in the chocolate. You can do these "buckeye" style and leave a little bit of the peanut butter peaking through or you can completely submerge them.
If you would like, roll in coconut or nuts or decorate with sprinkles. Place back on wax paper and chill in the fridge until chocolate is hardened.
Once chocolate is hardened, serve and enjoy!