Maple Bacon Cupcakes…your mouth is watering already isn't it? These yummy cupcakes are just like eating a pancake with maple syrup and bacon! They turned out more savory than sweet and were denser like a muffin or a biscuit. They are totally breakfast cupcakes and you won't even feel bad about having dessert first.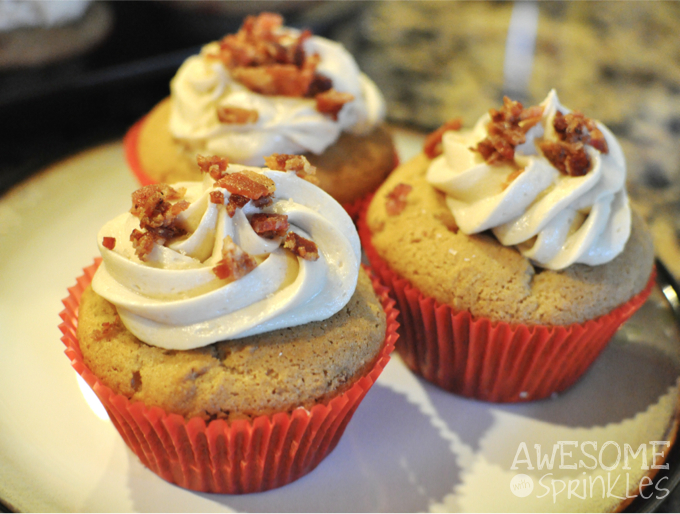 Bacon has long been the holy grail of meats. It is one of the oldest cuts of meat in history and has steadily gained popularity over the centuries. However, in the past decade the bacon craze has BLOWN UP! Bacon could be found in everything from candy, chocolate, salts, mayonnaise and even drinks! But bacon is no longer something you merely consume. Oh no! Bacon is now the theme for everything from scented candles, pillows and blankets to jewelry and bacon print underwear. Bacon is the new black and this fad is here to stay! Which is fine by me. 🙂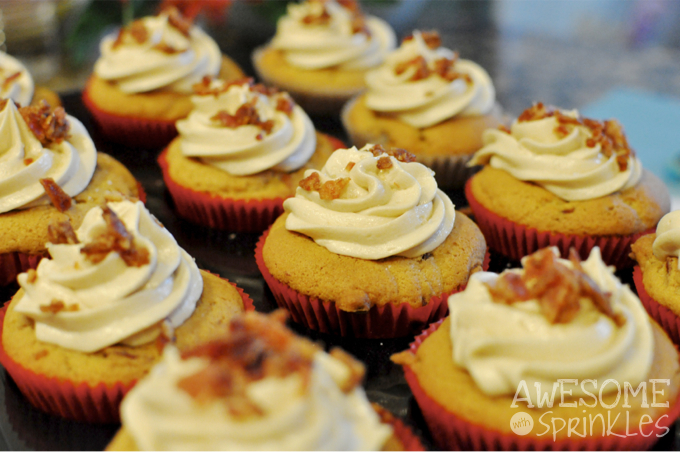 Maple Bacon Cupcakes
Ingredients
Cupcakes
½ cup (1 stick) butter, room temperature
2 tbsp bacon drippings (left in the fridge to become solid)
2 eggs
⅔ brown sugar
¼ cup maple syrup
2½ cups self rising flour
2 tsp baking soda
1 tsp baking powder
½ tsp salt
½ cup milk
½ cup minced bacon, cooked and drained + more for garnish (the crispier the better)
Maple Syrup Frosting
½ cup (1 stick) butter
¼ cup maple syrup
2 cups powdered sugar
large grain turbinado sugar (optional, for garnish)
sea salt (optional, for garnish)
Instructions
For the Cupcakes:
Cook bacon (about 6 slices) in a frying pan. The crispier the bacon the better. It will crumble more easily and won't get a soggy texture once it is baked into the cupcake. Reserve the drippings and place in the fridge to solidify.
Mince the bacon and set aside ½ cup.
Beat the butter and solidified bacon fat until light and creamy.
Add the brown sugar and maple syrup and beat well until combined.
Add the eggs and beat until incorporated.
Sift the flour, salt, baking soda and powder together.
Slowly add the dry ingredients and milk alternately, ending with the dry. Mix until just combined. Fold in the bacon.
Scoop into cupcake papers and bake at 350 F for 18-22 minutes or until a toothpick comes out clean.
For the Frosting:
Combine the syrup and butter until combined. Add the sugar, a bit at a time, and whip at high speeds until combined. Pipe or spread onto cupcakes. Sprinkle on sea salt and turbinado sugar and add some bacon crumbles to the top for added flavor and a lovely presentation.
Notes
I double the recipe to make two dozen cupcakes.
Source:
Bacon Today