I hate to gender stereotype here, but I think that a healthy obsession for Nutella is a natural born instinct among women. We freaking LOVE Nutella. It's practically in our DNA (the N is for Nutella). But if by chance you are some freak of nature who doesn't like Nutella then this is no place for you. Scoot scoot.
But really, who (man or woman) wouldn't love a pint sized tub of creamy, smooth hazelnut flavored chocolatey goodness? If you can pry yourself away from your spoon for just a few minutes (don't deny it, I know you were eating it right out of the tub), I promise that these Nutella cupcakes deliver.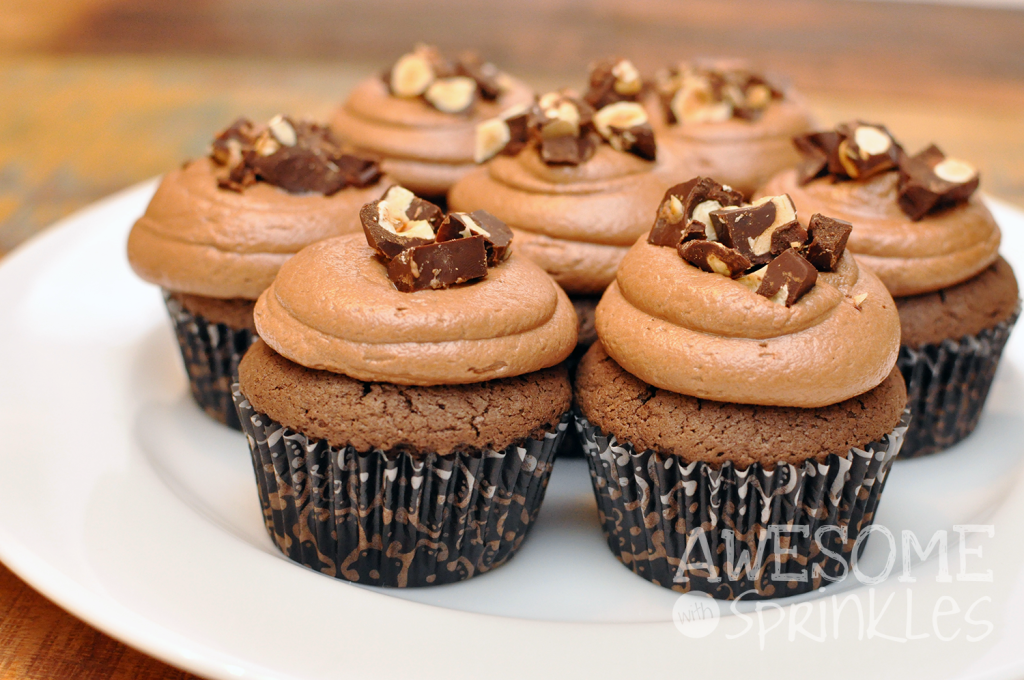 I can't even begin to describe the heavenly awesomeness that awaits your mouth. Rich chocolatey goodness and smooth creamy Nutella in every bite. Topped off with some chopped hazelnut Ritter bar sprinkled on top. What more could you possibly need?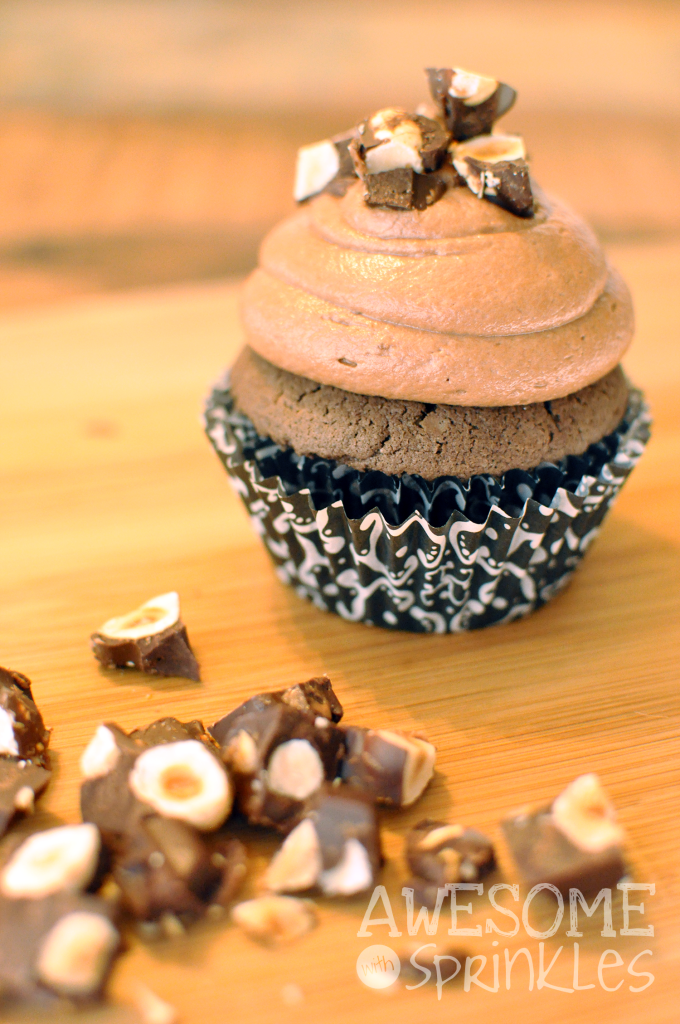 Beautiful isn't it? I told you these cupcakes deliver. They just- I'm so- I, I just can't EVEN right now! Go forth and #bakeithappen.

I Love Nutella Cupcakes
Ingredients
For the cupcakes
2 cups cake flour
1 tsp baking powder
½ tsp salt
¼ cup dark cocoa powder
1 cup packed brown sugar
½ cup (1 stick) unsalted sweet cream butter, softened
½ cup Nutella
3 eggs, separated
1 tsp vanilla
½ cup milk
For the Frosting
½ cup (1 stick) unsalted sweet cream butter, softened
1 cup Nutella
3 tbsp milk
3 cups confectioners sugar
1 hazelnut chocolate bar, cut into chunks (I used a Ritter bar)
Instructions
For the cupcakes
Preheat oven to 350º and prep your cupcake tin(s) by filling with paper liners.
Sift together flour, baking powder, salt and cocoa and set aside.
Cream butter and brown sugar until smooth. Add egg yolks, one at a time, beating with each addition until smooth.
Beat in Nutella and vanilla.
Mix in a scoop of flour mixture, then a tbsp of milk, alternating until all of the flour and milk has been incorporated.
In a separate bowl, whisk together the egg whites until soft peaks start to form. Gently fold egg whites into Nutella/flour mixture until just incorporated.
Spoon into a cupcake tin filled with liners and bake at 350º for about 18-20 mins or until risen and set and a toothpick inserted into the center comes out clean.
Remove from oven and let cool for 5 mins. Then remove from cupcake tin and place on a wire rack to cool completely.
For the frosting
Beat butter and Nutella until smooth.
Add in confectioners sugar (1/2 cup at a time to avoid a powdered sugar dust cloud). Alternate adding 1 cup sugar and 1 tbsp milk until all sugar and milk has been fully incorporated and frosting is nice and smooth.
Try not to eat all of the frosting out of the bowl with a spoon. Seriously, you are so close!
Final touches
Pipe or spoon a large dollop of frosting onto the top of each cool cupcake.
Garnish with chopped up Ritter bar bits.
Dig in because I know you can't wait any longer!
Pin for Later:

Looking for more Nutella love? Get your fix with these 34 Ways to Make Nutella Your Valentine. Yum.