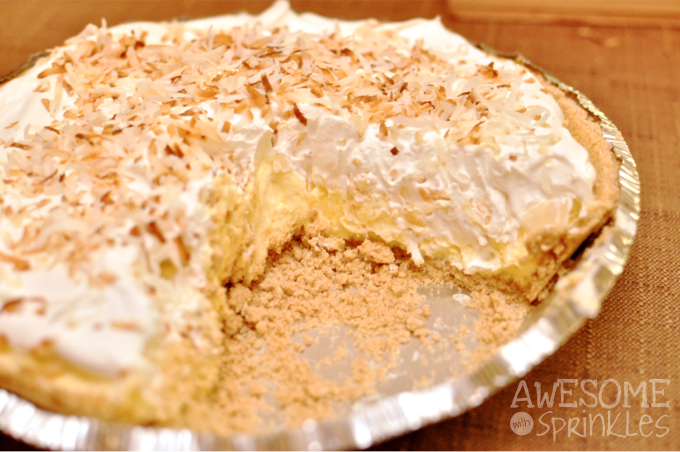 2 (3.4 oz) packages of JELL-O instant pudding & pie filling mix (1 banana cream and 1 vanilla)
2 cups cold milk
1 tsp coconut extract (optional)
1 cup flaked coconut
1 cup thawed Cool Whip whipped topping
1 9-inch ready-made graham cracker pie crust (or make your own graham cracker crust)
1 - 2 bananas, sliced into ½ inch slices (enough to cover the top of the pie)
½ cup flaked coconut
1 cup thawed Cool Whip whipped topping
Pour milk into large bowl. Whisk in dry pudding mixes, coconut extract and 1 cup coconut and beat for 2 minutes. Add dry pudding mixes and ¾ cup of the coconut. Gently stir in 1 cup of the whipped topping. Pour into crust.
Refrigerate 4 hours or until set.
After the pie is set, cover the top with a layer of banana slices. Spread pie with remaining 1 cup whipped topping. Toast remaining ½ cup coconut, if desired. Sprinkle over pie. Store leftover pie in refrigerator.