Slow Cooker Sriracha Pulled Pork Sliders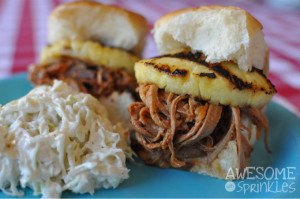 5-6 lbs boneless pork tenderloin roast(s)
2 large onions, thinly sliced
12 oz dark beer (or dark soda such as rootbeer, Dr. Pepper or Coke)
1 cup ketchup
1 cup Sriracha sauce
4 tbsp brown sugar
2 tbsp spicy brown mustard
salt and pepper
Cut pork roast(s) in half. Place in slow cooker. Cover with onions and salt and pepper.
Combine beer, ketchup, Sriracha sauce, brown sugar and mustard in a bowl and pour over pork.
Cover and cook on low for a minimum of 6 hours. You can let it go for almost 8 if you have the time.
Shred pork with two large forks. I do this in the crock pot because it is usually so soft it just falls apart, but you can take it out shred it up on a cutting board if that is easier. Let simmer for another 30 mins to let all the juices get nice and soaked in.
Serve on King's Hawaiian rolls with slices of avocado or pineapple, a little cheese, or slaw on top. Whatever you are in the mood for.
Recipe by
Awesome with Sprinkles
at https://www.awesomewithsprinkles.com/slow-cooker-spicy-pulled-pork-sliders/