Cranberry Apple Butter Bread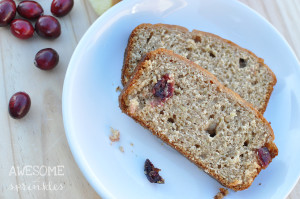 Author:
Awesome with Sprinkles
11/2 cups all purpose flour
11/2 tsp baking powder
¼ tsp baking soda
¼ tsp salt
½ tsp cinnamon
⅛ tsp nutmeg
2 eggs, slightly beaten
¾ cup sugar
½ cup apple butter
¼ cup cooking oil
½ cup chopped apples
½ cup fresh cranberries (I like mine cooked first, or you can substitute dried cranberries if fresh aren't available)
Preheat oven to 350º degrees.
Grease and flour the bottom and half up the sides of a 9 inch loaf pan.
In a large bowl, combine flour, baking powder, baking soda, salt, cinnamon, and nutmeg in a medium bowl. Whisk together and set aside.
In a medium bowl, combine eggs, sugar, apple butter and oil.
Pour egg mixture into flour mixture and stir until moistened (batter will be lumpy).
Stir in chopped apples and cranberries.
Spoon batter into loaf pan.
Bake at 350º for 45mins or until a toothpick inserted into the center comes out clean.
Remove from oven. Cool on wire rack for 10-15 mins, then turn loaf out of pan and cool completely before slicing.
Recipe by
Awesome with Sprinkles
at https://www.awesomewithsprinkles.com/cranberry-apple-butter-bread/