Baked Pumpkin Mac-n-Cheese with Bacon Crumbles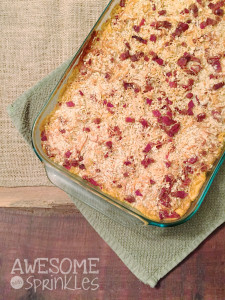 16 oz cooked macaroni noodles
2 15 oz cans of canned pumpkin
3 cups of milk (half & half or cream)
1 8oz package of Neufchatel or cream cheese (cut into cubes)
3 cups shredded cheese (I prefer 2 cups sharp cheddar and 1 cup of parmesan)
3 teaspoons pumpkin pie spice (divided)
2 teaspoons ground cayenne pepper
2 cups bacon crumbles (divided)
Salt & pepper
Cooking spray
1 cup of panko (Japanese bread crumbs)
1 cup of shredded parmesan cheese
Preheat oven to 400 degrees F.
Spray a 4 quart casserole dish with cooking spray.
In a large bowl, toss together cooked macaroni noodles, salt & pepper and 1 cup bacon crumbles.
Heat cream and pumpkin in a sauce pan on medium heat, until warm.
Reduce heat to low and add cubed cream cheese. Slowly whisk until completely melted.
Whisk in 2 tsp of pumpkin pie spice, 2 tsp cayenne pepper and shredded cheese until melted.
Pour pasta into casserole dish and pour the pumpkin-cheese sauce on top, gently stir together until thoroughly combined.
Toss panko crumbs, parmesan cheese, 1 tsp pumpkin pie spice and the rest of the bacon crumbles. Sprinkle on top of the macaroni.
Bake for 8-10 minutes, or until bread crumbs have browned.
Recipe by
Awesome with Sprinkles
at https://www.awesomewithsprinkles.com/baked-pumpkin-mac-n-cheese-with-bacon-crumbles/