Chocolate Whoopie Pie with Marshmallow Buttercream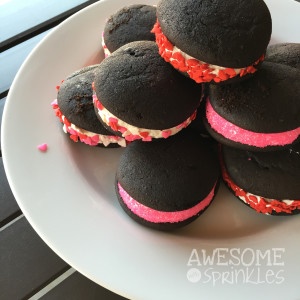 Serves:
about 24 whoopie pies
1⅔ cups all-purpose flour
⅔ cup unsweetened cocoa powder
1½ tsps baking soda
½ tsp salt
4 tbsp unsalted butter, at room temperature
4 tbsp vegetable shortening
1 cup packed dark brown sugar
1 large egg
1 tsp vanilla extract
1¼ cup milk
1½ cups Marshmallow Fluff (or marshmallow creme)
1¼ cups vegetable shortening
1 cup confectioners' sugar
1 tbsp vanilla extract
Position rack in the center of the oven and preheat to 375ºF and line two baking sheets with parchment paper.
Sift together (or toss together with a whisk, because I am lazy) the flour, cocoa powder, baking soda and salt and set aside.
In a large bowl of a stand mixer fitted with the paddle attachment, beat together the butter, shortening and brown sugar on low speed until just combined. Increase the speed to medium and beat until fluffy and smooth, about 3 minutes.
Add the egg and vanilla and beat for another 2 minutes.
Add half of the flour mixture and half of the milk to the batter and beat on low until just incorporated. Scrape down the sides, add the remaining flour and milk and beat until completely combined.
Drop about 1 tablespoon of batter onto cookie sheet, spacing them about 2 inches apart. Bake one sheet at a time for about 10 minutes each. The pies are done when they spring back when pressed gently.
Remove from the oven and cool for 5 minutes on the cookie sheet. Transfer cookies to a rack to cool completely.
Beat together the marshmallow creme and vegetable shortening, starting on low and increasing to medium. Beat on medium for about 3 mins.
Reduce mixer speed to low, add the confectioners' sugar and vanilla and beat until incorporated. Increase speed to medium and beat for about 3 minutes until fluffy.
This recipe makes about 48 individual 2-inch cookies, which will make 24 complete whoopie pies.
Recipe by
Awesome with Sprinkles
at https://www.awesomewithsprinkles.com/aint-nothing-like-making-whoopies-valentines-day/