Chewy Oatmeal Cherry Cookies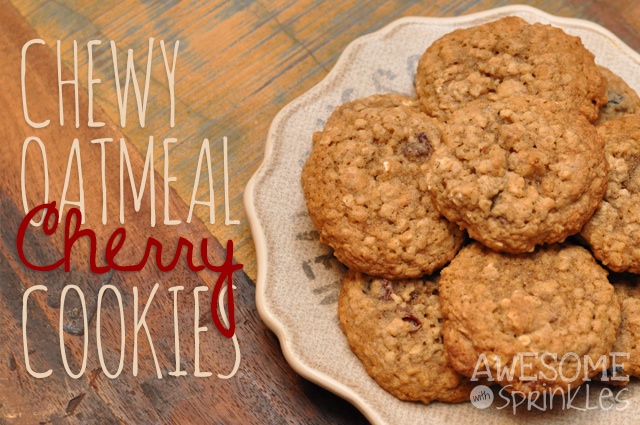 Serves:
Makes about 2 dozen
1 stick (1/2 cup) butter, softened
1 cup packed light brown sugar
2 eggs
1 tsp vanilla extract
1 cup all purpose flour
1 tsp baking soda
1 tsp cinnamon
½ salt
1½ quick oats
½ cup dried cherries
½ cup mixed pecans and walnuts
Preheat over to 350º.
Cream butter, brown sugar, egg, vanilla until smooth.
In a separate bowl, whisk flour, baking soda, cinnamon and salt.
Stir into the butter mixture and mix until incorporated. Stir in cherries and nuts.
Chill the dough for 15-20 mins.
Spoon out tablespoon sized balls of dough onto a parchment lined cookie sheet about 2 inches apart.
Bake for 8-10 mins until golden around the edges but still soft in the middle (this will keep the cookies chewy and gooey). Remove and let the cookies set up for 5 min before transferring to a wire rack to cool completely.
Recipe by
Awesome with Sprinkles
at https://www.awesomewithsprinkles.com/chewy-oatmeal-cherry-cookies/