German Butter "S" Cookies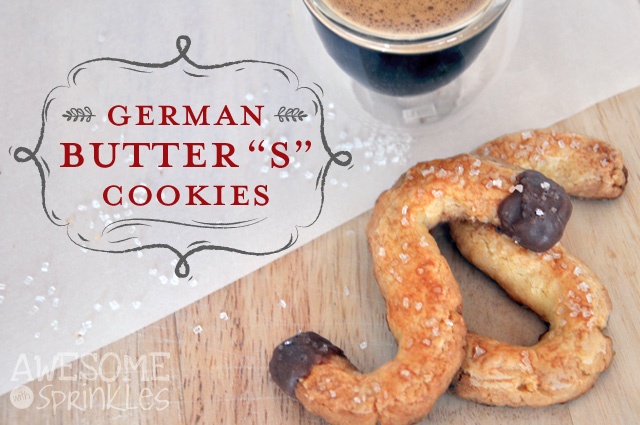 Serves:
Makes about 20 cookies
2 Cups flour
½ cup butter, room temperature
3 egg yolks
⅓ cup sugar
peel of ½ lemon grated
1 egg white, beaten
coarse sugar
dark chocolate (optional)
Sprinkle a baking board lightly with flour. With your hands, mix the first five ingredients quickly into a dough. It will be slightly more crumbly than a normal dough.
Roll into a 2" diameter log and cover with wax paper. Refrigerate or store in a cool place for 30 minutes.
Preheat oven to 400 degrees. Line a baking sheet with parchment paper or grease with butter.
Once firm, remove from the refrigerator. Slice into ½" pieces and roll each slice with your hands (and a little flour if needed) into a rope about 4-5" long. On the baking sheet, shape into an "s". Repeat until the baking sheet is full.
Whisk the egg white until frothy, then lightly glaze the tops of the unbaked cookies. Sprinkle with the decorative sugar.
Bake for 15-20 minutes until lightly golden. Remove from oven and let cool on the sheet on a wire rack for 10 minutes.
Recipe by
Awesome with Sprinkles
at https://www.awesomewithsprinkles.com/german-butter-s-cookies/