There is nothing better than relaxing on the patio, enjoying a warm breeze and sippin' a cool cocktail. Unless that cocktail is in cupcake form! 😀 These deliciously fruity cupcakes are inspired by one of my favorite summertime sips – the piña colada!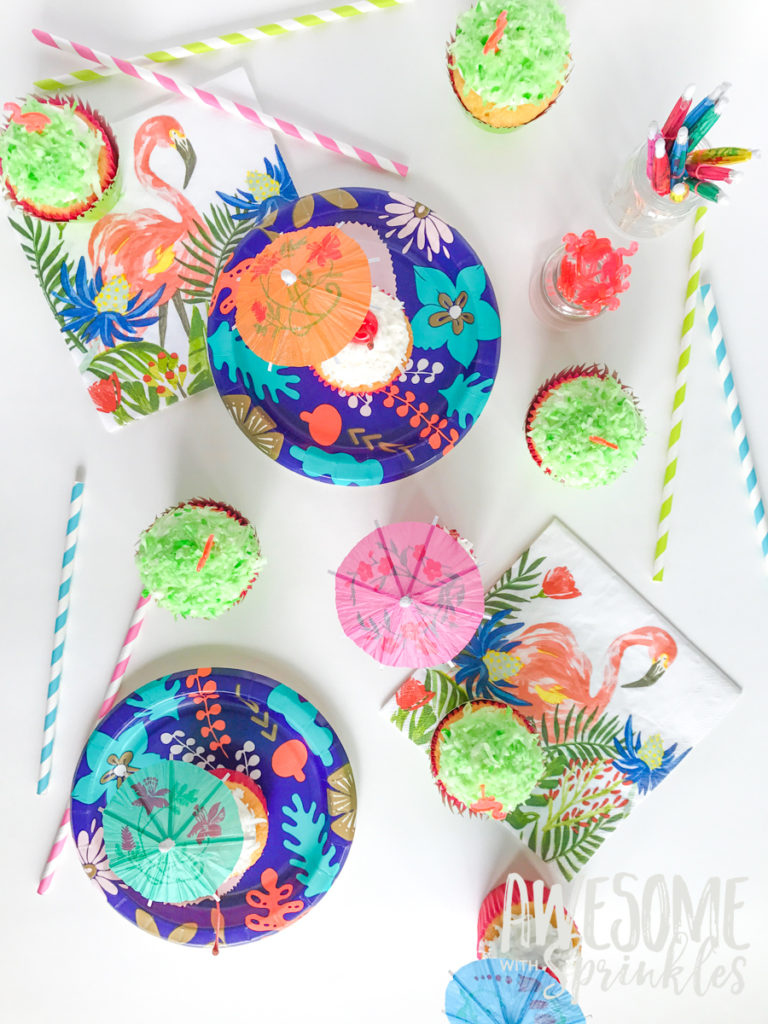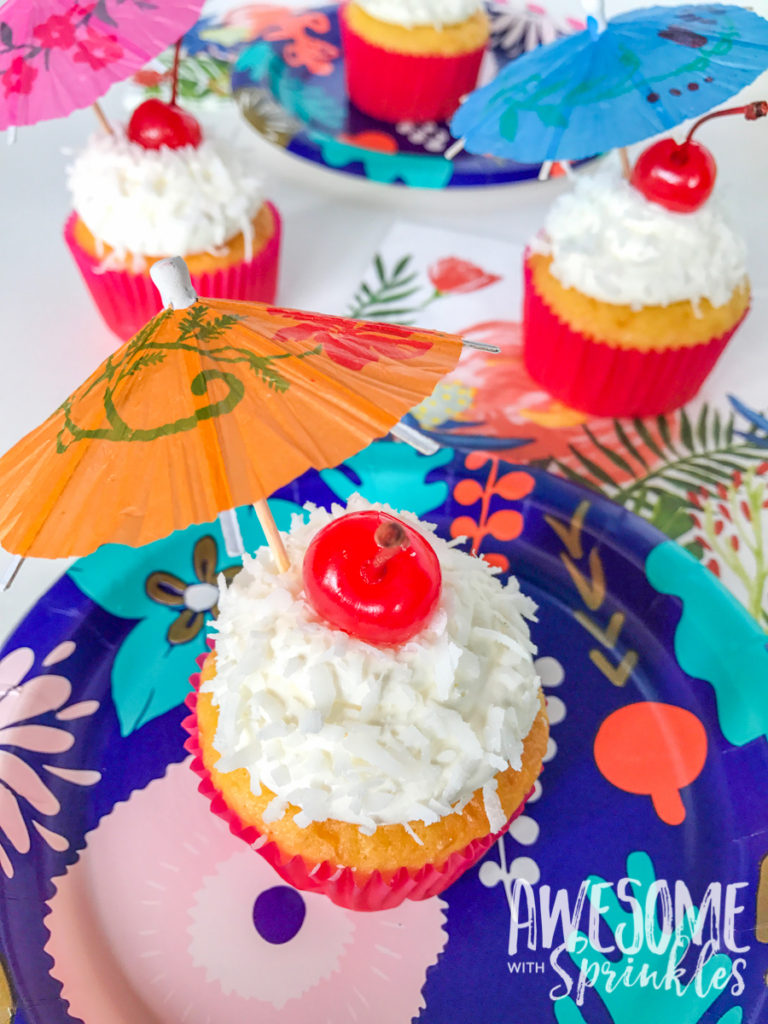 Warm coconut notes meet fresh and tangy pineapple chunks all topped with a fluffy whipped coconut frosting that is a straight up "boat drink" in your mouth. You put the pineapple in the coconut and eat it all up! ??? That's how that song *should* go if you ask me. 😉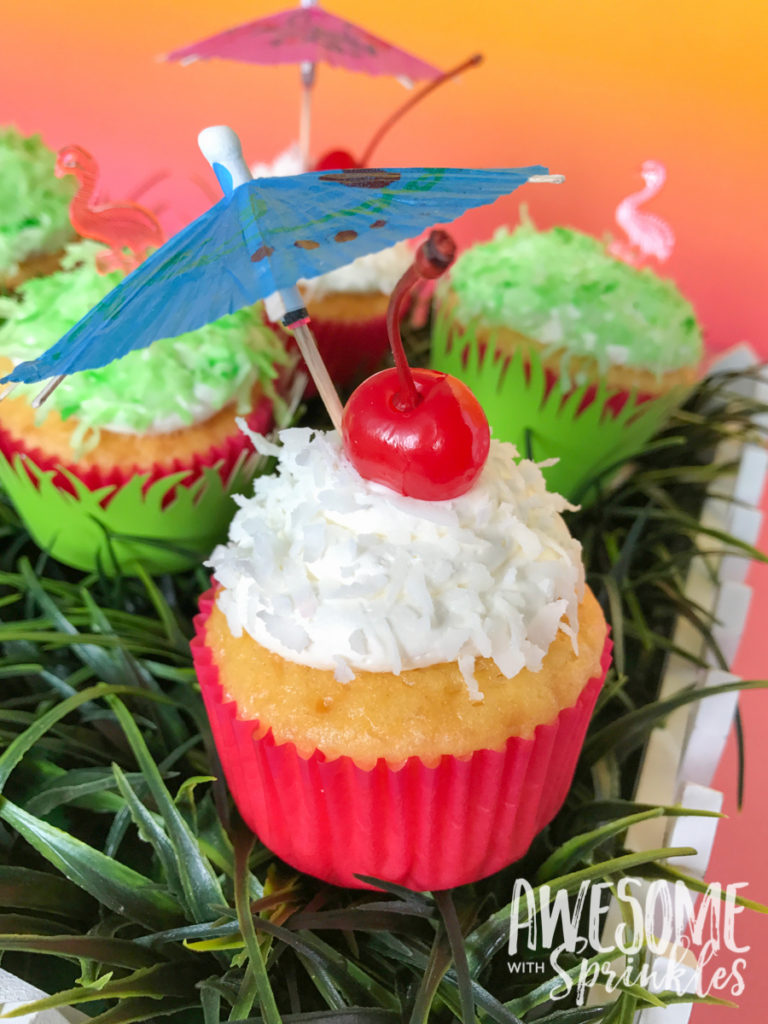 Uhm, not to mention they are totally adorable!! ? I decorated half of these piña colada cupcakes to look like their namesake cocktail with the traditional maraschino cherry and a colorful drink umbrella. Doesn't that little cutie pie cupcake just look ready for the beach?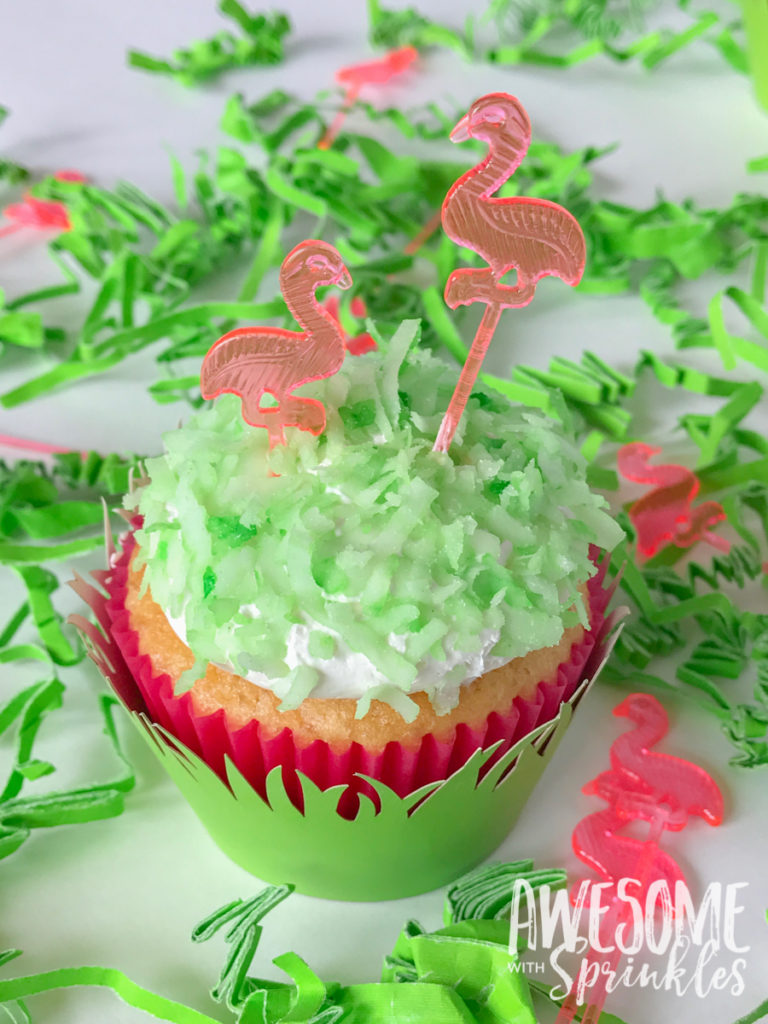 I was making these piña colada cupcakes for a pineapple and flamingo inspired patio party (see the deets here!) so the other half I decorated to look like little lawn-scapes, complete with green coconut "grass" and pink flamingos! LOVE, LOVE, LOVE!!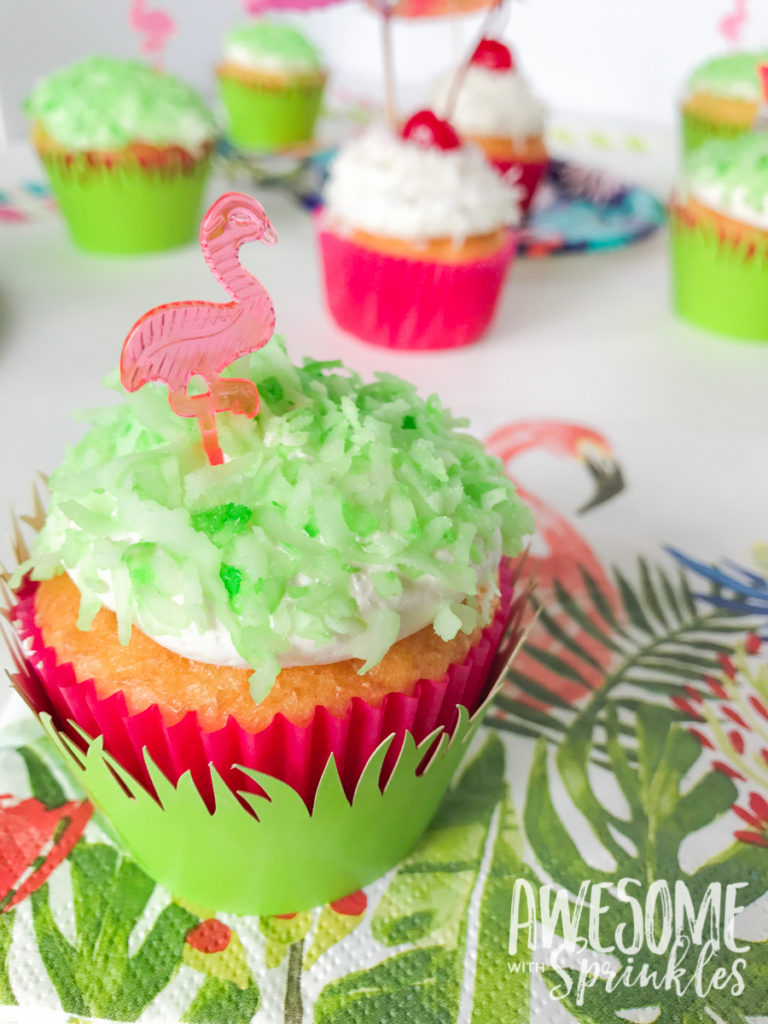 I can't get over how cute they turned out! I love the grass cupcake wrappers. They were totally perfect for the theme and I love how they complete the look! I picked up them up last year on Easter clearance but you could easily make some with construction paper too!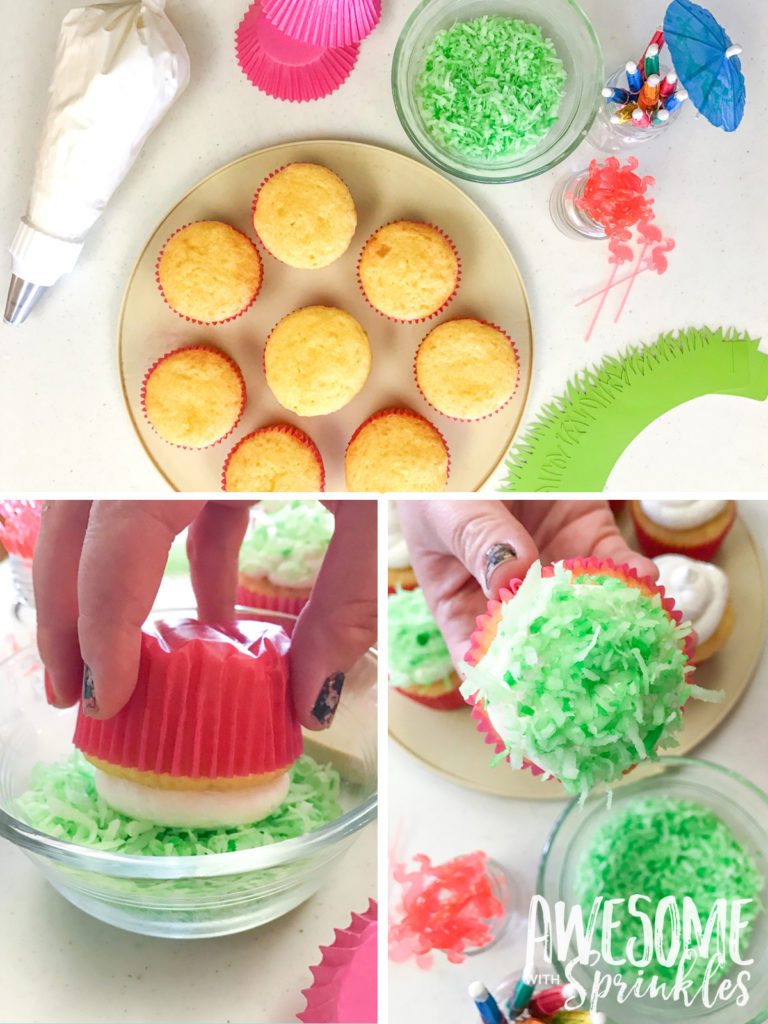 These cupcakes are so easy to make, just pipe on some of the fluffy whipped coconut frosting, dash on or dip into some shredded coconut and decorate with your favorite tropical themed accents! Try things like mini drink umbrellas, pineapple slices, tiki mask toppers, candy lei flowers and more! I picked up these adorable pink flamingo picks on Amazon.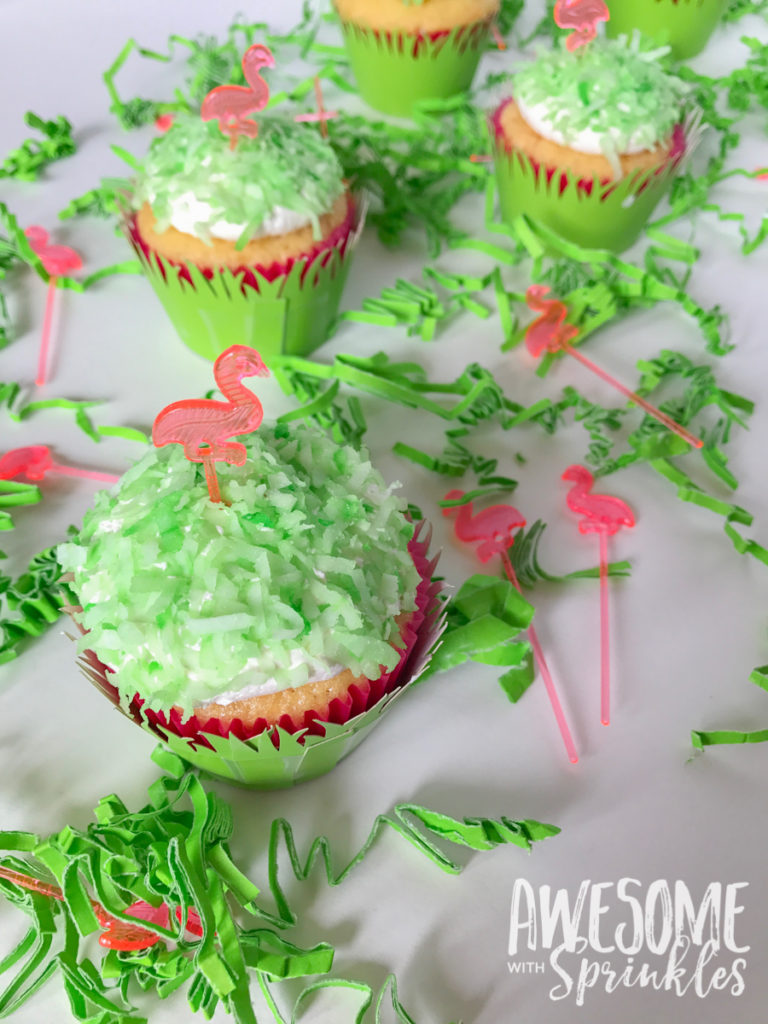 Pro Tip: To make the green coconut grass, put some shredded coconut into a zippered baggie. Dissolve a few drops of green food coloring into 1 tsp of water and pour into baggie. Zip up and shake, shake, shake until the color is distributed throughout!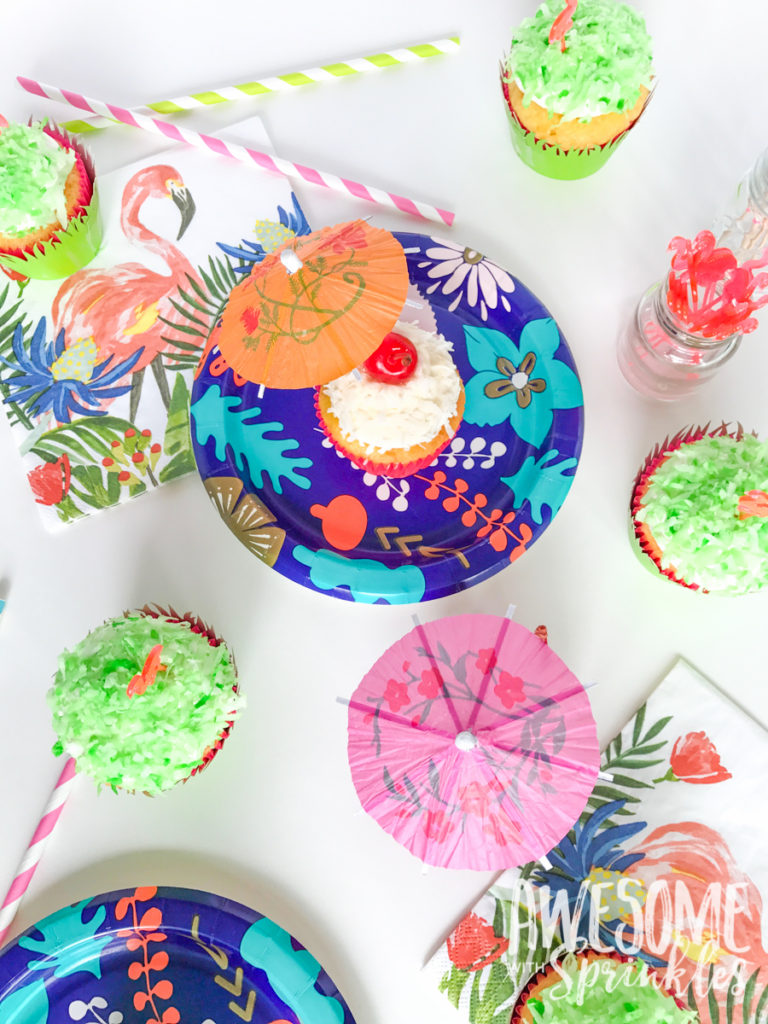 Pin for later!