These cookies were inspired by one of my very favorite cookies from Trader Joe's…or rather, the lack of. TJ's used to make these amazing chewy oatmeal cookies that were packed full of dried cherries and nuts and I always felt way less guilty about eating them even though I knew better. Then for the longest time, I couldn't find them anymore (which is probably for the better, honestly) and eventually I forgot about those amazing cookies.
[jumptorecipe]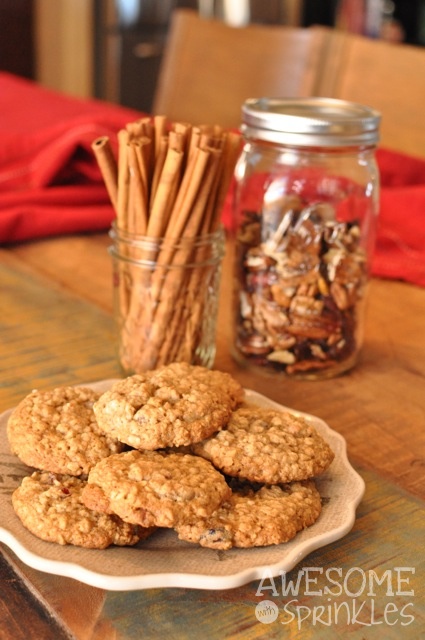 That was, until earlier this fall, when The Boy and I took a long vacation to California up the PCH and landed in the wine country of Lodi for a week. The adorable little B&B where we stayed was out in the middle of the fields, surrounded on one side by grape vines and the other by a cherry orchard. Also on the property they pear, apple, lemon, and orange trees and walnut, pecan and almond trees.
Upon our arrival our sweet hostess had left us little goodie bags of shelled walnuts and pecans and dried cherries and raisins, all from their land. Upon seeing all these delightful ingredients together, it triggered the memory of those cookies. So I saved our goodie bags and brought them home to make cookies.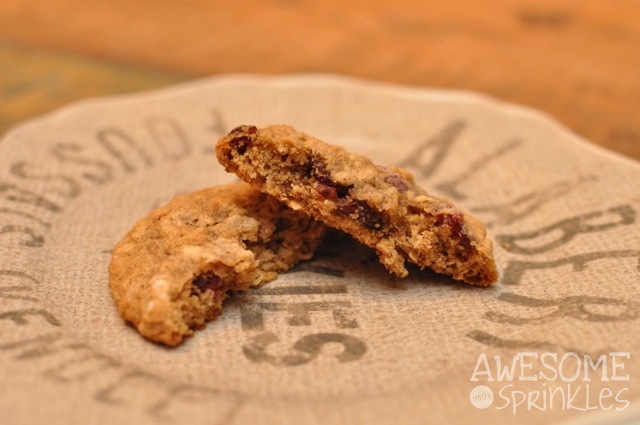 And I must say, I did a darn good job of mimicking those cookies. In fact I would say that they are even better (and less processed to boot!) than the original cookies. Which is a dangerous thing…because now I can make them whenever I want!
You can swap out the cherries for raisins, dried cranberries, dried blueberries or other dried fruits and you can swap out the nuts for your preference as well. I had a mix of walnuts and pecans so I used what I had. You can also add chocolate chips and have cherry chocolate oatmeal cookies.
Savory, chunky, chewy and full of cherries. Hmmm, nuts and fruit… kinda like a fruitcake, sans those nasty green jelly glob things (what are those anyway? blech).
Stack them up in a mason jar wrapped in washi tape and bakers twine and you have an adorable little treat gift to give as a last minute gift idea, stocking stuffer, white elephant or host gift. 🙂
[recipeanchor]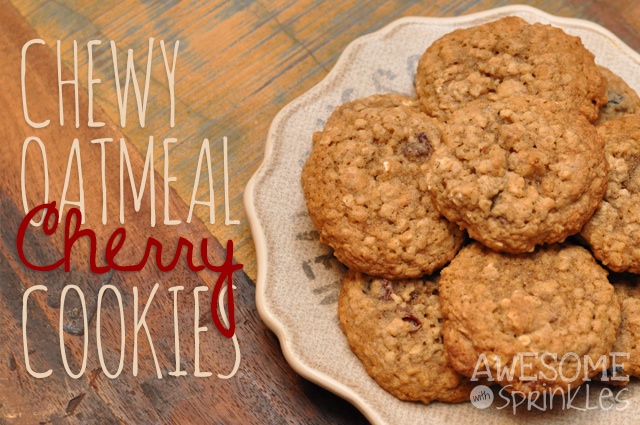 Chewy Oatmeal Cherry Cookies
Serves:
Makes about 2 dozen
Ingredients
1 stick (1/2 cup) butter, softened
1 cup packed light brown sugar
2 eggs
1 tsp vanilla extract
1 cup all purpose flour
1 tsp baking soda
1 tsp cinnamon
½ salt
1½ quick oats
½ cup dried cherries
½ cup mixed pecans and walnuts
Instructions
Preheat over to 350º.
Cream butter, brown sugar, egg, vanilla until smooth.
In a separate bowl, whisk flour, baking soda, cinnamon and salt.
Stir into the butter mixture and mix until incorporated. Stir in cherries and nuts.
Chill the dough for 15-20 mins.
Spoon out tablespoon sized balls of dough onto a parchment lined cookie sheet about 2 inches apart.
Bake for 8-10 mins until golden around the edges but still soft in the middle (this will keep the cookies chewy and gooey). Remove and let the cookies set up for 5 min before transferring to a wire rack to cool completely.