[jumptorecipe]
Ain't no party like a Shark Week par-tay! When you are watching crazy shark footage and movies for a full week there are bound to be some games to go along with the fun. And by games we really mean drinking games, not pin the fin on the sharky (though that COULD be a fun drinking game). In fact, I am fairly certain that is the real reason behind the Sharknado movies. Those things were made for drinking games. And what drinking game party would be complete without some jelly shooters!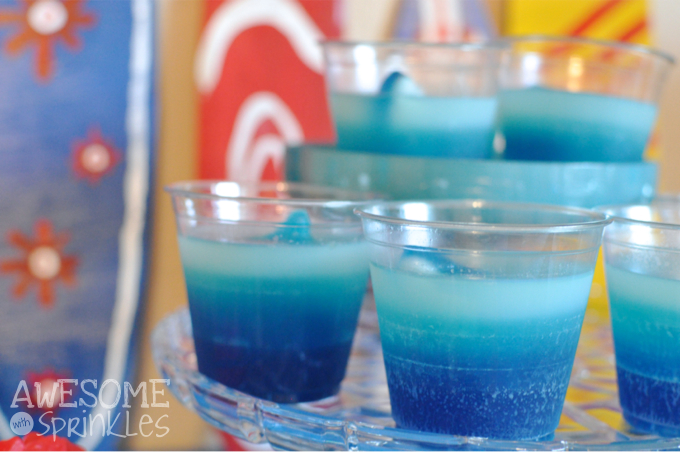 These were a little more tricky than our go to jelly shooter recipe because we could not find any blue jello. So we improvised and thought we would use Kool-aid instead of regular jello mix. However, blue Kool-aid also turned out to be tricky to find! (so weird! WTH peeps!?)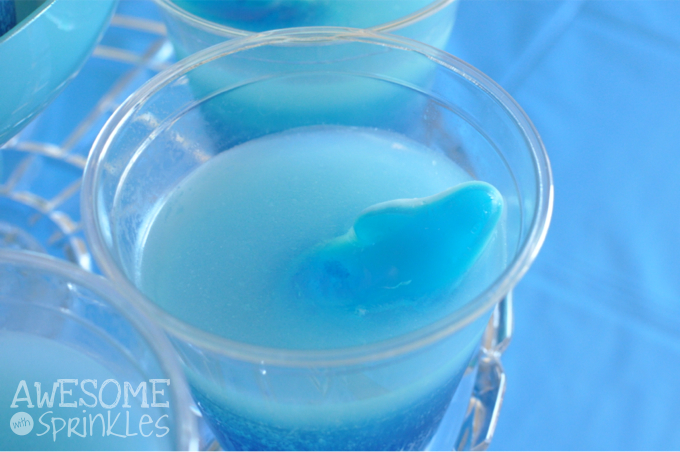 We thought we had scored at first with this Tropical Punch mix…however the blue package is misleading and upon closer inspection the liquid color is red. Damn. (But we bought it anyway for Kool-aid lemonade). But just a heads up…don't be fooled by the trickery.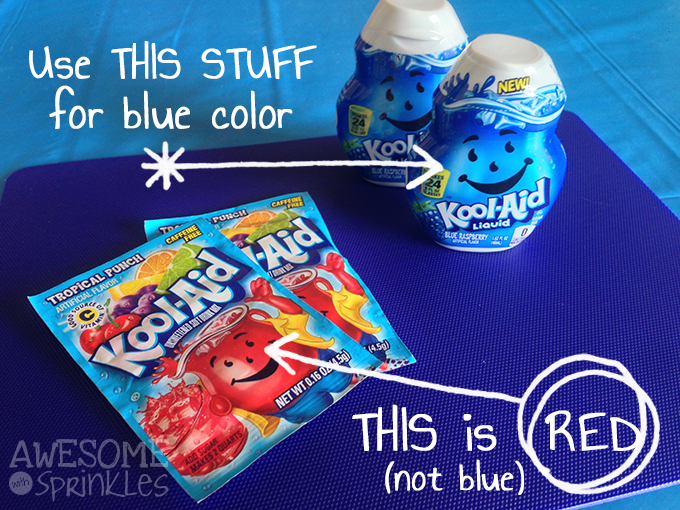 We ended up going with Blueberry Kool-aid drops. I didn't even know they made these! It seemed to work out just fine. Just so you know, you can make this recipe using any juice you want, really. We were just seeking out blue. I also found a Blue Raspberry vodka to use as well, so we had extra blue!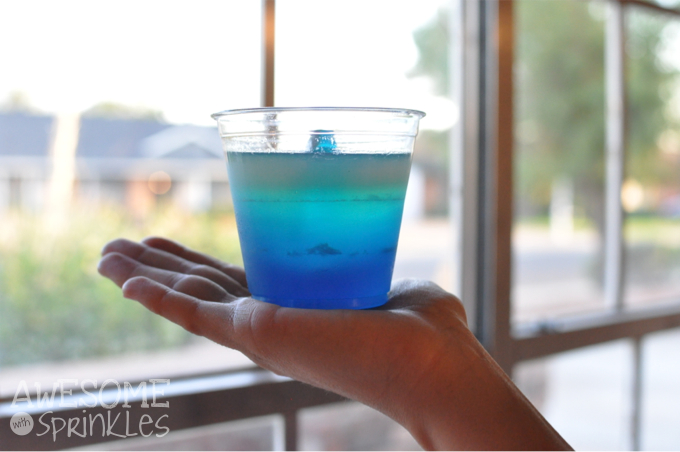 Aren't they pretty!! We used 9 oz cups, which are rather large, but we wanted plenty of room for multiple layers, gummy sharks and whipped cream. That being said, these little guys pack a punch so pace yourself.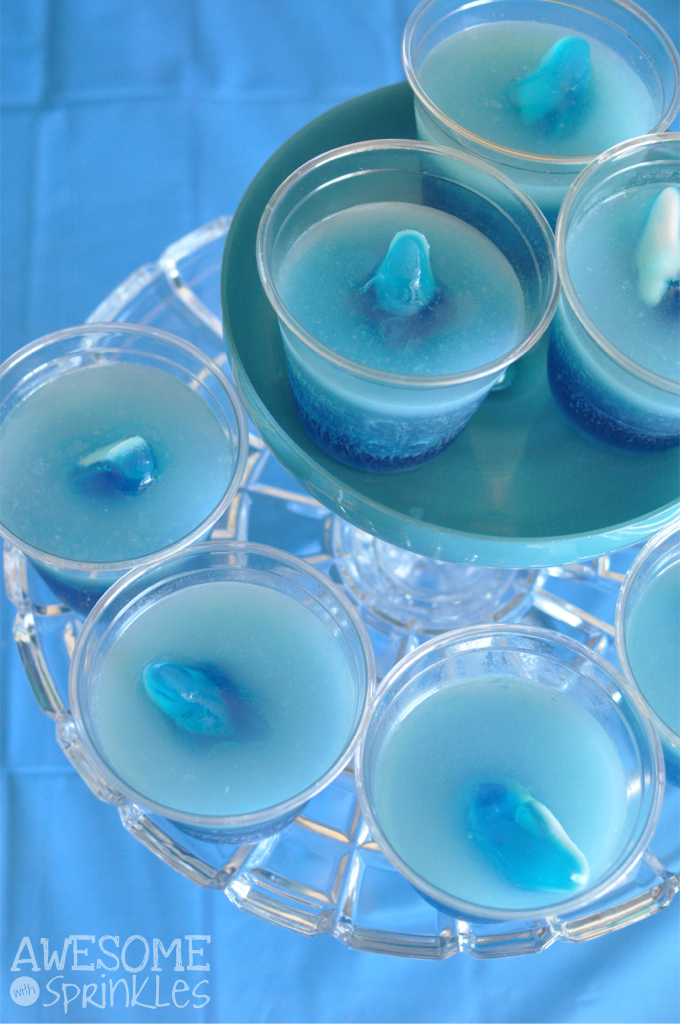 You can mix things up by adding gummy candies in between the layers like we did with the sharks. Lay them on top of one layer and pour another layer over them so they look submerged (this looks best in lighter colored jello). Or if you want your gummy sharks to look like they are coming out of the water, you can prop them up using toothpicks to hold them in place until the gelatin sets.
Good 2 know
It is a good idea to let your hot gelatin cool a little bit before pouring it over gummy candies. Warm is okay, but boiling liquid will melt the little buggers right up and you will have nothing but gooey, gummy mush. Trust us, we learned the hard way.
You know us, we love our boozy treats, but if you would like a non-alcoholic version…don't have kids! (jk, just omit the vodka and add another cup of Kool-aid. Sheesh.)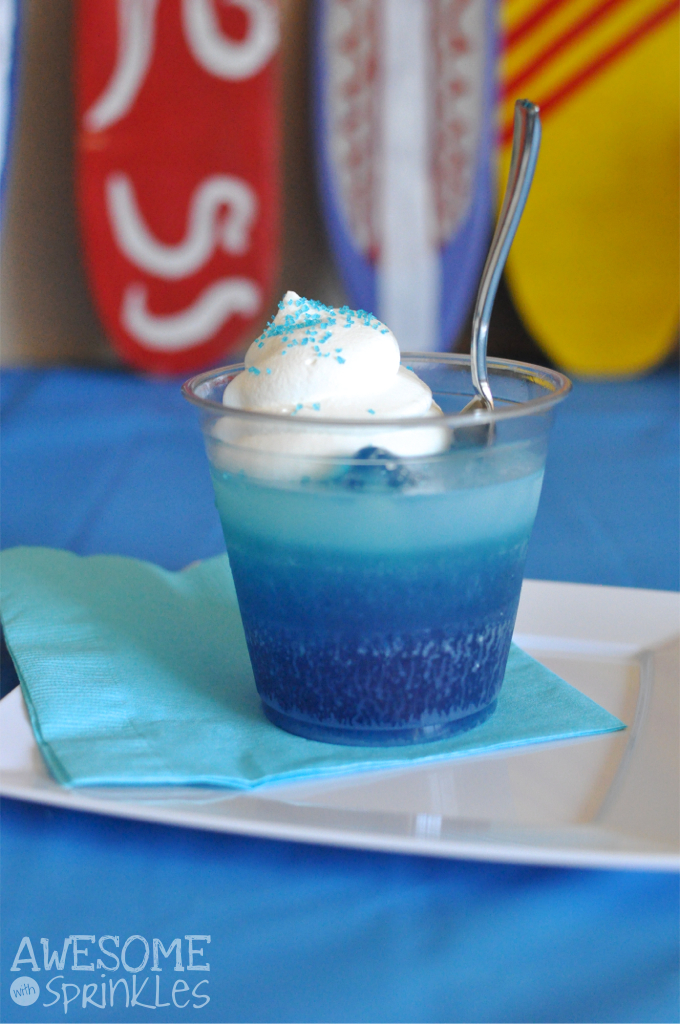 [recipeanchor]

Boozy Layered Jelly Shot Shark Tanks
The following recipe was used to make each layer. Repeat this however many times you need for a layered look, in our case, 3 times filled our 9 oz cups.
Serves:
1 dozen 9 oz cups
Ingredients
4 packages gelatin (unflavored)
3 cups juice or Kool-aid
1 cup vodka
Blue food coloring
Clear plastic pudding or shot cups
Instructions
Pour 1 cup vodka into a bowl.
Sprinkle 4 packages of unflavored gelatin on top of vodka and let sit for about a minute.
Heat juice or Kool-aid to a boil.
Pour over gelatin and vodka. Stir until gelatin is dissolved.
Add a few drops of food coloring to create the desired color.
Pour into cups.
Chill for at least 1 hour.
Repeat the above steps for more layers, decreasing food coloring to create a lighter layer each time.
Mix it up by adding gummy candies in between the layers.
Serve chilled and topped with whipped cream.
Pin for Later: