Guinness Stout Chocolate Cupcakes with Cream Cheese Frosting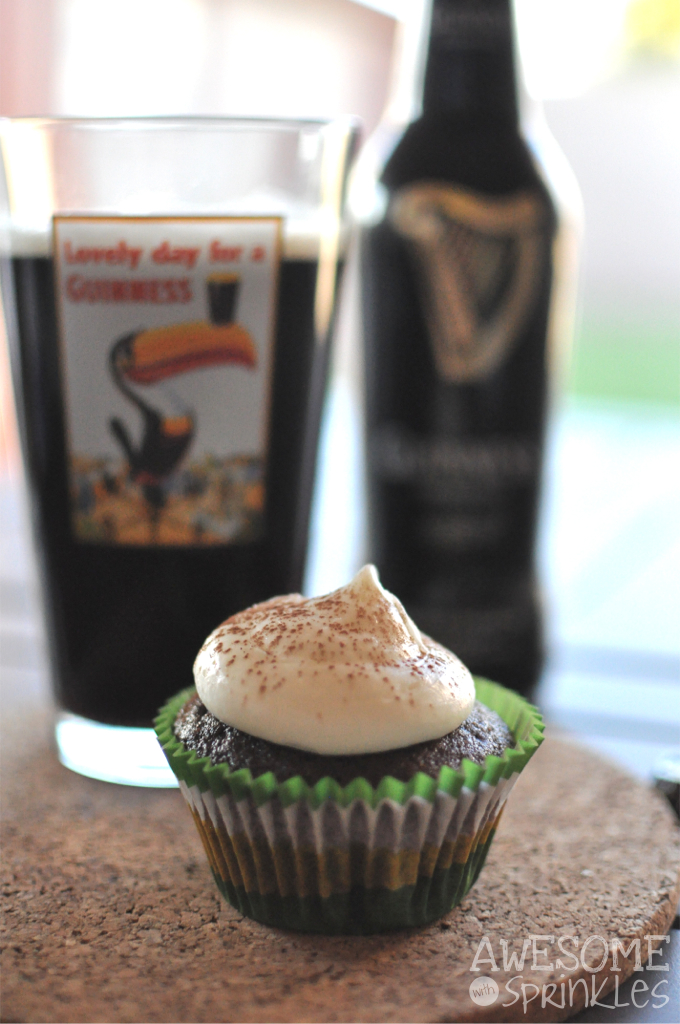 1 bottle (about 12 ounces) Guinness® stout
½ cup milk
½ cup vegetable oil
1 tablespoon vanilla extract
3 large eggs
¾ cup sour cream
¾ cup unsweetened cocoa powder (plus more for garnish)
2 cups sugar
2½ cups all-purpose flour
1½ teaspoons baking soda
8 oz (1 package) cream cheese (softened)
⅓ cup heavy cream
1 pound (about 4 cups) confectioners sugar
Preheat oven to 350°F and line 24 cupcake/muffin tins with paper liners.
In a large mixing bowl combine Guinness®, milk, vegetable oil, and vanilla. Beat in the eggs one at a time. Add the sour cream.
In a large mixing bowl, whisk together the cocoa, sugar, flour, and baking soda. Gradually mix the dry ingredients into the wet Guinness® mixture (batter will be thin).
Fill cupcake liners ⅔ full.
Bake 25 minutes until risen and set in the middle but still soft and tender.
Cool for 5 mins and remove from tins and allow to cool completely before frosting.
Beat the cream cheese in a bowl until light and fluffy. Add the cream. Slowly add in the confectioner's sugar.
Top each cupcake with a heap of frosting and dust with cocoa powder
Recipe by
Awesome with Sprinkles
at http://www.awesomewithsprinkles.com/guinness-stout-cupcakes/