Classic Macaroni Salad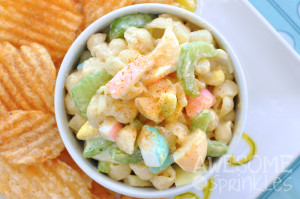 Author:
Awesome with Sprinkles
16oz macaroni or pasta noodles (I use the small shells)
1½ cups chopped celery (about 3 stalks)
⅓ cup chopped onion (1/2 large onion)
6 hard boiled eggs, peeled and chopped
1 cup Miracle Whip dressing
¼ cup white sugar
1 tablespoon yellow mustard
½ cup evaporated milk
1 5oz jar Kraft pimento cheese
Salt + Pepper
Cook macaroni according to package directions. Drain and rinse with cool water.
In a large bowl, toss together cooked macaroni, celery, onion, and chopped eggs. Add salt and pepper to taste. Set aside.
In a medium bowl whisk together Miracle Whip, sugar, mustard, evaporated milk and pimento cheese until smooth and creamy.
Pour over macaroni mix and gently stir until incorporated.
Place in the fridge to chill for about an hour before serving.