Frosted Brown Butter Crispy Rice Treats*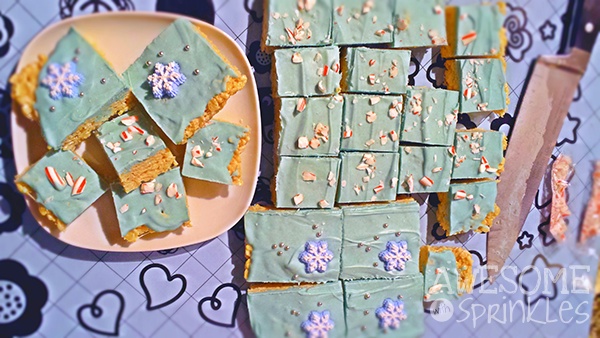 Serves:
28 1-inch squares or 15 2- to 3-inch squares
¼ lb butter (1 stick)
1 10 oz bag mini marshmallows
¼ - ½ tsp sea salt (this turns these treats up to eleven)
6 cups crispy rice cereal (tip: make these gluten-free with Rice Krispies Gluten-Free Cereal)
12 oz to 1 lb chocolate of choice for melting
Food coloring (optional)
Sprinkles or other edible decorations (optional)
To Prepare: Grease or coat a 9 x 13" glass or non-stick baking pan. Measure out your 6 cups of cereal and toss with the sea salt.
Brown the butter: Slice the stick of butter into pats for easy melting, then melt in a large cooking pot over medium-low heat. Stir frequently and keep a watchful eye as you wait for the butter to turn an amber color and smell toasty. Be careful – once it starts to brown it can burn quickly in a matter of seconds!
Melt the marshmallows: Once the butter browns, turn off the heat and stir in the mini marshmallows. Repeatedly fold the marshmallows in with the molten butter using a silicone spatula until they melt into a smooth and uniform elastic mass.
Stir in the cereal: Pour the cereal and sea salt into the melted marshmallows in the pot and fold together gently until combined. While still pliable spread into the greased pan, pressing down with the side of a rubber spatula to make even and smooth.
Melt the chocolate: Break your chocolate into 1-inch chunks. Use a microwave-safe bowl to microwave for 30 seconds at a time, stirring in between each spurt until melted and smooth. (Be careful not to over-microwave once the chocolate becomes melted to avoid burning it.) Use food coloring now with the white chocolate if you wish to have a color – for these I used a few drops of blue.
Pour the chocolate & decorate the treats: Pour and smooth the melted chocolate over the rice treats. If using sprinkles or other decorations, sprinkle them on now while the chocolate is soft and the decorations will stick.
Cool, cut & serve: Cool and harden in the refrigerator for a half hour, or until set and semi-hard. When ready to cut, use a spatula to ease the treats out of the cooled pan onto a cutting board, and cut into the desired sizes you'd like. Serve & enjoy!
Recipe by
Awesome with Sprinkles
at http://www.awesomewithsprinkles.com/frosted-brown-butter-rice-crispy-rice-treats/